KIM MARINOFF Franchise Consultant & Broker
Kim Marinoff Franchise Consultant is owner of A2B Franchise Consulting in Colorado.  Marinoff is a former Quiznos Sub franchisee and is an active franchise broker and seller.  Have you bought a franchise through or been counseled by Kim Marinoff?  How did it work out?  Please leave a comment below.
(UnhappyFranchisee.Com)  Franchise "consultant" (ie franchise seller) Kimberly Patricia Marinoff is owner of A2B Franchise Consulting, LLC dba The Franchise Explorer.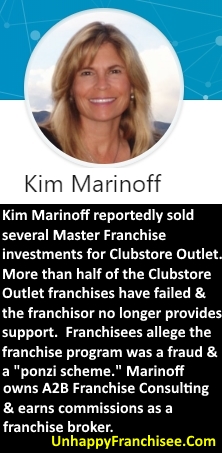 Kim Marinoff offers "free" franchise consulting services.  In actuality, she is a commissionable franchise broker who gets large fees (likely half of the $40,000 franchise fee – or more) for deals she can help close.
Kim Marinoff states that most of her prospective franchisees are in their fifties, and Kim will encourage them to roll over their 401Ks and retirement accounts to make franchise investments that range into the hundreds of thousands of dollars.
Some claim that Kim Marinoff will make untrue statements and misrepresentations (such as understating the actual investment amount necessary) in order to sign up a franchise investor and collect her fee.
In a self-promotional YouTube video titled "The Kim Marinoff Story," Kim Marinoff claims buying a franchise is nearly risk-free, citing a bogus franchise statistic that was discredited and disproved many years ago.
Kim Marinoff owns A2B Franchise Consulting, Broomfield, CO
According to Colorado Secretary of State, Kim Marinoff formed A2B Franchise Consulting LLC on 06/20/2011.
The corporate address for A2B Franchise Consulting LLC is 4529 Castle Lane, Broomfield, CO 80023
An associated address: A2B FRANCHISE CONSULTING, LLC 14233 WATERSIDE LN BROOMFIELD, CO 80023
(14233 Waterside Lane address also associated with the Law Office of Brandon Marinoff)
On her LinkedIn profile, Kim Marinoff states she's in the business of making dreams come true:
My services are at no cost to you, nor bind or obligate you in any way. I have been in franchising for 19 years, have owned 9 franchise businesses, and worked with an international franchise corporation in training, operations, sales and development… . I am committed and passionate about connecting you with a franchise in which you will achieve success, and (at the risk of sounding like an old cliché) make your dreams come true.
Kim Marinoff Professional Affiliations/Broker's Associations
Franchise Broker's Association (FBA)
International Franchise Professionals Group (IFPG)
Franchise Growth Systems (FG360)
Franchise Opportunities Kim Marinoff Has Promoted &/or Sold
Clubstore Outlet (Chief Development Officer) (2016-17)
Quiznos Sub (Franchisee & corp. employee Aug 1998 – Nov 2009)
Schooley Mitchell
BizCard Express (Sold 10 as of 2013)
Social Media 1st (license opportunity)
Social 5 Development (Master Developer)
Dine In 2Nite
Zoyo Neighborhood Yogurt (2011)
Kim Marinoff – Prior Business Entities
According to her LinkedIn Profile, Kim Marinoff was Operations/Sales/Development/Training/Owner/Operator for Quiznos Sub during an 11 year period, from
Aug 1998 – Nov 2009.  Positions included:
*EVP of Operations-Colorado (90 stores)
*Owner/Operator of 6 units
*Sold 209 units in 2002
*District Manager (8 stores)
According to Kim Marinoff's Chapter 7 Bankruptcy filing in 2010, she owned and/or operated these businesses:
Toasted in Lafayette, Inc. (2004-2010 Dissolved)
Toasted in Boulder, LLC (2002-2010 Dissolved)
Rocky Mountain Waste Solutions, LLC (2006 – 2011 Delinquent)
Kim Marinoff Quiznos Franchise Ownership Ended in Chapter 7 Bankruptcy in 2010
On 8/10/10, Kim Marinoff filed for Chapter 7 Bankruptcy protection in United States Bankruptcy Court District of Colorado.
The reason for the bankruptcy was primarily business debts.
Kim Marinoff claimed to have 50-99 creditors, liabilities between $100,000 – $500,000 and assets worth less than $50,000.
Kim Marinoff – Alleged Falsehoods & Red Flags
In 2016 – 2018, Kim Marinoff was a franchise broker and/or Chief Development Officer promoting and selling Clubstore Outlet franchises.
Clubstore Outlet franchisees have called the short-lived franchise offering a "scam" and a "ponzi scheme."
More than half of the franchise locations that opened have closed, others paid $40,000 – $60,000 fees and never opened, and others struggle on without corporate support.
One former Clubstore Outlet franchisee, who had extensive dealings with her, alleges that Kim Marinoff is an extremely deceitful franchise seller who c
onsistently and knowingly underrepresented startups costs to close sales and get commissions from underfunded franchise buyers who would later fail.
Kim Marinoff promoted ClubStore Outlet as "a fun, highly-profitable, upscale neighborhood Discount Store that offers high quality products at deeply discounted prices. The franchise opportunity is an affordable start-up concept with great upside."
Her claims that Clubstore Outlet was "a FUN, SIMPLE, PROFITABLE business" is disputed by ruined franchise owners who claim that it was neither fun, nor simple, nor profitable from the day their check cleared.
Kim Marinoff Allegedly Hyped & Sold Clubstore Outlet Franchises Even as Chain Imploded
There is a good indication that Kim Marinoff continued to promote and sell Clubstore Outlet franchises even after all the initial franchisees had failed.
It's been reported that in the 6 months prior to May, 2017, all of the original franchisees left the system (MS, ND, FL, CO, TN, etc.) and many others were struggling to stay in business.
In a "brokers only" conference call around that time, it was stated none of the remaining Clubstore Outlet franchisees had anything positive to say about their relationship and experience with the company.
Yet despite significant closures and franchisee distress, it appears that Kim Marinoff continued to hype and promote what was clearly a non-viable franchise concept.
In a July 12, 2017 recruitment message to a group of franchise brokers, Kim Marinoff wrote:
Message From:
Kim Marinoff kim@clubstoreoutlet.com
Re: Clubstore Outlet
Clubstore Outlet is on the MOVE!!!! Some exciting news for you:

•    This past week we awarded a master territory in Houston and a single unit in Ohio.

•    We are opening 4 more stores over the next 4 weeks in GA, NC, PA and TX. This will bring us to 9 open stores, another 14 under development, and 12 master territories awarded…
Kim Marinoff Spreads the Long-Debunked Franchise Lie
In her YouTube video "The Kim Marinoff Story," Ms. Marinoff spreads the long-discredited falsehood about the success rate of franchise businesses vs. independent businesses.
The debunked statistic is well-known among franchise professionals as an outright lie.  The IFA issued a message years ago that the claim is not valid and should not be used by its members.
Yet In her video, Kim Marinoff states:
Franchising has an ENORMOUS success rate…

95% of people who bought a franchise 5 years ago are still in business today…

and it's almost the exact opposite statistic for people who try to do it on their own…
In Marinoff's video, she also states:
"I love that I can help people… people in these economic times are struggling, they can't find jobs.  Most of my clients are in their fifties… they come from the corporate world… they've got 401Ks and you can actually roll over a 401K into a franchise without a tax or penalty… But you can have a self-directed IRA… a lot of people don't know that they can do that…

"You can create something for yourself that is yours… and that you can take so much pride in… and build and create and develop… and nobody can ever take that away from you… "
Many Clubstore Outlet franchisees would strongly disagree with Kim Marinoff.
They bought a franchise based, in part, on the trust they put in Kim Marinoff, and fellow brokers including Pam Currie, Kathy Hylton, Jerry Rieder and Dennis Martineau of Franserve.
Since the Clubstore Outlet franchisor closed up shop, Clubstore Outlet can be said to have a 0% success rate and a 100% failure rate.
And some franchisees feel they've had EVERYTHING taken from them.
NOTE:  Companies and individuals discussed on UnhappyFranchisee.Com are invited to provide corrections, clarifications, rebuttals and alternative points-of-view by posting a comment below or emailing us in confidence at UnhappyFranchisee[at]gmail.com.
ARE YOU FAMILIAR WITH KIM MARINOFF & A2B FRANCHISE CONSULTING?  DID YOU HAVE A POSITIVE EXPERIENCE OR A NEGATIVE ONE WORKING WITH HER AND HER FRANCHISES?  PLEASE SHARE A COMMENT BELOW.
ALSO READ:
FRANCHISE DISCUSSIONS by Company
TAPP PALMER, Clubstore Outlet Franchise: What Happened?
CLUBSTORE OUTLET: Chris Conner, Franchise Marketing Systems (FMS) Success Story?
TAPP PALMER Clubstore Outlet: Where'd the Money Go?
READ The Series "Dr. John Hayes' Franchise Fraud School & Pay-For-Praise Emporium!": Dr. John Hayes' Franchise Fraud School
TAGS: Kim Marinoff, Kimberly Marinoff, Kim Patricia Marinoff, The Franchise Explorer, A2B Franchise Consulting, Broomfield CO, franchise brokers, franchise consultants, IFPG, Franchise Brokers Association,  Clubstore Outlet,  Clubstore Outlet, Clubstore Outlet franchise, Tapp Palmer, Kathy Hylton, Pamela Currie,  Jerry Rieder, Dennis Martineau, Franserve, Franserve franchise brokers, International Franchise Professionals Group, unhappy franchisee