FRANCHISE BROKERS LIE: The Kim Marinoff Story
Franchise broker Kim Marinoff of A2B Franchise Consulting tells The Franchise Lie – the long debunked bogus statistic stating that few independent start-ups survive 5 years while almost ALL franchise start-ups succeed.  And, like most "free to you" franchise consultants,  franchise broker Kim Marinoff's not going to let a little thing like the truth get in the way of a franchise commission. by Sean Kelly  FREE BONUS:  FRANCHISE BROKER HONESTY TEST (below).
Kim Marinoff is a noteworthy franchise broker who came to our attention because of the active role she played in promoting and selling the alleged scam franchise opportunity Clubstore Outlet.
All those who bash failed franchisees for naively buying into bad franchise concepts and not seeing through the sales pitches of unscrupulous franchise sellers should watch this video and see how enthusiastic and sincere Kim Marinoff appears to be as she almost assuredly and blatantly lies to people about the risk of franchise investments:
[For the full "The Kim Marinoff Story" video, see below]
Franchise Brokers Are Experts at Faking Sincerity
Here's what's especially chilling about Kim Marinoff, as revealed in her promotional video: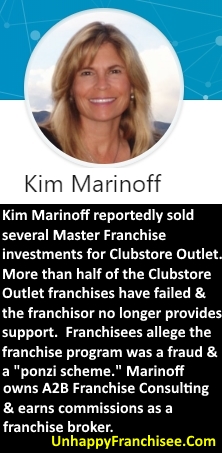 She does not seem at all like the smarmy used car salesperson-type you'd expect of someone who could make eye contact with people you are setting up to lose everything so you can reap a fat commission check.
No, Kim Marinoff seems like the outdoorsy, dirt-bike riding, true blue entrepreneurial businesswoman who is making America great again.
She posts cute toddler videos, her son's attempt at stand-up comedy, and an evangelical Christian video on YouTube.
And yet, evidence suggests that she is willing to tell lies to people that will, indirectly and directly, lead many of them to financial ruin.
We're talking loss of retirement funds and savings built over a lifetime kind of ruin.
We're talking home foreclosure kind of ruin.
We're talking the kind of ruin that many marriages can't survive, that many families can't survive, and, that in some occasions, individuals can't survive.
Also Chilling: Kim Marinoff Knows – And Hides – the Truth About Franchise Failure
Most prospective franchise owners can't conceive that seemingly trustworthy and caring people would knowingly deceive them in such an important decision.
But consider Kim Marinoff's past in franchising.  She was both a franchisee and a seller of one of the most predatory franchisors in the history of franchising:  Quiznos Sub.
Her LinkedIn profile boasts that she sold 210 Quiznos franchises in 2002.
She would have witnessed the decline of Quiznos from over 5,000 franchisee-owned locations to well under 1,000.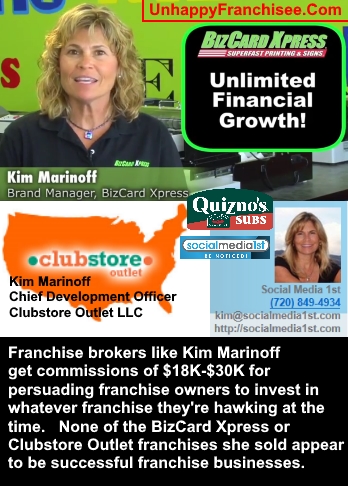 She would have heard horror stories of the thousands of lost investments by devastated Quiznos franchisees, including the sad story of Bob Baber who was driven to suicide because of the bullying and heartless legal tactics of Quiznos and its attorneys.
Kim Marinoff's own experience as a Quiznos franchise owner apparently led to her personal bankruptcy in 2010.
So, Kim Marinoff knows, firsthand, the danger of the Pollyanna all-franchises-succeed  fiction spun by commissioned franchise brokers.
Yet, instead of properly educating and informing franchise investors, she posts this video with bogus statistics every experienced franchise professional knows – or should know – is a lie.
[GRAPHIC, RIGHT:  Kim Marinoff claimed she owned one and sold 10 BizCard Xpress unit franchises in Colorado.  No BizCard Xpress franchises appear to be open in Colorado any longer. More than half the Clubstore Outlet franchises have closed. Is there a point where people must stop calling themselves franchise experts?]
Kim Marinoff: Selling the American Dream or Nightmare?
Kim Marinoff's video may be years old, but it likely reveals the finely honed sales messages she and other franchise "consultants" use on fifty-something franchise investors.
In her 2011 promotional video, "The Kim Marinoff Story," she communicates the following with passion and conviction:
She is a consultant whose primary motivation is her clients' (50-something franchise investors') success
Statistics prove her "clients" will not get ahead by working for someone else
Franchise investors can roll their 401K, savings and home equity into a franchise business without tax or penalty
Franchises have an extremely low failure rate.  Nearly all franchises, therefore, are safe investments.
Franchisees own and control their franchise businesses.  No one can take it away from them.
Debunking This Franchise Broker's Sales Spin
Kim Marinoff: "I wanted to be in a business where I could help people… I love that I can help people…"
We ask:  Kim, how exactly did you improve the lives of the Clubstore Outlet franchisees that you kept recruiting after it was clear that most of the franchisees would fail?  Are you sure you didn't get into this business for the $18,000 – $30,000 (and higher) commissions?  Since helping is your motivation, how have you tried to help the Clubstore Outlet franchisees who are struggling to keep their homes?
* * * * *
Kim Marinoff:  "Most of my clients are in their fifties.  They come from the corporate world.  They've got 401Ks and you can actually roll over a 401K into a franchise without tax or penalty… there's a fee for it…"
We ask: Can people also sign over their social security checks to you without tax or penalty?  (Of course, there may be a fee for it).
* * * * *
Kim Marinoff states:  "The bottom line is, statistically, even if these people in their fifties found a job, you know, statistically, their going to be in the same boat in three years…"
We ask:  Kim, can you please furnish us with this study?  Better yet, can you please supply us with a list of all the commissionable sales you've made in the last 10 or even 5 years so we can see how many were better off financially than they would have been if they worked a job?
* * * * *
Kim Marinoff states:  "So why not create something for yourself that is yours and that you can take so much pride in and build and create and develop… and NOBODY can ever take it away from you…?"
We ask:  What exactly does a franchisee own?  The name? The trademark? The trade dress?  The system of operation?  The ability to operate as they'd like to?  By "Nobody can ever take it away from you…" do you mean other than the franchisor, the landlord, the lenders and creditors?
* * * * *
Kim Marinoff states:  "Now franchising has an enormous success rate.  95% of people who bought a franchise 5 years ago are still in business today.  And it's almost the exact opposite statistic for people that tried to do it on their own."
We ask:  What is the success rate for the franchises you have received commissions for?
How many franchise fees were collected for franchises that never opened?
What was the success rate for the 210 Quiznos franchises you sold.
What was the success rate for the BizCard Express franchises you sold?
How successful was the Orlando Master for the security company you mention in the video… and the success rate of the unit franchisees he sold?
What's the success rate of your Social 5 social media licensees?
After just 3 years, how many Clubstore Outlet franchises are still open, operating, and receiving the franchise support promised in their franchise agreements?
"Free" Franchise Consultants & Coaches (Franchise Brokers) Are Professional Liars
Unfortunately, in our experience, the dishonesty exhibited by Kim Marinoff is more the rule than the exception when it comes to franchise brokers.
Franchise "consultants" call prospective franchise investors their "clients," but their true clients are the franchisors they sell for.
While they mention getting paid by franchisors as if it's an incidental thing, they don't disclose that their average commission (according to the IFPG Founder Daz Daszkowski) is between $18,000 – $30,000 plus (sometimes) a cut of the royalty stream.
In private communications with prospective investors, franchise brokers regularly provide illegal financial performance representations and bogus franchise statistics.
How to Tell if Your Franchise Broker is Lying: a Simple Test
If you are approached by a "free to you" franchise consultant and want to know if they are honest and trustworthy, answer these simple questions:
Have they emailed you?
Have they called you?
Have they invited you to a webinar or Discovery Day?
Are their lips moving?
If you answered "Yes" to one or more of these questions, your franchise con-sultant, advisor, coach ie commissioned broker is probably lying.
NOTE:  Companies and individuals discussed on UnhappyFranchisee.Com are invited to provide corrections, clarifications, rebuttals and alternative points-of-view by posting a comment below or emailing us in confidence at UnhappyFranchisee[at]gmail.com.
ARE YOU FAMILIAR WITH KIM MARINOFF &/OR OTHER FRANCHISE BROKERS?  DID YOU HAVE A POSITIVE OR NEGATIVE EXPERIENCE?  PLEASE SHARE YOUR OPINION OR FRANCHISE BROKER STORY BELOW.
ALSO READ:
FRANCHISE DISCUSSIONS by Company
KIM MARINOFF Franchise Consultant & Broker
TAPP PALMER, Clubstore Outlet Franchise: What Happened?
CLUBSTORE OUTLET: Chris Conner, Franchise Marketing Systems (FMS) Success Story?
TAPP PALMER Clubstore Outlet: Where'd the Money Go?
READ The Series "Dr. John Hayes' Franchise Fraud School & Pay-For-Praise Emporium!": Dr. John Hayes' Franchise Fraud School
TAGS: Kim Marinoff, Kimberly Marinoff, Kim Patricia Marinoff, The Franchise Explorer, A2B Franchise Consulting, Broomfield CO, franchise brokers, franchise consultants, franchise coach, franchise advisor, IFPG, Franchise Brokers Association,  Clubstore Outlet,  Clubstore Outlet, Clubstore Outlet franchise, Tapp Palmer, Kathy Hylton, Pamela Currie,  Jerry Rieder, Dennis Martineau, Franserve, Franserve franchise brokers, International Franchise Professionals Group, unhappy franchisee