BLO DAD & Sons Boozelator Vending Complaints
Blo Dad & Sons offers a vending route business opportunity featuring the Boozelator breathalyzer machines.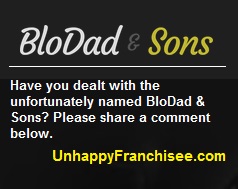 Have you had any dealings with Blo Dad & Sons or Boozelator breathalyzer machines?  If so, please leave a comment below.
Blo Dad & Sons Boozelator advertising states:  "Earn cash with a unique business – a breathalyzer vending machine route. Blo Dad & Sons breathalyzer vending machines work for you while you sleep. Simply place the machine in any alcohol-serving establishment to allow patrons to test their BAC level for a fee ($1-$5/test). Blo Dad & Sons offers the most advanced bar breathalyzer vending machine on the planet due to it's LCD advertising monitor, high accuracy, sleek design and other advanced options."
The Blo Dad & Sons website states:  "The Boozelator™ 3001 works all night long for you while you sleep, so you can wake up a little bit richer everyday! Ask about GUARANTEED VENDING MACHINE PLACEMENT!
We Offer FRANCHISE-LIKE SUPPORT Without Any Franchise Fees!!! "
We received the anonymous complaint below about the Blo Dad & Sons Boozelator vending route business opportunity.  Blo Dad's Gabriel Jacobs contends it's a competitor trying to discredit his company (See the link to Blo Dad's rebuttal below).
UnhappyFranchisee.Com doesn't know whether it's true or not. The complaint reads:
  Hello, I recently purchased 10 boozelator breathalyzer vending machines from Blo Dad and sons in florida… I should have known just from the name "Blo Dad & Sons" that they were a little sketchy…
I contacted the owners of Blo dad and sons to purchase machines initially and they were helpful… They swore the machine were built in the USA and that the upgrade machine of the Fuel cell sensor is so important and more important than a semi conductor which is not true.. The upgrade cost $350 which I thought was crazy but I agreed and went along with their advice… They just wanted to squeeze out some more of my hard earned cash…
I think purchasing machines made in the USA is a big deal, because of the quality issue and spare parts.. I didn't want a machine built in a Chinese sweat shop…  I did some research and home work and found the manufactures website in china and was super angry that I was lied to…
The machine did not function well at all and machine started breaking apart after a few weeks in the bar.. The machine had plastic breaking off and the LCD screen stopped working… The breathalyzer was not accurate at all… The machine is a complete piece of garbage… I lost over $14,000 of my hard earned cash…

I want to give a warning to any folks looks to getting into the breathalyzer vending biz… Stay clear of boozelator by Blo Dad & sons…
READ BLO DAD'S REBUTTAL:  BLO DAD & Sons Vending Responds to Alleged Complaints
ARE YOU FAMILIAR WITH BLO DAD & SONS, BOOZELATOR, OR OTHER BREATHALYZER VENDING OPPORTUNITIES?  PLEASE SHARE A COMMENT BELOW.