Franchise Fraud Complaint Submitted to International Franchise Association (IFA)
A co-chair of the International Franchise Association (IFA), several members of the IFA Supplier forum, and 23 franchise companies are suspected of working together to intentionally mislead and deceive potential franchise investors.  UnhappyFranchisee.Com has submitted a detailed, 20+ page report to the IFA requesting comment and disciplinary action.
(UnhappyFranchisee.com)  The International Franchise Association Guiding Principles include this statement on transparency::
Clarity and transparency is essential for establishing and maintaining positive franchise relationships and for the goal of continuous improvements in the franchising environment.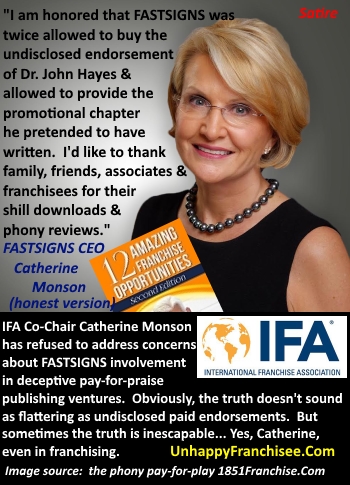 The International Franchise Association Code of ethics contains these statements:
Honesty embodies openness, candor, and truthfulness… IFA members will be sincere in word, act, and character — reputable and without deception…

The public image and reputation of the franchise system is one of its most valuable and enduring assets…  This can only be achieved with trust, truth, and honesty between franchisors and franchisees…

OBEY the LAW

IFA's members enthusiastically support full compliance with, and vigorous enforcement of, all applicable federal and state franchise regulations.
Will the IFA be True to its Guiding Principles & Code of Ethics?
So here's what we believe to be true to this point.
Neither Dr. John Hayes, BizCom Associates, nor any of the participating franchisor companies have denied the allegations.
IFA members Dr. John Hayes & BizCom Associates publish an "Amazing Franchise Opportunities" book series that is marketed as expert Dr. John Hayes' objective, merit-based selection and analysis of praiseworthy franchise opportunities.
Featured franchisors, most of whom are IFA members,  promoted the false idea that their franchise opportunities were selected based on merit alone by Dr. Hayes, who had written about them in his book.
In fact, the chapters readers would assume were written about the franchise companies were written by the franchise companies. IFA member BizCom has admitted that featured franchisors provided their own chapters.
Dr. John Hayes, BizCom, and 23 franchise companies failed to disclose the paid endorsement and the material relationship between them.
Dr. John Hayes, BizCom Associates and at least one franchisor (FASTSIGNS CEO and IFA co-chair Catherine Monson) deceptively manipulated Amazon sales rankings & reviews through false statements, shill purchasers and fake reviewers.
So, it seems likely that a big gang of IFA members got together with a plan to intentionally mislead and deceive prospective franchise investors.
We have compiled a 23+ page report on the alleged misconduct, which we have sent to numerous IFA officials.
How committed is the IFA to its Guiding Principles and its Code of Ethics?
We're about to find out.
Read the Full Report submitted to the IFA (PDF):
John Hayes Deceptive Marketing Program (PDF 23 pp.)
Appendix A: BizCom sell sheet
Appendix B: Dr. John Hayes How Franchisors Can Generate More Leads (WORD Doc)
Appendix C: Dr. John Hayes Helping You Sell More Franchises By Building Credibility For Your Brand! (PDF)
Appendix D: FASTSIGNS International initial press release (PDF)
Appendix E: BizCom Damage Control Blog Post (After UF Expose) (PDF)
READ The Series "Dr. John Hayes' Franchise Fraud School & Pay-For-Praise Emporium!":
Series Index & Overview: Dr. John Hayes' Franchise Fraud School
Dr. John Hayes & His 12 Amazingly Deceptive Franchises
6 AMAZING Franchise Deceptions of Dr. John HayesDr. John Hayes' Book Reviews Given an "F" for Fraudulent
Dr. John P. Hayes Franchise Books Pulled From Amazon
Featured "Amazing Franchise" Participants:
FASTSIGNS CEO Catherine Monson named Valedictorian, Franchise Fraud School
FASTSIGNS Franchise Deception Seems, Well, Amazing. Comments?
RESTORATION 1 Franchise Deception: Gary Findley Doubles Down
DICKEY'S BARBECUE Franchise Reveals Deceptive Pay-for-Praise Tactics
DENTAL FIX RX Franchise Complaints
The Amazing Franchise That Vaporized: Palm Beach Vapors
United Franchise Group (UFG) Franchise Complaints
LIME PAINTING Franchise Integrity Questioned
BIZCOM ASSOCIATES: Franchise PR Firm or Troll Farm?
FRANCHISE DISCUSSIONS by Company
ARE YOU FAMILIAR WITH CATHERINE MONSON, MARK JAMESON, FASTSIGNS INTERNATIONAL OR DR. JOHN HAYES? 
PLEASE SHARE A COMMENT BELOW OR EMAIL US IN CONFIDENCE (UnhappyFranchisee@Gmail.Com).
TAGS: FASTSIGNS, FASTSIGNS franchise, Catherine Monson, Mark Jameson, BizCom Associates, BizCom Press, Dr. John Hayes, Dr. John Hayes franchise expert, International Franchise Association, IFA, Titus Center, Titus Chair, 12 Amazing Franchise Opportunities, Palm Beach Atlantic University Franchise Program, IFE, Expert Endorsements, Expert Endorsements, franchise marketing, unhappy franchisee