BLIMPIE Franchise Complaints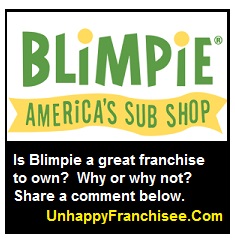 The Blimpie Subs & Salads franchise has an alarmingly high SBA loan default rate of 46%.
Blimpie is owned by Kahala, franchisor of Cereality, Cold Stone Creamery, Frullati Café & Bakery, Great Steak & Potato, Johnnie's, Nrgize, Ranch 1, Rollerz, Samurai Sam's, Surf City Squeeze and TacoTime.
Blimpie franchisees have received 203 SBA-guaranteed loans since 2001; nearly half of those loans have been defaulted on by Blimpie franchise owners.

Are you familiar with the Blimpie franchise opportunity? Please share a comment below.
The Blimpie Franchise has a failure rate of 46% for SBA-backed franchise loans
In 2009, according to Entrepreneur, Blimpie had 1,089 U.S. franchises.
By 2012, Blimpie had just 738 U.S. franchises.
That's a decline in size by 351 franchises, a reduction by 32% of its entire chain.
What Blimpie doesn't point out in its franchise marketing is that it's likely that Blimpie franchise owners who received SBA loans may have collateralized their franchise loan with their houses or other personal assets, and nearly half were unable to repay those franchise loans… despite serious incentive to do so.
Are you familiar with the Blimpie franchise opportunity?
What do you think accounts for the SBA loan failure rate of Blimpie franchise owners?
What steps should Blimpie and Kahala be taking to stop further franchise failures?
Has Blimpie taken serious action to address the problems that led to the 46% loan failures?
Please share a comment, opinion or insight below.
ARE YOU A BLIMPIE FRANCHISE OWNER OR FORMER BLIMPIE FRANCHISEE?  ARE YOU FAMILIAR WITH KAHALA & THE BLIMPIE FRANCHISE OPPORTUNITY?  PLEASE SHARE A COMMENT BELOW.
Tags:  Blimpie, Blimpie Subs & Salads, Blimpie franchise, Blimpie complaints, sub franchise, salad franchise, sandwich franchise, franchise opportunity, restaurant franchise, food franchise, franchise failure rate, worst franchise, sba failure rates, SBA franchise loans, franchise information, Kahala Corporation, Kahala Cold Stone