CITY WIDE MAINTENANCE Franchise Complaints
(UnhappyFranchisee.com) CITY WIDE Maintenance Franchise Complaints

The City Wide Maintenance franchise opportunity is different from other janitorial franchises in that its business model is focused on providing sales and management services, but not the actual implementation of janitorial services.
The City Wide Maintenance franchise website greets franchise prospects with this cheery greeting:
"Your future starts here… with City Wide franchise.
"You are about to take the first step to determining your own destiny and growing a business in a $100 billion industry that will help you achieve your personal income, lifestyle, wealth and equity goals."
However, not everyone shares that enthusiasm for the City Wide franchise opportunity.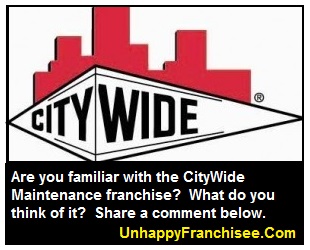 CITY WIDE Maintenance Franchise Complaints
We've received several complaints regarding the City Wide franchise.
Some have complained that they lack control over their subcontractors, that City Wide franchisees lack the experience to manage subcontractors, and that they cheat their subcontractors by misrepresenting the contract amounts.
Keep in mind that City Wide franchises are independently owned and operated.  The practices of specific franchisees are not necessarily that of all City Wide franchisees.
Sammy wrote:
City Wide is the worst.

They underbid and at the same time they didn't tell you how much the original bid is.  You just believe them.

If they bid $500/month they will tell you they bid $400/month and will take additional 30% from your paycheck.  Then you get less than $300/month from a $500/month account.

When you calculate it it is below the minimum wage.

I don't know why independent contractors do not report to FTC about this rip offs.
Chris Bensen writes:
City Wide uses all subs and they do not do any of the work.

They are managers and owners of the accounts they sell but they do not have control of the employees or their subs.

No background checks No drug tests and no control of the people as they are not the one's paying them.  So if you are using them how do you know who is in your building at night?  And how do you know if the subs have Insurance? They do not have the control over the people at all because if they did they would be employees and not subs.

Check the IRS rules on this and you can see.  Most of the city wide franchisees just sell and could not do the work.  Very little experience in floors, carpet, water damage, disaster restoration and do not have a clue about OSHA documentation.  One franchise has a guy as a manager that before he worked at city wide he worked at Best BUY.  There is a guy with about no experience and if the sub does not show up who does the work?  Also how can he train people to do the work in the building when he has never done it himself?  Maybe he just watched a few times.

Know what you are getting before you hire a janitoral company.  Most franchises under bid and do not have the experience to do the job right for very long.  They most always start to cut corners after they have had the contract for a few weeks.  Or their subs do.
darrel writes:
All janitorial franchises are scams… I am talking about City Wide Maintenance.  They don't only manage janitorial business. They manage more than twenty businesses to manage.  So They have no time to give to customers.  The customers keep on calling for issues related to their management and they don't have time to contact them.

My advice is to start your own janitorial business not a franchise.

Businesses are fooled by big names.

Big Companies like City Wide are just selling their names
ARE YOU FAMILIAR WITH THE CITY WIDE FRANCHISE OPPORTUNITY?  PLEASE SHARE YOUR OPINION – POSITIVE OR NEGATIVE – BELOW.
Tags: City Wide Maintenance, City Wide franchise, City Wide franchise complaints, Citywide maintenance, Citywide franchise, CityWide franchise complaints, janitorial franchise, commercial cleaning franchise, franchise complaints, unhappy franchisee