COLD STONE CREAMERY Franchise Complaints
According to the leading source of franchise misinformation, Entrepreneur magazine, Cold Stone Creamery is one of the world's top 50 franchises.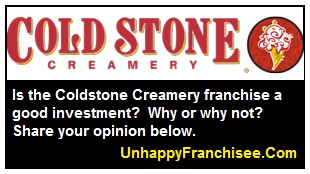 According to many who believed the deceptive advertising hype and bought a franchise, Cold Stone Creamery is one of the worst franchise investments in recent history.
In addition to UnhappyFranchisee.com, websites like BlueMauMau.org and ColdStoneFacts.org contain numerous franchise horror stories.
We've included some of the Cold Stone Creamery franchise complaints below.
[Read more Cold Stone Creamery franchise stories]
Allegations include franchise churning, vendor kickbacks and under-the-table "rebates," excessive discounting and couponing, lack of franchise support, and a broken, unsustainable business model.
What do you think?  Do you have a Cold Stone Creamery franchise complaint or horror story to share?  If so, please leave a comment below.
Cold Stone Creamery Franchise Complaints
Current franchisee wrote:
The problem with Cold Stone is its management. Dan Beem and Kevin Blackwell are the worse managers in the history of franchising. They have allowed this thing to get so far out of control that it is now impossible to save. (BMM)
David wrote:
I  am a Cold Stone franchise owner with three stores and no one knows better than me of the misery that comes with being a Cold Stone Creamery franchisee. There are stores planning to close across the country. I am planning to close my stores as well. Despite having a very high volume of sales, we cannot make a profit in these stores because of Kahala's kickbacks. My wife and I cannot even pay our mortgage Me and other franchisees will lose millions, our homes, I even had to pull my kids out of college because I spent their college fund trying to keep my stores open.

Cold Stone Creamery is among the most unsuccessful franchises in the nation and everyone should know that!

http://blogs.roanoke.com/storefront/2011/01/warm-treats-on-the-way-to-cold-stone/
Unfortunately Still a Franchisee wrote:
Cold Stone is quick to point the finger at you if you are not profitable. They will actually accuse you of not reporting all your sales so you could get away from paying royalties. This franchise is nothing but a pyramid scheme aimed at taking advantage of hard working individuals with entrepreneurial spirits. We pray that those like us who are still in this nightmare persevere and those that are out mend their broken lives and find a way to get this behind them.

http://blogs.wsj.com/independentstreet/2008/06/16/cold-stone-case-study-three-warnings-for-franchise-buyers/tab/comments/


ex-Cold Stone franchisee wrote:
As an ex-Cold Stone franchisee, I also had to withstand the onslaught of the Kahala regime. I called myself being a nice guy and giving them forewarning that I would be closing my store in two weeks. For some odd reason, I expected them to send me a letter thanking me for my dedicated service. Instead they sent me a termination letter and then began to call and harass me to turn over my keys to them. They began showing up at my store unannounced to ("inspect") verbally harass me. When I told them I planned to remove my equipment and sell it, they became even more hostile, telling me they had a right to the equipment and that they would sue me if I didn't turn over the equipment and get out immediately. This went on for two agonizing weeks. They stood out in front of my store for a full hour to watch me load my equipment onto the truck and to harass me about what I was removing from the store…
In a letter to CNBC's Darren Rovell, another Cold Stone franchisee wrote:
[Kahala/Cold Stone] were not there when we began to keep us on the right track, they were not there when we were failing, and they were not there to help us when we failed. They assigned us a trainee area developer who didn't help us with ordering and inventory, they had us report sales and income daily and we expected feedback if we were doing anything to lead to failure and after we closed our store, they were still taking out franchise fees. They were terrible to us and to 400 plus franchisees.

…We were promised that there is so much money to make but we lost all in six short months.

… We learned a very expensive lesson about payroll taxes, high taxes in general, Kahala fees being ridiculously high and Kahala kickbacks. We used our retirement and our children's college funds hoping to make our $500,000 and get us on the road to retirement. We were forced to walk, bankruptcy and nearly lost our home… (BMM)
Another Kahala Cold Stone Creamery franchisee wrote:
Kahala has gotten so greedy that the kickbacks received by them in 2010 were $13 Million. Franchisees like myself, invested $350,000 and saw no support to be successful. They got our money, made their profit, and continued making profit. We closed our doors after six short months. Kahala continued taking franchisee fees and advertising fees from our accounts even after we closed the store. Readers, please don't buy into this rosy picture. Kahala and Dan Beam are thieves and they will have to restore losses to all the 400+ franchisees who lost their stores, believing in this company cared about them. " (BMM)
Current franchisee wrote:
Me and my husband are losing everything we've worked for and all these people care about is having franchisees sell more ice cream. It's all very upsetting what's happening to us and so many others and I really want this nightmare to be over. I can't take it anymore. I regret the day I ever heard the name Cold Stone. Cold Stone has cost me and my family so much pain and we have lost everything. And all Cold Stone cares about is us turning over our stores to them so they can resell them to another innocent family.

These people are evil.  (BMM)
Are you familiar with the Cold Stone Creamery franchise?  Please share a comment, opinion or observation below.
To contact the author and site admin, email UnhappyFranchisee[at]gmail.com