According to the leading source of franchise misinformation, Entrepreneur magazine, Cold Stone Creamery is one of the world's top 50 franchises.
According to many who believed the deceptive advertising hype and bought a franchise, Cold Stone Creamery is one of the worst franchise investments in recent history.
In addition to UnhappyFranchisee.com, websites like BlueMauMau.org and ColdStoneFacts.org contain numerous franchise horror stories.
We've included some of the Cold Stone Creamery franchise complaints below.
[Read more Cold Stone Creamery franchise stories]
Allegations include franchise churning, vendor kickbacks and under-the-table "rebates," excessive discounting and couponing, lack of franchise support, and a broken, unsustainable business model.
What do you think?  Do you have a Cold Stone Creamery franchise complaint or horror story to share?  If so, please leave a comment below.
Cold Stone Creamery Franchise Complaints
Current franchisee wrote:
The problem with Cold Stone is its management. Dan Beem and Kevin Blackwell are the worse managers in the history of franchising. They have allowed this thing to get so far out of control that it is now impossible to save. (BMM)
David wrote:
I  am a Cold Stone franchise owner with three stores and no one knows better than me of the misery that comes with being a Cold Stone Creamery franchisee. There are stores planning to close across the country. I am planning to close my stores as well. Despite having a very high volume of sales, we cannot make a profit in these stores because of Kahala's kickbacks. My wife and I cannot even pay our mortgage Me and other franchisees will lose millions, our homes, I even had to pull my kids out of college because I spent their college fund trying to keep my stores open.

Cold Stone Creamery is among the most unsuccessful franchises in the nation and everyone should know that!

http://blogs.roanoke.com/storefront/2011/01/warm-treats-on-the-way-to-cold-stone/
Unfortunately Still a Franchisee wrote:
Cold Stone is quick to point the finger at you if you are not profitable. They will actually accuse you of not reporting all your sales so you could get away from paying royalties. This franchise is nothing but a pyramid scheme aimed at taking advantage of hard working individuals with entrepreneurial spirits. We pray that those like us who are still in this nightmare persevere and those that are out mend their broken lives and find a way to get this behind them.

http://blogs.wsj.com/independentstreet/2008/06/16/cold-stone-case-study-three-warnings-for-franchise-buyers/tab/comments/


ex-Cold Stone franchisee wrote:
As an ex-Cold Stone franchisee, I also had to withstand the onslaught of the Kahala regime. I called myself being a nice guy and giving them forewarning that I would be closing my store in two weeks. For some odd reason, I expected them to send me a letter thanking me for my dedicated service. Instead they sent me a termination letter and then began to call and harass me to turn over my keys to them. They began showing up at my store unannounced to ("inspect") verbally harass me. When I told them I planned to remove my equipment and sell it, they became even more hostile, telling me they had a right to the equipment and that they would sue me if I didn't turn over the equipment and get out immediately. This went on for two agonizing weeks. They stood out in front of my store for a full hour to watch me load my equipment onto the truck and to harass me about what I was removing from the store…
In a letter to CNBC's Darren Rovell, another Cold Stone franchisee wrote:
[Kahala/Cold Stone] were not there when we began to keep us on the right track, they were not there when we were failing, and they were not there to help us when we failed. They assigned us a trainee area developer who didn't help us with ordering and inventory, they had us report sales and income daily and we expected feedback if we were doing anything to lead to failure and after we closed our store, they were still taking out franchise fees. They were terrible to us and to 400 plus franchisees.

…We were promised that there is so much money to make but we lost all in six short months.

… We learned a very expensive lesson about payroll taxes, high taxes in general, Kahala fees being ridiculously high and Kahala kickbacks. We used our retirement and our children's college funds hoping to make our $500,000 and get us on the road to retirement. We were forced to walk, bankruptcy and nearly lost our home… (BMM)
Another Kahala Cold Stone Creamery franchisee wrote:
Kahala has gotten so greedy that the kickbacks received by them in 2010 were $13 Million. Franchisees like myself, invested $350,000 and saw no support to be successful. They got our money, made their profit, and continued making profit. We closed our doors after six short months. Kahala continued taking franchisee fees and advertising fees from our accounts even after we closed the store. Readers, please don't buy into this rosy picture. Kahala and Dan Beam are thieves and they will have to restore losses to all the 400+ franchisees who lost their stores, believing in this company cared about them. " (BMM)
Current franchisee wrote:
Me and my husband are losing everything we've worked for and all these people care about is having franchisees sell more ice cream. It's all very upsetting what's happening to us and so many others and I really want this nightmare to be over. I can't take it anymore. I regret the day I ever heard the name Cold Stone. Cold Stone has cost me and my family so much pain and we have lost everything. And all Cold Stone cares about is us turning over our stores to them so they can resell them to another innocent family.

These people are evil.  (BMM)
Are you familiar with the Cold Stone Creamery franchise?  Please share a comment, opinion or observation below.
To contact the author and site admin, email UnhappyFranchisee[at]gmail.com

(UnhappyFranchisee.com)   The Cold Stone Creamery franchise in Los Gatos, CA will stay open until Labor Day, then close forever.
According to The Patch, Cold Stone Creamery franchise owner Charles Hamm, of San Jose, said sales were declining and the business environment has "made it impossible to continue operation."
The store has been in Los Gatos since 2006. Hamm bought it in March of 2007 from a previous owner who also had been losing money. At the time, there were two Cold Stone Creamery stores in Los Gatos. According to Hamm:  "They had mediocre sales and I thought if one closed, those customers would come over. In the summertime it's not too bad, but I just can't afford the winters."
[Read more articles on Cold Stone Creamery]
Hamm owns another Cold Stone Creamery in Rivermark Plaza, in Santa Clara.  Lamented Franchisee Hamm:"We're hanging in there … We'll continue operation there, but it's a tough time, it's been tough since 2008."
Commenting on The Patch article, Cold Stone Creamery ex-franchisee David Klein wasn't so quick to let the franchisor and parent company, Kahala, off the hook for the franchise failure.  He stated::
I understand Mr. Hamm's struggle and I feel very badly for him, but he is wasting his time and money trying to keep the second store open. It will never make it. I owned three stores. Two of them were among the top stores in the nation and the third operated at well above the average unit volume. Still we could not earn a profit.

I think overwhelmingly, most Cold Stone franchise owners are not profitable due to the actions of Kahala and Cold Stone Creamery. It may even be that no stores are profitable because it was discovered that Cold Stone accepts kickbacks from the distributors that it forces the franchise owners to use. This was reported on CNBC but also in the Wall Street Journal. That causes Cold Stone franchises to become unprofitable. In many cases, this results in the loss of $500,000 or more in savings and other assets and leads to bankruptcy and ultimately the loss of the owner's home. It's corporate greed at it worse.

As Cold Stone continues to engage in kickbacks and until the federal government steps in says "no more kickbacks", this will continue to happen.
Are you familiar with Cold Stone Creamery and Kahala?  What do you think?  Share a comment below.
Doug Ducey, the former Chairman and CEO of Cold Stone Creamery and CEO of Kahala-Coldstone, is campaigning for the position of Arizona State Treasurer. 
Angry former Cold Stone Creamery franchise owners, who claim Ducey knowingly sold a flawed franchise opportunity that cost them their financial well-being and the government millions,  have joined forces with Ducey's opponent, Democratic nominee Andrei Cherny, to try to melt his hopes of ever reaching office.
Doug Ducey calls Cold Stone Creamery "a true Arizona business success story"
Doug Ducey's campaign strategy is to cast himself as a proven, successful business person who built a successful 1400+ unit franchise chain endowed with a "culture of accountability." 
According to his campaign website:
Over the last 20 years, Doug Ducey has been a business leader and a business builder. Through his innovation, team-building skills, and results-based managerial style, he has created thousands of jobs in America and worldwide, helped hundreds to realize their dreams of business ownership, and created a culture of accountability and a mission that has become a model of business best practices. 

…As the former CEO and Chairman of Cold Stone Creamery, a true Arizona business success story, Doug discovered that the key to achieving seemingly impossible goals is to set a vision, ignite people to it, provide tools and support, and manage for results. It's Doug's proven method, and it's what he'll do as Arizona State Treasurer.
Failed Franchisees Want to Melt Ducey's Political Hopes
According to an article ("Former Cold Stone Franchisees, Cherny Campaign Slam Ducey") in the Arizona Capitol Times:
A group of former Cold Stone Creamery franchise owners accused Republican state treasurer candidate Doug Ducey, the company's former CEO, of using a raft of dishonest business practices to perpetuate a revolving-door system that lured in franchisees, bankrupted them and then pushed them aside to make way for new ones.

At an Oct. 7 press conference, hosted by Andrei Cherny, Ducey's Democratic opponent, four former Cold Stone franchise owners blasted the former CEO. They accused him of attracting franchisees with inflated profit projections, intentionally undermining owners and using Cold Stone's store evaluation system to bully franchisees who challenged the company's actions…

"They know they were selling a failed business model to franchisees, yet they continued to do it year after year to the profit of the creamery. Most of us, a number of us here, were just ruined financially,"Ken Gornall said at the press conference, which was held at Arizona Democratic Party headquarters. "He was the CEO. He was responsible for whatever actions took place."
The Success Story with a 31% Failure Rate
Ducey's run for Arizona State Treasurer has prompted an aggressive alliance between unhappy ex-franchisees eager to share their feelings about Ducey's allegedly sleazy business practices, and Andrei Cherny, who is more than happy to give them a megaphone to do so.  Cherny videotaped failed franchisees bashing Doug Ducey and Cold Stone Creamery, and posted the video series both on his website and on YouTube.
See:  Videos for Press Conference about Doug Ducey with Former Cold Stone Creamery Franchisees
According to a Phoenix News Times (Doug Ducey's Record at Cold Stone Could End Up His Albatross) story:
The ex-Cold Stone hawkers ran through a litany of common complaints regarding Cold Stone's alleged business practices: promises of profits that rarely materialized; "cannibalizing" sales by placing franchises too close together; forcing franchisees to purchase high-priced goods from favored vendors who provided "remunerations" to Cold Stone; two-for-one coupons that the franchisees had to eat the cost of; and on and on.

One allegation in particular was an eyebrow-raiser. Redd, who operated four stores in Arizona, said on camera that the franchisees were supposed to pay sales tax on the freebie ice cream offered by the infamous two-for-one coupons. He said he was forced to pay this when he was audited by the state. Moreover, Redd claimed he informed Ducey and Cold Stone about the situation.

"We told Cold Stone about it," Redd explained at the press conference. "They told us to just not pay the sales tax, to just, you know, throw the coupons away."

Redd suggested that Cold Stone may not have paid state sales tax on "hundreds of millions of dollars of ice cream" distributed through the promotion.
Also read:
Failure Rates of the 10 Most Popular Franchises
COLD STONE CREAMERY: Bitter Franchisee Alleges Encroachment
COLD STONE CREAMERY: Franchisee Alleges FR "Churning"
Cold Stone Creamery Gets Served by Franchisees
ARE YOU FAMILIAR WITH DOUG DUCEY AND THE COLD STONE CREAMERY FRANCHISE?  SHARE A COMMENT BELOW.
Contact the author or site admin at UnhappyFranchisee[at]gmail.com

Failure Rates of the 10 Most Popular Franchises What are the failure rates of the 10 most popular franchise opportunities?  Read more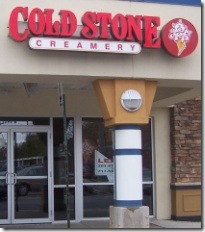 According to the Brown Daily Herald, a Cold Stone Creamery franchisee blames the recent failure of her Providence, RI franchise on encroachment from another Cold Stone Creamery location.
Kristina Gedutis, who co-owned the Thayer Street franchise with her husband, Craig, for five years, said the store's sales were down 30 percent from 2008.

Though the location's rent remained the same, dwindling revenues made it difficult for the owners to make payments, she said…

"When we first opened, business was great — we definitely had our following," she said.

"There wasn't another Cold Stone in Providence, so we got most of the area's business." Gedutis said when the downtown Cold Stone opened, she saw revenue drop.

"I am bitter toward that," she said. "It wasn't really fair."
The new competing location Gedutis blames for her store's failure was the result of a new co-branding partnership between Cold Stone & Tim Horton's, a Canadian-based restaurant chain. 
Gedutis claims that "the opening of a joint Tim Hortons-Cold Stone location on Dorrance Street downtown negatively affected her Thayer Street parlor's business."
WHAT DO YOU THINK?  SHARE A COMMENT BELOW.
Photo:  A closed Cold Stone Creamery franchise location, Lancaster, PA (FranBest Photo library)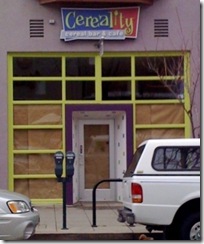 I love this.  This is genius. said Donny Deutsch, host of CNBC's "The Big Idea"
The latest fast-food concept is so simple… how can it fail?  said Jerry Shriver of USA Today
…the silliest, most self-indulgently bad idea to have ever graced the Franchise Graveyard… Even college kids who've spent the last five years in a haze of beer, smoke and liberal arts could see what a truly stupid idea Cereality is. said Sean Kelly, author of FranchisePick.com
Cereality franchise owner Laila Fields went with the first two experts in this one. 
According to the San Jose Mercury News,
Laila Valdez Fields is so sure her quirky new cereal cafe will be a hit, she bet the house on it.  Literally.  A real estate agent, she persuaded her husband, a chiropractor, to sell their home to invest in the restaurant business.
FranchisePick.com, which has warned potential franchisees about the unviability of the Cereality concept, started a Cereality Franchise Dead Pool to bet on how quickly Fields would close… and lose her and her husband's life savings.  The winner was Rob, who bet six months.
Cereality: Doomed idea sold to a clueless franchisee by an unscrupulous franchisor?
FranchisePick.com has steadily reported on the closings of Cereality cafe franchises and company stores since mid-2007.  The Evanston, IL Cereality flagship closed in less than 6 months.  A South Carolina franchise beat that with a record-setting failure in less than 3-months.  From locations on the PA Turnpike to JFK and Newark Airports to college locations at Penn State, University of Pennsylvania and Arizona to the Chicago Loop, every stand-alone Cereality location has failed and closed prematurely.
Yet multi-concept franchisor Kahala Cold Stone (also the franchisor of Cold Stone Creamery and others) seemingly had no problem collecting a franchise fee from Laila Valdez Fields and encouraging her to gamble her future on a losing bet.
And some franchise broker or sales person had no problem collecting a commission on what they must have known was going to be a tragic outcome for Fields.
And yet, can you really feel sorry for this franchisee?  Was it laziness that kept her from finding out about these earlier failures?  Was it self-delusion, or arrogance, that made her sure she would succeed where others (including the franchisor) had repeatedly failed?
Let's face it, in the capitalist society of America, franchisors have the freedom to sell doomed, ill-conceived franchise concepts.
Clueless franchisees like Laila Valdez Fields have the freedom to buy them.
When you consider that bad decisions like this are often backed by taxpayer-funded SBA loans, it's tough to have sympathy for either side.
WHAT DO YOU THINK?  SHARE A COMMENT BELOW.
Photo credit:  More Madonna, Less Jesus blog.  Used by permission

Frequently, commenters make the point that open discussions by unhappy franchisees on sites such as this just make matters worse and hurt those who are still struggling to survive.
The most recent of these commenters, posting as Alison, made this point about Kahala owned Cold Stone Creamery, making some points I agree with and others I don't. Valid points can be made on both sides. What do you think? Share your opinion below.
Here are some of the points and my responses.
Alison said: For all those franchisees still hanging in there, this message board can do no good.
It allowed you to anonymously express your opinion to a number of other owners, prospective owners and even management. Isn't that good?
Alison said:…the upsurge of negative talk and the lawsuits… it's hurting those people who are hanging in there, trying to make it work.
In other words, shut up and die quietly? Don't let the word out that you are really in business FOR yourself and BY yourself?
Alison said:To vent about blame is futile, it's prohibiting franchisees who have profitable stores from selling.
Why would it prevent someone with solid financials to share from selling their store? Aren't you really saying "It's keeping us from passing these money pits on to some other unsuspecting sucker"?
Alison said:What we should be doing is telling customers that even though we are franchises and a % of the money goes to Kahala, it's still a mom and pop ice cream shop…
I agree that locally that's a good idea… raise the profile of the owner… get involved with community groups… stay in front of the media… use that local owner advantage over corporate-owned competitors… That's a good idea to be doing all the time, not just troubled times.
However, Alison, your argument that everyone should just keep quiet and put on a happy face is troubling. I don't think these complaints would be the same if franchisees perceived that Kahala and the Zees were "all in this together." I'm sure that's the message in their franchise marketing. If a franchisor knows that they are going to be discussed openly – including where future prospective franchisees are reading – they are going to be incentivised to respond to the franchisee's need for assistance. If they are not committed to creating a win-win situation, people are going to know it. Franchisees should also be vocal about sharing things franchisors are doing right.
Alison, no one blames Kahala for the challenges of a tough economy, especially when lots of competitors are struggling as well. But this should be the time when franchisees are thinking "Man, I'm glad I paid a premium for this franchise, because I've got the brand, the buying power, the marketing expertise and the dedicated support behind me, just like they promised."
If that's not what franchisees are saying, I think it would be constructive for them to share what it is that Kahala could do to help them compete? What do you guys want?

WHAT DO YOU THINK? SHARE A COMMENT BELOW.

What follows is a comment left by ex-franchisee JB Montgomery who alleges he's the victim of "Churning" at the hands of franchisor Cold Stone Creamery. In franchising, "Churning" is the practice of reselling the same location or territory over and over at a profit.
_______________________________________________________

I am a recovering Cold Stone Creamery Franchisee. It will be year next month that we closed the doors and regained our freedom.
In the past 12 months we were under contract to sell our Cold Stone Creamery to a second generation buyer. During that time I saw Cold Stone Creamery Corporate stoop to an all-time low – and have seen first hand the cruelty of "corporate churning" at the expense of those who were "supposed" business partners.
Our first buyer (yes, the first of three in a span of 6 months) put cash on the table in April and was ready to jet off to Chattanooga and Phoenix for 3 weeks of training. This buyer had small business experience in the Hotel franchise sector and had comparable communication skills as other local CS franchisees, one of which is 15 miles to the north and became an owner 12 months ago. This buyer was required to pass a "attitude profile" (FranchiZe Profile, by Dynamic Performance Systems) test before he could continue in the Cold Stone approval process. He failed the 132 question test filled with subjective, rambling and random questions. At first I was shocked! Until I realized that this was the typical Cold Stone MO – that is, what's the latest new fangled gadget to spend money on. In reality this profile test is a slick way of discriminating against potential buyers from a cultural and racial point of view….and against franchisees eager to leave the system. And, in my opinion, a violation of Section 17, unreasonable denial clause.
Our second buyer, had cash on the table and was also ready to jet off to Cold Stone University for training. He had family Marble Slab ownership experience and had developed a close relationship with the regional Cold Stone training store in Chattanooga, who encouraged him to pursue our store. Again, he had better experience and better communication skills than existing CS franchisees … he also failed the "Attitude Profile". We talked the area CS reps into giving him a second chance at the test. This time, with the help of my wife and our business broker, he passed by a single point. The CS Area Reps approved it and gave him the go ahead. He passed the in-store evaluation, language test, the food safety course. He was now ready for the 23-day training….we were THRILLED and thought that we would be out by the end of July. BUT…before he could registered for training he needed to have an over-the-phone interview with corporate and then receive corporate approval. In late June we were shocked to learn that he had been turned down by corporate. We appealed to the corporate Ombudsman for assistance on this situation. Her only comment was "that's business…". I was shocked.
Our third buyer was a local Cold Stone franchisee who owns a store 15 miles to the east of us. He did not have cash to put down and would need assistance from Corporate to get financing from one of the preferred lenders – and perhaps direct assistance from Corporate. Corporate told us that they were working with this franchisee and they should have things worked out by the end of August, which just happened to coincide with the last bit of credit to our name. In early August, a shot across the bow came from the Cold Stone director of transfers who said, "you are aware that just because he is an existing franchisee does not guarantee that he will be approved". I knew right then and there that they would not approve him. In late August we received word that corporate would not assist the local franchisee and they would not approve him for purchasing our store. I did not understand the "about face" from their willingness to assist earlier in the month….until later.
****
We closed the doors on Monday, August 27th.
By Friday August 31st, the Cold Stone area reps had the locks changed, inventory completed and the floors clean.
The week of Sept 14th, they had a buyer of their own up and running. They netted a cool $42,000 off a "new" franchisee rather than "allowing" us to sell to one of the qualified buyers.
****
I have been keenly interested in the past year in the Quiznos and UPS law suits. One could easily substituted "Cold Stone Creamery" in either of those law suits in revealing the product costs, labor percentages, kickbacks, franchisor horrors and the non-viable business models. Yet, this "golden child" of the ice cream industry continues to go undetected in their ruthless business practices, their flawed business model and their total disregard for the profitability of the franchisee.
If you are thinking about buying a CS franchise – DON'T DO IT!!!
The Cold Stone Creamery franchise is getting served.  Richard Gibson's stinging WSJ article The Inside Scoop has prompted some scathing comments from former Cold Stone Creamery franchise owners.  Here are a few:
"You will lose everything if you get involved with this company"
"…while Cold Stone is sending out emails to franchisees today telling them not to panic… I say panic! You will lose everything if you get involved with this company, and they will shrug their shoulders and say "That's Business"!."  Comment by Former Franchisee – June 16, 2008
"A large number of Cold Stone's stores are unprofitable and failing. Yet they continue to sell …"
"I owned three stores–two did $500,000 in sales and the other did $400,000. Therefore each of my stores were operating well above the average, yet we were unable to turn a profit… due to a faulty business model and I think Kahala-Cold Stone knows that.
A large number of Cold Stone's stores are unprofitable and failing. Yet they continue to sell to prospective franchisees on their own website based on statements such as "profit by making people happy" (see: http://www.coldstonecreamery.com/franchises/steps_to_becoming_a_franchisee.html ) and "Cold Stone's franchise opportunities are about as solid as they come" (see: http://www.coldstonecreamery.com/franchises/franchise_overview.html ). That strikes me as fraudulent… I think Kahala-Cold Stone is a poorly, poorly run company and it's really starting to show to the public."  Comment by Cecil Rolle from Tallahassee, FL – June 16, 2008 at 8:27 pm
"I've lost more than 1 million dollars… I still have thoughts of SUICIDE…"
"I too, a former franchisee was financially ruined by Cold Stone Creamery. I've lost more than 1 million dollars and will be paying off debts for the next 10 years. I still have thoughts of SUICIDE and hope to God there is a class action suit that I may one day be a part of. Cold Stone Corporate likes to pass the blame along to the Franchisees when a store is not successful!! It is NOT the franchisee. The reality is that Cold Stone Corporate put too many stores close together….
"I feel sorry for the franchisees left with stores. I know many of them, and not ONE of them is making money in our state. But Cold Stone Corporate continues to make a percentage on every cent of gross revenue.
The company will blame the individual franchisees failure citing that they had "no experience," or "didn't work hard enough." …the majority of those forced to close are decent hard working individuals that took a chance on "The American Dream," A dream for me and my family that turned into a nightmare!
…I now get to retire in a trailer on a fixed social security income…I live with the stress everyday knowing I let down my family and myself by ever investing in a Cold Stone Creamery franchise and for believing their lies!…"  Comment by Former Franchisee – June 16, 2008 at 8:28 pm
"These guys are the Enron of franchising…"
"…Cold Stone turned out to be the ultimate scam. These guys are the Enron of franchising & some of these guys should be in jail for the lives that have been ruined because of their greed and arrogance!"  Comment by Former Franchisee – June 16, 2008 at 11:43 pm
ARE YOU FAMILIAR WITH KAHALA & THE COLD STONE CREAMERY FRANCHISE? WHAT DO YOU THINK? SHARE A COMMENT BELOW.
__________________________

Unbiased franchise information, franchise interviews and detailed, searchable information on 400 franchise and business opportunities.
.

Franchisees, customers & experts vote for their favorite new franchises at Top New Franchise: Who's hot. Who's not.
Share This
Tags: COLD STONE CREAMERY, franchisee, franchising, ice cream franchise, kahala corp