COLD STONE CREAMERY: Bitter Franchisee Alleges Encroachment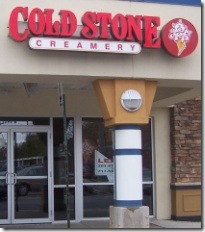 According to the Brown Daily Herald, a Cold Stone Creamery franchisee blames the recent failure of her Providence, RI franchise on encroachment from another Cold Stone Creamery location.
Kristina Gedutis, who co-owned the Thayer Street franchise with her husband, Craig, for five years, said the store's sales were down 30 percent from 2008.

Though the location's rent remained the same, dwindling revenues made it difficult for the owners to make payments, she said…

"When we first opened, business was great — we definitely had our following," she said.

"There wasn't another Cold Stone in Providence, so we got most of the area's business." Gedutis said when the downtown Cold Stone opened, she saw revenue drop.

"I am bitter toward that," she said. "It wasn't really fair."
The new competing location Gedutis blames for her store's failure was the result of a new co-branding partnership between Cold Stone & Tim Horton's, a Canadian-based restaurant chain. 
Gedutis claims that "the opening of a joint Tim Hortons-Cold Stone location on Dorrance Street downtown negatively affected her Thayer Street parlor's business."
WHAT DO YOU THINK?  SHARE A COMMENT BELOW.
Photo:  A closed Cold Stone Creamery franchise location, Lancaster, PA (FranBest Photo library)