NOVUS GLASS Franchise Complaints
Is the Novus Glass franchise opportunity a "total scam"?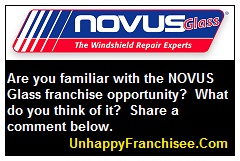 According to the Novus Glass franchise website, "NOVUS® invented windshield repair in 1972. For over 39 years, NOVUS has been and remains the industry's research & development pioneer.
"NOVUS has been awarded more U.S. Patents for windshield repair than the rest of the windshield repair industry combined."
Novus Glass claims that it provides dedicated support to all Novus franchise owners.
The Novus website promises prospective franchisees that "The NOVUS staff of management, technical, marketing and research specialists will support you in the beginning and as your business grows.
"This means you are never alone and help is always a call or a click away. NOVUS' more than 39 years of experience in the auto glass industry and the experience of our franchise network provide our franchisees with best practices to help their business thrive."
However, we received an email from a person who claims that his experience as a Novus Glass franchisee was a disaster.
He has numerous Novus Glass franchise complaints, including:
Competition from the franchisor
Lack of franchise support
Disrespectful attitude toward franchisees
Lack of marketing support
Untested marketing ideas
Possible use of "shills" franchise in recruitment process
"Novus Franchisee" wrote:
Novus Glass franchise is a total scam.

Their holding companies compete with franchisees through 800 numbers on their websites (which were way better than the franchise network website that they provide) and then subletting the work to some local guy in that area.

They have this attitude that they trained us and gave us their name and logo so we are really stupid to be asking for help. Their regional manager would never call or return calls and will only answer our calls after 3 or 4 days of our persistent calls to him.

They never tell us what is working for successful franchisees so we could implement the same in our areas but would continually give us new untested and unproven ideas on a whim that sometimes would send us on a wild goose chase.

Auto glass business is mostly dependent upon receiving referrals from insurance companies without which you are doomed to fail. They give us all the information to be able to become part of the insurance network but there are so many companies on it that you receive 1 or 2 referrals a week from them if you are lucky.

Their [FDD] does tell you that the company is showing a loss on their tax returns but when I had called other franchisees before buying,

most had positive things to say about them because they have a vested interest but there was 1 that talked to me for over an hour, kept engaging me in a lengthy conversation… After I became a franchisee… a lot of things suggested that he night be a shill who was actually receiving jobs through them.
READ:  NOVUS GLASS FRANCHISE DISCLOSURE DOCUMENT (FDD) 2011
ARE YOU FAMILIAR WITH THE NOVUS GLASS FRANCHISE?  IS NOVUS A SOLID OPPORTUNITY OR A FRANCHISE SCAM?  SHARE A COMMENT BELOW.