FOX CITIES SIGN & LIGHTING Jim Marks Defends Alleged Sign Theft
We asked Jim Marks, owner of Fox Cities Sign in Menasha, WI, to justify his alleged theft and destruction of a local company's signage on behalf of an out-of-state bully.  We received 15 emails in 5 hours from Jim Marks that included insults, profanity, and Marks' assertion that those whose businesses fail somehow lose their property rights.
(UnhappyFranchisee.Com)  by Sean Kelly Yesterday, the news media featured amazing stories of everyday Americans risking their lives to help, and in some cases save the lives of, strangers who had been hard-hit by the devastating floods in Texas.
Men, women and teenagers, waist deep in  rushing water, interlocked arms to form a human chain in order to save an elderly man trapped in his sinking truck.
Another group formed a chain to help a woman in labor reach the truck that would take her to the hospital where her baby would be safely delivered hours later.
For a few moments, I felt reassured at the goodness and compassion of these everyday heroes.
And then my phone would ding with the next email message from Jim Marks of Fox Cities Sign… and I'd be reminded that not all are so caring and unselfish.
As it turns out, some people will cross a raging river to help a neighbor in need.
Others, like Jim Marks, in my opinion, see nothing wrong with selling their neighbors down the river if it'll put a few bucks in their pocket.
Fox Cities Sign Owner Jim Marks Denies Any Wrongdoing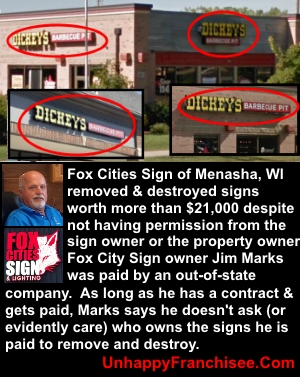 For 5 hours I received emails from Marks claiming that he is the victim, not the local business owners whose signs he was paid to secretly seize and destroyed.
In my post yesterday (Should Wisconsin Businesses Boycott Fox Cities Sign & Jim Marks?), I had described how a vindictive franchise company had, through its intermediary Northwest Signs of Georgia, paid Jim Marks to secretly remove and destroy signage owned by franchisee locations in Appleton and Green Bay, WI.
Jim Marks had admitted that he was paid to remove and destroy signage the owners had paid over $21,000 to install without getting permission from the property owners or the sign owners.
I invited Jim Marks to provide his side of the story, to provide a statement or rebuttal, or to admit that he may have been a bit lax in his procedures (as other sign industry professionals have said), and that he will make some changes in the future.
Instead of the professional, well-reasoned response one might expect from a business owner whose success depends on his reputation among the owners of small and mid-sized business, Jim Marks defended his actions with a flurry of 15 rambling,  nearly unintelligible, profanity laced email messages (which I've posted in entirety below).
He stated that he regularly seizes and destroys signs of local businesses without asking for proof of ownership or legal authority.
He threatened to sue me, and said legal action was underway.
He called me a jackass.  A moron. An ignorant fool.
He told me: "take that shit off your website."
He complained that I didn't report that he had documentation, then refused to provide documentation.
He claimed Fox Cities Sign does not work at night, despite the fact that 24-hour service is prominently advertised on his website.
He claims that he is the victim because the franchisee complained online and because I am asking him to justify his business practices.
He suggested that we harass the company that hired and paid him instead of him.
Fox Cities Sign Secretly Seizes & Destroys Signs "All The Time"?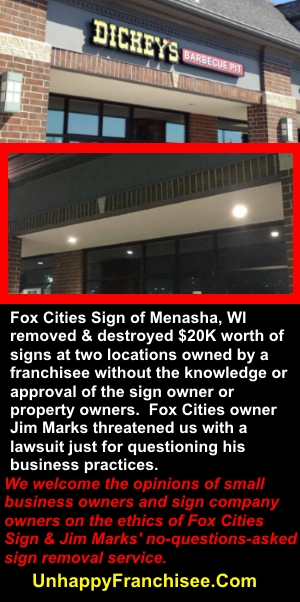 "I do this type of operation all the time," wrote Jim Marks
After repeated efforts to ask him why he feels he has the right to enter commercial property without permission (aka trespassing), take other people's property without their permission (aka stealing), and destroy it (aka vandalism, aka destruction of property), I could only discern two justifications:
First, he believes that his only moral and legal obligation was to perform the duties needed to get paid.
He claims he was "under contract" and secretly seized and destroyed signs that did not belong to him or his client "in the proper order," so he shouldn't be questioned.
Second, he believes that because the local business owners were having financial hardship and they were in a dispute with their franchisor, they deserve whatever they get.
He wrote:  "none of this would've happened if they would run their business like they should have they need to take full responsibility for the actions taken by their franchise company."
In a message to the sign owners, he wrote:  "If you didn't get yourself in financial trouble, this never would have happened."
The truth is, the franchisee's only mistake was being fooled by the deceptive tactics of a horrible franchise company named Dickey's Barbecue Pit.
Dozens of Dickey's Barbecue Pit franchise locations are closing across the country. (See DICKEY'S BARBECUE PIT Closed Location List, DICKEY'S Franchise Graveyard)
The Appleton and Green Bay stores were in good operational standing, and there is no evidence that the franchisees were not strong operators.
Fox Cities Sign Was Paid to Help Bully a Local Business Owner
However, it seems that the Appleton franchisee committed the ultimate sin according to Dickey's:  They told the media the truth about the Dickey's fraudulent success story.
One month earlier, the wife of the franchise owner was quoted in the Post-Crescent newspaper about how Dickey's mismanagement led to the closing of their and many other franchise locations.
It's believed that the couple's unwillingness to go away quietly made them a target of the very vindictive Dickey's corporate legal team.
Instead of contracting a sign company simply to cover the locations signs, as they had for other closed locations, it's believed that Dickey's Jeff Gruber asked Northwest Signs of Atlanta to find a local company willing to remove and destroy the signage owned by the franchisees.
Northwest Signs of Georgia found a willing accomplice in Jim Marks and Fox Cities Sign.
In my opinion, Jim Marks and Fox Cities Sign were only too glad to help to bully, intimidate and cause additional financial pain to an already devastated family.
After all, the local franchisees had refused to hire him for sign maintenance despite several visits to the restaurants.
When given a chance to apologize or express remorse, here is how Jim Marks responded:
Jim Marks' Email Messages to UnhappyFranchisee 8/30/17
At 1:34, Jim Marks wrote:
You'll be hearing from my attorney. Sitzmann law firm in Appleton Wisconsin
2:10, Jim Marks wrote:
This is the best fake news I've seen since the election. If we were guilty of anything we would've been sued already why hasn't that happened because we did nothing wrong get that through your head. I just got off the phone with my attorney we are pursuing action.
2:13, Jim Marks wrote:
Ps

Those signs had a value of less than 5000 where they came up with 30000I have no idea other than the work you up to write the story apparently it worked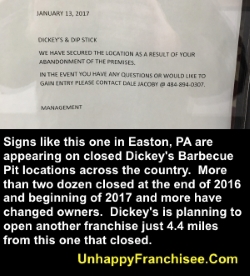 2:27 pm, Jim Marks wrote:
Think about something how would you like that if I just put something like that out there that somebody gave me a story without real documentation about your website? I don't think you would be too thrilled to even have your name mentioned this is a personal attack against me and my name is there and my company name.

You should be going after the person that gave me the contract not me I did everything by law. But apparently your owners don't understand that they should be taking it out on them not me personally. This is taken way out of context I do this type of operation all the time. You have to pissed off franchise owner that's not my problem that's their problem I have all the documentation and I wish you would just put that out there that I have documentation to do this it's a franchise owner and the franchise that have the dispute I should never been involved with any conversation and if you have any intelligence and if you write enough about this type of thing you know I'm right but you can't understand that you have to make a living so this is what you do.
2:43 PM, Jim Marks wrote:
I'll let my lawyer handle of documentation
2:44 PM, Jim Marks wrote:
One more thing if I am so wrong why has neither the franchise or anybody else  contacted me other than you to write a story?
3:19 PM, Jim Marks wrote:
Number one get your facts straight we don't do stuff in the middle of the night my god what do you think I am but you better not answer that because I don't have much respect for you anymore. We are a reparable company for 11 years we only work under contract why are you not harassing the contract company why are you strictly harassing me. All I can say is get a life God there's got to be other way is better to make a living and what you're doing harassing people. How would those franchise owners like it if I harass them for harassing me on Facebook Google and reporting it to you I don't think they would appreciate it but they deserved to have me harass them for faults statements.  Get over yourself and get a real job.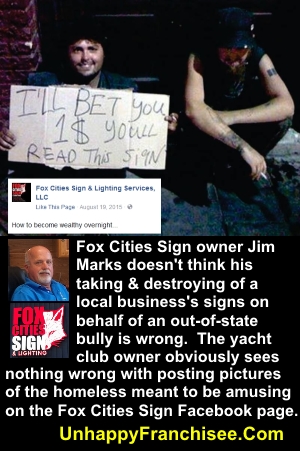 3:21 PM, Jim Marks wrote:
Oh yes and by the way there was no mistake no guilt on my part. You just think you can throw stuff out there and that you're better than anybody else because you have freedom of speech what about the word respect? Why don't you tell them the rest of the story that I was under contract and I did it in proper order according to the contract and that the franchise owners have a problem with it why don't you report that?  And that signed documentation of 21,000 as a bunch of crap after signs are put up they lose 2/3 of their value but it worked on you you took it seriously you want to do a little investigating yourself I'm at signage is worth after it's been installed in a building for 2 to 3 years do some investigation report you to start putting crap out there.
3:23 PM, Jim Marks wrote:
Go ahead and talk to the Sign Association I would love to have you do that ask them what happens when I get a contract to take down signs. You should've done all that before you reported any of this but no you don't dig you just want to throw slander out there. That's what your website is all about whatever you can dig dirt on anything against the franchisee what a way to make a living how the hell do you help you sleep at night??
3:46 PM, Jim Marks wrote:
How many times do I need to tell you take it up with the franchise
4:20 PM, Jim Marks wrote:
I'll tell you what you apologize and take that shit off your website and maybe I would have some remorse but your egg in the situation on thinking that I have no right to do what I did and the last thing I'm going to do is apologize for something that wasn't wrong when you apologize for putting false information on your website I might consider a little bit of remorse for the poor owners that can't run their business to the point where this type of thing had to happen I didn't ask for this to happen to them they are the ones responsible for what actions were taken why don't they own up and admit that???
4:20 PM, Fox Cities Sign owner Jim Marks wrote:
Again nobody put them in that situation except themselves they need to man up and take responsibility and not blame everybody else.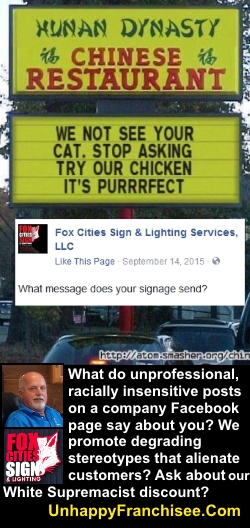 4:54 PM, Jim Marks wrote:
I have told you a dozen times and I've not been talking to you anymore you just can't get it through your thick head none of this would've happened if they would run their business like they should have they need to take full responsibility for the actions taken by their franchise company. Using the language you have your not bringing up questions anymore you are The judge and jury without a trial take me to trial
5:39 PM, Jim Marks wrote:
Oh my God you still don't get it do you you just don't get it. 99% of the property owners have no control over signage except where to locate it everything else is done by city permit. Why don't you look up municipal codes why don't you look up leases were signage is in question why don't you dig a little bit before you just flap your mouth like you have you are so ignorant to the situation all you want to do is bitch about franchises you make your living about bitching about franchises your title of your website even says that my God I have known morons in my life and you don't fall too far from the tree. Take your little website and have fun with it nobody reads it anyhow you're just being a jack ass. So take your little drama about franchises and do your little thing and make your living and be real proud of yourself. Maybe I should go on your side and badmouth you and the way you handle situations because you don't educate yourself before you put things out you're guessing and you take one side of the story and blasted out there what an ignorant fool
6:14 PM, Jim Marks wrote:
You know here's the funny part the franchise didn't come after me the sign company that contacted me don't come after me the property owner never came after me the only ones that are upset are the people who could run their business amazing how that happens
ALSO READ:
FRANCHISE DISCUSSIONS by Company
Should Wisconsin Businesses Boycott Fox Cities Sign & Jim Marks?
DICKEY'S Franchise Issues: Threats, Bullying & Churning of Franchisees
DICKEY'S BARBECUE PIT Closed Location List
WHAT DO YOU THINK?  ARE YOU FAMILIAR WITH JIM MARKS & FOX CITIES SIGN?  DO YOU THINK A BOYCOTT IS CALLED FOR?  SHARE A COMMENT BELOW.
TAGS: Fox Cities Sign & Lighting, Jim Marks, Fox Cities Sign, Fox Cities Sign boycott, Fox Cities Sign complaints, Appleton Sign Company, Green Bay Sign Company, Wisconsin Sign Association, Wisconsin Sign Company, Dickey's Barbecue Pit, Dickey's Barbecue Pit franchise, Jeff Gruber, Franchise, Northwest Signs, Northwest Signs complaints, unhappy franchisee