DICKEY'S BARBECUE PIT Franchise Disclosure Document (FDD) 2017
Dickey's Barbecue Pit Franchise Disclosure Document (FDD) for 2017 – Download for free.  Analysis and Insights into the Dickey's Barbecue Pit franchise opportunity
(UnhappyFranchisee.Com)  Here is your free download of Dickey's Franchise Disclosure Document (FDD) 2017 as well as Dickey's audited financial statement (in the addendum).
Open it, save it, read it and add a comment or a question below.
Let us know what strikes you as significant in the 2017 Dickey's Franchise Disclosure Document.
Are the representations made by Dickey's Barbecue Restaurants, Inc. (DBRI) consistent with what you know to be true?
Are they consistent with the information posted in Dickey's press releases and media stories?
Are the lists of closures, transfers and franchisees accurate?
How does the 2017 Dickey's FDD differ from the 2016 Dickey's FDD?
As we review the Dickey's 2017 FDD, we will add significant excerpts, observations and analysis of the Dickey's 2017 Franchise Disclosure Document, so return to this page as the conversation builds.
Dickey's 2017 Franchise Disclosure Document (FDD) – Free Download
Read and download the 2017 document here:
Dickey's Franchise Disclosure Document (FDD) 2017
See our archive of previous Dickey's FDDS from 2005-2017 here:
DICKEY'S FRANCHISE DISCLOSURE DOCUMENTS (FDDs)
Let us know what you think.
Dickey's Closed Almost as Many Units as it Opened in Fiscal 2017
Media stories like the recent Dallas News' misleading and inaccurate puff piece on CEO Laura Rea Dickey (which "journalist" Cheryl Hall refuses to correct) treat Dickey's Barbecue Pit as a vibrant & growing franchise chain (See Will Dallas Morning News Correct This Bogus Dickey's Franchise Story?).  Hall glowingly reports that Dickey's opened 87 new locations last year, while neglecting to point out that (according to the company's disclosures) nearly as many Dickey's locations closed.  (Why let the truth interfere with the easier-to-write success story?)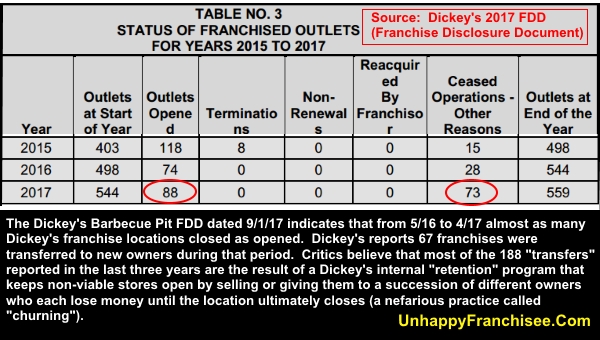 Dickey's Franchise Disclosure Document (FDD) 2017 – Contents
The Franchise Disclosure Document is an informational document that the Federal Trade Commission (FTC) requires franchisors to provide to prospective franchisees prior to their franchise purchase.  It consists of the following "Items" plus supplemental addendi.  Sections include:
1. The Franchisor and Any Parents, Predecessors, and Affiliates.
2. Identity and Business Experience of Key Persons.
3. Litigation History.
4. Bankruptcy.
5. Initial Franchise Fee.
6. Other Fees and Expenses.
7. Franchisee's Estimated Initial Investment.
8. Restrictions on Sources of Products and Services.
9. Obligations of the Franchisee.
10. Financing Arrangements.
11. Obligations of the Franchisor.
12. Territory.
13. Trademarks.
14. Patents, Copyrights, and Proprietary Information.
15. Obligation of the Franchisee to Participate in the Actual Operation of the Franchise Business.
16. Restrictions on Goods and Services Offered by the Franchisee.
17. Renewal, Termination, Repurchase, Modification and/or Transfer of the Franchise Agreement, and Dispute Resolution.
18. Public Figures
19. Financial Performance Representations.
20. List of Franchise Outlets
21. Financial Statements
22. Contracts
23. Acknowledgment of Receipt
Also read:
Dickey's Barbecue Pit Franchise Posts (ALL)
DICKEY'S BARBECUE PIT Closed Location List
DICKEY'S Franchise Owners: Tell DBRI Your Biggest Concerns, Anonymously
DICKEY'S Franchise Owners Share Frustrations & Fears
DICKEY'S BARBECUE PIT Franchise Complaints
WHAT DO YOU THINK?  PLEASE SHARE COMMENTS, QUESTIONS AND OBSERVATIONS BELOW.  ANONYMOUS COMMENTING IS ALLOWED.
PLEASE SHARE A COMMENT OR OPINION IN A  COMMENT BELOW OR EMAIL IN CONFIDENCE TO UNHAPPYFRANCHISEE[AT]GMAIL.COM Contact UnhappyFranchisee.com
Dickey's Barbecue Pit, Dickey's Barbecue Pit franchise, Dickey's Barbecue Pit FDD, Dickey's Barbecue Pit Franchise Disclosure Document, Dickey's franchise, Dickey's Franchise Disclosure Document 2017,  Roland Dickey, Laura Rea Dickey, Dickey's closed, Dickey's Barbecue Closed, Dickey's franchise closings, Dickey's Barbecue Pit Restaurants Inc., Dickey's franchise turnover, Dickey's failure rate,