QR Code Patent Troll Sues Dickey's Barbecue, 15 Others
QR Code Patent Troll Coding Technologies, LLC, an extension of Leigh M. Rothschild, is suing Dickey's Barbecue Restaurants, Inc. and 16 Others including Halliburton, American Airlines, Omni Hotels and Mary Kay.
(UnhappyFranchisee.Com)  Dickey's Barbecue Restaurants, Inc. (DBRI), franchisor of the Dickey's Barbecue Pit franchise chain,  and 15 other Texas companies have been hit with separate lawsuits for the same alleged infraction:  patent infringement.
In addition to the already troubled barbecue franchisor, the lawsuit targets included some of the nation's largest companies, including  Halliburton Company, Omni Hotels Corporation, Keller Williams Realty, Inc., American Airlines, Inc. , and Mary Kay, Inc.
Multi-billion dollar oil and gas companies MRC Global, Inc., Apache Corporation, Huntsman Corporation, Cabot Oil & Gas Corporation were also targeted, as were Powell Industries, Inc., Spectra Energy Corp., BNSF Railway Company, Schlumberger Technology Corporation, Ben E. Keith Company and Stewart & Stevenson LLC.
The sixteen lawsuits were filed 08/25/2017 in the Eastern and Southern Texas Federal District Courts by attorneys representing Coding Technologies, LLC, which, according to RPX Insights, is an affiliate of "prolific patent troll  Leigh M. Rothschild.
Attorneys Jay Johnson and D. Bradley Kizzia of Dallas-based KIZZIA JOHNSON, PLLC filed the 16 near-identical suits on the same day.
Patent Troll Attacks Dickey's Barbecue Restaurants, Inc. (DBRI)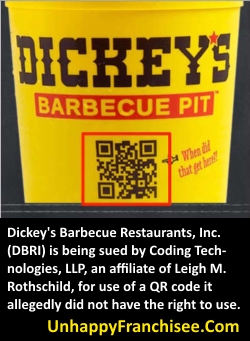 According to the Harvard Business Review, patent trolls are "companies [that] buy up unused and often weak patents, and then strategically sue technology companies large and small, claiming ownership of basic components of products that have long been in the market."
Patent trolls acquire patents without the intention to actually develop or sell related products… The sole purpose of a patent troll is to identify alleged infringers, sue them, and collect settlements (usually without ever going to trial).
According to the Electronic Frontier Foundation (EFF):
A patent troll uses patents as legal weapons, instead of actually creating any new products or coming up with new ideas. Instead, trolls are in the business of litigation (or even just threatening litigation). They often buy up patents cheaply from companies down on their luck who are looking to monetize what resources they have left, such as patents.
Embattled Dickey's franchise owners will see the irony here, as many contend that DBRI uses its franchise agreement and the mediation/arbitration system as "legal weapons" against its franchisees, forcing them to turn over failed and failing stores and the accompanying assets with little or no compensation.
Dickey's Big Yellow Cup Prompts Big Legal Demand
The EFF explains:
Unfortunately, the Patent Office has a habit of issuing patents for ideas that are neither new nor revolutionary, and these patents can be very broad, covering everyday or commonsense types of computing – things that should never have been patented in the first place. Armed with these overbroad and vague patents, the troll will then send out threatening letters to those they argue infringe their patent(s).  These letters threaten legal action unless the alleged infringer agrees to pay a licensing fee, which can often range to the tens of thousands or even hundreds of thousands of dollars.

Many who receive infringement letters will choose to pay the licensing fee, even if they believe the patent is bogus or their product did not infringe. That's because patent litigation is extremely expensive — often millions of dollars  per suit — and can take years of court battles. It's faster and easier for companies to settle.
This description of "overly broad and vague patents" certainly seems to describe the QR Code suit against the 16 companies, including Dickey's.
Coding Technologies, LLC claims that DBRI is infringing on its United States Patents No. 8,540,159, titled "Method for Providing Mobile Service Using Code-pattern."
The Texas company claims it is "the owner by assignment of the '159 Patent with sole rights to enforce the '159 Patent and sue infringers."
The complaint alleges that the company's patent covers any activity that utilizes "a user terminal (e.g., smartphone) for providing content (e.g., a web page associated with Defendant) with the use of a code pattern(e.g., a QR code)."
So by allowing the marketing department to slap a QR Code on Dickey's Big Yellow Cup (and perhaps elsewhere), the crack Dickey's legal team set up the chain for a lawsuit by an affiliate of a reknowned patent troll.
Should Dickey's Legal Department Have Prevented This?  Will Dickey's Franchise Owners, Once Again, Foot the Bill?
While it's easy to claim DBRI is the unwitting victim of a frivolous, but legal, extortion plot, a case could be made that Dickey's management and inflated legal departments were negligent in avoiding this obvious threat.
Dickey's franchise would certainly be justified in voicing their opposition to any use of their advertising fund monies being used to pay legal expenses or licensing fees or settlement to Coding Technologies, LLP or other entities for DBRI's negligence.
Attorney Matt Frizzo and Dickey's 7-person-or-so legal department and cadre of outside firms should have known that their Texas location and their public use of a QR Code on their Big Yellow Cup would make them a prime target for patent trolls like Coding Technologies.
According to the Harvard Business Review:
In recent years, patent trolls found a plaintiff-friendly venue in the courts of East Texas, which attract over 40% of all U.S. patent litigation. How lopsided are the rules there? In the few cases that go to trial (in other words, that don't settle out of court), patent holders win nearly 80% of the time — a strong incentive for defendants to settle regardless of the strength of the claimed patents.
Earlier this year, according to HBR, the  Supreme Court's ruling in TC Heartland v. Kraft Foods Group "reversed lower court decisions that effectively allowed patent holders to sue for infringement in any federal court in the country — including in East Texas. Instead, the court said, the patent law sensibly requires that the defendant either be incorporated in the state in which the case is filed or have a regular place of business there."
So the May, 2017 Supreme Court decision may have actually made Dickey's a priority target of patent troll extraordinaire Leigh M. Rothschild, as the 16 appear to have a heavy presence, if not a corporate headquarters, in troll-friendly Texas.
Other Leigh M. Rothschild affiliates have sued a number of retailers and franchise companies, including Wendy's, Taco Bell, RE/MAX, Dunkin' Brands, Marriott International, RadioShack, and ACE Hardware.
Read the case documents:
CODING TECHNOLOGIES, LLC vs. DICKEY'S BARBECUE RESTAURANTS, INC (PDF)
Exhibit A:  United States Patents No. 8,540,159, titled "Method for Providing Mobile Service Using Code-pattern. (PDF)
Also read:
Dickey's Barbecue Pit Franchise Posts (ALL)
DICKEY'S BARBECUE PIT Closed Location List
DICKEY'S Franchise Owners: Tell DBRI Your Biggest Concerns, Anonymously
DICKEY'S Franchise Owners Share Frustrations & Fears
DICKEY'S BARBECUE PIT Franchise Complaints
WHAT DO YOU THINK?  PLEASE SHARE COMMENTS, QUESTIONS AND OBSERVATIONS BELOW.  ANONYMOUS COMMENTING IS ALLOWED.
PLEASE SHARE A COMMENT OR OPINION IN A  COMMENT BELOW OR EMAIL IN CONFIDENCE TO UNHAPPYFRANCHISEE[AT]GMAIL.COM Contact UnhappyFranchisee.com
Patent Troll, Patent Assertion Entities, Patent Lawsuit Texas, Leigh M. Rothschild, Coding Technologies, LLC, Dickey's Barbecue Pit, Dickey's Barbecue Pit franchise, Dickey's franchise, Roland Dickey, Laura Rea Dickey, Dickey's closed, Dickey's Barbecue Closed, Dickey's franchise closings, Dickey's Barbecue Pit Restaurants Inc.