DENTAL FIX RX Franchise Complaints [UPDATED]
Dental Fix RX was named by Dr. John Hayes as one of his "12 Amazing Franchise Opportunities for 2015." Yet Dental Fix RX terminated nearly 1/3 of its franchise investors in just three years, the company seems to be battling franchisees in court, and is proving to be far from the amazing opportunity Hayes claimed. We invite Dental Fix RX franchise owners, support staff and customers: Is Dental Fix RX and AMAZING opportunity? [Post updated 3/7/19 to include franchise closure data from 2018 Dental Fix RX FDD]
(UnhappyFranchisee.Com) Part 8 in the Series
See previous post: Dr. John P. Hayes Franchise Books Pulled From Amazon
See series index & overview: Dr. John Hayes' Franchise Fraud School & Pay-for-Praise emporium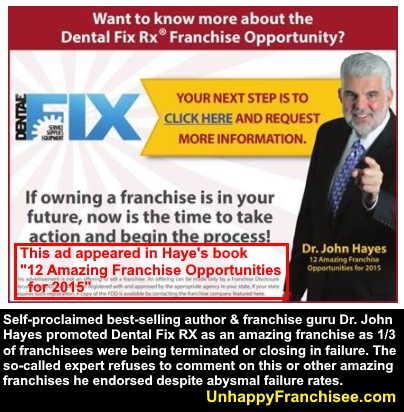 Self-proclaimed best-selling author and franchise guru Dr. John Hayes enthusiastically endorsed Dental Fix RX "12 Amazing Franchise Opportunities for 2015" (BizCom Press). In the wake of controversy caused by an UnhappyFranchisee.Com investigative series entitled Dr. John Hayes' Franchise Fraud School & Pay-for-Praise Emporium, BizCom published a blog post admitting that not only had the franchisors featured in John Hayes' Amazing Franchises series paid to be in the book(s), they also provided their own chapters… written in the third person.
In their attempt to put a positive spin on what seems to be a program designed to willfully mislead the American public and, specifically, prospective franchise owners, BizCom and Hayes are doubling down on their praise of the franchises they were paid to call "amazing." The BizCom blog posts contends: "We certainly consider them amazing! And for many good reasons!
How Amazing for Franchise Owners is Dental Fix RX?
In his intro to their chapter, Dr. John Hayes wrote:
Financial assistance for franchisees… 9-5 working hours, 5 days a week… a van instead of an office… no special education required… and a guarantee… can only be described as amazing!
Despite the fact that Dental Fix RX decided not to make a Financial Performance Representation in its franchise disclosure document (required if franchisors wish to share sales or profitability numbers with prospective franchisees), the Dental Fix RX self-written chapter states:
Dental Fix's Scott Mortier estimates a franchisee can charge between $150 and $200 an hour and see up to 5 dental offices a day….

According to Dental Fix's CEO David Lopez, the sky is the limit. The potential for Dental Fix is endless…
Dental Fix RX Terminated an Amazing Number of Franchise Investors in 2015-16
It is striking that during the same period that Dr. John Hayes was promoting Dental Fix RX franchise opportunity as amazing, David Lopez and the franchisor was busy terminating more than a quarter of the systems franchise owners. One assumes that these franchise owners, who would have lost their investments of time and money, might not view Dental Fix as an amazing opportunity.
We don't know what happened, and invite those in-the-know to share below or by email (in confidence) to UnhappyFranchisee[at]gmail.com.
According to the 2017 Dental Fix RX Franchise Disclosure Document (FDD), there were a total of 153 franchise agreements from those opening new franchises and another 8 from those acquiring a franchise through "transfer" (161 total). Of the 161 franchise agreements held by franchise owners, 40 were terminated by the franchisor. Another 5 ceased operating for other reasons, and 8 were transferred to different owners.
So, within that three year period, a full 1/3 of franchise owners saw their franchise dreams end in termination, closure or transfer.
Currently, the Dental Fix RX lists 101 U.S.franchises, so the declines no doubt have continued.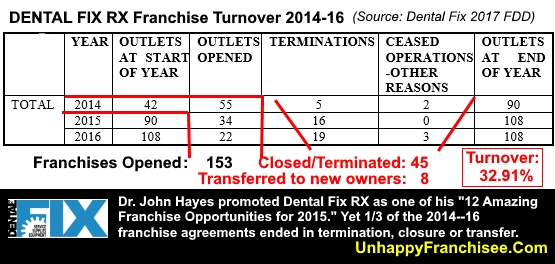 UPDATE

Dental Fix RX Franchise Turnover Rate Rises to 45%
According to the 2018 Dental Fix Rx Franchise Disclosure Document (FDD), there were 162 franchises opened and 9 transferred to new owners between January, 2015 and January, 2018. 78 (45%) of those franchise agreements resulted in prematurely ceased operations, terminations, or ownership transfers.
Questions regarding the Dental Fix RX Amazing Franchise Opportunity
What is the current relationship between the Dental Fix RX franchisor and franchisees?
How many franchise lawsuits are there currently (We've seen evidence of at least one online)?
Do the franchisees who gave testimonials in 2015 (Michael Leonard, Ted Chen, Brad Cox, Ken Tralongo) stand by them today?
Does CEO David Lopez or Scott Mortier see an ethical problem with paying for an endorsement and passing off a self-promotional chapter as analysis and praise by a third party expert without disclosing that arrangement?
Is there an ethical and legal problem with sneaking potentially illegal earnings claims into a book supposedly, but not really, written by an independent third party?
Was David Lopez' previous franchise company, FROOTZ, successful under his leadership? Why or why not? what about his other ventures?
So three years later, has Dental Fix RX proven to be the Amazing Franchise Opportunity that franchise guru claimed it would be?
READ The Series "Dr. John Hayes' Franchise Fraud School & Pay-For-Praise Emporium!":
Series Index & Overview: Dr. John Hayes' Franchise Fraud School
Part 1: Dr. John Hayes & His 12 Amazingly Deceptive Franchises
Part 2: 6 AMAZING Franchise Deceptions of Dr. John Hayes
Part 3: FASTSIGNS CEO Catherine Monson named Valedictorian, Franchise Fraud School
Part 4: Dr. John Hayes' Book Reviews Given an "F" for Fraudulent
Part 5: FASTSIGNS Franchise Deception Seems, Well, Amazing. Comments?
Part 6: DICKEY'S BARBECUE Franchise Reveals Deceptive Pay-for-Praise Tactics
Part 7: Dr. John P. Hayes Franchise Books Pulled From Amazon
FRANCHISE DISCUSSIONS by Company
_____________________________________________________________
OTHER FRANCHISE DECEPTION-FOR-DOLLARS POSTS:
FRANCHISE BUSINESS REVIEW Pay-For-Praise
FBR Franchise Business Review Promoting Illegal Earnings Claims?
Are Franchise Business Review Winners Violating the FTC Act?
FRANCHISE BUSINESS REVIEW: Justify or Retract Your Bogus Franchise Award
Dr. John Hayes Named Dickey's Barbecue Pit one of the 12 Amazing Franchises for 2015. Here's how things turned out:
Dickey's Barbecue Pit: The Musical
ARE YOU FAMILIAR WITH DR. JOHN HAYES, SCOTT WHITE, MONICA FEID, MELISSA RUBIN & BIZCOM PUBLISHING?
PLEASE SHARE A COMMENT BELOW OR EMAIL US IN CONFIDENCE (UnhappyFranchisee@Gmail.Com).
TAGS: Dental Fix RX, Dental Fix RX franchise, Dental Fix franchise, Dental Fix complaints, Dental Fix franchise complaints, David Lopez, Scott Mortier, BizCom Associates, BizCom Press, Dr. John Hayes, Dr. John Hayes franchise expert, Scott White, Scooter White, Monica Feid, Melissa Rubin, 12 Amazing Franchises, franchise books, Dickey's franchise fraud, Amazon Marketplace, Amazon Fraud, amazon complaints, unhappy franchisee