EXPERIMAC, UFG Franchise Funding Trap: The Paul Bosley Interview
We checked a recent list of SBA-guaranteed loans granted to Experimac franchisees in 2016 and 2017.  57% of the Experimac stores have already closed.  How could the SBA & Celtic Bank have made so many bad loan decisions?  Paul Bosley of Business Finance Depot explains the system he used to quickly & efficiently burden dozens of Experimac franchisees with crushing debt and high default rate SBA loans.  Spoiler alert: his secret to success involves providing the bank with sales projections that would make Charles Ponzi blush.  by Sean Kelly

(UnhappyFranchisee.Com) Our ongoing research into complaints voiced by failed and failing Experimac franchise owners (made possible, in part, by anonymous contributions on our Experimac Franchise Report GoFundMe campaign) has revealed a distressing number of franchise closures and ownership transfers.
The 2018 Experimac Franchise Disclosure Document (FDD) indicates that Experimac Franchising, LLC. opened 120 used computer & cell phone sales and repair franchises from 2015-2017.  During the same time period,
34 franchises were terminated, reacquired, transferred to different owners or "Ceased Operations – Other Reasons."  A 26% turnover rate in just its 4th year of franchising should have signaled franchisor United Franchise Group (UFG) that there were serious issues with the franchise concept or its execution.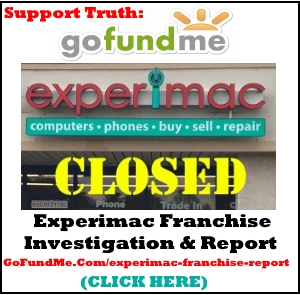 Our own research is even more disturbing.  We have compiled and continue to update the EXPERIMAC Franchise Closed Store List.  It indicates that as of 1/14/19, Experimac had 96 locations listed as operational on its website.  However, we've been able to identify approximately 54 franchise locations that have closed or transferred ownership, indicating a potential turnover rate of 36% or more.
A Small Business Administration (SBA) spreadsheet showing SBA 7(a) loan data through 9/30/18 lists the details of 54 loans granted to Experimac franchisees in 2016-2017.
When we cross-checked the SBA list with our closed location list, we found that 30 (56%) of the franchised stores that received SBA loans have already closed.
While United Franchise Group (UFG) continues to promote its franchise investment as if nothing is wrong, a rising number of failed Experimac franchise owners are fighting for their financial survival, crushed beneath the mountain of debt facilitated by Experimac Franchising, UFG, and UFG Director of Finance, Tim Phillips.
Paul Bosley, Tim Phillips & The Experimac Franchise Funding Trap
Paul Bosley is a loan broker operating under the name Business Finance Depot and HealthClubExperts.com.
Dr. John Hayes, a proactive, paid shill for United Franchise Group,  has provided us with a very informative interview with Paul Bosley, the head of Business Finance Depot.   At the time of the interview in February, 2017, was the main loan broker for United Franchise Group 's 7 franchise brands (Signarama, Experimac, Transworld Business Advisors, EmbroidMe/Fully Promoted, Jon Smith Subs, Supergreen Solutions, and something called Venture X).
The interview was published in various forms (podcast, YouTube videos) as part of John Hayes' "How to Buy a Franchise Show."  In it,  Paul Bosley lays out his process for transforming many financially secure, optimistic individuals with impeccable credit ratings and histories into depressed, embarrassed and  angry former Experimac franchise owners.
Bosley matter-of-factly describes the process that has left many former Experimac franchise owners and their families fighting for financial survival beneath a mountain of debt and suffering sleepless nights under threat of wage garnishment, home foreclosures, lawsuits and devastated credit ratings.
While recovering from the $250,000+ debt many incurred will take years, if not decades, Business Finance Depot's Paul Bosley shares how fast and easy it was for him & the crack Experimac finance team (which included Paul Bosley, United Franchise Group's Director of Finance Tim Phillips, First Financial, Celtic Bank, the Small Business Administration, leasing companies TimePayment Corporation, VFS LLC or Advantage Leasing, and Benetrends) to transform happy, creditworthy franchisees into crestfallen, embattled debtors.
PAUL BOSLEY, UFG & TIM PHILLIPS (:19)
In the interview posted February 17, 2017, Paul Bosley stated that he had coordinated the funding for 70 Experimac franchise owners to date, enabling each of them to raise the approximately $220,000 toward their initial investment into this "hot new franchise," using:
Personal savings and liquid assets
401K Rollover for Business Start-up (ROBS) through Benetrends:  Variable
SBA Express Loan through Celtic Bank:  $150,000
Equipment Lease through TimePayment, VFS or Advantage
Paul Bosley: "Anybody Can be a Leasing Broker…" & Operate "Under The Radar"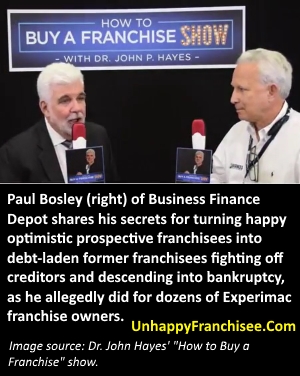 Several companies have provided equipment loans to Experimace franchisees in recent years, including TimePayment Corp., VFS LLC, and Advantage Leasing.
According to Bosley, he gets paid by the leasing company; his fees are built into the lease.  According to company disclosure documents, Experimac Franchising gets a 1% – 2% kickback on the lease amount ($800-$1600 on an $80K lease) from the leasing companies.
According to Bosley, the franchisee will need to provide 20% for the equipment lease.  For an $80,000 lease, he says, the franchisee must pay $16,000 up-front and finance (& pay interest) on $64,000.
When asked by John Hayes how fast he can get franchisee equipment leasing approved, Paul Bosely said:
Leasing is within a week.

Leasing is a very fast process.

Leasing is under the radar.

It's not regulated. Anybody can be a leasing broker…
PAUL BOSLEY: LEASING IS "UNDER THE RADAR"
Paul Bosley Feels Free to Make Unsupported Earnings Claims, Financial Projections
The Federal Trade Commission (FTC) Franchise Rule prohibits franchisors providing "earnings claims," financial performance representations or sales projections to prospective franchisees unless they are substantiated and disclosed in Item 19 of the company's Franchise Disclosure Document (FDD).
Paul Bosley states that he is not bound by "Item 19" prohibitions against earnings claims.  When Dr. John Hayes points out that a franchisor can't legally furnish financial projections, Paul Bosley says that HE can:
Paul Bosely: The financial projections are the hard part…
Dr. John Hayes: And a franchisor can't necessarily help you with the financial projections…
Paul Bosely: I do that.
Dr. John Hayes: You do that. And you're not violating any kind of an earnings claim, or an Item 19…
Paul Bosely:  No
Dr. John Hayes: …even if an Item 19 isn't part of the document…
Paul Bosely:  No
Dr. John Hayes proceeds to invite Paul Bosley to provide an Experimac earnings claim, and he obliged:
Dr. John Hayes:  So let's say I get a good [location], when am I going to make money?
Paul Bosely:  You'll make money quick. Yeah, you'll make money fast. I'd say, realistically, 120 days… We've had very few failures.
PAUL BOSLEY ON PROVIDING FINANCIAL PROJECTIONS (:15)
PAUL BOSLEY: "YOU'LL MAKE MONEY QUICK" (:17)
Paul Bosley Calls Celtic Bank the "McDonald's" of SBA Loans
Paul Bosley talked about how easy it was for him to get SBA Express Loans approved through Celtic Bank.  He explained:
[The SBA Express Loan] was just released in the last couple of years. I package that loan for a national bank. And it goes up to $150,000 of working capital once your location is open. So if you combine those two products [Celtic Bank SBA loan & equipment lease], which are compatible, I'm really financing give-or-take $220,000.  And the collateral for the Express Loan is the business. So with none of my products do you have to put up your house.
Paul Bosely stated that he can put Experimac franchisees deep into debt with fast-food-like speed and convenience:
With the Express Loan, we usually can get a pre-approval within a week… We work pretty quick. I do a lot of volume.
…the bank is generally an automated process… the Express Loans is like, I call it that bank has created the McDonald's for loans… so they move quick…
PAUL BOSLEY SBA EXPRESS LOAN (:19):
PAUL BOSELY: CELTIC BANK IS "McDONALD's" OF LOANS
Did Experimac, UFG's Tim Phillips & Paul Bosley Provide Unrealistic Sales Projections to the SBA & Celtic Bank?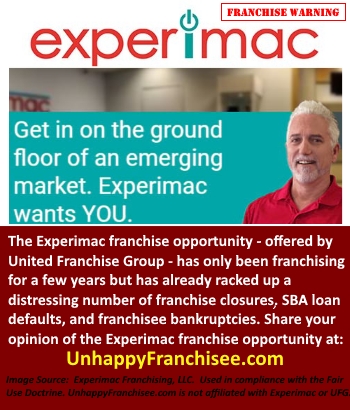 According to Paul Bosley, he was able to load 70 or more Experimac franchisees with crushing debt with an assembly line efficiency – and gain equipment ease & SBA loan approvals in just over a week each.
We've been told that UFG Director of Finance Tim Phillips has assured franchisees that no one has been turned down for an SBA Express Loan through Celtic Bank once they were in Paul Bosley's funding pipeline.
What was the secret to Paul Bosley's speed and success?
We've been told that there were two key factors:  Highly inflated sales projections and kickbacks (bribes?) to at least one Celtic bank employee.
While we haven't fully substantiated either of these claims, we have received, from anonymous sources, sales projection spreadsheets Paul Bosely allegedly provided as part of franchisee SBA loan applications to Celtic Bank.
Paul Bosely's Submitted Sales Projections to Celtic Bank That Were 3X Higher Than Average Store Sales
Evidently, Paul Bosley's streamlined system for burying dozens of Experimac franchisees quickly and efficiently in debt with Celtic involved plugging in fictional sales projections that were based on what Celtic Bank and the SBA would approve, despite bearing no resemblance to actual Experimac franchise sales volumes.
Some of the franchisee stores that have since defaulted were unable to break $10,000 per month in sales.  Others lost money each month with gross sales in the $20,000 – $25,000 revenue range.
Yet Paul Bosley apparently provided spreadsheets projecting monthly franchise location sales averaging $57,000 – $65,000 per month for the first year, and sales of $80,000-$89,000 monthly sales in year 2.
To give an idea of how ridiculously overstated those numbers are, Experimac disclosed average gross revenue of $367,944 for 11 established franchise stores in their 3rd year.  Yet Paul Bosley's projected sales for brand new stores that were double that in the first year, and triple that in the second year.
In the 2018 Experimac FDD, Experimac disclosed the average sales 11 franchise stores.  Note that these were the 3rd year sales of established franchise stores:
ITEM 19 – Table 2 – Franchise Outlets
Number of Stores
Average Gross
Sales [Year 3]
Median [Year 3]
Stores that met or exceeded
Average Gross Sales[Year 3]
11
$367,944
$324,773
45%
The Store Sales financial performance representations above are based on a population of 11 Stores that (1) are franchise outlets; (2) are located in the United States; (3) reported their sales for each of the 12 months
in 2017; and (4) have been in operation for 2 full years or more as of December 31, 2017. On average the Stores in the Store Sales financial representation above have been operating for 2.36 years.
Source:  Experimac 2018 Franchise Disclosure Document
Paul Bosely & Experimac Sales Projections Submitted to Celtic Bank
Paul Bosely's Year 1 Gross Sales Projection
Paul Bosely's Year 1 Gross Sales Projection

(Monthly Average)

Paul Bosely's Year 2 Gross Sales Projection
Paul Bosely's Year 2 Gross Sales Projection

(Monthly Average)

$765,000
$63,750
$1,060,00
$88,334
Experimac SBA Loan Defaults Are Rising
Complete an up-to-date SBA Loan data can be hard to find.  However, we recently reviewed a spreadsheet of SBA guaranteed loans from the SBA dated 9/30/18.
The SBA spreadsheet listed 56 loans for Experimac franchisees.  2 loans were listed as cancelled.  Of the remaining 54:
SBA loans for stores identified as OPEN:  24 (44%)
SBA loans for stores identified as CLOSED:  30 (56%)
Are You Familiar With Experimac or UFG Funding?  Paul Bosley?  Business Loan Depot?  Celtic Bank?  Benetrends? Or the SBA Express Loan Program?  We Want to Hear From You.
We are early in our investigation of the finance practices laid out by Paul Bosley in his interview with Dr. John Hayes.
If you have any experience with any of these lenders or financial products – with Experimac or other franchise concepts –  please share your thoughts in confidence by emailing us at UnhappyFranchisee[at]Gmail.com or posting a comment below.
If you are an employee of Experimac, United Franchise Group (UFG) or one of the companies discussed, we invite you to share any corrections, clarifications, rebuttals or opinions by emailing us at UnhappyFranchisee[at]Gmail.com or posting a comment below.
We will reach out to Paul Bosley, Tim Phillips and the management of UFG and Experimac for comment; if you know them, please send them a link to this post and our request for their feedback.
ALSO READ:
EXPERIMAC Franchise: Who Benefits from Failed Franchises?
EXPERIMAC Franchise Complaints
EXPERIMAC Franchise Complaints – Part 2
EXPERIMAC Franchise Closed Store List
EXPERIMAC Franchise Stores For Sale
FRANCHISE DISCUSSIONS by Company
UNITED FRANCHISE GROUP (UFG) Franchise Complaints
SIGNARAMA Franchise Complaints
Contact us:
TAGS: Experimac, Experimac franchise, Paul Bosley, Business Finance Depot, Celtic Bank, SBA Franchise loans, Tim Phillips, Experimac franchise opportunity, Experimac franchise complaints, Franchise Funding, First Financial, TimePayment Corp, United Franchise Group, United Franchise Group franchise, United Franchise Group franchise opportunity, United Franchise Group UFG, Ray Titus, SBA loan defaults, unhappy franchisee