EXPERIMAC Franchise: Who Benefits from Failed Franchises?
A distressing number of Experimac franchise owners are closing their stores, fighting off bankruptcy while trying to save their homes and assets.  Does franchisor United Franchise Group (UFG) still make money when its franchises fail?  How about those who continue to hype, promote and sell this dubious investment?  Do SBA loan packagers like Paul Bosley and First Financial, or SBA lenders like Celtic Bank, profit from what's now clearly a risky investment?  Who gets hurt… and who continues to profit… even as franchisees fail?
(UnhappyFranchisee.Com)   We have reported that United Franchise Group (UFG) continues to aggressively promote its Experimac franchise opportunity despite the fact that the Experimac franchise turnover rate is an estimated 36%, Experimac franchise SBA loan defaults are estimated at 20% – 35% and rising, and it appears that 23% of the surviving Experimac franchise stores may be for sale… some at fire sale prices.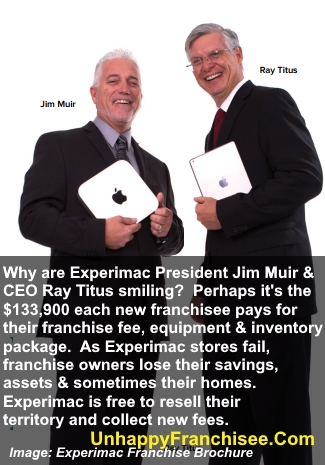 To make matters worse, Experimac and UFG are now on the losing end of a trademark dispute with Apple, Inc. over their ill-informed decision to include the registered trademark ("Mac®") of one of the world's most powerful companies in their trade name (ExperiMAC).  So United Franchise Group has begun the embarrassing, costly and brand-damaging process of changing the franchise's trade name to Experimax… the cost of which will likely be passed on to "Experimac" franchisees (More on this to come…)
Does United Franchise Group (UFG) Profit From Failed Experimac Franchises?
With such a high number of franchise owners in distress, and facing the need to make a systemwide name change, one might think that United Franchise Group and Ray Titus would cease franchise sales in order to concentrate on supporting the franchise owners fighting for survival – and come to the aid of those whose decision to trust UFG has left them fighting for financial survival.
One might think United Franchise Group (UFG) and Ray Titus might call a moratorium on new franchise sales until they figured out what is broken in their system, and what is leading to such a high failure rate.
One might even think that Experimac might suspend royalties or drop its mark-ups on equipment, supplies, and vendor kickbacks to make its franchise model a little more sustainable.
However, United Franchise Group and Experimac/Experimax continue to hype their industry "awards" and paid-for accolades, and advertise Experimax as a great franchise investment.  We haven't heard of any initiatives that indicate that they are even concerned about their franchise failures.
Ray Titus, CEO of Experimac franchisor United Franchise Group (UFG), claims "our company is on the right track toward success — and has been since its inception."
Could it be that United Franchise Group and Experimac Franchising, LLC are set up to succeed even if many or most of their franchise owners fail?
90% of United Franchise Group's Experimac Revenue Comes From Selling New Franchises, Not Helping Established Franchise Owners Succeed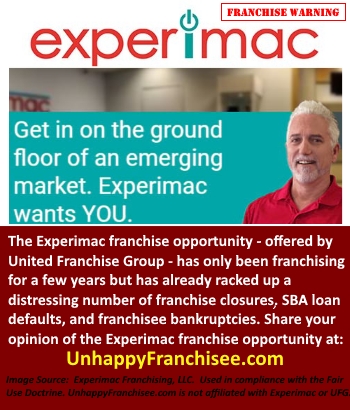 We invite CEO Ray Titus and United Franchise Group to set us straight if we are mistaken, but our review of the Experimac Franchise Disclosure Documents from 2014-2018 indicate that UFG has a financial incentive to focus on selling, rather than supporting, franchisees or fixing a flawed business model.
In 2017, only 10% of Experimac Franchising LLC's total revenue was from royalties from established franchise locations.  In 2016, franchise royalties amounted to 4.27% of total revenue, and in 2015 royalties accounted for less than 1%.
In the audited Financial Statements in its 2015-2018 FDDs, Experimac Franchising, Inc. posted initial franchise fee revenue of $2.3M in 2015, $4.7M in 2016, and $4.0M in 2017.
They posted revenue from initial equipment packages for new stores of $1.9M in 2015, $7.1M in 2016, and $7M in 2017.
For the years 2015-2017, Experimac Franchising Inc. generated total revenue of $29,136,144.  Of that, only about $1.8M (6.2%) came from existing store royalties.
In fact, Experimac Franchising, LLC paid more than $11 million in sales commissions for that same period, more than 6X what they collected in royalties.
United Franchise Group Generates Millions in Franchise Fees, Start-up Equipment & Inventory… Whether Franchisees Succeed or Fail
Although Experimac Franchising LLC only began franchising the Experimac concept in October, 2014, they charge an up-front, non-refundable franchise fee that is higher than some companies with 60 or 70 years of experience, thousands of units, and global name recognition.  Here are the franchise fees of some well-known brands (Source: 2018 Entrepreneur 500)
EXPERIMAC's Franchise Fee is Larger Than Most Major Brands
United Franchise Group charges a higher franchise fee for their relatively unproven, untested Experimac franchise than major franchises with decades of experience and universal brand recognition.
| | | | |
| --- | --- | --- | --- |
| Franchise | Started Franchising | U.S. Locations | Franchise Fee |
| McDonald's | 1955 (64 Years) | 13,232 | $45,000 |
| Taco Bell | 1964 (55 Years) | 5,886 | $25,000 – $45,000 |
| Baskin Robbins | 1948 (71 Years) | 2,551 | $25,000 |
| Pizza Hut | 1959 (60 Years) | 6,021 | $25,000 |
| Dairy Queen | 1940 (79 Years) | 4,442 | $35,000 |
| Subway | 1974 (45 Years) | 25,185 | $15,000 |
| The UPS Store | 1980 (39 Years) | 4,720 |  $29,950 |
| ACE Hardware | 1976 (43 Years) | 4,313 | $5,000 |
| EXPERIMAC | 2014 (5 Years) | 94 | $49,500 |
Experimac Franchising Generates Most of Its Revenue on the Required Start-up Packages
Equipment Opening Package:  Experimac Franchising LLC charges $94,900, plus taxes, for the equipment package they require franchisees to purchase from them.   According to the 2018 FDD:
The equipment package contains all of the equipment and supplies, except for a few items, to begin operations….

For the year ended December 31, 2017, our gross revenue from the sale of equipment and supplies to franchisees was $7,007,419 or 56.3% percent of our total revenue of $12,449,439.

We are the only approved supplier of the required equipment package.
According to Experimac Franchise Disclosure Documents, revenue from Equipment Opening Packages were as follows:  2015: $1.9M; 2016:  $7.1M; 2017: $7M
Inventory/Opening Package:  Experimac Franchising LLC also requires new franchisees to purchase an opening inventory package from their closely aligned affiliate, Preferred Supplier, for $10K – $39K.  According to the 2018 FDD:
The cost of the retail accessories and repair (parts) inventory/opening inventory package including shipping is $15,000 to $39,000 plus taxes.  The retail accessories and repair (parts) inventory contains an initial inventory of products including accessories for cell phones, computers and tablets and other electronic equipment and parts you will use to make repairs and upgrades.  The opening inventory package contains an initial inventory of pre-owned electronic equipment.  The costs of the retail accessories and repair (parts) inventory/opening inventory package are due at closing and are nonrefundable.
The "Preferred Supplier" affiliate entity is owned by CEO Ray Titus and President Jim Muir.  The affiliate is so closely aligned with the franchisor, checks written for the Preferred Supplier package can even be made out to Experimac Franchising LLC.  It appears that having broken Preferred Supplier off as a separate entity means this revenue doesn't have to be disclosed in the audited financial statements.
Experimac/Preferred Supplier Revenue from Inventory Start-up Packages were as follows:  2015:  $1.9M; 2016:  $2.1M; 2017: $1.9M
| | | | | |
| --- | --- | --- | --- | --- |
| Start-up Package | 2015 | 2016 | 2017 | TOTAL |
| Equipment Opening Package | $1.9M | $7.1M | $7M | $16M |
| Inventory Opening Package | $1.9M | $2.1M | $1.9M | $5.9M |
| | | | | |
| TOTAL | $3.8M | $9.2M | $8.9M | $21.9M |
Equipment & Inventory Financing Kickbacks:  According to the 2018 FDD, Experimac Franchising LLC "indirectly" arranges equipment financing for franchisees and receives a fee from Advantage Leasing Corporation equal to 1% of the total lease amount.  The 2017 FDD states that Experimac Franchising receives 2% of the total lease amount from Advantage Leasing Corporation.
Approved equipment leasing companies have included TimePayment Corp. (2015, 2016 FDDs), VFS LLC (2017 FDD), & Advantage Leasing Corporation (2017, 2018).
Input needed:  What is the default rate on Experimac equipment leases?  Are these equipment leasing companies able to make a profit on Experimac leases given the store turnover rate? Please comment below or email in confidence UnhappyFranchisee[at]Gmail.com.
Benetrends ROBS Franchisees' 401Ks
Benetrends is another company that seems to get their money whether franchise owners succeed or fail.
Benetrends helps Experimac owners put their 401(k)/IRA retirement funds in play (and risk) with what's aptly called ROBS or Rollovers as Business Startups.
Have you had experience with Benetrends, Guidant, or other ROBS service providers?  Please share a comment below.
EXPERIMAC SBA Loan Pipeline: Are Taxpayers (Also) Being Defrauded?
Experimac franchise owners have reported a very disturbing system that seems designed to extract money from them and, eventually, American taxpayers.  If you can help provide some insight into this somewhat complicated and highly disturbing system, please contact the author in confidence. 
Franchise owners report that they were directed by Experimac to a man named Paul Bosley, who owns a company called HealthClubExperts d/b/a Business Finance Depot.  Bosley, of Mt. Dora, FL, is also a former Vice President of First Financial.  Franchisees allegedly paid $5,000 for Paul Bosely and First Financial to help put together and submit their SBA loan application to a particular lender, Celtic Bank.
Bosley has bragged at having funded more than 70 Experimac franchisees, as well franchisees of other United Franchise Group concepts.
An anonymous complaint posted on a consumer website sums up what we have heard several time over:
Celtic Bank participated in the fraudulent origination of countless loans used in the startup of Experimac franchises. A third party, Paul Bosley acted as the intermediary charging upfront fees to handle the creation and assembling of loan applications which included falsified financial projections for Experimac locations.

The documents produced were identical in nature across more than 50 applicants and were solely produced Bosley and presented to Celtics underwriting group. It was well known by Celtic that this practice was in place and Bosley held close ties with this lender at the Florida branch.

At least one applicant was released by Celtic due to fraud and there are many more individuals that entered into agreements with United Franchise Group and the Experimac frnachise who have suffered great financial losses and bankruptcy due to this illegal and fraudulent scam…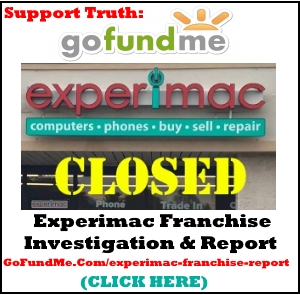 Celtic Bank apparently processed and approved dozens of SBA-guaranteed loans issued to Experimac franchisees, many of whom have defaulted or are in the process of defaulting.
It's our understanding that in the case of a default, SBA lenders like Celtic Bank go after the franchisee and any guarantors for payment.  This may include seizing assets, including homes, cars or other assets.
Once the franchisee has been completely drained or declared bankruptcy, Celtic Bank would recover up to 85% of their outstanding loan amount from the Small Business Administration ie the American taxpayer.
So EXPERIMAC franchise seems to be a real moneymaker – for everyone except the franchise owners and the American taxpayer.
WHAT DO YOU THINK?  ARE YOU AN EXPERIMAC FRANCHISE OWNER OR FRANCHISEE OF A UNITED FRANCHISE GROUP BRAND?
DO YOU KNOW WHY EXPERIMAC FRANCHISES ARE FAILING?  PLEASE  SHARE A COMMENT BELOW.
ALSO READ:
EXPERIMAC Franchise Complaints
EXPERIMAC Franchise Complaints – Part 2
EXPERIMAC Franchise Closed Store List
EXPERIMAC Franchise Stores For Sale
FRANCHISE DISCUSSIONS by Company
UNITED FRANCHISE GROUP (UFG) Franchise Complaints
SIGNARAMA Franchise Complaints
Contact us:

TAGS: Experimac, Experimac franchise, Ray Titus, Jim Muir, Paul Bosley, Celtic Bank, SBA Franchise loans, Experimac franchise opportunity, Experimac franchise complaints, Franchise Funding, First Financial, TimePayment Corp, United Franchise Group, United Franchise Group franchise, United Franchise Group franchise opportunity, United Franchise Group UFG, Ray Titus, SBA loan defaults, unhappy franchisee