Dental Fix RX CEO Blames Franchise Failures on Franchisees, SBA Loans
Dental Fix RX has one of the highest failure rates in franchising. 45% of the franchise agreements in the most recent three year period ended ceased operation or changed ownership. Dental Fix RX CEO David Lopez blames Dental Fix RX franchisees who he says considered their SBA loan proceeds like "Monopoly Money."
(UnhappyFranchisee.Com) According to it Franchise Disclosure Documents, "Dental Fix Rx, LLC, offers franchises for the operation of Mobile Service Centers which provide cost effective one stop shopping to medical practitioners and other practitioners in fields, such as, but not limited to, dentistry, veterinary and tattoo parlors … The total investment necessary to begin operation of a Dental Fix Rx® franchise is $65,100 to $163,000. This includes approximately $50,000 to $75,000 that must be paid to the franchisor or affiliate."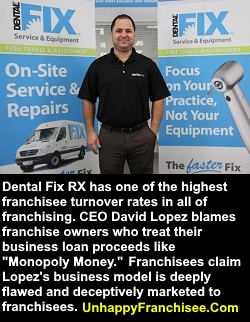 Dental Fix RX, LLC is headquartered in Davie, Florida.
It's executive team is headed by Chairman & CEO David Lopez, and includes Chief Operating Officer Brian Dershow, Chief Legal Officer Eric Masson, Chief Financial Officer Brian LaBasco, Executive VP of Business Development Scott V. Mortier, Senior Director of Training Matthew J. Lau, Chief of Staff Carolyn Bolton, and VP of Operations Michael Leonard, Dr. Ken Tralongo is a Board Member/Director.
Also read: DENTAL FIX RX Franchise Complaints (UPDATED]
Dental Fix RX: The Amazing Franchise With a Near-50% Failure Rate
We previously reported on Dental Fix Rx's participation in the controversial (and in our opinion, deceptive) pay-for-praise "12 Amazing Franchise Opportunities" program. (See Dr. John Hayes & His 12 Amazingly Deceptive Franchises, which includes Scott Mortier's testimonial for John Hayes' pay-for-praise program).
Dental Fix RX also has one of the highest franchisee turnover rates in franchising.
According to the company's own disclosure documents, nearly half of the franchise agreements in a recent three year period resulted in ceased operations or termination by the franchisor.
Why do so many Dental Fix RX franchise owners fail?
According to CEO David Lopez, 90% of Dental Fix RX's franchise failures were caused by irresponsible franchisees who walked away from their franchises because they "had no skin in the game."
In a recent deposition given in a Dental Fix RX, LLC lawsuit against a failed franchise owner, CEO David Lopez explained that irresponsible franchise owners who took out SBA guaranteed loans treated the loan proceeds as "Monopoly money" and walked away from their franchises when the going got tough.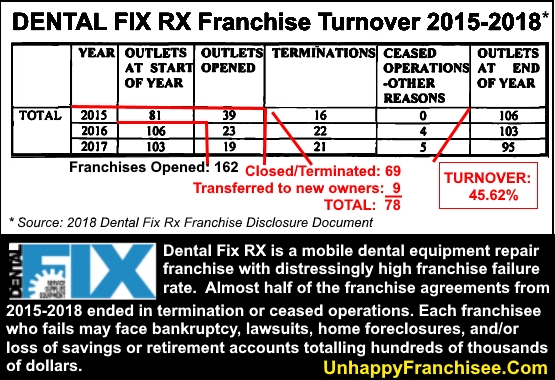 David Lopez: Franchisees With Bank Loans "Don't Have Skin in the Game."
Dental Fix RX is suing a failed Virginia franchisee in the U.S. District Court of Florida, Southern District (Case No.: 17-cv-62218-ZLOCH
DENTAL FIX RX, LLC, Plaintiff, -vs PRACTICEWORKS, LLC, et al., Defendants).
We found David Lopez's explanation for Dental Fix franchise failures in the non-confidential transcript of his deposition dated November 8, 2018.
In the deposition, David Lopez stated that he meets with every prospective franchisee personally and talks to them about the "potential downsides" of their franchise investment.
Lopez explained: "At the beginning, I say, 'If you don't make it, you're going to lose $35,000 to $40,000.'"
The Defendant's attorney asked David Lopez if he warned prospective franchisees of the downsides of defaulting on a $120,000 loan:
DAVID LOPEZ: I think what happened with the loans, I didn't realize the downside on the loans because when we started doing them, I didn't see the downside yet. So I'm an optimist by nature, so I wouldn't have seen that. I thought I was doing the best thing for the franchisees and myself. As soon as I realized that that — that decision was causing people to walk because they had no skin in the game, we stopped doing the loans.

ATTORNEY: All right. So you've used that phrase "people don't have skin in the game."
DAVID LOPEZ: Yes.
ATTORNEY: So if somebody takes out a loan for, say, $120,000
DAVID LOPEZ: Yes.
ATTORNEY: and they personally sign in that loan —
DAVID LOPEZ: Yes.
ATTORNEY: …in your terminology they don't have skin in the game?
DAVID LOPEZ: Correct. They're using other people's money.
David Lopez: Franchisees "Think It's Monopoly Money."
The Defendant's attorney asked Lopez: "And what about the fact that the bank will sue them on their personal guarantee and take $120,000 from them?"
Instead of answering, David Lopez explained how the reason for 90% of the system's franchise failures were that irresponsible franchisees perceived their borrowed funds as "Monopoly money," and just walked away from their investments and responsibilities under the franchise agreement.
DAVID LOPEZ: When we looked at the number of franchisees that failed… It was like 90 percent of our failures were the ones that took bank loans. So for me, my correlation of it was, [they] don't have any skin in the game.
If [the Franchisee Defendant] would have taken the money from his savings account or from his wife, he wouldn't have walked. He would have known that was real money. But because it was Monopoly money, it was bank's money, he just walked. I saw it happen over and over and over again. And as soon as we saw it happen, I stopped.
ATTORNEY: So you think that somebody who has the United States government ready to come after them $120,000 walks away because they think it's Monopoly money?
DAVID LOPEZ: Yes.
ATTORNEY: You do think that?
DAVID LOPEZ: Well… that's what the data tells me.
ATTORNEY: Okay.
DAVID LOPEZ: At the time that I did it, I didn't think that.
ATTORNEY: Okay.
DAVID LOPEZ: I take loans all the time, and I realize they're real and I got to pay them back. And I've never defaulted on a loan in my life. So I don't believe that
way, but I believe the people that in Dental Fix, that's how they were thinking, yes.
Why Dental Fix RX Stopped Participating in the SBA Loan Program
CEO David Lopez stated that they addressed the problem of failed franchises by no longer accepting franchisees who needed loans, and by letting their registration in the SBA Franchise Registry lapse:
I would say the problem was they didn't have skin in the game, so it wasn't their money. So somebody would come in and buy a franchise with no money out
of their pocket. The bank would give them the entire loan, and they would operate it and just quit, exactly like [the franchisee defendant] did.

It's not his money. They just quit. Then they think they don't have to pay it back, or I have no idea what happens. And we realized this started happening, and vans started going out of business. They were direct correlation to the loans, and we said we're not doing this anymore since we realized it.
Our Plea to Franchisees: Stop Victimizing Ethical Franchisor David Lopez & Dental Fix RX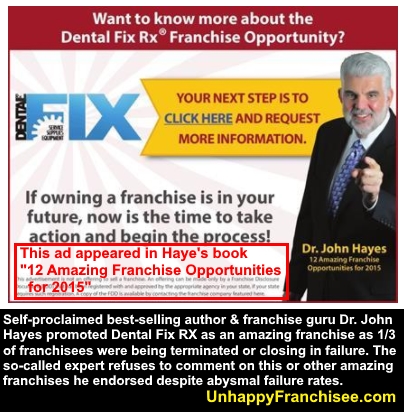 It's not often that we side with the franchisor over the franchisee, but CEO David Lopez made a compelling case in his deposition.
First, he made it clear that he takes all the risks and the franchisees can walk away from their investments scot-free.
It's not like the bank is going to want to be paid back.
It's not like the Department of Treasury has the right to seize their assets, repossess their homes or garnish their wages.
And David Lopez made it clear that he lets franchisees walk away easily.
It's not like the franchisees need to give six month's notice and pay a $10,000 fee.
And it's not like Dental Fix RX LLC will sue their franchisee for failing and demand damages and future royalties.
So, we make the plea to franchisees to admit that the reason for their financial devastation and turmoil was that they lacked the "grit" that they promised David Lopez they had in that initial talk he has with every prospective franchisee.
How do we know that David Lopez is highly ethical?
Because he stated so, under oath:
ATTORNEY: Do you have an ethics or a value statement at Dental Fix?
DAVID LOPEZ: Yes.
ATTORNEY: Is it in writing?
DAVID LOPEZ: Yeah, our values on the wall in the training room. When everyone goes through training for six weeks, they stare at it.
ATTORNEY: Okay. What are the values of Dental Fix?
DAVID LOPEZ: I don't remember. I've got dozens of companies and they all have values. I can get a picture of it if you'd like…
ARE YOU FAMILIAR WITH THE DENTAL FIX RX FRANCHISE OR DAVID LOPEZ? ARE FRANCHISEES WITH SBA LOANS ABLE TO WALK AWAY WITHOUT REPAYING THEIR DEBTS? SHARE YOUR THOUGHTS BELOW.
PLEASE SHARE A COMMENT BELOW OR EMAIL US IN CONFIDENCE (UnhappyFranchisee@Gmail.Com).
TAGS: Dental Fix RX, Dental Fix RX franchise, Dental Fix franchise, Dental Fix complaints, Dental Fix franchise complaints, David Lopez, Scott Mortier, Brian Dershow, Eric Masson, Brian LaBasco, Matthew J. Lau, Carolyn Bolton, Michael Leonard, Dr. Ken Tralongo, Dental Whale, FROOTS, Darby Dental Supply, Celtic Bank, SBA franchise loans, First Financial