DICKEY'S BARBECUE Franchise Reveals Deceptive Pay-for-Praise Tactics
Dickey's Barbecue Pit Franchise Opportunity:  Is it AMAZING?  In his "best-selling" book "12 Amazing Franchise Opportunities for 2015,"   Dr. John Hayes named Dickey's Barbecue Pit as an amazing franchise.  We agree that the story of Dickey's is amazing.  Amazingly sad.  Amazingly tragic for many who believed the accolades heaped on Dickey's by endorsers who provide pay-for-praise services.  But the Dickey's chapter in Hayes' book shows how slick marketers can use an aggregation of phony and meaningless awards to hide falling sales and failing franchises.  PART SIX of a series by Sean Kelly
(UnhappyFranchisee.Com)  In his best-selling book "12 Amazing Franchise Opportunities for 2015" Dr. John Hayes announced that out of 3,000 possible franchises, he deemed Dickey's Barbecue Pit to be one of the most AMAZING.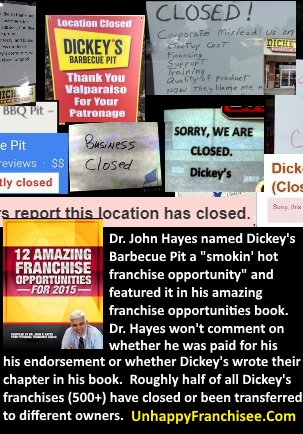 Of course, it turns out that Dickey's Barbecue Pit likely paid Dr. Hayes and BizCom Press to be endorsed as one of 12 Amazing Franchises, and to have a promotional chapter his supposedly authoritative book.
We don't know the exact amount Dickey's would have paid;  the asking price for the 2018 edition was $5,000.
See preceeding post:  FASTSIGNS Franchise Deception Seems, Well, Amazing. Comments?
Series index & Overview: Dr. John Hayes' Franchise Fraud School
Guess Who Wrote the Analysis of the Dickey's Franchise Opportunity?
We also know that Dickey's in-house marketing propagandists almost certainly wrote their own supposedly objective chapter – in the book marketed and sold as authored by "expert" Dr. John Hayes.
One rather amusing indication of the true authorship of the Dickey's chapter is the way that the narrative point-of-view shifts inconsistently from 3rd person ("Roland [Dickey's] passionate style has been a game-changer in the restaurant industry and has made Dickey's Barbecue the fastest growing restaurant chain in the country") to 1st person ("At Dickey's, we know barbecue!").
Another is the lapse into folksy, marketing speak that no business writer – even John Hayes – would write, such as "And who wouldn't love an 'I Love Sauce' T-shirt!"
There's also the BizCom Flyer (for the 2018 book) that indicates franchisors pay $5,000  and supply their own chapters.
What Praise is Bestowed on Dickey's by… Dickey's?
The Dickey's chapter of the book states:
"With 500 locations in 43 states by the end of 2014, and another 150 locations in development, barbecue has proven to be a smokin' hot franchise opportunity."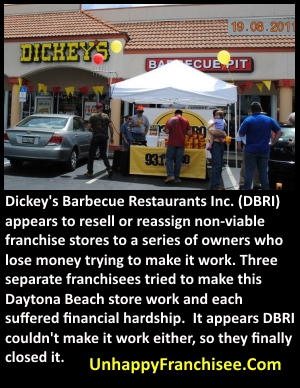 The book states that Dickey's had 650 locations open or in development at the start of 2015.
As of March, 2018, three years later, the Dickey's website lists only 524 open locations and 17 locations "Coming Soon."
It's not that Dickey's hasn't been selling franchises since then – they've sold a lot.
The reason they haven't been growing is because so many franchise owners are going broke and closing across the country.
Unfortunately, the smoke arising from this "smokin' hot" opportunity is emanating from burned franchisees and the investments and dreams that have gone up in BBQ-tinged smoke.
Dickey's has an amazing legal department and an amazing store "retention" department that reportedly forces failing franchisees to turn over their failing stores so they can pawn them off to a succession of different owners.
This way, franchisees allege, three, four or even five or more owners can lose money on a single franchise before it closes.
Half of Dickey's Franchises Have Been Closed or Transferred to Different Owners.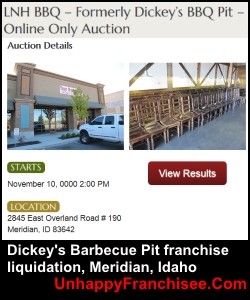 Company Franchise Disclosure documents (FDDs) indicate that of the 1085 Dickey's franchises opened  in the past 11 years, about half (532) were terminated, closed, reacquired or transitioned to new owners.
Dickey's franchisees and former franchisees have been helping us track the rising list of closed and closing Dickey's locations, including those that had been churned to different owners,  here:  Dickey's Barbecue Pit Closed Location List
Closed signs on shuttered Dickey's stores across the country are numerous, as are liquidation sales and auction notices.  See our gallery here:  Dickey's Franchise Graveyard
The sheer numbers of franchise closures by Dickey's throughout the nation inspired this Toni Award-winning* short musical presentation:  Dickey's Barbecue Pit: The Musical
Dickey's is so amazing we've been writing about it regularly as our poster child for dysfunctional &, in our opinion, predatory franchising:  Dickey's Barbecue Pit on UnhappyFranchisee.Com
So let's see what Dr. John Hayes says is so amazing about Dickey's Barbecue Pit…
* Winner of the 2018 Unhappy Franchisee Toni Award "Best Musical Presentation about Dickey's Franchise Failures"
Bankrupt? On the Violent Sex Offenders Registry? Dickey's Wants YOU!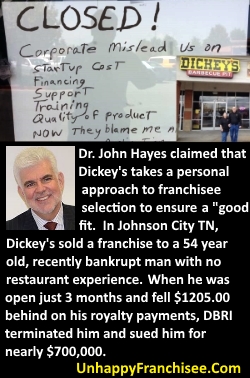 John Hayes' chapter on Dickey's states:
"Dickey's Barbecue believes in taking the same personal approach with potential franchise owners… this means getting to know their goals and lifestyles to make sure there is a good fit with a Dickey's opportunity"
Here's an example of the personal care Dickey's franchisor, DBRI, puts into franchisee selection.
If scientists set out to create the least ideal person to own a capital-intensive franchise staffed by teenage workers, they might come up with Dickey's 54-year-old Johnson City, TN franchisee James Neighbors.
Mr. Neighbors' qualifications included (I kid you not):
No restaurant experience

A recent bankruptcy & abysmal credit rating

No cash reserves

A past conviction & prison record for violent sexual assault

A publicly available listing on the TN Sex Offenders Registry
After struggling to piece together enough funding (with Dickey's help) to get the store open, James Neighbors fell $1205.58 behind on his royalty payments.  Dickey's terminated him 3 months after he opened his restaurant and sued him for $675,122.55.
Neighbors and his wife had invested $200,000 in what Dr. John Hayes' calls an amazing franchise.
Completely broke, James Neighbors had to serve as his own attorney to fight Dickey's formidable and amazingly nasty legal team.
For more on this, read DICKEY'S BARBECUE PIT Franchise: Roland Dickey Sells to, Then Sues, Registered Sex Offender
Dickey's Given Recognition For… Getting Recognition
The Dickey's chapter in "12 Amazing Franchise Opportunities for 2015" is notable in a couple of ways.
The first is how few and how unimpressive the supposedly amazing qualities of Dickey's has.  In the book, Dickey's marketing (as Hayes) writes:
What's amazing about Dickey's?  How about the lowest start-up costs for a comparable business in the U.S.?  If that's not enough, there are multiple revenue streams for franchisees, expert support for franchisees, and a dedicated team, including a Travis Dickey descendant, to guide the brand at every touch point.

Read the rest of the story then ask for more information.
Lowest start-up costs? In the 2015 Dickey's Franchise Disclosure Document (FDD), the company states it's start-up costs were $122,404 to $503,404.  That might be lower than some fast-casual restaurants, but it's far from amazing.
Multiple Revenue Streams?  Expert support?  A dedicated team?  There's nothing notable here.  What restaurant franchise couldn't claim to have multiple revenue streams?
And what franchise doesn't claim to have "expert support" and "a dedicated team"?
And the folksy black and white history of how Roland Dickey's chain-smoking grandfather founded the chain and ran it til he keeled over from nicotine and pork butt fumes is heartwarming, but not that amazing.
The single amazing aspect of the Dickey's Barbecue Pit franchise propaganda in Hayes' book would have to be the number of questionable and/or meaningless awards that Dickey's had amassed to that point:
Technomic named Dickey's Barbecue Pit the nation's fastest growing restaurant chain and QSR magazine named the Company The Best Franchise Deal.  Nation's Restaurant News identified Dickey's as a Top Five Growth Chain…
…and, of course, Dickey's has been named by renowned franchise expert Dr. John Hayes as one of 12 amazing franchise opportunities in his best-selling book of the same name.
Dickey's knows how to sell franchises, and it is an expert at collecting and deploying paid-for awards to maximum advantage.
Award & Award & Award =  Credibility
From what we've seen, the franchisor of Dickey's Barbecue Pit, DBRI, does not seem proficient, or terribly interested in, helping its franchisees be profitable and keep their doors open to the end of their franchise agreements.
They are, however, experts at redirecting attention from the increasing number of failed franchise stores by continuously generating a parade of impressive-sounding rankings and awards.
Prospective franchise owners are, by definition, followers willing to give up their individual autonomy and independence to be part of a herd of others wearing the same logoed shirts and hats.
Many claim that they want independence and to find the hot new opportunity, but they also want the warm-fuzzy validation that others have recognized and deemed the franchise they are considering – and by extension their franchise decision – to be wise and prudent.  That's why they aren't out there starting their own independent businesses and calling their own shots.
Franchise sellers like Dickey's and pay-for-praise validators like John Hayes & BizCom know this, and help franchisors amass and display their meaningless awards and fake badges of purchased credibility as if they have great significance.
But take a closer look at the accolades:
"Technomic named Dickey's Barbecue Pit the nation's fastest growing restaurant chain"
First, Dickey's is a paying client of Technomic.  We don't know what the exact arrangement is, but a leaked ledger from the Dickey's Marketing Fund shows at least one $10,000+ payment to Technomic in recent years.  Technomic is not quite the objective source of research data Dickey's would like you to believe.  Second, we all know that rapid franchise growth is not an indication of long-term success.  It's simply an indication that the company is good at selling and getting other people's to spend the money and take the risk to make the chain appear successful.
"QSR magazine named the Company The Best Franchise Deal."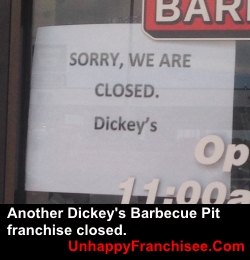 QSR magazine is an advertising-driven promotional vehicle for restaurant franchisors.  It does not independently scour the industry to determine the "best franchise deal," it only chooses from those who have submitted their franchises for consideration.  It also appears to be a slick way for companies to skirt the FTC regulations regarding earnings claims by including Average Unit Revenues (AUV).
The FTC prohibits franchisors from promoting sales, profitability or other financial representations to prospective franchisees unless its properly disclosed and substantiated in Item 19 (Section called Financial Performance Representations, formerly called "Earnings Claims") of the company's Franchise Disclosure Document (FDD).
In its 2012 FDD, Dickey's stated "We do not make any representations about a franchisee's future financial performance or the past financial performance of company-owned or franchised outlets."
Yet the Dickey's listing in the 2012 QSR Best Franchise Deals states "Dallas-based Dickey's, which had its AUV surpass the $800,000 mark in 2011, remains among the nation's fastest-growing barbecue chains…"
In 2015, Dickey's once again declined to provide Financial Performance Representation in its FDD, stating "We do not make any representations about a franchisee's future financial performance or the past financial performance of company-owned or franchised outlets."
In 2015, QSR again named Dickey's one of its Best Franchise Deals, stating:  "Dickey's closed 2014 with 470 stores and AUV [Average Unit Volume] of nearly $766,000. The Dallas-based concept has added about 100 new locations each year since 2011 as part of a deliberate growth strategy focused on driving quality."
Note that:
Dickey's communicated earnings claims by supplying the information to QSR for publication, then referred franchise prospects to the article containing the legally prohibited representations.  A DickeyLeaks contributor shared an email in which then-franchise salesman Corby Cronin included links to the prohibited content as part of his franchise sales pitch.
Dickey's reported Average Unit Volume (AUV) dropped more than $34,000 from 2012 to 2015, according to QSR
The QSR article contradicts Dr. John Hayes' book which claims Dickey's had "500 locations in 43 states by the end of 2014."  QSR states "Dickey's closed 2014 with 470 stores."
Lie & Lie + Lie = Franchise Success Story
Behold the next claim by Dickey's under the authorship of Dr. John Hayes:
"Nation's Restaurant News identified Dickey's as a Top Five Growth Chain…"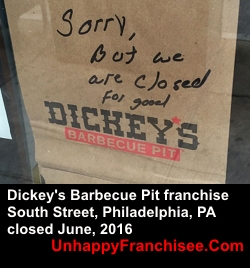 Actually, Nation's Restaurant News did NOT identify Dickey's as a "Top Five Growth Chain."
NRN listed Dickey's as one of its top five fastest-growing restaurants chains in its 2015 "Second 100."
According to NRN, designation came from its 2015 "Second 100 report, a proprietary census ranking restaurant brands Nos. 101-200 by U.S. systemwide sales and other data. This special report focuses on a smaller, more growth-oriented universe than the Top 100 report."
So that means that Dickey's was named the Top 5 ONLY among restaurant chains ranked #101-#200 by NRN in terms of sales and number of units.  The top 100 chains were not included nor were the many chains smaller than the Top 200.
The article featuring Dickey's Top 200 standing also seems to be a transmitter of undisclosed Financial Performance Representations.
It states that the data, based on 2011 numbers, Dickey's had an Estimated Sales Per Unit (ESPU) of $875,300.
That would indicate that Dickey's AUV decreased $109,000 from $875,300 in 2011 to $766,000 at the end of 2014, as reported by QSR magazine).
Dickey's Masterfully Uses Pay-For-Praise to Mask Illegal Earnings Claims, Falling Sales & Failing Franchises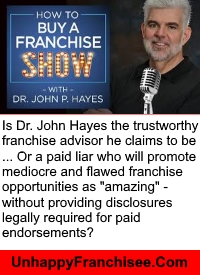 Dr. John Hayes' & BizCom's "12 Amazing Franchise Opportunities" is just one small cog in the pay-for-praise & deception for dollars industry that has been helping franchisors mislead and deceive franchise prospects for 40 years or longer.  It's just one of the more obvious examples of how bold franchise marketers have become in an environment with no enforcement.
Word's out that there's no Sheriff in town, and the boys are free to whoop it up and shoot off their guns outside the saloon with no one to stop them.  Snake Oil salesmen like Professor Phineas P. Hayes are free to hawk their goods right out in the center of town.
Next, let's take a look at how franchisors in Dr. Hayes Amazing Franchises Troupe use the cumulative effect of the pay-for-praise and lies-for-loot service to geberate leads and close more franchise sales.
INVITATION:  It is the policy of UnhappyFranchisee.Com to invite discussion and debate in an open forum where all sides of a dispute (as well as the general public) have the opportunity to present their views and evidence.  We invite author Dr. John Hayes, publisher Scott White, participating franchisors & franchisees, and other interested parties to join the discussion and share clarifications, corrections, rebuttals, alternative viewpoints, or other points.
Companies and individuals may post comments on any relevant page, and are also invited to submit commentary or statements by email to UnhappyFranchisee[at]Gmail.Com.  We will try our best to publish these statements with the same prominence as the allegations, and will correct factual inaccuracies as appropriate.
Readers are invited to do their own research and draw their own opinions.  We research from public documents and private tips to form our opinions, which are most assuredly incorrect some times.  Please call us out, refute, rebut, disprove and engage in the open and honest dialogue that our constitution and laws are designed to protect.  Let's hear from you!
NEXT:
READ The Series "Dr. John Hayes' Franchise Fraud School & Pay-For-Praise Emporium!":
Series Index & Overview: Dr. John Hayes' Franchise Fraud School
Part 1:  Dr. John Hayes & His 12 Amazingly Deceptive Franchises
Part 2: 6 AMAZING Franchise Deceptions of Dr. John Hayes
Part 3:  FASTSIGNS CEO Catherine Monson named Valedictorian, Franchise Fraud School
Part 4:  Dr. John Hayes' Book Reviews Given an "F" for Fraudulent
Part 5:  FASTSIGNS Franchise Deception Seems, Well, Amazing. Comments?
Part 6:  DICKEY'S BARBECUE Franchise Reveals Deceptive Pay-for-Praise Tactics
Part 7:  Dr. John P. Hayes Franchise Books Pulled From Amazon
Part 8:  DENTAL FIX RX Franchise Complaints
FRANCHISE DISCUSSIONS by Company
_____________________________________________________________
OTHER FRANCHISE DECEPTION-FOR-DOLLARS POSTS:
FRANCHISE BUSINESS REVIEW Pay-For-Praise
FBR Franchise Business Review Promoting Illegal Earnings Claims?
Are Franchise Business Review Winners Violating the FTC Act?
FRANCHISE BUSINESS REVIEW: Justify or Retract Your Bogus Franchise Award
Dr. John Hayes Named Dickey's Barbecue Pit one of the 12 Amazing Franchises for 2015.  Here's how things turned out:
Dickey's Barbecue Pit: The Musical
ARE YOU FAMILIAR WITH DICKEY'S BARBECUE PIT, THE DICKEY'S FRANCHISE, ROLAND DICKEY JR., DR. JOHN HAYES, SCOTT WHITE, & BIZCOM PUBLISHING? 
PLEASE SHARE A COMMENT BELOW OR EMAIL US IN CONFIDENCE (UnhappyFranchisee@Gmail.Com).
TAGS: Dickey's, Dickey's Barbecue Pit,  Dickey's franchise, Dickey's Barbecue Pit franchise, Dr. John Hayes, Dr. John Hayes franchise expert, Roland Dickey Jr., Corby Cronin, Scott White, Bizcom Press, 12 Amazing Franchises, franchise books, Dickey's franchise fraud, franchise marketing, francFinancial Performance Representations, Franchise Earnings Claims, unhappy franchisee