LIBERTY TAX Franchise: Earned Income Tax Fraud?
Liberty Tax franchises are running a low income tax fraud exploiting the Earned Income Tax Credit (EITC), and CEO John Hewitt knows all about it, according to Anon Source. What do you think?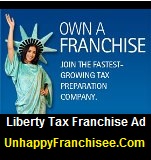 (UnhappyFranchisee.Com)  According to our reader Anon Source, a bunch of Liberty Tax franchisees are running a tax fraud by exploiting the rules around Earned Income Tax Credit.
Anon Source claims CEO John Hewitt knows all about the practice.
It's not an entirely new allegation.
What IS new if that Anon Source names some of the franchisees he maintains are complicit in this fraud.
These allegations are the opinions of Anon Source and not necessarily shared by the publishers of this website.
We welcome rebuttals and other viewpoints, which can be shared below or by emailing us at UnhappyFranchisee[at]gmail.com.
What do you think?  Share a comment below.
*   *   *   *   *   *   *   *
To Whom It May Concern,
Liberty Tax CEO John Hewitt is hiding information about the following franchisees (and others) who are his biggest in the country and operate in low income areas and have been committing all types of tax fraud to fuel their growth with his knowledge and encouragement.
The newest scheme that they were using this year was putting people with no income and no dependents down for a small amount of fake "household income" on Line 7 of 1040 in order to trigger an earned income tax credit. They used Household Income in order to avoid having to have a W2 which would have been required and would be caught more easily. Then they would give the "client" their $50 cash in a flash money and take the remaining $350 or so of the refund as a tax prep fee through a bank product. Illegally stealing money from the American people and committing tax fraud by helping people to get refunds, which the franchisees and Liberty take most of, that they should not have gotten. John knows about this and has not terminated these franchisees or reported them to the IRS.
John knows about the tax fraud they were doing and even had a conference call with all of them and said that "if" they IRS catches on, he will give them up. Shouldn't the CEO of a publicly traded company that handles almost 2 million tax returns have a fiduciary responsibility to not undertake in tax fraud? Or is he just trying to keep together his house of cards with hundreds of failing franchisees each year and thousands who aren't profiting by enabling the bigger ones to keep the revenue rolling to him with this tax fraud. He is an accessory to this and needs to be punished. Many corporate employees know about this fraud as well. They call it the "H Returns".
He once told a group of his top franchisees at an Elite meeting that as long as the IRS fine for earned income credit isn't too big, they should look the other way and make the money. When you confront him with all this, he will probably give them all up but he shouldn't be absolved as he has been undertaking in this kind of fraud his entire career. That is why so many of his franchisees are unhappy (your site has much more info about why and all of the failures they have – approximately 500 store closures last year alone). It seems that most of his business is either fraud, people who don't make money or people who fail. Churn and burn and commit fraud and abuse low income people with high fees.
This household income scheme is only the latest that these franchisees have used over the years. Others have included abuse of the College Education Credit and of fake Schedule C forms for fraudulent Earned Income Credit and high fees as well as falsifying Schedule A deductions. A large franchisee in Detroit named Ahmed was recently shut down by the Justice Department for tax fraud in his offices. More needs to come to stop this blatant fraud. And other franchisees were recently barred from the tax business for fraud.
Also read:
LIBERTY TAX SERVICE Franchise Complaints (4500+ comments)
Tax Franchise Owners Say Don't Buy a Franchise!
LIBERTY TAX Franchise Warning Part 1
LIBERTY TAX Franchise Warning Part 2
LIBERTY TAX Franchise Warning Part 3
Are LIBERTY TAX SERVICE Franchise Owners Happy?
LIBERTY TAX JTH Holding, Inc. Receives NASDAQ Notice of Non-Compliance
LIBERTY TAX Leaked Email Exposes Sleazy Sales Tactics
LIBERTY TAX: Are Liberty Tax Franchise Owners Living Their Dreams?
LIBERTY TAX Fraud: Preparer Could Get Prison Time
LIBERTY TAX Scam Exposed by Franchise Owner
LIBERTY TAX Mascot Arrested, Jailed
ARE YOU FAMILIAR WITH THE LIBERTY TAX FRANCHISE OR JTH HOLDING INC.? SHARE A COMMENT BELOW. Contact UnhappyFranchisee.com


Tags: Liberty Tax, Liberty Tax franchise, Liberty Tax franchise fraud, Liberty Tax fraud, John Hewitt, JTH Holding Inc., liberty tax complaints, Liberty Tax franchise complaints, Nasdaq: TAX