MUSCLE MAKER GRILL Insults Franchisees With Disgraceful Email
Muscle Maker Grill franchisees learned that the controversial franchisor was sold to a California private equity firm via an impersonal and misleading email.
One muscle founder Rod Silva and the Muscle Maker Grill management team haven't been exercising is the one that controls common sense and good judgement.
(UnhappyFranchisee.Com)  Both poor judgement and disregard for Muscle Maker Grill franchisees were evident in the disgraceful way that the Muscle Maker Grill informed the franchise owners of its 55 locations (whose livelihoods and financial futures are tied to their franchise relationship with the franchisor) that they had sold the company.
Muscle Maker Grill franchise owners invested hundreds of thousands of dollars and signed onerous franchise agreements because they believed in the bodybuilding founder and his New Jersey-based franchise company.
So how did the founder break the news to them that they are now contractually obligated to a newly formed Southern California-based private equity firm with, it seems, very little multi-unit foodservice and apparently NO franchise experience?
A Skype conference with its valued franchisees?
A personal phone call from founder Rod Silva?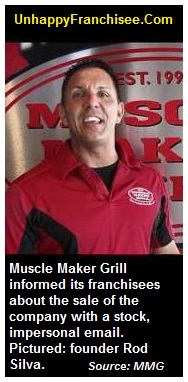 A conference call from Rod Silva, at least?
A personalized email from founder Rod Silva, perchance?
No… Muscle Maker Grill did none of the above.
Muscle Maker Grill sent an impersonal, generic email to "MMG Franchisees" from the "MMG Transition Team" with the heading "Brand Update."
One Muscle Maker Grill expressed his disgust this way:
How do I think the communication was shared? It absolutely is the worst communication I have ever seen regarding something that seems to have a possible significant impact on an investment I have made.  The rollout of this communication is typical of how Rod Silva and his team work though, so I am not surprised but yes, I am angry.

.

All they wanted from us was our Royalty fees and did nothing to earn them as you can see by the feedback from other Franchisees.
Muscle Maker Grill and Rod "I'm Outta Here" Silva demonstrate the fundamental downside of being a franchisee:
Once you've signed the agreement and cashed your check, they can sell you off to anyone they want at anytime they choose.
And they don't even owe you a kiss…
P.S. Tim M. Betts and American Restaurant Holdings, Inc.:  Way to get off on the right foot with Muscle Maker Grill franchisees.  Best of luck with your new acquisition.
Muscle Maker Grill's Shameful Franchise Email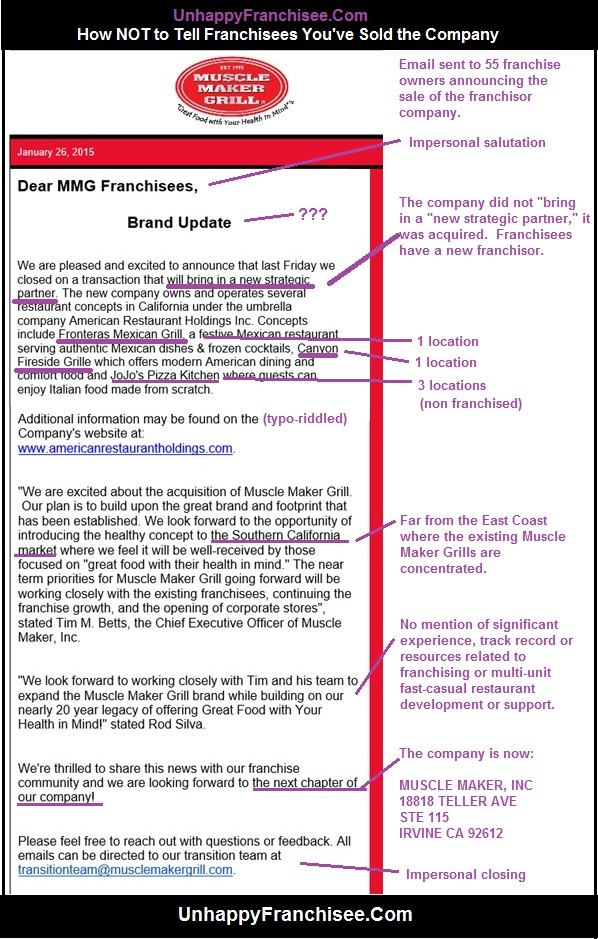 UnhappyFranchisee.Com will invite Muscle Maker Grill's Rod Silva to provide a rebuttal or reply as we have in the past, but it's unlikely he will bother to respond.
He never has when important franchisee issues are discussed.
ALSO READ:
FRANCHISE DISCUSSIONS by Company
MUSCLE MAKER GRILL Acquired by American Restaurant Holdings (ARHI)
MUSCLE MAKER GRILL Franchise Complaints
MUSCLE MAKER GRILL Franchise Owner Dealt Pot, Meth & Coke, Police Allege
MUSCLE MAKER GRILL Franchise Announces Aggressive Growth Plans
ARE YOU FAMILIAR WITH THE MUSCLE MAKER GRILL FRANCHISE OPPORTUNITY OR ITS FRANCHISEES?  SHARE A COMMENT BELOW.
TAGS: Muscle Maker Grill , Muscle Maker Grill franchise, Muscle Maker Grill franchise opportunity, Muscle Maker Grill franchise complaints, Muscle Maker Grill Acquired, Muscle Maker Grill Acquisition, Muscle Maker Grill, American Restaurant Holdings,  ARHI, Tim M. Betts, Rod Silva, Noel DeWinter, Kurt Schaeffer