7-ELEVEN Whistleblower Alleges Franchise Discrimination
A 7-Eleven corporate insider alleges that, in an effort to change its image, 7-Eleven directed its franchisee recruitment staff to sell franchises primarily to Caucasians and non-South Asians, and to turn its back on prospects of Indian and Pakistani descent.  In her certified statement supporting a franchisee lawsuit against 7-Eleven, the 30-year employee claims the corporation is promoting "obvious discrimination."
(UnhappyFranchisee.Com) Bitter lawsuits between convenience store giant 7-Eleven Inc. and its franchisees (many of whom are South Asian – from such countries as India, Pakistan & Afghanistan) have prompted  7-Eleven corporate employees to come forward to give insiders' glimpses into the inner workings of the 7-Eleven Inc. organization – and what they're revealing is ugly indeed.
One of the first insider whistleblowers was former 7-Eleven Corporate Investigations Supervisor Kurt McCord who dropped a bombshell in the lawsuit of 7-Eleven, Inc. v. Karamjeet Sodhi, et. al., alleging that the convenience store giant has a covert team designed to illegally seize franchisee stores for profit and to eliminate respected franchisee association leaders.
Those association leaders just happen to be South Asian.(see 7-ELEVEN Bombshell: Insider Accuses 7-11 of Predatory Franchise Practices)
The latest whistleblower is a 30+ year 7-Eleven employee and leading franchise salesperson named Susan Corral.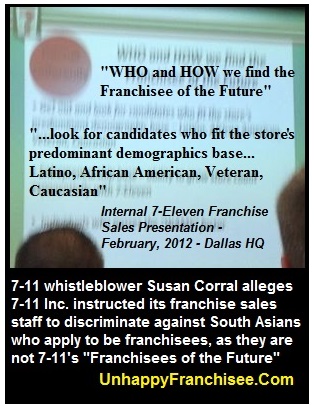 Ms. Corral provided a Certified Statement regarding her knowledge of "7-Eleven's Development Department national efforts to discriminate against South Asian franchisees."
Susan Corral state that 7-Eleven directed its sales staff to abandon their pipeline of South Asian franchisee prospects and instead focus on Caucasians and non-South Asian prospects who reflect its "Franchisees of the Future" ideal.
Ms. Corral stated that 7-Eleven, Inc. wanted to "change its franchisee image."
Ms. Corral stated that, beginning with the stated directive in 2012, "it became clear to me that there would be double standards, one favoring Caucasian candidates… and one against South Asians."
You can read Ms. Corral's certified statement below, or as a .pdf here:
Certification of 7-Eleven Franchise Sales Representative Susan Corral.
Certification of 7-Eleven Whistleblower Susan Corral
CERTIFICATION OF SUSAN CORRAL

Susan Corral, of full legal age, hereby certify as follows:

1. I am a resident of Hoffman Estates, Illinois and was formerly employed by 7-Eleven, Inc. for over 33 years, 14 years in the position of a Franchise Sales Representative.

2. I make this Certification in connection with my knowledge of 7-Eleven's Development Department national efforts to discriminate against South Asian franchisees.

3. In my capacity as a Franchise Sales Representative, using 7-Eleven's franchise qualification processes and procedures, I recruited, pre-screened and pre-qualified over 400 individuals, primarily Naturalized United States Citizens from South Asia to become 7-Eleven franchisees; many who went on to become very successful single and multi-store franchisees.

4. I was one of the most successful Franchise Sales Representatives and received many awards and commendations for my recruiting efforts.

5. Many of the South Asian franchisees I assisted in obtaining 7-Eleven stores were referrals from other family members who I had previously assisted in obtaining stores.

6. On February 1, 2012, I, and over 75 other Franchise Sales Representatives, 7-Eleven Real Estate Representatives and other Development Department staff from all over the United States attended a presentation at National Development Department meeting that was held in conjunction with the January 2012 University of 7- Eleven in Dallas, TX.

7. It was during this presentation, both through remarks that were made and especially a slide show presentation that was given, that it became clear to me that 7-Eleven corporate through its Development Department was directing us to look for franchisees outside the South Asian community.

8. The message directed at both the Franchise Sales representatives and the Real Estate representatives was that going forward we were to actively recruit individuals that mirrored the demographics of the neighborhood and abandon our traditional reliance on our current pipeline of South Asian individuals because the company wanted to change its franchisee image.

9. Specifically, the most disturbing slide shown at the presentation that was prepared and delivered by the late Mike McCormick, Director of Development for the Heartland Region and Tim Lankford who at the time was the corporate Franchisee Recruitment Manager.

10. The slide was entitled "WHO and HOW we find the Franchisee of the future".

11. The offending information was set forth in paragraph No. } as it directed us to "Get out and look for candidates who fit the stores predominant demographic base -Latino, African American, Veteran, Caucasian".

12. The implication of leaving out Asians on the slide, when most of all of our prospective franchisees in our current pipeline were predominately South Asians, was clear to me and it was my impression that it was not lost on anyone in the room.

13. In fact, another Franchise Sales Representative from a western state, who was sitting near me, commented in disbelief "!can't believe they are actually saying this".

14. To my knowledge, no one in the room was provided hard copies of the slide presentation in order to deliver the message but leave no proof that it had been shown.

15. I was so offended by the obvious discrimination that I raised my iPhone and took a quick shot of the slide from the back of the room while the slide was up.

16. A copy of the slide taken from my iPhone is attached to this Certification.

17. I was devastated and very upset by the slide and it's inferences to bias and discrimination .

18. I told others during the meeting and afterwards that the slide and remarks and/or inferences made during the presentation were very biased and discriminatory.

19. As far as I am concerned the tide at 7-Eleven had undergone a dramatic discriminatory change.

20. While I had, on occasions, heard and witnessed other derogatory anti-Indian comments – and called those out who made those types of comments – this slide was the "icing on the cake" for me.

21. Up until that last national meeting, I knew that I could work to recruit those who demonstrated the ability to qualify using 7-elevens qualification process regardless of their ethnicity.

22. However, after that meeting it became clear to me that there would be double standards, one favoring Caucasian candidates and other candidates whose ethnicity mirrored the neighborhood in which the new 7-Eleven store was planned to be located and one against South Asians.

23. Sworn to and subscribed before me this 20th day of January 2015
The 7-Eleven lawsuits referenced in this post include 7-Eleven, Inc. v. Karamjeet Sodhi, Neil Naik, et. al. v. 7-Eleven, Inc., Younes et al v. 7-Eleven, Inc.
ALSO READ:
Has 7-ELEVEN Declared War on its Franchisees? (Index of 7-Eleven Posts)
7-ELEVEN Covering Up Illegal Plot to Purge Indian Franchisees, says Attorney
7-ELEVEN CEO Joe DePinto Parodied as Hitler
7-Eleven Franchise, CEO Joe DePinto Under Fire by Angry Franchisees
7-ELEVEN Franchise Lawsuit Alleges Exploitation of 7-11 Franchise Owners
7-ELEVEN Franchise Blues – A Protest Song
FRANCHISE DISCUSSIONS by Company
ARE YOU FAMILIAR WITH THE 7-ELEVEN FRANCHISE, 7-ELEVEN FRANCHISE LITIGATION & JOE DePINTO? SHARE A COMMENT BELOW.
TAGS: 7-Eleven, 7-Eleven franchise lawsuit, 7-Eleven franchise discrimination, 7-Eleven litigation, Susan corral, 7-Eleven whistleblower, 7-Eleven franchisee dispute, 7-Eleven franchise opportunity, 7-Eleven franchise complaints, 7-Eleven franchisees, 7-Eleven unhappy franchisee, Joe DePinto, Joseph DePinto, Seven and I Holdings, Marks & Klein, Marks & Klein law firm, Karamjeet Sodhi lawsuit, Neil Naik lawsuit, Younes lawsuit