DICKEY'S Franchise Complaints Submitted to FTC
UnhappyFranchisee.Com has been giving a voice to Dickey's Barbecue Pit franchisees, warning prospective franchise investors and submitting information to government agencies regarding DBRI's predatory franchise practices since January 23, 2014.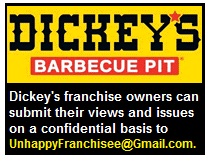 Since that first post (DICKEY'S BBQ Is Dickey's Overselling its Franchise Opportunity?), we've published 62 posts exposing, among other things, Dickey's deceptive franchise marketing, Dickey's false representations of start-up costs, high franchise failure rate, high SBA loan default rates and allegations of the systematic "churning" of failed locations through multiple owners.
(See Dickey's Barbecue Pit Franchise Posts on UF)
In my opinion, the lack of government or law enforcement intervention regarding the open & blatantly flagrant Dickey's Barbecue Pit wealth-extraction schemes stands out as a clear indication that there is NO meaningful government oversight or regulation in regards to franchisee protection.
Thus far, the SBA Guaranteed Loan program has helped finance this predatory operation at both franchisee and taxpayer's expense.
The current administration of the Federal Trade Commission (FTC) has sparked new hope that someone up there may be listening.
Desperate Dickey's Barbecue Pit franchise owners were among those who submitted comments to the FTC's Solicitation for Public Comments on Provisions of Franchise Agreements and Franchisor
Business Practices.
See all comments submitted here:  FTC Franchise Comments 2023
See a sampling of Dickey's franchisee comments below
Dickey's Barbecue Pit Franchise Complaints Submitted to the FTC May-June, 2023
May 23, 2023
Public Submission by Anonymous
ID FTC-2023-0026-0287
https://www.regulations.gov/comment/FTC-2023-0026-0287
DICKEYS BARBECUE PIT the worst franchise in the world, there is no support for the franchisor, they make changes to their menu and prices without notifying the owners, they have no products, Dickey's employees resign and change employees at all times, nope they charge for new systems Although we do not agree on costs, they lead us to close the store, nothing of what they promised is fulfilled
Jun 1, 2023
Public Submission by Scott Raifer, NY
ID FTC-2023-0026-0313
https://www.regulations.gov/comment/FTC-2023-0026-0313
Entered into Franchise agreement with Dickey's Barbecue Pit.

Build out costs were more than double Dickeys original estimate.

Amounted to an enormous SBA loan that ultimately forced me out of business in under 2 years.

Business model does not work.

All estimates provided were false made up numbers.

Franchise was unresponsive, unhelpful, had exorbitant turnover and utter disregard for its franchisees. Failure rate has to be one of the highest.
Jun 5, 2023
Public Submission
by Anonymous
ID FTC-2023-0026-0546
Need to have an investigation of Dickeys Barbecue marketing fund.

They have never submitted to a third party audit.

They collect hundreds of thousands per month and the only thing owners get in return is Facebook ads which are free and we can do ourselves and coupons sent to the store for us to pass out.

There are no TV, radio, or billboard ads.

Where is the money going?
Jun 14, 2023
Public Submission by Kevin Griffin, MI
ID FTC-2023-0026-1084
https://www.regulations.gov/comment/FTC-2023-0026-1084
Based on information provided to me from Dickey's Barbecue Pit (DBRI), I decided to purchase into a franchise and open a barbecue restaurant.

Before I signed my franchise agreement the Dickey's website as well as their sales people and their FDD stated it would cost between $300-350,000 for an all-in traditional restaurant of 2,000 square feet.

The week before I went to training and had already applied for and was approved for an SBA guaranteed loan of $350,000, Dickey's head finance guy told me buildout costs would now be closer to $500,000.

A week later at training (and after I had already invested over $40,000 of my families savings Dickey's told me it would cost around $650,000 (but not to worry because at that point (Jan. '21) they were seeing new store sales of $1,000,000 AUV (average unit volume).

A few month later when we put out the scope of work for bids, I was told the buildout cost would be more like $750,000.

I have since seen documents from Dickey's showing their AUV of stores at only $60,000 a month not nearly the amount needed to show the $1,000,000 sales they told me to expect.

When I expressed my concern to the bank their reply was "actually your buildout is a lot lower than the last several we have seen".

Dozens of new owners are going bankrupt due to promised sales that don't meet the level indicated couples with loans of $10,000 a month that Dickey's gets you into. Once owners default on their SBA loan and the store is temporarily closed, Dickey's get it sold for pennies on the dollar to someone else.

Dickey's still collects their full royalties while the families who open these new restaurants are left filing bankruptcies and defaulting on a government backed SBA loan.

Dickey's knows new stores cost more than they tell prospective owners (their website still shows it only cost $400,000 or so to open a new store) when in fact for years it has always cost more than that to build a store.

Their FDD still displays inaccurate information being provided to prospective buyers. Additionally, Dickey's appears to be making a profit off of providing false sales numbers to get an SBA loan knowing individuals are going to default on the loan.

That would appear to be intentionally defrauding the federal government as the government loses millions of dollars a year on these defaulted loans all the while Dickey's continues to get their royalities while carrying none of the risk or burden of opening a store.
May 10, 2023
Public Submission by Anonymous
ID FTC-2023-0026-0168
https://www.regulations.gov/comment/FTC-2023-0026-0168
My comments are regarding the constant changes and violations of our Franchise Agreements. I have stated the "Promotions" violation to Dickey's Barbecue Restaurant International (DBRI). They do not respond to my communication and continue the behavior.

1.The Coke & Brand Champion Rebates- We cannot receive them without completing the ever changing rules & documentation requirements. Yet we are the purchaser of the Coke products.

2.The Operating Manual (OM) available online is from 2016, we are told that we are out of compliance but the current OM states differently.

3. Brand Standards is a word thrown around constantly, but there is not actually a list of Brand Standards. "Brand Standards" is used against the owner who argues with any subject.

4.When we opened our restaurant, we managed our menu, we could make items available or not, as needed. DBRI took this away last year. They stated owners were abusing the option. Now we must request a Regional Business Leader to access the menu and make changes. Sometimes they don't respond or have gone to bed for the night, & we are stuck with customer calls & complaints.

5. When DBRI runs a Limited Time Only (LTO), they "autoship" the initial items, then we order more if we need it. When the LTO is over, US Foods is instructed to autoship the balance of the items. These items have already been removed from all sites (POS, OLO, 3PV) to sell. We are stuck with the items at full price and must discard once expired. This is a financial hardship on the already struggling restaurant.

6. DBRI has created their own supply warehouse, called Wycliff Douglas. Many items come from this warehouse through our current ordering system, US Foods. Many items come to us as a "Direct Ship" with additional shipping costs, these items arrive by UPS, USPS or FedEx. All of the Dry Goods have moved to Direct Ship, causing additional Cost of Goods (COGs). Our COGs are getting too high to continue ordering this way.

7. DBRI owns a company associated with creating and supplying Dickey's restaurant locations. Stanford Sonoma is owned by DBRI, not disclosed. They supplied our interior items, such as tables, chairs, & wood siding, at an increased costs of other same business types. They required us to purchase the potato slicer from Stanford Sonoma. This was $300.00 more than the cost at WebStraunt for the exact same item. They use the Big Yellow Cup email & phone number systems, to sell their own products directly out of the Home Office "Barbecue At Home, By Dickey's" Using the website athome.dickeys.com. This directly competes with our restaurants and our ability to sell our meats, they attached these advertisements while discounting our menu. They sold pellets, barbecue sauce, & meats.

8. I have asked numerous times what my Marketing Fees are being used for. DBRI doesn't have National Marketing, this we have requested. The FA states local marketing is the responsibility of the Owners. Until recently the pictures and materials listed on Facebook and Instagram were old/recycled photos and statements/discounts. Several new owners have stated the marketing fund is called the "slush fund".

9. My Franchise Agreement states occasional Promotions, we run on an average 10 promos daily. Customers are emailed and text free or deep discounted offers, that the Owners are not aware of. Discounts that We have Opted out of on 3PV, will still appear or other offers that We were not notified of. We must check our Dashboards daily to see what is being offered.

10. DBRI refuses to negotiate our 3PV contracts, we are currently at 27% fees to DoorDash & UberEats. 10. The Owners ability to manage our menus has now moved to include Pricing. We cannot increase our prices, especially for the 3PV. 3PV continue to collect 27% fees and DBRI collects 9% & We can't change anything.

11. I have expressed to DBRI the cost of doing business in California vs Texas, without response. In California minimum wage is double that of Texas, insurance and rents are greater too. Even our US Food pricing is higher than in Texas. They do not take in consideration the cost of doing business, in the various Regions across the US. 12. We constantly have IT issues, promos that shouldn't continue or don't include all the required food items. Many times the website doesn't work correctly, causing multiple orders and order disputes with the credit card companies. These are at the cost of the Owners, We are not reimbursed for the mistakes.
ALSO READ:
VetFran or VetScam? Turnover Rates of IFA-Endorsed Vet-Friendly Franchises
Most Dickey's Franchises Are Unprofitable, Franchisees Report
Dickey's Franchisees Blame CEO Laura Rea Dickey, Roland Dickey Jr. for Franchise Crisis
DICKEY'S BARBECUE PIT Franchise SBA Loans Investigated by U.S. Senator
DICKEY'S BARBECUE PIT Closed Location List
DICKEY'S BARBECUE PIT Franchise Complaints
DICKEY'S Franchise Owners Share Frustrations & Fears

Roland Dickey Jr. Extracted Millions While Dickey's Franchise Owners Fought for Survival
DICKEY'S BARBEQUE PIT Franchise Closures, Internal Turmoil Revealed By UnhappyFranchisee.Com
DICKEY'S Franchise Class Action Lawsuit Filed in CA
READ THE 2019 DICKEY'S FRANCHISE OWNER SURVEY (by section):
Dickey's 2019 Franchisee Survey Excerpt 1:  Demographics, Future & Past
Dickey's 2019 Franchisee Survey Excerpt 2:  DBRI Leadership, Roland Dickey Jr., Laura Rea Dickey
ARE YOU FAMILIAR WITH THE DICKEY'S BARBECUE PIT FRANCHISE OPPORTUNITY & PROGRAM? SHARE A COMMENT BELOW.
TAGS: FTC Federal Trade Commission, Senate Hearing on Franchising,  Senator Catherine Cortez Masto, Dickey's Barbecue Pit, Dickey's, Dickey's Barbecue Pit franchise, Dickey's franchise, DBRI, Dickey's Barbecue Restaurants Incorporated, Dickey's closed, Laura Rea Dickey, Roland Dickey Jr., Dickey's Pit Owner's Association, Dickey's Franchisee Survey, franchise opportunity, franchise complaints, unhappy franchisee