VetFran or VetScam? Turnover Rates of IFA-Endorsed Vet-Friendly Franchises
Franchise industry investigative journalist Sean Kelly is doing a deep dive into the practices of groups that profess to guide our nation's veterans to prosperity and success through franchise ownership.  The initial findings are disturbing:  The IFA's VetFran program is encouraging veterans to invest in many risky franchises with some of the the highest failure rates in the nation.   This is the first in a series.  by Sean Kelly
(UnhappyFranchisee.Com)  The VetFran website states:
"Founded in 1991, VetFran is a strategic initiative of the International Franchise Association and the IFA Foundation."
VetFran's stated mission is to "transition" veterans into franchise ownership, which it describes as "a gateway to small business ownership, prosperity and success for our nation's heroes."
The VetFran Educational component drills in two main points:
1)  That a franchise is a safe investment for veterans, since all franchises have proven systems and vets are good at following procedures:

"An established franchise business operates on proven systems and defined procedures… This means a veteran can enter a completely new field, and is more likely to succeed…"

 

2)  If a company offers a veterans discount & is a VetFran member, it is "vet-friendly" and can claim to be a "Top Franchise for Veterans."
VetFran is a hugely influential and powerful presence, permeating nearly every discussion of veterans in franchising.  Google searches for "Vet-friendly franchises" or "Top Franchises for Veterans" overwhelmingly return links to lists, rankings, articles and franchisor marketing either directly or indirectly based on VetFran membership.
Does VetFran Truly Educate & Guide Veterans to "Small Business Ownership, Prosperity and Success"?
Or Does it Set Them Up For Failure & Loss?
While it is a 501(c)3 organization, VetFran is a primarily promotional campaign that serves the interests of its members, who are franchise sellers and commissioned franchise brokers.
Vetfran's board consists of franchise sellers (16) and those who sell to or for franchise sellers (11), including consultants, an attorney, and franchise brokers.
In 2016, VetFran representatives, including VetFran donor and supporter Gordon Logan (founder of the Sport Clips men's salon franchise chain), announced that VetFran would begin screening its members for "quality."
According to the article VetFran Raises the Bar for Veterans:
Starting in 2017, instead of admitting any franchise that offers discounts to veterans, VetFran will require members to meet certain qualifications…

The VetFran committee spent over two years setting these standards.
Gordon Logan, who was immediate past-president of VetFran at the time, told Franchise Times writer Julie Bennett:
It was not an easy battle…

This is the first time the IFA ever had criteria for anything…
Unfortunately, it appears to have been wishful thinking.

Our Review Indicates VetFran Endorses Many High-Failure Rate, High Risk Franchises for Veterans
VetFran claims to have nearly 600 vet-friendly members (We count 483 or so).
Unhappy Franchisee reviewed Franchise Disclosure Documents (FDDs) of more than 100 randomly selected VetFran member franchisors.
We calculated the 3-year Franchisee Turnover Rates for each.
To put these rates in perspective, the FTRs for most large, well-known franchise chains are around 20%  (McDonald's & Burger King 20%, Chick-Fil-A 10%, KFC 18%, Subway 27%).
3-Year Franchisee Turnover Rates of 15 VetFran-Endorsed Franchises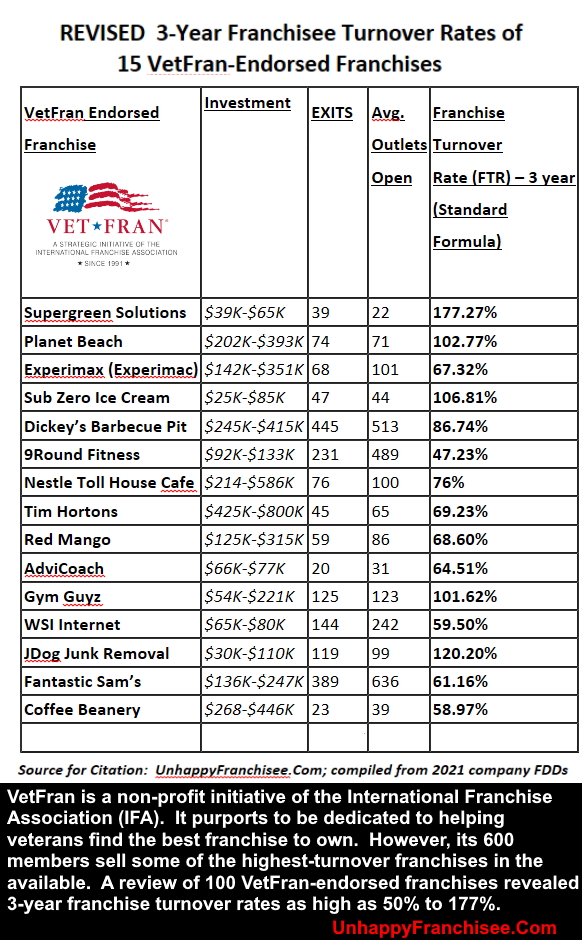 Source for Citation:  UnhappyFranchisee.Com; compiled from 2021 company FDDs
Please Share Your Thoughts VIA Comments (below) or Email UnhappyFranchisee[at]Gmail.com
Veterans Appeal to the FTC to Stop Deceptive Practices
Army veteran & former franchisee Jim Lager asks the FTC to ban non-disclosure agreements that keep veterans from hearing, or speaking, the whole story.

Marine Corps veteran Kyle De Santis asks the FTC to stop the predatory targeting of veterans that devastated his businesses and family.

Please Share Your Thoughts VIA Comments (below) or Email UnhappyFranchisee[at]Gmail.com
NOTE TO VETFRAN, IFA, FRANCHISORS & INDIVIDUALS DISCUSSED:  We invite you to provide corrections, clarifications, explanations, rebuttals and alternative interpretations.  We welcome respectful dialogue and rely on it to refine our reporting for accuracy.  We will share submitted on-the-record comments and respect correspondence made off-the-record.
NOTE TO VETERANS & FRANCHISEES:  We welcome your input, experiences & opinions & value your right to confidentiality.  Please email us in confidence or leave a comment below.  Your email address will not appear publicly.
THOSE WHO WISH TO HELP US EDUCATE & PROTECT VETERANS & SERVICEMEMBERS:  Please consider making a donation to help us stay independent & continue to counter hype and deception with facts and truth. SUPPORT THE FRANBEST VETERAN'S INITIATIVE.
ALSO READ:
FRANCHISE DISCUSSIONS by Company
TAGS: VetFran, International Franchise Association, IFA, Franchise Business Review, Franchises for Vets, Vet-Friendly Franchises, Top Franchises for Veterans, Veteran Transition, Veterans Franchise Warning, franchise, franchise opportunity, franchise complaints, franchise, franchise opportunity, franchise complaints, unhappy franchisee