PBA Study's Message: Don't Buy a Franchise Resale!
Academic researchers at Palm Beach Atlantic University have concluded that buyers of existing businesses pay 50% more for a franchise than for an independent business with equivalent sales. Not only do independent business buyers pay significantly less upfront, they are free from restrictions, required purchasing, transfer, royalty, marketing, technology and the other burdensome fees of a franchise. The study's findings indicate that purchase of an independent business provides a much better value for business owners than an established franchise.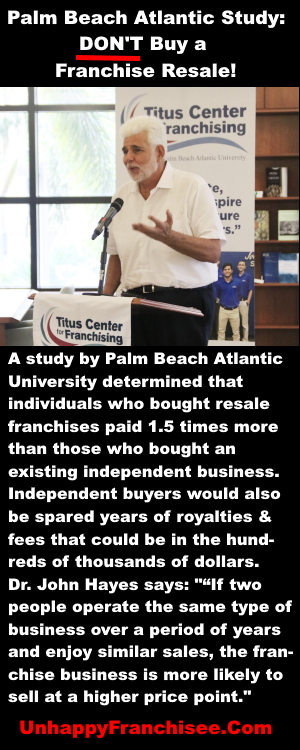 (UnhappyFranchisee.Com) A study comparing the resale prices of franchise and independent businesses could have devastating effect on franchise resellers.
Dr. John Hayes, the Titus Chair of Palm Beach Atlantic University, reportedly shared the news with the Advisory Board of the Titus Center for Franchising in May. According to Monmouth professor Scott A. Jeffrey and Managing Editor, the peer-reviewed study is scheduled to be published in the fall issue of the Journal of Business and Economic Studies. The highlights of the study's findings have been widely distributed on the Palm Beach Atlantic website, FranchiseWire.Com, Franchising.Com and elsewhere.
In a widely distributed press release, Hayes said the study's findings confirm that a branded franchise added significant cost for the small-business owner.
States Hayes: "If two people operate the same type of business over a period of years and enjoy similar sales, the franchise business is more likely to sell at a higher price point. Business owners ought to be aware of that information in advance of launching a business."
According to Sean Kelly, publisher of UnhappyFranchisee.Com, the findings could have a devastating effect on the resellers of established franchises.
"If two sign making businesses have exactly the same track record and the same sales, which would you choose?" Kelly asks. "The franchised sign company priced at $750,000 that requires hundreds of thousands of additional dollars in royalties, marketing and technology fees and required purchasing sources and prices? Or the successful independent sign company for $500,000 that requires no additional fees and includes the name, intellectual property, and freedom to make your own business decisions?
"I'm not sure Dr. John Hayes, Ray Titus or the franchise sellers of United Franchise Group [the company Palm Beach Atlantic University's Titus Center] appreciate the negative impact this study's findings can have on those trying to sell existing franchises."
"Franchise Royalties, Mark-Ups, Marketing Contributions & Fees Are Often 10% – 15% of Gross Sales or more. That Can Be the Difference Between Success or Bankruptcy." -Former Franchisee
According to 3X franchisee Jim Lager, the monthly fees, advertising contributions, technology, website and other fees required by franchisors can easily add up to 10% or more of a franchisee's gross sales.
Add to that, mark-ups and rebates for the franchisor and/or affiliates built-in to required purchases and franchise owners can find themselves unprofitable in a business that could thrive if independent.
While an independent business owner and a franchise owner might both generate $500,000 in sales, the franchise owner would typically have to give up $50,000 – $75,000 in royalties and fees to the franchisor.
At the $1,000,000 level, the independent owner would be able to keep the $100,000 – $150,000 a franchise owner would have had automatically deducted from his bank account by the franchisor organization.
"The cost savings of being an independent: Significant. The freedom to make your own business decisions: Priceless." – Business Owner Jim Lager
Mimicing the classic MASTERCARD commercial, Jim Lager says "The cost savings of being an independent: Significant. The freedom to make your own business decisions: Priceless."
Lager doesn't know how the study is able to compare two very different products with very different conditions.
Independent businesses are usually sold with the name, trademark, domain, customer lists and other intellectual property as a package. There is no 3rd party dictating every aspect of the business and no term to expire.
Franchise owners do not own those thing and are bound by strict rules and procedures of a franchisor. They cannot sell what they do not own.
Multiple requests for the study abstract, methodology and questions sent to the study's authors have been ignored thus far.
The study will reportedly be published in the fall issue of the peer-reviewed Journal of Business and Economic Studies, edited by Monmouth professor Scott A. Jeffrey.
(Related reading: Monmouth University Professor Threatens Journalist in Attempt to "Cancel" Free Speech)
The study is titled "Determinants Impacting Resale Premium Disparity When Selling a Small Business: A Predictive Non-Linear Approach."
In addition to Hayes, it is co-authored by David Smith and Mary Kay Copeland; all are faculty members at the Rinker School in West Palm Beach, Fla.
Hayes also serves as director of PBA's Titus Center for Franchising and is the Founder & Chair of what we affectionately call the Dr. John Hayes' Franchise Fraud School.
Also read:
Posts on United Franchise Group (UFG)
Lies, Scams And Pay For Play In Franchising
FRANCHISE DISCUSSIONS by Company
WHAT DO YOU THINK? SHARE A COMMENT BELOW.
TAGS: Franchise resales, franchise resale, independent resales, Professor Scott A. Jeffrey, Monmouth University, Northeast Business and Economics Association (NBEA), the Journal of Business and Economic Studies, Dr. John Hayes, Ray Titus, United Franchise Group, UFG, Franchise Resales Study, Palm Beach Atlantic University, David Smith, Mary Kay Copeland, Rinker School of Business.