PIRTEK USA's Novel Attack on Free Speech & a Free Press
PIRTEK USA and their multiple law firms are not unique in their commitment to silencing franchise dissent and making an example of franchisees who stand up to them. The Australian-owned service brand does stand out for its financial commitment to displaying total franchisor dominance, its willingness to express outrage at the most trivial self-induced injustices, and for its timeliness in providing a case study for the current FTC Franchise Rule review. With its latest motion in the PIRTEK USA v Lager bankruptcy litigation, PIRTEK USA appears to be expanding its attacks to include the free speech of a non-party and the freedom of the press to report on its non-sealed litigation proceedings. by Sean Kelly, Publisher, UnhappyFranchisee.Com
(UnhappyFranchisee.Com) In October, 1979, the Federal Trade Commission promulgated the FTC Rule on Franchising.
In response to decades of blatant deceptive and fraudulent franchise sales tactics, the FTC Rule required franchisors to provide prospective franchisees with a pre-sale disclosure document containing information essential for making an informed investment decision.
A critical source of information prospective franchisees need to make an informed decision is the honest opinions and actual experiences of current and former franchise owners of the franchise brand they are considering.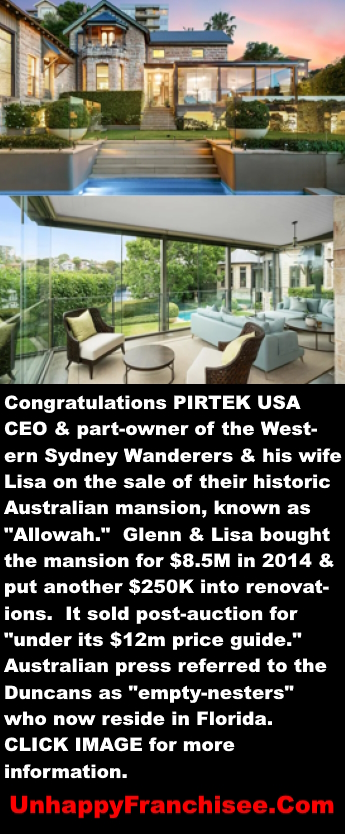 As with any major financial decision that will impact the investor and his or her family for decades, speaking to those who made and learned from that same decision is essential not only to the investor, but to the marketplace itself.
Honest & uncensored opinions and experiences of franchise investors rewards diligent and supportive franchise sellers who live up to their pre-investment representations and promises.
It also helps investors recognize those franchise sellers who may not lived up to the hype and caring image represented in their sales materials.
Knowing that franchise investors are free to communicate their experience and outcomes provides a powerful incentive for franchisors to fulfill their promise of an equitable win-win relationship.
For those reasons, the FTC Rule on Franchising requires franchisors to provide prospective franchise investors with the names and contact information for all current and recent franchisees in its Franchise Disclosure Document (FDD).
PIRTEK USA v. Lager Provides a Master Class in Information Suppression & Censorship
In the years since promulgation of the FTC Rule on Franchising, highly paid franchisor attorneys and lobbyists have effectively subjugated many of its protective aspects so that wolves may continue to roam among the sheep undetected.
In addition to intimidation and threats, franchisor attorneys have deployed such techniques as requiring broad non-disclosure and non-disparagement agreements in order to access basic programs or services to mandatory mediation and arbitration designed to produce franchisor-favorable outcomes under strictly confidential conditions.
PIRTEK USA's litigation against its star franchisee Jim Lager provides, in many ways, a Master Class in how franchisors – empowered by franchisees' own money – go to extreme lengths and expense to suppress criticism and embrace the opportunity to crush those bold enough to speak out against them.
Some of those techniques are reported in multiple posts on this website.
PIRTEK USA Defames This Author & This Website in an Attempt to Damage Critics & Mislead the Court
I am amazed by the extent to which these slick attorneys will use logical fallacies and outright lies to achieve their purposes.
For a party in a lawsuit, it will likely cost thousands of dollars and weeks or months just to get the opportunity to address each false statement.
For a non-party such as myself, this blog is my only opportunity to call out and address false or misleading statements directed at me.
Without the Court's refusal to seal the documents, I'd have no way of knowing that my reputation and character were being unfairly attacked.
Case in point is the short, recently filed public document I accessed and downloaded on PACER.
PIRTEK USA MOTION FOR LEAVE TO FILE SUPPLEMENTAL EVIDENCE IN SUPPORT OF MOTION FOR SUMMARY JUDGMENT
PIRTEK USA's False & Unfounded Claim #1: I Received & Followed the Court's Instruction
Their motion states:
8. From May 24, 2022, through June 1, 2023, Defendants and Kelly abided by this Court's instruction to refrain from disparaging PIRTEK.
Clearly False.
I'm not a party to this lawsuit.
This Court never issued instructions to me, and, I assume, does not have the power to dictate instructions to non-party media.
I alone choose my editorial focus and publication schedule – not the Court, Plaintiffs nor Defendant.
PIRTEK USA's False & Unfounded Claim #2: I Waged a Defamatory Campaign
In their relentless & expensive campaign to destroy a former top franchisee, PIRTEK USA attorneys filed a Motion for Leave to File Supplemental Evidence in Support of Motion for Summary Judgement.
Their motion states that I, and UnhappyFranchisee.Com, on behalf of the Defendant:
…engaged in a defamatory campaign falsely accusing PIRTEK and its officers of racism and unscrupulous business practices, all outlined in PIRTEK's Motion for Summary Judgment.
If not False, PIRTEK USA should substantiate this accusation.
Every post that I've published that referenced PIRTEK USA or its principals Glenn Duncan or Kim Gubera included a sincere invitation to provide corrections, clarifications or rebuttals… and a promise to address them immediately.
I did this both to ensure the accuracy of my reporting and also to dispel any legitimate claims of defamation they may have.
I have never received a single response from them disputing or correcting any statement of fact.
They throw around the accusation of defamation vaguely, loosely and irresponsibly.
Note to PIRTEK USA & its Legal Team: Please identify specific statements you believe are defamatory so that I may correct them. Otherwise, stop making these non-privileged statements against an independent journalist.
PIRTEK USA's False & Unfounded Claim #3: I Was Paid to Write & Publish Recent Blog Posts by Defendant
My business relationship with Defendant Jim Lager predates his relationship with PIRTEK USA.
For more than a decade, I've helped him with a variety of business, marketing and communications consulting & services.
My public advocacy, writing and publication of UnhappyFranchisee.Com are separate & independent.
I am not paid to write or publish about PIRTEK USA.
I have made this clear in a sworn Declaration submitted to the Court.
I have made this clear in the Disclaimer to my current series:
https://www.unhappyfranchisee.com/pirtek-usa-v-lager-series-disclaimer/
Absent any substantiation, PIRTEK USA attorneys piece together little fragments to give the false impression that Defendant Jim Lager should be held accountable for the words of an independent journalist and non-party.
I guess the hope is to prejudice a busy judge against their former star franchisee by throwing everything they can think of at the wall and hope something sticks.
PIRTEK USA's False & Unfounded Claim #4: Defendant Had – & Has – The Power to Control When & What I Publish
PIRTEK USA attorneys claim that I once held off publishing about PIRTEK USA at Defendant's request.
They claim that is proof that when I resumed publishing about PIRTEK-related topics, it was at the Defendant's direction.
In her sworn deposition included within Plaintiff's 1000+ pages submitted to the Bankruptcy Court, CEO Kim Gubera claimed that one post I made a year or so ago was in retaliation to some motion or complaint they filed the same day.
My post was published at 10:00 am. The post would have been written over several previous days.
(I do not have the benefit of clairvoyance when scheduling publication.)
To be clear: Defendant Jim Lager has no editorial control nor review of what I publish – and has never had the power to stop me from publishing on any subject, including PIRTEK.
I fully intend to continue to report on this franchise dispute to the end – fully independently of any litigation or requests from either party.
Perhaps PIRTEK USA is Intending to Suppress MY Freedom of Speech by Inflicting Financial Damage
For nearly 20 years, I've been writing the truth and sharing honest opinions about deep-pocketed, litigious & overlawyered franchisors and franchise sellers.
I have survived this unpopular activity by being diligent to not make false statements of fact, and to share my opinions as opinions.
Verifiable truth and clearly stated opinions are not subject to legitimate claims of defamation.
In addition, I provide an open invitation to those discussed on my site to provide corrections and clarifications, which I address swiftly and diligently.
PIRTEK USA has never once objected to any statement of fact.
By using my independent writing against my longstanding friend, colleague and client Jim Lager, it appears they are attempting to get at me by disrupting that relationship.
They would have a better result by just taking me up on my invitation for an open discussion and debate.
As the Honorable Judge said, "The toothpaste is out of the tube."
Come out of the shadows and join me in the bright light of day.
It will be less costly in oh so many ways!
OPEN INVITATION to PIRTEK USA, Glenn Duncan, Peter Duncan, Kim Gubera &/or all legal representatives: You are invited to contact the author with any corrections, clarifications, rebuttals, or alternative points of view. We encourage respectful discussion & debate and present opinions contrary to ours so that readers can weigh all sides and make their own decisions. Despite our penchant for humor & sarcasm, we will represent your side of things fairly and respectfully as long as that's how we receive them. Contact us at UnhappyFranchisee[at]Gmail[dot)com.
All of this is my opinion. Everything I say or write is my opinion, except verifiable fact, and therefore non-actionable as defamation. Not that that will stop them
See all PIRTEK USA Posts.
See posts in the PIRTEK USA v. Lager Franchise Perils Series
The words and opinions expressed here are solely the opinions of Sean Kelly, who invites corrections, rebuttals and respectful debate. Sean Kelly is an independent investigative journalist with 35 years of franchise industry experience. Since founding UnhappyFranchisee.Com in 2006, his reporting has exposed & shut down several predatory franchise & investment schemes. Sean Kelly is a franchise watchdog who prompted and aided the FBI investigation that shut down the 165-victim multi-million-dollar NY Bagel franchise scam and landed perpetrators Dennis Mason & Joseph Smith in federal prison. Sean was featured in the ABC Four Corners expose of 7-Eleven wage theft in Australia and has served as an advisor to Dateline NBC. He has withstood bullying, intimidation & frivolous lawsuits as high as $35M and never lost. His crack editorial staff and fact checkers include Chick, Gem, Red, Pru & Joanie the Rescue Chicken.
Contact the author at UnhappyFranchisee[at]Gmail[dot]com
TAGS: PIRTEK, PIRTEK USA franchise, PIRTEK Australia, Kim Gubera, Glenn Duncan, Peter Duncan, Michael Joblove, Venable, Faegre Drinker, David Kauffman, Kauffman Gildin & Robbins, Jim Lager, Sean Kelly, Franchise litigation, franchise arbitration, Franchise NDAs, Franchise gag orders