7-ELEVEN CEO Joe DePinto Parodied as Hitler
A biting parody video (by "Singh's Revenge") on YouTube.com portrays 7-Eleven CEO Joseph DePinto as a crazed, egomaniacal Adolph Hitler-character ruthlessly directing his vice presidents to destroy South Asian 7-Eleven franchise owners out of both greed and vengeance.
(UnhappyFranchisee.Com)  It's Oscar season, but it looks like the Academy overlooked a hard-hitting parody video called "7-Eleven Joe DePinto."
To create this parody video, it appears that "Singh's Revenge" took an excerpt from a theatrical German-language film depicting Adolph Hitler coming unglued near the end of the war, and simply added English language subtitles to make the film about 7-Eleven CEO Joe DePinto getting bad news about his war on his franchisees.
In case you haven't been following the 7-Eleven war, 7-Eleven franchisees have launched a number of lawsuits against 7-Eleven, Inc. (owned by Japanese parent company, Tokyo-based Seven & I Holdings Co.).
A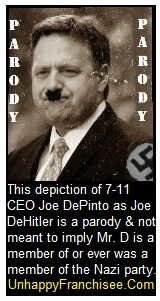 mong the many complaints, 7-Eleven franchisees allege that the parent company has implemented an intentional "churning" strategy in which it seizes profitable stores from franchises (some of whom built up the business for 10, 20 or 30 years or more), leaves them with nothing and sells the stores for a profit.
Recent allegations, supported by whistleblower testimony, claim that senior management has directed its sales and real estate staff to discriminate against South Asian franchisees to support its efforts to change the company image away from its association with Indian and Pakistani owners.
(See 7-ELEVEN Whistleblower Alleges Franchise Discrimination)
Here's an overview of "7-Eleven Joe DePinto" by Singh's Revenge.  We'll use the name "Joe DeHitler" for the main character.
Opening Text: 7-Eleven Franchisees are Under Attack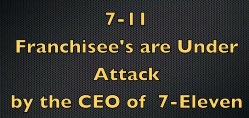 The film starts with very basic opening text that sets the stage:
"7-11 Franchisees are under attack by the CEO of 7-11.

"Hitler is the CEO of 7-11"
Joe DeHitler Learns of Franchisee Protests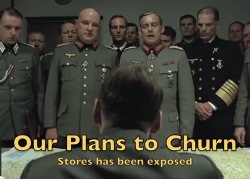 The first scene is Joe DeHitler's office, crowded with 7-Eleven staff.  A map is spread on DeHitler's desk.
A corporate Vice President briefs Joe DeHitler on the war effort.  He specifically refers to a franchisee protest at CBS Studios where he appeared, and warns of a planned protest at the Vegas convention in February, 2015:
Vice President reporting to Joe DeHitler:

"They are filing lawsuits.  They have figured out our lies.

"Franchise protests taking place here [points to map].

"They hit us hard at CBS Studios

"They are planning to strike us at 7-11 Vegas Experience"

Joe DeHitler:  "We have changed our Vice Presidents.  We will strike back hard!"
Joe DeHitler Learns 7-Eleven's Churning Strategy has Been Leaked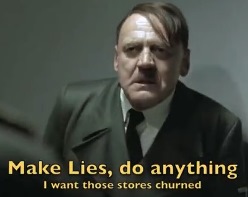 Nervous advisors break the news to Joe DeHitler that insider secrets have been leaked, probably referring to whistleblower Kurt McCord (see 7-ELEVEN Bombshell: Insider Accuses 7-11 of Predatory Franchise Practices).
Nervous Vice President:  "Our game plan, our secrets have been leaked"

Vice President #2:  "Our plan to churn stores has been exposed"

Joe DeHitler:  "The Vice Presidents stay.  The rest of you leave the room."

[Furious, DeHitler clears the room except 3 VPS]

Joe DeHitler:  "I will not be defeated! ASSET PROTECTION will continue as planned!"

"We need those stores.  Terminate franchisees.  Make the franchisees bleed.  Force them to give up their stores.

"I am God of 7-11 World.  You all will do as commanded.

"I want 140 stores this year.  churn churn churn.

"Tell lies.  Make up evidence.  You all want a bonus this year?"

Vice President:  "Harass them  Stock them.  [Stalk them?] Find reasons to breach."

Joe DeHitler: "Make reasons to breach their contracts.  Make lies.  Do anything.  I want those stores churned.

"Those franchisees, slaves Kwicki Mart operators.

"Target news media. We need a positive image.  Use Slurpee coupons.

"We will use DVR.  We will make up false evidence.  We will do whatever it takes to take stores back.

"I want to make it clear:  Your job is to take equities away."
Joe DeHitler: "I want to see them in pain.  I want their children on food stamps"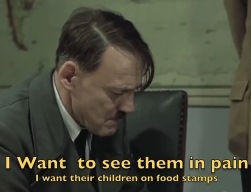 Joe DeHitler works himself up into a frenzied rage at the thought of lowly immigrant franchisees standing up to him, a West Point graduate and multimillionaire.
He is incensed at the threat to his ability to achieve maximum profits for his Japanese corporate overlords in Tokyo.
As he clears the room, he continues to rant.  His frightened staffer listen from the hallway:
Joe DeHitler:  "FRANCHISEES Serve me! You serve me!  West Pointers can't be defeated!

"I cannot be defeated.  I am the greatest CEO Ever.  I am God.  I am greater than god.

"I will strike every FOA [Franchise Owner's Association].  I will take down the National FOA.

"I will  make more profit for our parent company 7-11 Japan

"Zone Leaders will attack franchisees office, gather intelligence.

"WE WILL CHURN every 7-11 operator.

"OUT OUT out out" Joe clears the room]

In hallway, one girl to other girl:  "Your boyfriend has gone mad"

Joe DeHitler:  "I don't care if our plans have been exposed.  ASSET PROTECTION Instead of 140 stores take back 300 stores.

"I want to see them in pain.  I want their children on food stamps.

"I am not scared of Federal courts or Federal judges, fuck them.  I ask you only one thing.  CHURN CHURN Churn those stores for profit.

"We will show profits.  Get every penney [sic] from these veggi eating franchisees.
Narrative Text: The Abuse Continues…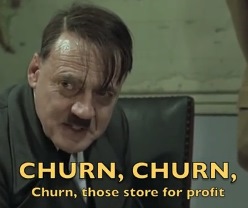 The video was posted to YouTube back in September, 2014.
As of February, 2015 the legal battles continue, more whistleblowers have stepped forward, and the franchisees prepare to protest Joe DePinto at the  7-ELEVEN EXPERIENCE 2015 Tuesday, February 10 to Thursday, February 12, 2015 at the MGM Grand, Las Vegas, NV
Narrative text:  "The abuse of Hitler goes on.

"The third Reich of 7-11 must be stopped or the franchisees will be gassed.

"7-11 Stealing Stores From Hard-working Immigrant Franchisees.

"HELP Get our message out."
Watch "7-11 Joe DePinto" as Hitler by Singh's Revenge
ALSO READ:
Has 7-ELEVEN Declared War on its Franchisees? (Index of 7-Eleven Posts)
7-ELEVEN Covering Up Illegal Plot to Purge Indian Franchisees, says Attorney
7-ELEVEN Whistleblower Alleges Franchise Discrimination
7-Eleven Franchise, CEO Joe DePinto Under Fire by Angry Franchisees
7-ELEVEN Franchise Lawsuit Alleges Exploitation of 7-11 Franchise Owners
7-ELEVEN Franchise Blues – A Protest Song
FRANCHISE DISCUSSIONS by Company
ARE YOU FAMILIAR WITH THE 7-ELEVEN FRANCHISE, 7-ELEVEN FRANCHISE LITIGATION & JOE DePINTO? SHARE A COMMENT BELOW.
TAGS: 7-Eleven, 7-Eleven video, 7-Eleven protest video, 7-Eleven franchise lawsuit, 7-Eleven franchise discrimination, 7-Eleven litigation, 7-Eleven franchisee dispute, 7-Eleven franchise opportunity, 7-Eleven franchise complaints, 7-Eleven franchisees, 7-Eleven unhappy franchisee, Joe DePinto, Joseph DePinto, Seven and I Holdings, Marks & Klein, Marks & Klein law firm,