7-ELEVEN Covering Up Illegal Plot to Purge Indian Franchisees, says Attorney
7-Eleven, Inc. is defying court-ordered discovery requests in order to hide its illegal and racially discriminatory strategy of purging its system of South Asian (namely Indian and Pakistani) franchise owners, according to an attorney representing 7-Eleven franchisees in a number of lawsuits.
RELATED:  See 7-Eleven whistleblower Susan Corral's statement regarding discrimination here: 7-ELEVEN Whistleblower Alleges Franchise Discrimination
(UnhappyFranchisee.Com) Attorney Jerry Marks, of Red Bank, NJ law firm Marks & Klein, has submitted a letter to NJ District Judge Honorable Joel Schneider requesting sanctions against 7-Eleven, an order to produce all requested documents, and denial of 7-Eleven's request for a stay.
Mr. Marks claims that 7-Eleven and its counsel have been stonewalling and defying court instructions in order to "hide evidence of illegal, discriminatory and tortious conduct."
The letter to Judge Schneider was in reference to three lawsuits in which Marks & Klein represent 7-Eleven franchisees:  7-Eleven, Inc. v. Karamjeet Sodhi, Neil Naik et al. v. 7-Eleven, Inc. and Younes et al. v. 7-Eleven, Inc.
(Read Attorney Marks' letter & supporting documents:  Gerald Marks' Letter to Judge Schneider Seeking Stay).
Each of these lawsuits involves the allegedly improper seizure by 7-Eleven, Inc. of franchise stores that were operated and developed by long-time franchisees of South Asian descent.
The lawsuits contend that 7-Eleven Inc. developed an internal "hit list" of franchisees it wished to purge from the system by seizing their stores and reselling them for profit.
Whistleblower Kurt McCord has provided an insider's account of how 7-Eleven allegedly used its Asset Protection department to terminate targeted franchisees and resell their seized stores for profit (see 7-ELEVEN Bombshell: Insider Accuses 7-11 of Predatory Franchise Practices)
Another whistleblower, 30+ year 7-Eleven employee and franchise salesperson Susan Corral, provided a written certification detailing how 7-Eleven management instructed its staff to recruit non-Indian and Pakistani franchisees because it wanted to "change its franchisee image."  (see 7-ELEVEN Whistleblower Alleges Franchise Discrimination).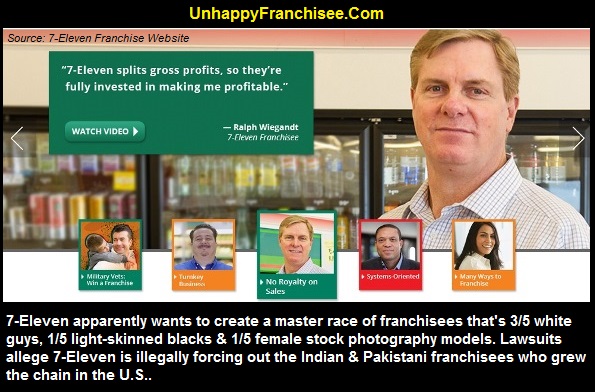 7-Eleven Has Alleged "Hit List" of Franchisees to Purge
Marks' letter to Judge Schneider alludes to the existence of an organized internal effort within 7-Eleven, Inc. ("Project P") to target specific franchisees on a "hit list," and terminate their contracts and purge them from the system without payment or compensation.
Marks' letter suggests that the franchisee Project P "hit list" effort is discriminatory in nature and "specifically lists and targets the President of the New Jersey Metro Franchisee Association President , Karamjeet Sodhi, and members Bijen  Patel, Bvesh  Patel  and  Sam Patel [Marks' clients]"
Attorney Marks' letter alleges that 7-Eleven has been uncooperative in producing discovery documents in order to hide its serious legal and civil rights abuses against South Asian franchisees:
The   unusual,    numerous    and    recurrent    discovery    obstacles    involved    in  the Naik and Sodhi cases are explained by the severity of 7-Eleven, Inc.'s ("7-Eleven") wrongdoing and the attempt by 7-Eleven and its counsel, to hide evidence of such illegal, discriminatory and tortious conduct. The significant civil rights and franchisee issues involved in these cases involve national as well as New Jersey public policy  and  the  disregard  of  franchisee  statutory protections.

Specifically, the Naik and Sodhi  cases  involve  7-Eleven's  deliberate  violations  of both the United States Civil Rights Act (42 U.S.C. § 1983) and the New Jersey Law Against Discrimination ("NJ LAD"), N.J S.A. 10:5-1, et seq.  in  terms  of  racial  discrimination against South Asian franchisees of Indian and/or Pakistani origin (see Certification of former 7-Eleven franchise  sales representative  Susan Corral accompanying this  letter).
ALSO READ:
7-ELEVEN CEO Joe DePinto Parodied as Hitler
7-ELEVEN Whistleblower Alleges Franchise Discrimination
Has 7-ELEVEN Declared War on its Franchisees? (Index of 7-Eleven Posts)
7-Eleven Franchise, CEO Joe DePinto Under Fire by Angry Franchisees
7-ELEVEN Franchise Lawsuit Alleges Exploitation of 7-11 Franchise Owners
7-ELEVEN Franchise Blues – A Protest Song
FRANCHISE DISCUSSIONS by Company
ARE YOU FAMILIAR WITH THE 7-ELEVEN FRANCHISE, 7-ELEVEN FRANCHISE LITIGATION & JOE DePINTO? SHARE A COMMENT BELOW.
TAGS: 7-Eleven, 7-Eleven discrimination, 7-Eleven franchisee termination, 7-Eleven franchise lawsuit, 7-Eleven franchise discrimination, 7-Eleven litigation, 7-Eleven franchisee dispute, 7-Eleven franchise opportunity, 7-Eleven franchise complaints, 7-Eleven franchisees, 7-Eleven unhappy franchisee, Joe DePinto, Joseph DePinto, Seven and I Holdings, Marks & Klein, Marks & Klein law firm,