CANDY BOUQUET Franchise Complaints
Candy Bouquet was founded in 1989 by Margaret McEntire and franchised in 1993.
According to Candy Bouquet franchise disclosure documents, the chain grew to 415 U.S. franchises in 2000, and continued growing to a peak of 762 in 2006.
Then Candy Bouquet started its steady decline.
Candy Bouquet had fallen to about 228 U.S. locations by the end of 2011 when it was acquired by franchisees Dr. Jim Wheeler and his wife Janet .
Franchises continued to close under the Wheeler's ownership, reportedly falling to 114 domestic franchises by the end of 2012 and to just 79 by the end of 2013.
As of May, 2014, the Candy Bouquet website lists just 77 U.S. locations, at least 10 of which seem to have their phones and/or emails discontinued.
CANDY BOUQUET Franchise Failures Documented on Blue Mau Mau
In May, 2008, franchisee "Candy Lady" published the post Nothing is Sweet about Candy Bouquet! on the website BlueMauMau.org.
The post prompted more than 3000 comments, many by frustrated and despondent franchise owners who claim they were misled by Candy Bouquet International (CBI) founder Margaret McEntire, and were sold an unsustainable, unprofitable business model.
There was a glimmer of hope expressed at the take-over by the Wheelers (who were fellow franchisees), but that glimmer soon disappeared from the discussion thread.
Here is a sampling of the franchise complaints from the Blue Mau Mau page left since last year.
Keep in mind, these are anonymous complaints that reflect the unsubstantiated opinions of the respective commenters.
We have asked Candy Bouquet franchisor Jim Wheeler to address these and other complaints.  Mr. Wheeler's responses will be featured in upcoming posts.
Candy Bouquet Complaint:  Unprofitable Business Model
On 5/27/13 one commenter wrote:
Have any of you looked at the cost to buy into this franchise? Just for an average size territory of 100,000 to 125,000 population, it now costs $37,500. If memory serves me correctly, it was at one time around $18,000 a couple of years ago. And the monthly association fees for that size territory is now $565!!! WOW! Again, just a couple of years ago it was just under $200 per month for association fees! If you do the math – the average store (if they are lucky) might just sell $2500 a month in bouquets alone – again if they are lucky! That's about 22% of bouquet sales going to pay monthly association fees – what are they getting in return – same old bunch of nothingness! Anyone who buys in to this franchise today with the attrition rate and all is just downright dumb!
On 7/7/13, commenter "ex franchisee" claimed that even the Wheeler's own franchise closed [again, unconfirmed]:
Oddly the Houston TX CBI franchisee that was the largest franchise ever sold is no longer in business according to CBI's locator. This Houston franchise was owned by the Wheelers the current owners of Candy Bouquet International. Wondering what really happen to that franchise?!? Could be like all the other closed franchises just never made any money.

Candy Bouquet International is just a losing battle even for the current franchise owners who spent their life savings, including their entire retirement to Margaret McEntire the only person to make any money off the backs of her former franchisees.
8/8/13 "Guest" wrote:
…The franchise needs to go away because it is not sustainable as a true business. Cute hobby, yes. Does it have value, yes, but not as a business.
Candy Bouquet Complaint:  Website Not Updated
October 7. 2013, "Visitor" complained that the CBI website was displaying Spring and Summer bouquets:
It's no wonder CBI's are failing just look at the homepage for Candy Bouquet International. CBI is still displaying Spring, Mother's Day and other summer bouquets. I'm about ready to quit paying my franchise association fees since I'm not getting anything for all the monthly money CBI is getting from me… Can't wait for my contract to end!
7/18/13 "ex franchisee" wrote:
Nothing has changed much at CBI it seems…franchisees were always after Candy Bouquet International (Margaret McEntire) to update the website bouquets.   Just like the current website we would complain about Halloween bouquets that should have been changed to holiday bouquets…they never were current…
10/29/13 "Visitor2013" added:
Seems history continues to repeat itself with CBI

Same thing happened when I was a franchisee their website could not be changed because they fired their webmaster and not one person knew the password for updating the CBI website. Well at least one season of the year will be right since they only have Easter, Spring and Mother's Day Bouquets on the Candy Bouquet International homepage… would never put money into this company knowing it's past history.
Candy Bouquet Complaint:  Website Down at Critical Time
A distressed franchisee reported that, during their peak selling season of 2013, the store locater on the Candy Bouquet website was not working for at least 9 days right before Christmas.
12/22/13, "Visitor" wrote:
How is it Candy Bouquet "where to order" is still down…what a mess!!! The lost sales is driving me crazy as we have to use candybouquet.com disclosures on all our bouquets! I'm mad and there is nothing I can do it's out of my control. It's just about the end for me unless I make good money for Valentine's Day. Feel it is all going down the drain for me. Just how did I get myself into such a mess, all my savings gone, my retirement gone, may even lose my home over this, my family is not very happy with me either.
12/24/13, "Visitor" wrote:
Candy Bouquet website "Where To Buy" down for 9 plus day…
Well, well, well it's now 12/24/13 and the Where To Buy on CBI's website was reported down 12/15/13 on this site – the good thing for franchisees is the locator is once again up and running – the bad is the critical week (more than 9 days) of bouquet and gift basket sales lost for the franchises they will never get back.

Once again Candy Bouquet International SUCKS at helping franchisees with their bottom line – CBI continues to be the Grinch who STOLE Christmas.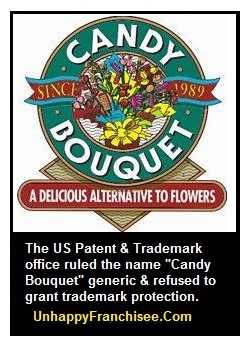 Candy Bouquet Complaint:  Franchisor Not Providing Value
8/29/13 a commenter wrote that CBI does not provide cost savings for products:
I was a franchisee for the whole 5 years, I borrowed $25,000 and after 5 years I still owed $8,000 which I have now paid off. I never drew a check and was home-based. I had a lot of returning customers, I would make some money and then spend at the CBI warehouse. I found I could find most products a lot cheaper elsewhere.The idea was awesome but I believe the novelty has now worn off. I loved making my bouquets but the money was just not there. Yes I made money but then had to spend for next lot of orders, I didn't seem to get in front. I did not renew.
10/7/13 a commenter wrote that marketing support is lacking:
I am so disappointed in the new owners! I got an email last week saying they were having a "$5.00 per bag" sale on candy. You know it's got to be old! Great way to support your franchisee's and help them to grow their business!
10/17/13 Visitor2013 wrote:
Candy Bouquet International…same ole, same ole, same ole thing…nothing ever changes.

No call backs

Nothing for your franchise fees

Old outdated seasonal bouquets on website

Selling old candy – can't ever forget when the bay door was hit and MM had them sell the melted candy to franchisees at a discount.
2/26/14 a commenter wrote that CBI no longer has a phone number to call:
CBI is on it's way out!

… The number they have listed on the CBI website is out of service. They now list their corporate offices as being in Houston, but there is no phone number to actually talk to a person, you can only email via the Contact Us link. They are still offering franchises though and the website talks about being trained in Little Rock, which is obviously not true. I could go on, but all I can say is if you're thinking about buying one of these franchises, do yourself a favor and don't!!!
10/17/13 a failed franchisee claims not to have heard from the franchisor in over a year:
I have 2 1/2 more years on my 5 year contract, and have closed my doors. Of course, CBI hasn't figured this out, because I haven't spoken to them in over a year! I would love to stop paying the franchise fees, but heard if you stop paying, they will sue, or demand the entire amount due within 15 days.
A franchisee made the point that "Candy Bouquet" is a generic term, not a registered trademark:
MARGARET MCENTIRE LIED TO MANY FRANCHISES EVEN IN HER UFDD BY PUTTING REGISTERED TRADEMARKS BY CANDY BOUQUET ANY NUMEROUS OTHER "PRETEND" TRADEMARK PHRASES….Margaret only changed her UFDD of fake trademarks after the AAFD became involved and she became fearful of the Association of Candy Bouquet Franchisees who hired an Attorney to call her out on these.
Candy Bouquet Complaint:  Widespread & Devastating Failures
1/8/13 "Guest" wrote:
DO NOT SIGN anything!!!

Run away. Dont sign with CBI. I was a franchisee too and realized when I arrived for training, that it was the biggest mistake I ever made. Cost me $28 000. So glad I am done with it now!!!!
1/5/13 "Rick" wrote:
Done with CBI

Thank GOD its 2013 my contract runs out with CBI I made it i will not be renewing this was just one big Mistake…
5/25/13 "Visitor" wrote:
My Contract runs out in August cannot wait a huge burden lifted a bad mistake but i have learned
7/7/13 "ex franchisee" wrote:
The one thing Candy Bouquet International is BEST at is…CLOSURES of FRANCHISES! All those people investing and many losing everything including their homes. It's all just so sad and Margaret just would not listen to her franchisees…just made a sucker of a professional couple [Wheelers] who are on the verge of losing it all.

Way to go CBI!!!
8/8/13 a commenter wrote:
I bought the franchise not as a hobby, but as a business venture. Why? Because it was sold as a business venture. This was in 2005. I researched for approximately 8 months. There were 800+ franchisees when I bought. My class was one of the biggest with 27 (I think) new franchisees in the training class. Classes were held twice a month back then, that is how fast it was growing. The reasons are many as to why this can not succeed… I have no idea how many people have bought into this franchise over the years, but you are talking over 2000+ I feel safe in guessing. Do you really think this number of people bought something based on good, solid information from the franchisor? No, we were taken just like people that fell for Bernie Madoff's Ponzi schemes. Some people really are vultures and will prey on others…
9/9/13 a commenter wrote:
People did lose their home, savings and retirement…this was a business venture not a hobby for thousands of people who bought into Margaret McEntire's southern (snake) charm.
9/27/13 a commenter wrote:
I closed my store two years ago. My store is still listed on Candy Bouquet's home page. Isn't that odd! I invested $25,000 and owed $20.000 when I closed the store. It's sad and the dumbest thing I've ever done!!
1/13/14 a commenter wrote:
Out of Order!  Just tried to call 4 different stores that were listed on the locator and 3 of the numbers were out of service! Things never change!!!
10/29/13 a commenter wrote:
I know of 6 (yes SIX!) Franchises that are still listed on the locator, but have closed their doors. That makes it 77 (or less) active franchises. So sad …
Note:  We have corresponded with Candy Bouquet franchisor Jim Wheeler who was very gracious and agreed to address these and other issues.
ARE YOU FAMILIAR WITH THE CANDY BOUQUET FRANCHISE OPPORTUNITY?  DO YOU KNOW ITS CURRENT STATUS OR THE REASON FOR ITS DECLINE? SHARE A COMMENT BELOW.
TAGS: Candy Bouquet, Candy Bouquet franchise, Candy Bouquet closures, Candy Bouquet complaints, Margaret McEntire, Dr. Jim Wheeler, Janet Wheeler, James Wheeler