NO LIMIT AGENCY & 1851 Magazine: Beyond Ethical Limits?
No Limit Agency is an aggressive, Chicago-based franchise public relations and marketing firm founded by Nick Powills.  No Limit Agency and clients like Philip Schram of Buffalo Wings & Rings claim they've generated great results by creating their own news stories, publishing them in a magazine owned by No Limit Agency, and pushing them through targeted Facebook ads.  Do you see anything ethically wrong with this practice, Comrade Powills & Comrade Schram?  Part of an ongoing series on fraudulent franchise marketing practices.
(UnhappyFranchisee.Com) When Russian operatives wanted to mislead the American public, they took to Facebook and other social media outlets.  In order to hide their true strategic objectives, they misrepresented their identities and communicated convincing views and opinions that seemed heartfelt and genuine but concealed self-serving, ulterior and destructive motives.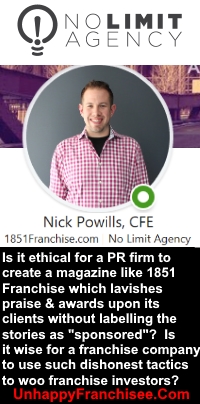 In the franchise industry, we call such deceptive practices "public relations," or sometimes "content marketing."
We recently published posts exposing Plano Texas-based PR Firm BizCom Associates for publishing such pay-for-praise books like Dr. John Hayes' "12 Amazing Franchise Opportunities."
What's more amazing than these franchise opportunities is witnessing BizCom clients like the FASTSIGNS franchise feign wonder and humility at being selected for the honor and recognition that they purchased for an estimated $5,000… and for the accolades they gave themselves in their self-written book chapter that was passed off as legitimate editorial book content.
We have previously written about the pay-for-praise Franchise Business Review (FBR) publications that provide questionable franchisee satisfaction awards and plant illegal earnings claims and fabricated success stories in their fake franchise industry "reports."
There seems to be No Limit to the fraudulent franchise fable factory… which brings us to Chicago-based No Limit Agency and its online publication: 1851 magazine.
Important Note:  Individuals and companies discussed on UnhappyFranchisee.Com are invited to provide corrections, clarifications, rebuttals, differing points of view and/or statements for publication.  We do not claim infallibility and value open and honest debate from all viewpoints.  We make sometimes mistakes or draw incorrect conclusions from time-to-time but will always try our best to clarify & correct when appropriate.  Those who admit their own mistakes are appreciated. We aren't quite as amiable toward those who ignore or threaten us ;) 
Why Pitch Legitimate Publications When You Can Create One That LOOKS Legitimate?

On its Facebook page, 1851 Magazine describes itself as "An entrepreneurial magazine for franchisors, franchisees and anyone interested in the franchising industry."
1851 Magazine "staff writers" and "contributors" write about up-and-coming franchise companies and the investment opportunities those companies are promoting.
For instance, prospective investors may be researching their options online and come across a link from 1851 Magazine to its 9/19/17 story on OH-based Buffalo Wings & Rings: Emerging Franchisors Doing Awesome Things in Franchising: Buffalo Wings & Rings
The bylined writer, 1851 Magazine contributer Andrew Stern, was impressed by Buffalo Wings & Rings' controlled and measured growth, writing:
For anyone outside the business, the idea of growing too fast might seem crazy. But according to Buffalo Wings & Rings Chief Development Officer Philip Schram, the brand's measured rate of growth is at a near-perfect pace to allow the company to emerge as a top player in the franchise restaurant space.

"We have opened about seven locations per year in 2015, '16 and '17, which comes out to around 15% growth," said Schram. "This is really the perfect number for us; faster growth would put too much pressure on the organization."
1851 Magazine was apparently SO impressed with the Buffalo Wings & Rings franchise, it featured them in nearly 40 articles* in the past 3 years, including:
"Awesome Restaurant Franchise Issue: Buffalo Wings & Rings | Papa Murphy's | Blaze Pizza" BY BRIAN JAEGER
"Franchise Development Players: Philip Schram, Chief Development Officer of Buffalo Wings & Rings"
"Team of 12 Franchise Experts Evaluates 200 Websites, Announces 4th Place Buffalo Wings & Rings" BY NICK POWILLS
"Franchise Development Websites: Best of the Best Ranked"  BY NICK POWILLS
"How Buffalo Wings & Rings CEO Nader Masadeh Aligns Staff with the Brand's Promise to Ensure Ongoing Success"
"5 Franchises that Offer Superior Support" BY EMILY IAMMARINO
"1851 Franchise's Franchise Development Website Award Winners"
"25 Full-Service Restaurants to Watch in 2017"
"All Star Franchisees: Todd Fetter of Buffalo Wings & Rings"
"Top Players in Franchise Development: Dan Doulen
"Breakout Brands of 2015"
"10 of the Best Franchise Investments Under $1 Million"   BY TROY KEHOE
"1851's Franchise Development Website Awards Top 10 Brands"  EMILY ROSENBAUM 1851 Managing Editor
"25 Established Franchise Brands to Watch"
"After Top Growth Year, Buffalo Wings & Rings Expect Same Success in 2015" BY GREG AVDOIAN  12/30/14 Industry Spotlight
"Buffalo Wings & Rings enters epic-growth mode"
"15 Brands with Major Marketing Success"  DEVON DEEM  08/15/14 Franchisor Spotlight
1851 Magazine Writers & Contributers are Actually No Limit Agency PR Staffers
Franchise public relations agencies have an admittedly tough job.  There are fewer legitimate franchise and/or entrepreneurial publications than there once were.  And, often, the franchise concepts that need positive media exposure the most often are the least newsworthy.
We get it.  It's a tough gig trying to get some magazine or newspaper to publish what some franchise sales department of a non-extraordinary franchise concept wants to see in print.  So if no legitimate restaurant or business publication is inclined to print a story titled "Buffalo Wings & Rings enters epic-growth mode," it might be tempting to start printing your own fake magazine.
But ethical, legitimate public relations professionals stop there…  they don't simply invent a publication eager to print every last word each client wants to see… they don't disregard the professional guidelines of the PR profession… or the FTC guidelines prohibiting deceptive advertising practices.
The 1851 Magazine articles listed above appear to be bylined articles by staff writers or contributors of an actual independent, industry magazine writing about Buffalo Wings & Rings based on the franchise company's merit.  However, a search of LinkedIn profiles reveals that these "articles" were actually written by No Limit Agency employees… the PR firm that happens to also be the publisher of 1851 Magazine:
NICK POWILLS Chief Brand Strategist, No Limit Agency, Publisher, 1851 Project
BRIAN JAEGER  Vice President of Media Relations at No Limit Agency
ANDREW STERN Senior Account Executive at No Limit Agency
EMILY IAMMARINO Lead Designer at No Limit Agency
DEVON DEEM Account Executive, No Limit Agency (at that time)
GREG AVDOIAN Director of Development, No Limit Agency (at that time)
EMILY ROSENBAUM Managing Editor, 1851 Magazine, No Limit Agency (at that time)
While we're not quite clear on this point, some promotional verbiage on the No Limit Agency website seems to suggest that some clients may actually be writing and publishing their own self-serving content in the third person – which will appear with an 1851 writer's byline to give fake 3rd party credibility.  We'll return to that suspicion in a bit.
Buffalo Wings & Rings is a No Limit PR & Marketing Client
No Limit Agency is headed by Nick Powills, whose LinkedIn profile also lists him as publisher of 1851 Magazine.
Nick's loose view of PR ethics is apparent in his advice to franchisors:
Your Blog is OK, But it Doesn't Give You a Ton of Credibility: When is the last time you read a brand's blog? When is the last time your franchise prospect read your blog and said it really motivated them to move forward? Unless the blog comes from a human (exactly why human social media is greater than brand social media), data will show (just look at your Google Analytics) that readers rarely see the content, let alone read it as credible.

This is exactly why PR firms exist – to earn third party credibility. There are alternatives to this, such as a blog that lives in a third party world, yet maintains the voice you desire.
So Nick Powills seems to be telling franchisors that if they, themselves, say "We have a great franchise!" no one will listen.
But if an authority, like a magazine they believe is legitimate and objective, says "These guys have a great franchise!" people will listen.
And if a message, shows up, say, on Facebook saying:  "Hey, this magazine says this franchise is great!" people will both listen… and believe.
Nick Powills would have a compelling point if it weren't for the pesky little fact that what the practices he seems to be promoting seem, at best, deceptive, and, at worst, outright fraud.
Is Philip Schram of Buffalo Wings & Rings Endorsing a Fake News Strategy?
In a case study on its website, No Limit Agency celebrates the great results that they've achieved for their PR and marketing client Buffalo Wings & Rings:
1851 Franchise content producers… crafted articles geared towards the brand's ideal franchisees to spark interest among potential owners… the brand decided to engage NLA's AMPD program. The proprietary media buying strategy works in conjunction with 1851 Franchise, and is a blend of social, news, and PPC ad buys that drives the right target audience to a brand's content and website.

"Using No Limit Agency's AMPD program is like adding turbo to your car's engine… That's why we dedicate about a third of our development budget to targeted AMPD campaigns," said Philip Schram, chief development officer for Buffalo Wings & Rings.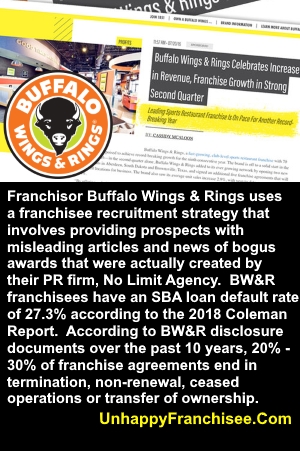 If we understand this case study correctly, Philip Schram, Chief Development Officer for Buffalo Wings & Rings, and No Limit Agency's Brian Jaeger, are bragging that they created fake news stories that appeared to have been written and published by a legitimate, objective industry publication and effectively used targeted advertising on social media to get those fake stories in front of those who would be most likely to be influenced.
Without a second's consideration that this might be unethical or deceptive, executives at Buffalo Wings & Things & No Limit Agency seem to be publicly bragging that they effectively deceived franchise investors into eventually putting hundreds of thousands of dollars and their families' futures on the line based, in part, by press releases and advertorials ("5 Franchises that Offer Superior Support," "Best Franchise Investments Under $1 Million" "Buffalo Wings & Rings enters epic-growth mode") deceptively disguised as 3rd party analysis and validation.
As No Limit Agency's Brian Jaeger brags in the case study video, that No Limit Agency was able to "buy  [Buffalo Wings & Rings] a lot of legitimacy and validate the brand to people that might not have heard of them or who might have confused them with Buffalo Wild Wings."
Sounds a lot like what the Russian operatives did, doesn't it?  Set up a fake identity, created fake messages and pushed it on American social media through paid advertising?  Could No Limit sue Vladimir Putin for copying Nick Powill's AMPD program?
And The No Limit Agency Best Website Award Goes to… NO LIMIT AGENCY!
So, if our suspicions are true, let's hand it to Nick Powills & No Limit Agency for the sheer chutzpah, ballsiness and shamelessness of setting up website award programs and then declaring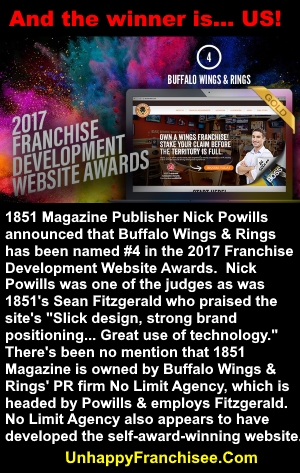 their own client – and the website No Limit Agency built for them – as the winner.
The No Limit Agency website states:
"…No Limit Agency's digital team designed an entirely new franchise development website for the [Buffalo Wings & Rings] brand. "
Buffalo Wings & Rings must have been delighted to read the article BY NICK POWILLS titled "Team of 12 Franchise Experts Evaluates 200 Websites, Announces 4th Place Buffalo Wings & Rings" with the subhead "Franchise Development Websites: Best of the Best Ranked."
It was quite an honor to be named #4 by a "judging panel… comprised of industry experts" that just happened to include "Sean Fitzgerald, of 1851 Franchise; Nick Powills, of No Limit Agency." (Also "Michelle Rowan, President of Franchise Business Review," another shameless pay-for-praise profiteer).
Back in 2015, 1851 Managing Editor Emily Rosenbaum named the No Limit Agency in her article "1851's Franchise Development Website Awards Top 10 Brands" quoting the unnamed judge (Powills?  Philip Schram?) as stating "The clean look, simplicity of the site and information at your fingertips are highlights."
Is No Limit Agency a Leader in the Booming Lies-For-Loot Segment of Franchise Industry?
Nick Powills and the No Limit Agency is so open and public about their willful breach of public relations and advertising ethics, one might wonder if they really don't know that what they are doing is wrong.
There's something almost childlike about their admission on the About 1851 page of their "magazine" website:
Each brand that joins 1851 receives a dedicated page to host content on a third party industry publication, earning instant credibility.
No, Nick, they haven't earned credibility.  They have paid No Limit Agency to fabricate an illusion of credibility by deceptively misrepresenting self-promotion as a third-party endorsement.
A little bit farther down, in a section called Sponsored Content, they acknowledge that content they've been paid to display should be prominently identified as Sponsored Content*:
Sponsored Content

Sponsored Content is content created or commissioned by advertisers in collaboration with 1851 Franchise (1851). 1851 allows Sponsor Content in two forms: (1) Content produced by 1851 as commissioned by its clients and (2) Content produced by clients. As with all advertising, Sponsored Content does not necessarily reflect the views and opinions of the 1851 editors. Accordingly, 1851 will prominently display the following disclaimer on all Sponsored Content.
*  On 4/9/18 we did a spot check of articles posted on the 1851 subdomain for Buffalo Wings & Rings.  Out of 19 promotional, bylined posts in 1851 magazine, less than half (only 9 – 47% of the promotional posts) were labeled "Sponsored."
So, No Limit Agency knows what it SHOULD be doing.
No Limit Agency and its clients, it appears, just choose to do the wrong thing.
Keep reading as we drill deeper: Nick Powills, 1851 Franchise & No Limit Agency: An Investigation
NOTE:  All companies and individuals discussed on Unhappy Franchisee are invited to submit corrections, clarifications, rebuttals or opinions by commenting on individual pages and/or by emailing us at UnhappyFranchisee[at]Gmail.com.  Thank you in advance for engaging in open and honest debate, as is the American way.
READ The Series "Dr. John Hayes' Franchise Fraud School & Pay-For-Praise Emporium!":
Series Index & Overview: Dr. John Hayes' Franchise Fraud School
Part 1:  Dr. John Hayes & His 12 Amazingly Deceptive Franchises
Part 2: 6 AMAZING Franchise Deceptions of Dr. John Hayes
Part 3:  FASTSIGNS CEO Catherine Monson named Valedictorian, Franchise Fraud School
Part 4:  Dr. John Hayes' Book Reviews Given an "F" for Fraudulent
Part 5:  FASTSIGNS Franchise Deception Seems, Well, Amazing. Comments?
Part 6:  DICKEY'S BARBECUE Franchise Reveals Deceptive Pay-for-Praise Tactics
Part 7:  Dr. John P. Hayes Franchise Books Pulled From Amazon
Part 8:  DENTAL FIX RX Franchise Complaints
Part 9:  The Amazing Franchise That Vaporized: Palm Beach Vapors
Part 10:  United Franchise Group (UFG) Franchise Complaints
FRANCHISE DISCUSSIONS by Company
_____________________________________________________________
OTHER FRANCHISE DECEPTION-FOR-DOLLARS POSTS:
FRANCHISE BUSINESS REVIEW Pay-For-Praise
FBR Franchise Business Review Promoting Illegal Earnings Claims?
Are Franchise Business Review Winners Violating the FTC Act?
FRANCHISE BUSINESS REVIEW: Justify or Retract Your Bogus Franchise Award
Dr. John Hayes Named Dickey's Barbecue Pit one of the 12 Amazing Franchises for 2015.  Here's how things turned out:
Dickey's Barbecue Pit: The Musical
ARE YOU FAMILIAR WITH NICK POWILLS, SEAN FITZGERALD, BRIAN JAEGER, PHILIP SCHRAM, NO LIMIT AGENCY, OR 1851 FRANCHISE? 
PLEASE SHARE A COMMENT BELOW OR EMAIL US IN CONFIDENCE (UnhappyFranchisee@Gmail.Com).
TAGS: No Limit Agency, No Limit PR, No Limit Agency franchise marketing, 1851 magazine, 1851 Franchise, 1851 Project, Nick Powills, Sean Fitzgerald, Buffalo Wings & Rings franchise, Philip Schram, Nader Masadeh, franchise public relations, pay-for-praise, pay-for-play, franchise PR agency, franchise marketing agency, unhappy franchisee