CAREPATROL Videos & Commercials: STILL Misleading?
CarePatrol is a franchised elder-care referral service that has, according to the Federal Trade Commission (FTC), made false and misleading representations about its services.
(UnhappyFranchisee.Com) CarePatrol and its franchise owners earn referral fees from assisted living facilities and senior care service providers.  The FTC alleges that CarePatrol misrepresented the extent to which it actually "patrols" elder care facilities and exaggerated both its investigative efforts and its geographical coverage.
In 2012, the FTC issued a complaint and a Decision and Order prohibiting CarePatrol from representing, either directly or indirectly, that "It or its franchisees monitor or evaluate the care history or state violations of any number, portion, or percentage of assisted living facilities in a consumer's desired location, or that "[CarePatrol] or its franchisees evaluate assisted living facilities based on a review of information, including state surveys, or any other records detailing the performances of these facilities."
The 2012 FTC complaint specifically characterized these statements by CarePatrol as false and misleading:
…CarePatrol's local, Nationally Certified Advisors… monitor each community's care history and state violations so we can recommend: The Safest Options For Your Loved One

At CarePatrol.. We Grade Each and Every Facility From "A" to "F" Based On Their Last State Survey. Our Local Senior Care Consultants also Pre-Screen every home we recommend…
Is CarePatrol Violating the 2012 FTC Order?
CarePatrol continues to promotes its services with hundreds of videos on several YouTube accounts, including CarePatrol, CarePatrolVideo and Chuck Bongiovanni.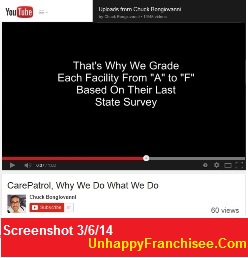 We have found numerous active CarePatrol promotional videos that contain representations that seem to be (in our opinion) the same or very similar  to those prohibited by the FTC.
In fact, CarePatrol CEO Chuck Bongiovanni's own YouTube account currently displays videos with the original representations (see screenshot left).
Some of these videos were posted before the December 3, 2012 FTC order was issued, but several have been posted since the Order took effect.
What do you think?  Are these CarePatrol videos and commercials violating the Federal Trade Commission Order?
We are also inviting CarePatrol, CEO Chuck Bongiovanni and the FTC for their opinions, comments, insights, clarifications an/or rebuttals.
Title:  CarePatrol National TV Commercial
Published: Oct 14, 2013
By: CarePatrolVideo
Excerpt: "CarePatrol researches the care and violation history of every community in their network BEFORE they recommend them to you"
*   *   *   *   *
Title:  CarePatrol 30 Second Commercial
Published: Oct 14, 2013
By: CarePatrolVideo
Excerpt:  "They pre-screen and pre-view  the care and violation history of every care option in their network."
*   *   *   *   *
Title:  Senior Care Options
Published: Mar 31, 2014
By:  CarePatrol
Excerpt:   "CarePatrol not only knows what options are available for your family, but they monitor the violation and care history of every provider in their network so they can recommend only the best to you."
*   *   *   *   *
Title:  CarePatrol Senior Placement Service
Published: Jul 13, 2009
By:  Chuck Bongiovanni
Excerpt:   "Only CarePatrol grades every facility from A to F based on their latest state survey and their experience with the home."
*   *   *   *   *
Title: CarePatrol Assisted Living Search
Published: Feb 18, 2011
By: Chuck Bongiovanni
Excerpt:   "CarePatrol pre-screens and monitors assisted living violation records, their care history, and continues to monitor them to refer only the best."
*   *   *   *   *
Title:  Why Use CarePatrol
Published:  Apr 19, 2010
By: Chuck Bongiovanni
Excerpt:   "We grade every facility from "A" to "F"… We know which facilities are having problems."
*   *   *   *   *
PLEASE NOTE:  Some of these representations may NOT be violations of the 2012 FTC Order.
CarePatrol, Inc. MAY have proper documentation and substantiation of these claims.
However, UnhappyFranchisee.Com is exercising its constitutionally protected right to question whether CarePatrol is in compliance with the FTC mandate, and to invite others (including the company and the FTC) to share their opinions as well.
Videos and images are the intellectual property of CarePatrol, Inc., and displayed here for editorial purposes.
CAREPATROL Investigation & Discussion Links
CAREPATROL Investigation: Documents & Links
CAREPATROL Investigation: FTC Complaint Press Release
CAREPATROL Franchise Complaint – Updated  October 11, 2010
CAREPATROL: Franchisees Praise the CarePatrol Franchise    October 14, 2010
ALSO READ:
FRANCHISE DISCUSSIONS by Company
ARE YOU FAMILIAR WITH CAREPATROL OR THE CAREPATROL FRANCHISE OPPORTUNITY?  SHARE A COMMENT BELOW.
TAGS: CarePatrol, CarePatrol senior services, CarePatrol referral services, CarePatrol complaints, CarePatrol FTC violations, FTC, Federal Trade Commission, CarePatrol franchise, CarePatrol franchise opportunity, CarePatrol franchise complaints, CarePatrol investigation, CarePatrol commercial, CarePatrol video, CarePatrol YouTube, Chuck Bongiovanni, unhappy franchisee