BIZCOM ASSOCIATES: Franchise PR Firm or Troll Farm?
It's widely reported that the Russians set up "troll farms" to spread fake news and misinformation to create discord and confusion in America.  What's not been reported is that pay-for-praise practitioners and profiteers right here in our domestic franchise industry have been getting away with that for years.  Is Plano, TX-based BizCom Associates public relations firm one of them?
(UnhappyFranchisee.Com) BizCom Associates claims to be an "award-winning full-service public relations and franchise marketing agency that has been helping franchise companies… since 1999."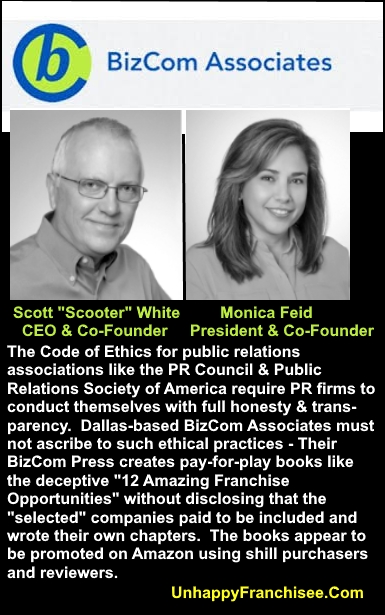 BizCom Associates is headed by co-founders Scott White and Monica Feid, and BizCom Leadership Team includes Dr. John P. Hayes, Melissa Rubin, Morgan Butler, Cortney Haygood, and Ashley Mungiguerra.
BizCom Associates franchise clients (present or former) include FASTSIGNS, Dwyer Group, Wingstop, Huddle House, Restoration1, Edible Arrangements, Gigi's Cupcakes, Pinot's Palette, Burger 21, Discovery Point, Mr. Gatti's Pizza, Smoothie Factory, Pei Wei Asian Diner, Red Mango Yogurt, Twin Peaks, Corner Bakery, Fitness Together, & Homevestors.
BizCom: Creating Fake Narratives to Deceive Franchise Investors
Plano, TX-based BizCom Associates may have been founded with the intention of being a legitimate public relations firm, but somewhere along the way Scott White and Monica Feid must have decided that creating and spreading their own fake news for clients unencumbered by business ethics was more profitable.
The BizCom "Dr. John Hayes Amazing Franchise Opportunities Book Series" scheme works like this:
BizCom publishes bogus business books on Amazon
BizCom and Dr. John Hayes use shill commenters and fake purchases to artificially make the deceptive books temporary "Amazon Best-Sellers"
The featured franchise sellers publicly announce how honored and humbled they are to have
been "selected" and featured in the best-selling "12 Amazing Franchise
Opportunities" book.  They aggressively promote this badge of credibility to prospective franchise investors
While the books are promoted as an objective, expert identification, analysis, and recommendations of investment-worthy franchise opportunities, the honorees are actually BizCom clients who paid $5,000 each for their endorsements
The book chapters supposedly containing expert analyses about these companies were actually provided, from a fake third person point-of-view, by the franchise companies themselves.
BizCom does not disclose that the endorsements were paid for and that the book author did not research nor write the core chapters of the book… either prior or after the book's purchase.
Prospective investors are tricked into thinking that dubious and/or
downright troubled franchise investments have been vetted and selected by
a trustworthy expert, and that the investments of tens to hundreds of thousands of dollars are less risky than they are
In case I have misunderstood BizCom Partners true intentions, I will lay out the evidence that has led me to believe the above scenario as true.
I invite Scott White, Monica Feid, Dr. John Hayes or others on the BizCom payroll to clarify anything I have gotten wrong.
I also invite other Public Relations professionals, including associations PRSA, PR Council, and the International Franchise Association to comment on whether Dr. Hayes' and BizCom's pay-for-praise program meets their organizations' ethical standards.
Step One:  Fake Credibility For Sale
As of this writing, the BizCom promotional website AmazingFranchises.Com still displays the "12 Amazing Franchise Opportunities" flyer that the BizCom used to promote the sale of Dr. John Haye's endorsement and inclusion in the book to franchisors desperate for credibility they obviously lacked.
The flyer headline reads:  "Promote your Amazing Franchise opportunity in  the next book by Dr. John P. Hayes."
BizCom offers franchisors the opportunity to be named an "Amazing" franchise for a low-low price:
Delivering value far beyond the cost

The cost to include a chapter about your franchise opportunity in Amazing  Franchise Opportunities (2018) is only $5,000.

The book will be published in both e-Book (automatically downloadable) and paperback formats.
For the $5000 fee, franchisors were also promised exposure in the book'-based PR campaign, a custom cover and downloadable ebook they can post on their website and use as a marketing tool, and five paperback copies with more available at a discounted price reserved for Amazing franchisors.
Step Two:  Write Your Own Endorsement
Not only did BizCom Associates offer their established (and new) clients the opportunity to be named an amazing franchise by industry expert Dr. John Hayes, they also gave the franchise sellers the opportunity to write their own glowing analysis of the franchise investment they are peddling.
The franchise-seller-supplied promotional chapter were to be provided in the third person, as if written by a third-party, like, say, the book's author.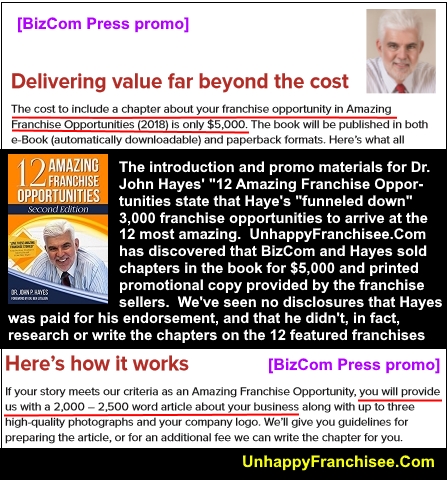 According to the flyer:
Here's how it works

If your story meets our criteria as an Amazing Franchise Opportunity, you will provide  us with a 2,000 – 2,500 word article about your business along with up to three high-quality photographs and your company logo.

We'll give you guidelines for  preparing the article, or for an additional fee we can write the chapter for you.

Once we receive your chapter, Dr. Hayes will edit the text and offer suggestions to  help improve the sales potential, but you will have the final approval of your story…

Dr. Hayes will also write the book's Foreword to emphasize why you and the other franchisors included in the book represent Amazing Opportunities.

He will also write  an introduction that proceeds your chapter in the book…
The chapter introductions that Dr. Hayes supposedly wrote almost invariably contain duplicate copy culled from the main chapter… supplied by the amazing companies.
Step Three:  BizCom Distributes a Deceptive Press Release
In February, 2018, Dr. John Hayes and BizCom started promoting the release of "12 Amazing Franchise Opportunities – Second Edition."
There was no disclosure that the book was a paid endorsement of 12 credibility-starved franchise sellers, nor that the book was, in essence, a collection of paid advertorials dressed up as legitimate investment analysis.
Publisher and publicist BizCom represented that "12 Amazing Franchise Opportunities – Second Edition" was the result of the objective research and analysis into 3,000 franchise opportunities, and selection, by an internationally respected expert, of a short list of the most "amazing" 12 opportunities available.
According to a February, 2018 press release from publisher and publicist BizCom:
"[Dr. John Hayes] masterfully compiles and presents a cadre of concepts destined for greatness, providing readers with a qualified funnel from over 3,000 franchise concepts down to 12 that are worthy of consideration," writes Dr. Benjamin C. Litalien, CFE, founder and president of FranchiseWell, in the book's Foreword.
Here's the February 15, 2018 BizCom press release entitled Franchise guru Dr. John Hayes returns with a second edition of "12 Amazing Franchise Opportunities" (PDF)
Step Four:  Violate Amazon Rules to Fake "Best-Seller" Status
Amazon Guidelines prohibit authors and publishers from reviewing their own books or having friends, family, employees, associates etc. from making straw purchases and leaving shill reviews.  Dr. Hayes & BizCom not only flout these rules, they encourage their clients to do so also.
BizCom and Dr. John Hayes' have shared their secrets system for artificially manipulating the Amazon system to get "best-seller" status – without even having to sell a single book honestly and legitimately!
In John Hayes' internal coaching materials (obtained by UnhappyFranchisee.Com) for the first edition of the book, he explains that there is an initial "review" stage when the book is first posted with a review price of .99.
Dr. Hayes instructs:
Anyone can buy the book on the sales page, then return to the sales page to post the review…

Ask your sales team, your admin team, your support team, family, friends, franchisees, etc. to review the book….

Get people to buy the book and review it.  It is against Amazon's policy to pay people to review the book, but we can ask (I often beg!) people to buy and review the book.
Dr. John Hayes directs franchisors to use shill purchasers and shill reviewers during the review, free-giveaway and sales stages to inflate both the sales ranking of his books and to create bogus positive reviews that will add credibility to both his publications and, supposedly, the franchise opportunities.
See Dr. John Hayes' 2015 instructions for deceiving Amazon: Helping You Sell More Franchises By Building Credibility For Your Brand! and How Franchisors Can Generate: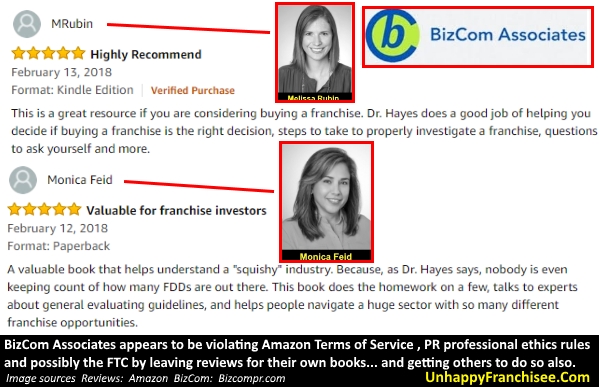 Step Five:  Leave Fake, Prohibited Reviews
BizCom has become so brazen with their deceptive practices, President Monica Feid and BizCom employee Jennifer Rubin left shill reviews with their own names.
On February 12, 2018, BizCom President Monica Feid gave the book she published a 5/5 star rating on Amazon, stating:
A valuable book that helps understand a "squishy" industry.

Because, as Dr. Hayes says, nobody is even keeping count of how many FDDs are out there.

This book does the homework on a few, talks to experts about general evaluating guidelines, and helps people navigate a huge sector with so many different franchise opportunities.
A "squishy industry"?  If that strikes you as an odd turn of phrase, it also appears on page 169 of the supposedly Hayes-written book ("It's a Squishy Industry") and again on p. 170 ("Are you getting the idea that franchising is a squishy industry?").
February 12, 2018 BizCom's Melissa Rubin also gave the book her employer published a 5/5 star Amazon rating:
This is a great resource if you are considering buying a franchise.

Dr. Hayes does a good job of helping you decide if buying a franchise is the right decision, steps to take to properly investigate a franchise, questions to ask yourself and more.
As usual, neither Feid nor Rubin disclosed their relationship, letting prospective book readers and/or franchise purchasers mistake them for honest persons expressing genuine, trustworthy opinions.
Step Six:  If Called Out, Double Down & Keep Lying
We published our findings as part of this series, and solicited input, corrections, clarifications, and explanations from Dr. John Hayes and the participants.
We sent a list of questions about whether franchise endorsements were paid, whether franchise sellers had supplied their own chapters, whether Amazon ranking had been manipulated so they could claim that John Hayes had another in a string of "best-sellers."
Dr. John Hayes and BizCom Associates haven't responded to our questions directly, but on Friday, March 30 they published a blog post with the title The story behind the 12 Amazing Franchise Opportunities
Instead of coming clean and announcing attentions to remedy their "squishy" and fraudulent actions, BizCom cheerfully doubled down on the deception that Hayes is a trustworthy, best-selling author.  The post starts:
In just a matter of weeks after its release, the second edition of "12 Amazing Franchise Opportunities" by our own Dr. John Hayes and produced by BizCom division BizComPress hit #1 in Amazon's Small Business Franchise category and on several occasions since has ranked among the Top 10 in that category.

One of the questions we typically are asked is how we select these amazing concepts? So we want to give you a peek behind the curtain and share the process…
Yes, "a peek behind the curtain" is an apt, if accidental, reference to the con-man in the Wizard of Oz.
With wizard-like powers, the BizCom press release transformed the basis of the book from being an expert funneling down from 3,000 franchises and presenting the most amazing to an "opportunity for 12 franchise companies to tell their amazing story.[stet]"
For the first time, BizCom described their selection process for the books:
First, we use a variety of means to contact as many franchise companies as possible, whether by e-mail, at trade shows and industry events, through our industry contacts and other means.
So, according to BizCom, they used a process called "marketing," and generated responses from prospective chapter-purchasers that one might call "sales leads":
All are invited to send us a letter explaining why their franchise opportunity is amazing and, for a promotional fee, include their amazing story in the book.
BizCom continues to spin with easily discredited statements:
Dr. Hayes then interviews the company executives about the amazing attributes of their business and writes his own introduction to each of the opportunities.

The chapters are inserted throughout the book…
Dr. Hayes' supposedly original intros to the chapters are mostly rehashed and even duplicated text lifted from the company-furnished chapters they precede.
And they are not "inserted throughout the book," they are the core chapters of the book, from page 26 – page 49.  The generic chapters (as BizCom has described them) on the "squishy" topic of franchising are lumped, appendix-like, at the end of the book – following the "12 Amazing Franchise" chapters for which the book is named.
Step Seven:  Never Stop Spinning, No Matter How Dumb It Sounds
The BizCom blog post response shows that these folks have gone so far down the rabbit hole, they can't break out of their Pollyanna Snake Oil Sales patter.
One of the questions we sent to Dr. John Hayes was whether he truly believed these were sound franchise opportunities and among the best investments available.
BizCom wrote:
We certainly consider them amazing! And for many good reasons!
But would they still be just as amazing if they were not willing to pay $5,000?
And what of the representation that John Hayes provided a "qualified funnel" to help narrow 3,000 franchise investments to 12 that are among the best?
BizCom wrote:
Are they the "best" franchise opportunities?

As Dr. Hayes consistently points out, there's no "best" franchise because every franchise buyer is different…
Really?  Does that mean that Dr. Hayes believes there are no "amazing" franchise opportunities because everyone is different?
I guess that's true.
A particular franchise could be amazingly tragic and the cause of financial devastation to one person… and the same franchise could be an amazing windfall – representing $5,000 for publishing a pre-written chapter –  to a second person… especially the second person was in the business of spreading fake news and misleading consumers about the most important investment decision of their lives.
What do you think?  Are BizCom Associates' business practices within the ethical guidelines for public relations professionals?
NOTE:  All companies and individuals discussed on Unhappy Franchisee are invited to submit corrections, clarifications, rebuttals or opinions by commenting on individual pages and/or by emailing us at UnhappyFranchisee[at]Gmail.com.  Thank you in advance for engaging in open and honest debate, as is the American way
READ The Series "Dr. John Hayes' Franchise Fraud School & Pay-For-Praise Emporium!":
Series Index & Overview: Dr. John Hayes' Franchise Fraud School
Part 1:  Dr. John Hayes & His 12 Amazingly Deceptive Franchises
Part 2: 6 AMAZING Franchise Deceptions of Dr. John Hayes
Part 3:  FASTSIGNS CEO Catherine Monson named Valedictorian, Franchise Fraud School
Part 4:  Dr. John Hayes' Book Reviews Given an "F" for Fraudulent
Part 5:  FASTSIGNS Franchise Deception Seems, Well, Amazing. Comments?
Part 6:  DICKEY'S BARBECUE Franchise Reveals Deceptive Pay-for-Praise Tactics
Part 7:  Dr. John P. Hayes Franchise Books Pulled From Amazon
Part 8:  DENTAL FIX RX Franchise Complaints
Part 9:  The Amazing Franchise That Vaporized: Palm Beach Vapors
Part 10:  United Franchise Group (UFG) Franchise Complaints
FRANCHISE DISCUSSIONS by Company
_____________________________________________________________
OTHER FRANCHISE DECEPTION-FOR-DOLLARS POSTS:
FRANCHISE BUSINESS REVIEW Pay-For-Praise
FBR Franchise Business Review Promoting Illegal Earnings Claims?
Are Franchise Business Review Winners Violating the FTC Act?
FRANCHISE BUSINESS REVIEW: Justify or Retract Your Bogus Franchise Award
Dr. John Hayes Named Dickey's Barbecue Pit one of the 12 Amazing Franchises for 2015.  Here's how things turned out:
Dickey's Barbecue Pit: The Musical
ARE YOU FAMILIAR WITH DR. JOHN HAYES, SCOTT WHITE, MONICA FEID, MELISSA RUBIN & BIZCOM PUBLISHING? 
PLEASE SHARE A COMMENT BELOW OR EMAIL US IN CONFIDENCE (UnhappyFranchisee@Gmail.Com).
TAGS: BizCom Associates, BizCom Press, Scott White, Monica Feid, Melissa Rubin, Dr. John Hayes, Morgan Butler, Cortney Haygood, and Ashley Mungiguerra, , 12 Amazing Franchise Opportunities, franchise pr, franchise public relations, franchise pr firms, franchise marketing, unhappy franchisee