UNITED FRANCHISE GROUP (UFG) Franchise Complaints
United Franchise Group is praised in both editions of Dr. John Hayes' "12 Amazing Franchise Opportunities"  as a leading & trustworthy multi-concept franchisor dedicated to its franchise owner's success.  However, comments by former employees paint a picture of a high-pressure & unethical sales organization that prioritizes selling and churning dysfunctional franchises in order to offset high franchise turnover and failure.  Here's what they have to say.  Share your opinion below.  PART 10 of a Series
(UnhappyFranchisee.Com)
Dr. John Hayes has a very longstanding and tight relationship with United Franchise Group (UFG), a multi-concept franchisor in based in West Palm Beach, FL.
Dr. John Hayes is the Titus Chair and Director of the The Titus Center for Franchising at Palm Beach Atlantic University.  The Center, based in the Marshall E. Rinker Sr. School of Business, was established in 2016 through a $1.5M gift from Ray Titus, founder and CEO of United Franchise Group.
Dr. John Hayes endorsed United Franchise Group and included UFG in his books "12 Amazing Franchise Opportunities for 2015" and "12 Amazing Franchise Opportunities – Second Edition" (BizComPress, 2014 & 2018 respectively).
UFG Paid John Hayes for Undisclosed Amazing Franchise Endorsements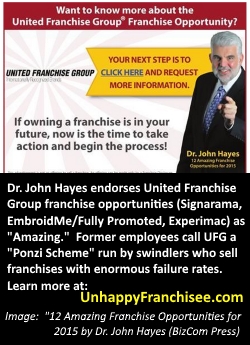 The launch of  an investigation by UnhappyFranchisee.Com prompted publisher BizCom Press that UFG not only paid a fee for Dr. John Hayes' endorsement, UFG also provided the copy for its chapters in the Hayes books.
The paid advertising nature of United Franchise Group's participation in the book series was not clearly disclosed and their chapters were written in the third person – as if they were written ABOUT – not BY – United Franchise Group.
When Dr. John Haye's' 2015 book was published, United Franchise Group sold franchises under such brands as Sign*A*Rama, Transworld Business Advisors, Supergreen Solutions energy, Experimac computer stores, EmbroidMe and Plan Ahead Events event planning franchise.
In 2018, at the time of the second edition, Plan Ahead Events had disappeared from the UFG roster, EmbroidMe had been renamed Fully Promoted, and UFG was introducing new ventures in industries where it had no experience, including Jon Smith Subs (9 units), Great Greek Mediterranean food (2 locations), Venture X shared office services (1 location), and Paramount Tax Preparation (1 location).
UFG Franchisees Suffer From High Turnover Rates
Recent Franchise Disclosure Documents of nearly every United Franchise Group franchise brand reveal high percentages of franchise ownership turnover.
Signarama:  A few years back, we reported that the SBA reported disturbingly high default rate of 40% for Signarama franchise loans.  A recent FDD showed that over a 3-year period nearly 1/3 of Signarama franchise agreements had ended in closure, termination, or transfer to other owners.  See SIGNARAMA Franchise Complaints
EmbroidMe / Fully Promoted:   EmbroidMe customized products also had one of the highest SBA default rates when we reported on it a few years ago.  Last year, UFG changed the name to "Fully Promoted."  A recent FDD showed that in a three year period, 40% of EmbroidMe/Fully Promoted franchise agreements ended in closure, termination or transfer to other owners.  See related posts:
SuperGreen Solutions:  UFG's 40 unit energy saving franchise SuperGreen Solutions also showed a 40% franchise turnover rate for a recent three-year period.
Transworld Business Advisors:  14% of Transworld Advisors franchise agreements ended in ceased operations, termination or transfer in a recent three-year period.
Plan Ahead Events:  Plan Ahead Events, an event planning franchise mentioned as one of UFG's amazing franchises in Haye's 2015 book, seems to have disappeared.  Anyone know what happened to it?
UFG concepts with no franchise track record:  The FDDs for such franchise offerings as Jon Smith Subs, Great Greek Mediterranean Grill, Paramount Tax Preparation & Venture X shared office space are too new to have any established track record.
UFG Former Employees Consistently Describe a Hard-sell Franchise Sales Company that Churns & Burns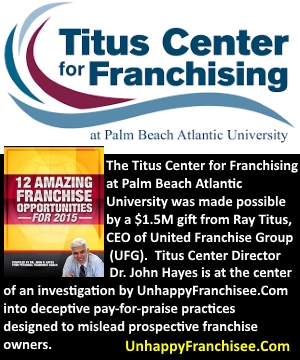 Employee reviews on Glassdoor and Indeed can be revealing.  While UFG has many glowing reviews that seem just a little too cheery (Remember, this is a company that reportedly paid $5,000 to be called amazing), the negative reviews ring a bit more true… and are validated by the high turnover figures above.
See comments below from as early as 2014 – when Hayes was naming UFG to his amazing opportunity list.  The former employees consistently describe an organization whose focus is on recruiting new franchise owners to replace the many who have failed or left the system for other reasons.
The former corporate emplyees use terms like "Ponzi Scheme" "Cult," and "Opportunistic Swindler Culture," to describe an organization that puts closing sales and collecting franchise fees ahead of honesty and franchise owner success.
The comments below are excerpted from publicly viewable comments posted to Glassdoor.com and Indeed.com.
What has your experience been with United Franchise Group?  Do you agree with these commenters?  Please share your opinion in the comment section below, or email us at UnhappyFranchisee[at]gmail.com.  Anonymous commenting is welcome.
United Franchise Group 2018:  "GREED FUELS THIS PLACE"
1/3/18 Former Operations Advisor wrote:
At United Franchise Group the turnover is very high.  It is very stress filled.  Working with the franchise owners was a very good experience for the most part.  Working with the corporate office was not very good.

Some of the brands being sold are not worth the amount of money many new franchise owners pay.

Once they find out what they've been sold, the terror sets in on them and they realize they could have done something else more productive with their savings.

Buying a franchise with this organization is not all of what it is supposed to be.
1/18 a former employee wrote United Franchise Group should:
GREED FUELS THIS PLACE

Support those who have already bought a franchise from you more and less on selling & reselling all of the franchises that have crashed & burned.
United Franchise Group 2017:  "Opportunistic Swindler Culture"; Cult-Type Company Sells to Anyone With the Money
On 1/13/17, former UFG employee recounted this conversation from a UFG group meeting:
UFG RVP/Sales Trainer: "Sell, SEll, SELL!… I'll sell to anyone who is breathing and has money!" –
Trainee:  "Don't you need to qualify them for the franchise they're buying?"
UFG Sales Trainer:  No.
9/26/17 Former manager wrote:
Its a Cult type of company…

They don't care about the franchise owners and just want to sell and collect the fee.

They pretend to be a caring company… [but] If you say to much to the home office and its the truth they will not take well to it.
12/18/17 Former Employee wrote:
…Corporate staff and structure… If I could describe it in one word it would be "fraudulent", the Brand Leaders and the Directors provide such a level of continual incompetence that the hapless franchisee and the brands they operate under is under constant attack through poor products, system implementation, lack of due diligence and planning, failure to future proof, complete break down in support services… With the brands under such withering incompetence Ray's sales team has to resort to questionable sales tactics to keep the sales offsetting the closures…

The UFG has reached a fork in the road, one pathway is the status quo with the "swindler label firmly attached…
11/19/17  Former Regional Vice President wrote:
Opportunistic Swindler Culture

The sales process they have in place works and is excellent at concealing/distracting the prospect from the 'elephant-in-the-room' concerns that plague failing franchises about support, operations, and statistical performance.

Constant morality dilemma. No positive feedback. No one in corporate is interested in hearing your ideas for improvement to operations…remember, they've been doing this for 30+ years and franchises are legally allowed to profit off of 'churning' and resales.

Taking advantage of people by only being concerned with the sale to the prospect by preaching that the franchisor is going to provide great support is negligent at best, dishonorable at worst.

[United Franchise Group's'] legacy will eventually look like that of a swindler when the organization fails because [they] took advantage of too many people – both franchisees and former employees."
11/3/17 a former employee wrote:
Wake up, your franchisees are left on there own with no support. UFG all you care about are sales, while franchisees are walking away from thier stores in bankruptcy!
United Franchise Group 2016: Only Interested in Selling Franchises
2/18/16 Former Employee wrote:
The company is only interested in selling franchises.
They just don't know how to support their franchisees.
United Franchise Group 2015: "Basically a Ponzi Scheme"
2/6/15  a former employee wrote:
Poorly Managed, Chaotic Environment Run By Overgrown Children

…I was 50% selling a (bad) technical product to existing franchisees, and 50% helpdesk/customer service for those who complained about the overpriced, poorly designed product.

This place is terribly mismanaged. It is a 100% sales-driven organization.
3/15/15 a former employee wrote:
"Got to meet a lot of sad nice people who hated their jobs and having to lie to franchisees all the time…

"The company is entirely sales based and it is basicly a Ponzi scheme, they need to continue to grow franchises, sell bad products to their franchisees and create silly new brands that go nowhere just to con people out of their money.

The way the franchisees are talked about behind their backs is atrocious. The will say anything to get you hooked in, and most of the franchise do not make anywhere near what they were told they would. They present it as a turn key business but it is anything but. The VP's (salesman) are ruthless and fired all the time….

ANYONE can buy into the franchise with little money and no experience in business, there is no pre qualifying. Most of them fail or have to resell, then you have to deal with it, and them constantly blaming the company."

Do not work for this company if you have any scruples or dignity.

Stop lying to franchisees
8/17/15 a former employee wrote:
The upper management of the company is an ever changing mess
8/18/15 a former field rep wrote:
"RVPs [Regional Vice Presidents] don't last long and are pressured constantly for sales of franchises at any cost which lends itself to them saying Anything to make a sale to save their job. I have seen numerous franchisees who have been blatantly lied to, all over the country, and corporate keeps the RVP on because they are making sales…"

…Field staff people are basically a warm body (in a lot of cases, not all) that are their to check on the store and give them the corporate line…..add a sales rep, do more marketing, raise your prices, etc and get their report signed, Without really understanding the self employment scenario and that is……

they (the franchisee) has bet everything on this store and even after the field person leaves they have to walk back into a store everyday and try to figure it out on their own because management has been out of the loop so long…"
United Franchise Group 2014:  Only Invested in SELLING Franchises
5/13/14 Former UFG employee wrote:
All Sales, and No Support

The company is only invested in SELLING Franchises, NOT growing or supporting them.
For employees working to support the sales of more franchises, you'll find the company tolerable, and potentially profitable. (if you are successful at selling)

For anyone working to support and train the franchisees, you will discover that maintaining the reports and pushing concepts that are lacking in real substance is the norm.

The support and operations side of the business is overwhelmed and under staffed.
NOTE:  All companies and individuals discussed on Unhappy Franchisee are invited to submit corrections, clarifications, rebuttals or opinions by commenting on individual pages and/or by emailing us at UnhappyFranchisee[at]Gmail.com.  Thank you in advance for engaging in open and honest debate, as is the American way.
READ The Series "Dr. John Hayes' Franchise Fraud School & Pay-For-Praise Emporium!":
Series Index & Overview:Dr. John Hayes' Franchise Fraud School
Part 1:Dr. John Hayes & His 12 Amazingly Deceptive Franchises
Part 2: 6 AMAZING Franchise Deceptions of Dr. John Hayes
Part 3:  FASTSIGNS CEO Catherine Monson named Valedictorian, Franchise Fraud School
Part 4:  Dr. John Hayes' Book Reviews Given an "F" for Fraudulent
Part 5:FASTSIGNS Franchise Deception Seems, Well, Amazing. Comments?
Part 6:DICKEY'S BARBECUE Franchise Reveals Deceptive Pay-for-Praise Tactics
Part 7:Dr. John P. Hayes Franchise Books Pulled From Amazon
Part 8:DENTAL FIX RX Franchise Complaints
Part 9:The Amazing Franchise That Vaporized: Palm Beach Vapors
Part 10:United Franchise Group (UFG) Franchise Complaints
FRANCHISE DISCUSSIONS by Company
_____________________________________________________________
OTHER FRANCHISE DECEPTION-FOR-DOLLARS POSTS:
FRANCHISE BUSINESS REVIEW Pay-For-Praise
FBR Franchise Business Review Promoting Illegal Earnings Claims?
Are Franchise Business Review Winners Violating the FTC Act?
FRANCHISE BUSINESS REVIEW: Justify or Retract Your Bogus Franchise Award
Dr. John Hayes Named Dickey's Barbecue Pit one of the 12 Amazing Franchises for 2015.  Here's how things turned out:
Dickey's Barbecue Pit: The Musical
ARE YOU FAMILIAR WITH DR. JOHN HAYES, SCOTT WHITE, MONICA FEID, MELISSA RUBIN & BIZCOM PUBLISHING? 
PLEASE SHARE A COMMENT BELOW OR EMAIL US IN CONFIDENCE (UnhappyFranchisee@Gmail.Com).
TAGS: United Franchise Group, UFG, Signarama franchise, EmbroidMe franchise, Fully Promoted Franchise, Experimac franchise, SuperGreen Solutions franchise, Jon Smith Subs franchise, Transworld Business Advisors, Great Greek Grill, Paramount Tax Preparation, BizCom Associates, BizCom Press, Dr. John Hayes, Dr. John Hayes franchise expert, Titus Center, Titus Chair, Ray Titus, Roy Titus, 12 Amazing Franchise Opportunities,Palm Beach Atlantic University Franchise Program, unhappy franchisee