Dr. John Hayes' Franchises So Amazing They Fail
Dr. John Hayes endorsed a retail electronic cigarette (vaping) supplies franchise and named it one of the "12 Amazing Franchise Opportunities for 2015."  Two years later, the entire franchise system was disbanded due to government regulation of e-cigarettes and vaping.  Did Dr. John Hayes really not know that major regulation was imminent?  Or did he just not bother to warn his readers? by Sean Kelly. Part 10 of a Series
(UnhappyFranchisee.Com)  In the last 2 parts of the series I call Dr. John Hayes' Franchise Fraud School & Pay-For-Play Emporium, I took a closer look at two of the franchises Dr. John Hayes' endorsed in his book "12 Amazing Franchise Opportunities for 2015."
The first, Dickey's Barbecue Pit, has a 50% franchise turnover rate with half of the 1100 franchises  its opened ending in store closure, termination or transfer to new ownership.
The second amazing franchisor we looked at, Dental Fix RX, terminated more than 1/4 of its franchisees around the time the book came out.  In a three-year period, 33% of the franchise investors of this hundred-unit chain were either terminated or ceased business for other reasons.
Now let's take a look at a third amazing franchise opportunity hyped by Dr. John Hayes & BizCom Press:  Palm Beach Vapors.
Dr. John Hayes named Palm Beach Vapors an amazing franchise with a glorious, profitable future in 2015.  By 2017, the franchisor organization was disbanded.  Gone. Vaporized. Finis.
Palm Beach Vapors:  What Happened?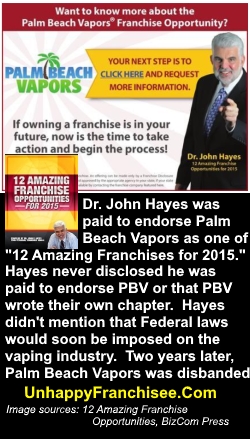 In 2013, I exposed an unethical and predatory franchise-your-business! consulting scheme by Tulsa-based Beautiful Brands and a fellow named David Rutkauskas.
One of the new franchise companies that fell victim to Rutkauskas' pitch was an e-cigarette retail franchise named Palm Beach Vapors, founded by a rather eccentric entrepreneur named Chip Paul ("I'm a weird guy" he once told Franchise Times magazine.)[DAVID RUTKAUSKAS Was NEVER E-Cig Franchise's CEO, Says Franchisor [UPDATED]]
Curious about the state of the emerging electronic cigarette, I did some research and found that in 2013 local, state and Federal lawmakers were grappling with how to define and regulate the sale and use of these new products, which delivered inhale-able nicotine-infused vapor in flavors from Bubble Gum and Tutti-Fruti to Banana Nut Bread.
It was unclear as to what regulations were coming.  Should the same age and sales restrictions for Tobacco apply to electronic cigarettes?  Should all No Smoking areas be applied to Vaping?  Should the FDA be in charge of liquid nicotine delivery devices?  Should heavy taxes be applied to e-cigarette products as they are for traditional cigarettes?
The tobacco industry's response to e-cigarette technology was also a bit of a wildcard.  Would the tobacco companies see e-cigs as competition and try to crush it (bad for independent vapestore retailers)?  Or would they see it as a product line extension that they could dominate (also bad for vapestore retailers).
There was only one thing everyone agreed upon in 2013:  There was significant regulation on its way.  None of the regulation scenarios were likely to benefit e-cig product retailers like Palm Beach Vapors.
Another factor that did not bode well for Palm Beach Vapors franchise owners was the fact that PBV franchisees actually created the flavored vaping liquid that they sold.
So while creating their own product line may have lowered costs and increased profitability, it also meant that they would be subject to the coming legislation to be imposed on both manufacturers as well as retailers of ecigarette consumables.
Buying a Palm Beach Vapors Franchise Was a High-Risk Gamble
Investing in a Palm Beach Vapors franchise in 2015 – the year John Hayes promoted is as one of "12 Amazing Franchise Opportunities for 2015" – was a high-risk gamble.
On the reward side, if the impending regulation and taxation was mild, Palm Beach Vapors and its franchisees would have established first-mover advantage in the retail vaping space and possibly become the Starbucks of liquid nicotine delivery.
If the regulation and taxation proved onerous, their ability to operate could be impaired or even eliminated.
The uncertainty of impending regulation was absolutely the central question that franchise advisors and prospective franchise owners had to consider in evaluating the risks, or even the "amazingness," of the Palm Beach Vapors franchise opportunity.
Yet self-proclaimed franchise expert and small business guru Dr. John Hayes made NO mention of the regulation issue in his supposed analysis of the Palm Beach Vapors franchise opportunity.  Not ONE mention.
Dr. John Hayes Forgot to Mention Impending Regulation
The Palm Beach Vapor chapter of Dr. John Hayes' book states:
Two of the amazing aspects of this franchise, in addition to helping people improve their health and live longer, include:

Customers visit Palm Beach Vapors regularly for vapor juice, filters, and equipment updates,
Franchisees make their own juices which is not only best for quality control but also for profitability
Hayes endorses PBV as a great family business… like 31 flavors  (if 31 flavors had been selling nicotine instead of ice cream):
Palm Beach Vapors stores also make great family businesses, allowing the convenience and flexibility most families appreciate.
And without a single mention of the single most important factor a franchisee must consider, Dr. John Hayes promises years of increased equity for Palm Beach Vapors franchise investors:
As the company continues to grow, their brand equity will not only become a valued driver of new business, but will translate into equity in the business.
Don't be distracted by the fact that Dr. John Hayes refers to CEO Chip Paul as "Chip Palm," he has really vetted this franchise carefully and determined that the future is bright indeed for those who invest in a Palm Beach Vapors franchise:
If you gravitate to a business that has a growing demand, strong unit economics, and offers a worthwhile product or service, Palm Beach Vapors offers a great value to someone looking to get into business quickly without leaving anything to chance.

CEO Chip Palm [stet] is an experienced businessman… His passion for the business has fueled its growth and positioned the business as a leader in the retail marketplace.
Amazing Franchise in 2015.  Disbanded Franchise in 2017.
According to the Franchise Times August 8, 2017 story by Beth Ewen on the disbanding of the Palm Beach Vapors franchise program, "The FDA finalized its rules regulating all tobacco products on August 8, 2016, calling it a 'milestone in consumer protection.
The new regulations established the "point of control" to be at the manufacturing level," and required that, starting in August 2018, all vaping liquid, including flavors, must come from a facility that meets ISO 9000 standards."
According to Chip Paul, as quoted in the article,
Our cost in a bottle of juice went from a dollar and will go to about $6, so that kills the mom-and-pops…

We can't overcome, basically, that margin difference. We always thought when regulations would come down they would be reasonable…

It was far harsher than we ever anticipated.
Palm Beach Vapors started selling franchises in 2014.  It grew to 21 franchise locations.
Early in 2017, after fully realizing the impact that the 2016 regulation would have when it took effect in 2018, Chip Paul starting letting Palm Beach Vapors franchise owners out of their agreements… likely after signing an agreement waiving their right to sue.
So Here's the Harm With Harmless Lies Like BizCom's & Dr. John Hayes'
Since this series began, publisher BizCom has admitted that although "12 Amazing Franchise Opportunities for 2015" and the recently published "12 Amazing Franchise Opportunities – Second Edition" have Dr. John Hayes represented as the author, the featured franchise companies actually supplied their own chapters.
So, in essence, the analyses of the franchise opportunities, presented in the 3rd person as if written by an impartial, expert author, were actually created by those who were selling the franchise opportunities.  This was never disclosed, it seems, to readers and/or prospective franchise investors.
Additionally, BizCom has admitted that in order to be named an "amazing franchise" and have a chapter in the book, franchise companies paid a fee (likely $5,000).
That the companies paid a fee (sales documents indicate $5000) for Dr. John Hayes' endorsement and as a requirement for being named an "amazing franchise" is not prominently  disclosed within the book, in the Amazon book description or anywhere prominent in the mass of promotional or public relations propaganda put out by BizCom.
If Dr. John Hayes were actually an objective business expert, and if he had actually engaged in researching and assessing the Palm Beach Vapors franchise opportunity in 2015 as readers and prospective franchisors were led to believe, it seems unlikely that he wouldn't have learned that Palm Beach Vapors was a high-risk gamble, and that the company bet that impending legislation would be lenient – and lost.
And if Dr. John Hayes HAD been impartial and HAD actually researched and written the core chapters of the book he supposedly authored, it's unlikely he would have failed to mention that the very existence of Palm Beach Vapors as a going concern was pretty much a roll of the dice.
Would an actual legitimate business expert and advisor have named a franchise opportunity with a 50/50 chance of surviving the next few years an Amazing Franchise Opportunity?
What do you think?  Please share your thoughts with a comment below or by emailing us (in confidence) at UnhappyFranchisee[at]Gmail.com
READ The Series "Dr. John Hayes' Franchise Fraud School & Pay-For-Praise Emporium!":
Series Index & Overview: Dr. John Hayes' Franchise Fraud School
Part 1:  Dr. John Hayes & His 12 Amazingly Deceptive Franchises
Part 2: 6 AMAZING Franchise Deceptions of Dr. John Hayes
Part 3:  FASTSIGNS CEO Catherine Monson named Valedictorian, Franchise Fraud School
Part 4:  Dr. John Hayes' Book Reviews Given an "F" for Fraudulent
Part 5:  FASTSIGNS Franchise Deception Seems, Well, Amazing. Comments?
Part 6:  DICKEY'S BARBECUE Franchise Reveals Deceptive Pay-for-Praise Tactics
Part 7:  Dr. John P. Hayes Franchise Books Pulled From Amazon
Part 8:  DENTAL FIX RX Franchise Complaints
FRANCHISE DISCUSSIONS by Company
_____________________________________________________________
OTHER FRANCHISE DECEPTION-FOR-DOLLARS POSTS:
FRANCHISE BUSINESS REVIEW Pay-For-Praise
FBR Franchise Business Review Promoting Illegal Earnings Claims?
Are Franchise Business Review Winners Violating the FTC Act?
FRANCHISE BUSINESS REVIEW: Justify or Retract Your Bogus Franchise Award
Dr. John Hayes Named Dickey's Barbecue Pit one of the 12 Amazing Franchises for 2015.  Here's how things turned out:
Dickey's Barbecue Pit: The Musical
ARE YOU FAMILIAR WITH DR. JOHN HAYES, SCOTT WHITE, MONICA FEID, MELISSA RUBIN & BIZCOM PUBLISHING? 
PLEASE SHARE A COMMENT BELOW OR EMAIL US IN CONFIDENCE (UnhappyFranchisee@Gmail.Com).
TAGS: Palm Beach Vapors, BizCom Associates, BizCom Press, Dr. John Hayes, Dr. John Hayes franchise expert, Scott White, Scooter White, Monica Feid, Melissa Rubin, 12 Amazing Franchises, franchise books, Vaping franchise, Ecigarette franchise, franchise complaints, franchisor failure, unhappy franchisee