LIME PAINTING Franchise Integrity Questioned
Lime Painting franchise CEO Nick Lopez put out a press release stating that he is "honored" that company was selected as one of "12 Amazing Franchise Opportunities"  in Dr. John Hayes' new book.  Nick Lopez was also "honored" to speak to me until I asked him whether he paid for Hayes' endorsement and actually supplied the text for the chapter praising him and his company.

(UnhappyFranchisee.Com)   In his book "12 Amazing Franchise Opportunities – Second Edition," Dr. John Hayes claims that he has "funneled down" through the 3,000 available franchise opportunities to identify just 12 truly amazing opportunities.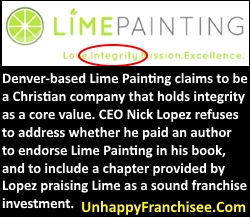 The implication is that, in John Hayes' expert opinion, these 12 opportunities are superior to 99.6% of the other opportunities available – which is high praise indeed.
One of the 12 hyped franchise opportunities is Lime Painting, an independent residential painting company operating in Denver and Boulder Colorado.
Lime Painting, it seems, has just finished its franchising paperwork and has exactly zero franchises and no experience or track record in franchising whatsoever.
The young, enthusiastic owner is named Nick Lopez.
Nick Lopez is big on touting his company's integrity and Christian ethics.
The name LIME, he explains, stands for LOVE.  INTEGRITY.  MISSION.  EXCELLENCE.
His franchise sales page states:
Build a Spirit led business empire with heart led leadership that is inspired by love and service. As a LIME business owner, you'll use a portion of profits as a means for Christian mission to bring glory to our Creator and further the Kingdom.
CEO Nick Lopez States He is "Humbled" That Dr. John Hayes Named Lime Painting One of "12 Amazing Franchise Opportunities"
An entire page of the Lime Painting website is dedicated to the company's inclusion in a book by Dr. John Hayes:
LIME Painting has been named an "Amazing Franchise Opportunity" by internationally recognized franchise speaker and author Dr. John Hayes in his new e-book: "12 Amazing Franchise Opportunities – Second Edition."

In his latest book, Dr. Hayes explores the secrets of creating a one-of- a-kind franchise success story and then looks at 12 franchise brands, including LIME Painting, that he considers to be "amazing opportunities."

"It's truly humbling to be acknowledged by such a distinguished and well-respected figure in franchising as Dr. Hayes," said founder Nick Lopez. "This reflects on the hard work, discipline, and expertise that the team at LIME has invested in establishing a system that is values and people driven."
Nick Lopez Won't Say Whether He Paid for Dr. John Hayes' Endorsement &/or Supplied His Own Chapter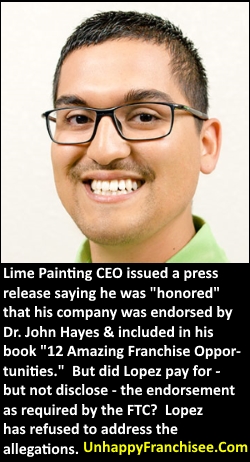 I connected with Lime Painting CEO Nick Lopez yesterday on social media.  When he saw I am a writer he wrote:  "I'd be humbled to serve as an industry expert for one of your publications."
When I asked if I could ask him a couple of questions about the chapter in John Hayes' book on Lime Painting, he quickly answered "Sure!"
When I asked him whether he had paid for his endorsement by Dr. John Hayes and if he had provided the text for the chapter praising Lime Painting, there was a long pause.  Then he asked:  "Are you looking to invest into one of the books brands or write about the book?"
I was puzzled.  Did this Christian businessperson with "Integrity" in his brand name have two sets of answers, depending on whether I was a potential referral for BizCom and Hayes, or whether I was a snooping busybody?
I asked "Does it matter?"
At that point, Nick Lopez stopped all communication and quickly blocked me on social media.
The LIME PAINTING Franchise – Red Flags are Flying
So not only does it look like Nick Lopez is hiding the fact that he paid for Dr. John Hayes' endorsement and then stated he was "humbled" to receive the paid accolades, he seems to have had no hesitation to throw around Financial Performance Representations (FPR) before he was even legally allowed to promote his franchise opportunity.
On July 12, 2017 Dr. John Hayes posted a video interview of himself and Nick Lopez.
At that time, Lopez was still in the process of developing his Franchise Disclosure Document  (FDD) and Franchise Agreement (FA) and he couldn't answer the question of start-up costs.
Despite not being legal to sell franchises and despite not having the required Item 19 Financial Performance Representation, he freely answered Hayes' questions regarding sales figures.
He claims he had sales of $600,000 in his first year with no brand exposure (though he already had years of experience running an independent painting company).
"First year in Denver we did about $600,000 in sales.  Second year we did over a mil.  3rd year we did upwards of $1.8 Mil or so.  And this year we'll be well over a couple mil."
So, despite having completed required courses for the IFA's Certified Franchise Executive (CFE) program and the Georgetown franchise studies program, Nick Lopez did not hesitate to provide Financial Performance Representations in seeming violation of the FTC Franchise Rule – before he's even a legal franchisor.
Lime Painting Franchise: Questionable Earnings Claims
Nick  Lopez continues to be fast and loose with earnings claims in his franchise marketing.  On his website, he has prominently posted:
Within the first four years of launching, LIME Painting generated roughly $5.5 million in net sales with nearly $1.2 Million in gross profit.
In a separate, much less prominent disclaimer page he states:
The figures represent the operations of 1 business operating from January 1, 2014 to December 31, 2016. 1 of 1 business (100%) equaled or exceeded these figures. Your results are likely to differ. Gross profit is calculated by subtracting direct labor (This excludes any owner draw taken by Nick Lopez, who personally operated the business. It does not include worker's compensation insurance expenses, employee expenses or subcontractor expenses.), equipment rental for jobs, job materials purchased, storage, and other miscellaneous costs from gross revenues…Please see Item 19 of our Franchise Disclosure Document for a complete description of our financial performance representation.
Even if he currently has an Item 19 disclosure in his current FDD, it seems questionable for a franchise seller with no franchise track record to be tossing around sales figures of an independent business run by someone with years of industry experience that doesn't reflect the start-up costs, royalty or ad fund payments a Lime Painting franchisee will have, and doesn't include the major expense of employees or subcontractors.
The Lame Whitewash of Lime Painting
Everybody makes mistakes and everyone deserves a second chance – especially those who may have had bad advisors.
So we'll give Lime Painting CEO Nick Lopez another chance to earn to demonstrate the "Integrity" he claims is a core value.
This morning I've emailed a link to this post along with several questions and a chance to explain his involvement in Dr. John Hayes' Franchise Fraud School:
Dear Nick:

In the spirit of transparency and full disclosure, could you please answer these questions?

1)  Did you pay BizCom or Dr. John Hayes to be included in "12 Amazing Franchise Opportunities"?  If so, how much?

2)  Did you provide BizCom with the text of the chapter on the Lime Painting franchise investment?  If so, were you instructed to provide the chapter in the 3rd person point-of-view, as if it were written about your company rather than by your company?

3)  Did you or BizCom disclose the paid nature of your endorsement by and participation in "Amazing Franchise" publication to readers, customers or prospective franchise investors?

4)  Is intentionally misleading prospective franchise investors by claiming to be "honored" for an accolade you paid for consistent with LIME PAINTING's core value of "Integrity"?

5)  If not, what steps are you taking to inform those who may have been mislead of the true nature of Lime Painting's participation?

6)  Will you allow BizCom Press and Dr. John Hayes to continue to distribute your story as merit-based recognition rather than a paid endorsement and advertisement?

7)  Your website states: "Please see Item 19 of our Franchise Disclosure Document for a complete description of our financial performance representation."  Could you please forward me a copy of your current Franchise Disclosure Document (FDD) as offered on your website?

Please feel free to add any corrections, clarifications, rebuttals, opinions or other statements that will help us accurately understand your actions and corporate values.
We hope to hear from Lime Painting CEO Nick Lopez shortly, and will post his response here when we do.
NOTE:  All companies and individuals discussed on Unhappy Franchisee are invited to submit corrections, clarifications, rebuttals or opinions by commenting on individual pages and/or by emailing us at UnhappyFranchisee[at]Gmail.com.  Thank you in advance for engaging in open and honest debate, as is the American way.
READ The Series "Dr. John Hayes' Franchise Fraud School & Pay-For-Praise Emporium!":
Series Index & Overview: Dr. John Hayes' Franchise Fraud School
Part 1:  Dr. John Hayes & His 12 Amazingly Deceptive Franchises
Part 2: 6 AMAZING Franchise Deceptions of Dr. John Hayes
Part 3:  FASTSIGNS CEO Catherine Monson named Valedictorian, Franchise Fraud School
Part 4:  Dr. John Hayes' Book Reviews Given an "F" for Fraudulent
Part 5:  FASTSIGNS Franchise Deception Seems, Well, Amazing. Comments?
Part 6:  DICKEY'S BARBECUE Franchise Reveals Deceptive Pay-for-Praise Tactics
Part 7:  Dr. John P. Hayes Franchise Books Pulled From Amazon
Part 8:  DENTAL FIX RX Franchise Complaints
Part 9:  The Amazing Franchise That Vaporized: Palm Beach Vapors
Part 10:  United Franchise Group (UFG) Franchise Complaints
FRANCHISE DISCUSSIONS by Company
_____________________________________________________________
OTHER FRANCHISE DECEPTION-FOR-DOLLARS POSTS:
FRANCHISE BUSINESS REVIEW Pay-For-Praise
FBR Franchise Business Review Promoting Illegal Earnings Claims?
Are Franchise Business Review Winners Violating the FTC Act?
FRANCHISE BUSINESS REVIEW: Justify or Retract Your Bogus Franchise Award
Dr. John Hayes Named Dickey's Barbecue Pit one of the 12 Amazing Franchises for 2015.  Here's how things turned out:
Dickey's Barbecue Pit: The Musical
ARE YOU FAMILIAR WITH LIME PAINTING FRANCHISE, NICK LOPEZ, DR. JOHN HAYES, & BIZCOM ASSOCIATES? 
PLEASE SHARE A COMMENT BELOW OR EMAIL US IN CONFIDENCE (UnhappyFranchisee@Gmail.Com).
TAGS: Lime Painting, Lime Painting franchise, Nick Lopez, Lime Painting Nick Lopez, BizCom Associates, BizCom Press, Dr. John Hayes, Dr. John Hayes franchise expert, Titus Center, Titus Chair, 12 Amazing Franchise Opportunities,Palm Beach Atlantic University Franchise Program, IFE, unhappy franchisee