DELI DELICIOUS Sues Franchisee For Serving Fresh Bread
It sounds like a headline from the satire site The Onion, but it's true:  Deli Delicious is suing its franchisees for serving the freshly baked bread from Basque French Bakery.  Deli Delicious Franchise Inc. is forcing franchisees to switch to a frozen and thawed bread for the same price.  But shhhh…. Don't tell the customers!
(UnhappyFranchisee.Com)  A franchisee of the  51-unit 45-unit Fresno-based Deli Delicious chain is being sued for continuing to provide the fresh-baked bread that's been served by the popular regional chain for 22 years.
The Deli Delicious Franchising Inc. Bread Lawsuit filed in California Superior Court, County of Fresno, seeks to force the multi-unit franchisee to purchase frozen loaves from its new, inexperienced affiliate bakery, store them in the location's freezer, then eventually thaw and serve them to unsuspecting customers.
Also read:  The BREAD That Froze Deli Delicious' Growth.
Deli Delicious Launches Bake-and-Switch Ploy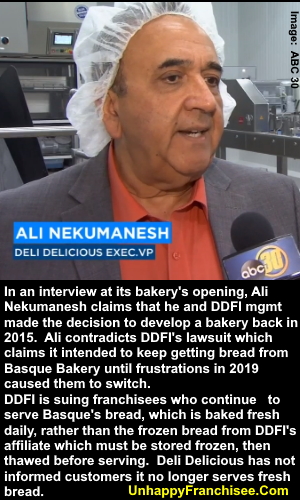 "We were attracted to Deli Delicious because of the company's commitment to serving the highest quality sandwiches with the freshest ingredients possible," claims franchisee Borzooyeh Dielemani. "That is what we owe our loyal customers. We think switching to a frozen product is not only unethical, it's a terrible, terrible business decision."
Sean Kelly, a 30-year veteran of the franchise industry and publisher of watchdog site UnhappyFranchisee.Com, says the complaint reads like a satirical story from The Onion.
"I've seen many lawsuits and terminations against franchisees for substituting cheaper or inferior products or ingredients," says Kelly, who has been reporting on the growing controversies related to the Deli Delicious franchisor, DDFI. "I can't recall another franchisor suing a franchisee for refusing to lower the quality of its products."
According to Borzooyeh Dielemani, the franchisor previously required franchisees to purchase bread from Fresno's Basque Bakery, which had supplied fresh baked bread to Deli Delicious locations daily for 22 of its 57 years in business.
Basque Bakery head Calls DDFI Allegations "Total B*llsh*t"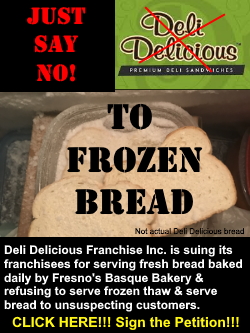 The lawsuit complaint (which refers to Basque as "Third Party Bakery") claims that DDFI had worked with Basque as late as October 24, 2018 to resolve its "frustrations" that the respected bakery's equipment and facilities were outdated and could not keep pace with the growth of the Deli Delicious chain.
As a result of those frustrations, the complaint states, "on or about February 8, 2019, Deli Delicious elected to remove the Third Party Bakery as the designated vendor for bread products and designated Deli Delicious' affiliate, D.D.'s Bakery, as the designated vendor of bread products to be used in its franchises."
However, in news interviews at the opening of the affiliate bakery owned by Deli Delicious founder Mohammad Hobab and EVP Ali Nekumanesh, Nekumanesh states that the plan to open a commercial bakery (and profit from franchisee bread purchases) was hatched three years earlier, in 2015.
In those interviews, Nekumanesh never mentions that franchisees would be required to buy the bread frozen and possibly eliminate profitable products to make room in their freezers.
Deli Delicious Violates Trust of Basque Bakery, Franchisees & Customers With Half-Baked Plan
The owner of Basque Bread, Al Lewis, disputes the claim that his bakery couldn't keep pace with demand.
"That's total b*llsh*t," said Lewis, when informed of the complaint. "In our 57 year history, we never had an issue or complaint about keeping up with demand. We'd have no problem supplying 100 stores as we are, and could easily add capacity for up to 200 stores. Their oven can bake 4 loaves a minute. Ours can bake 50 per minute."
According to Kelly, DDFI is following the path of the increasingly greedy franchisors who try to squeeze every cent from the franchise relationship rather than build long-term, enduring success.
"It appears that DDFI is willing to sacrifice quality and trust for short term profit.  McDonald's maintained its focus on quality and treated its vendors as valued partners. It grew to be one of the world's best-known brands," says Kelly. "Quiznos prioritized short term profits ahead of franchisees or customers, and crashed with thousands of failed stores and millions owed in lawsuits."
"Normally, franchisors are the ones fighting to preserve the integrity of their brand.

In this case, it seems to be Deli Delicious franchisees who are fiercely trying to preserve the chain's image for quality, and to save the franchisor from undermining its own brand."

                                                                   –  Sean Kelly, Publisher, UnhappyFranchisee.Com
Franchise Disputes Could End Growth
Kelly says it's unlikely Deli Delicious will ever grow to a hundreds, much less thousands, of locations with their current practices. They are not currently registered to sell franchises in California, and have also waged separate lawsuits against Mohammad Hobab's son, Hadi, and former executive Tim Campbell for allegedly criticizing their management decisions… including "cheating its franchisees by requiring them to purchase through approved vendors."
Adds Kelly, "Normally, franchisors are the ones fighting to preserve the integrity of their brand. In this case, it seems to be Deli Delicious franchisees who are fiercely trying to preserve the chain's image for quality, and to save the franchisor from undermining its own brand."
Important Links:
A petition to urge DDFI to allow franchisees to serve freshly baked Basque Bread is published here:  Deli Delicious Bread Petition.
The petition to End the Vindictive Deli Delicious Lawsuit against Hadi Hobab:  End the Deli Delicious Lawsuit Petition.
A satirical Twitter account called Deli Malicious has popped up here:  Deli Litigious Parody
Media Inquiries: For more information, documentation and interview requests, contact Sean Kelly at UnhappyFranchisee[at]Gmail.com.
See the complaint document here: Deli Delicious Franchising Inc. Bread Lawsuit 
Support the Cause!!! If you'd like to keep this reporting and discussion going, please consider a contribution to the Deli Delicious Franchise Assessment GoFundMe Campaign , or to UnhappyFranchisee.Com.
ALSO READ:
Deli Delicious Franchise Founders Sue Their Own Son for Defamation
Deli Delicious Franchise Assessment
DELI DELICIOUS Franchise at a Crossroad
DELI DELICIOUS Prohibited from Selling Franchises in California
Deli Delicious Franchises For Sale, Franchise Turnover, Stores Not Opened
DELI DELICIOUS, Ali Nekumanesh Defamation Lawsuits
DELI DELICIOUS Questions for Dowling Aaron
FRANCHISE DISCUSSIONS by Company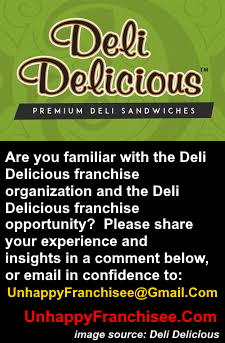 ARE YOU AN DELI DELICIOUS FRANCHISE OWNER OR FORMER FRANCHISEE?
ARE YOU A DELI DELICIOUS CUSTOMER WHO LOVES FRESH BREAD? 
ARE YOU FAMILIAR WITH THE DELI DELICIOUS FRANCHISE ORGANIZATION & IT'S PRACTICES? 
ARE YOU FAMILIAR WITH ALI NEKUMANESH, MOHAMMAD HABOB OR OTHERS DISCUSSED HERE?
PLEASE SHARE A COMMENT BELOW.
TAGS: Deli Delicious bread,  Deli Delicious lawsuit,  Deli Delicious lawsuits, Deli Delicious frozen bread, Ali Nekumanesh, Mohammad Hobab, Dowling Aaron, DD's Bakery, Basque Bakery, franchise lawsuit,Deli Delicious Franchise Inc., Hesam Hobab, Sean Kelly,  litigation, Unhappy Franchisee Franchise Assessment, Deli Delicious franchise