DELI DELICIOUS Franchise at a Crossroad
Franchisor Deli Delicious Franchise Inc. is at a critical crossroad. In my opinion, the future success or failure of the Deli Delicious franchise chain will be determined by one word: GREG. By Sean Kelly
Included below: Deli Delicious Closed Store list, Deli Delicious Franchise Turnover Chart
Deli Delicious Franchise Inc. and its representatives and all individuals discussed here are invited to share corrections, clarifications, rebuttals, updates or other statements for publication.

(UnhappyFranchisee.Com)   A crisis like the Coronavirus pandemic can bring hardships, but also great opportunities.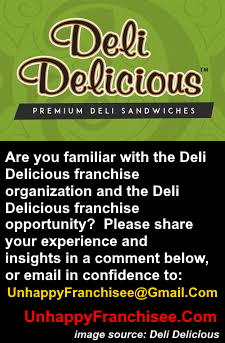 For franchisors who have truly treated their franchisees as family or valued customers, this pandemic is the opportunity to distinguish themselves, through their actions, from the franchise sellers who are more dedicated to selling than supporting franchises.
For franchisors who may had been dedicated to win-win relationships with franchisees in the past – but have strayed and lost the confidence of their franchisees – it's the opportunity to start again, to regain their dedication to the franchisees and the families they affect, to show the world how much better off everyone in a franchise organization is when they truly work for each other's success.
Franchise organizations, especially those in foodservice,  shouldn't be wasting time and effort trying to sell new franchises in a pandemic.  Their entire focus should be on proving their value as a franchise organization by doing everything they can to save their franchisees' businesses… and minimize the damage for those they are unable to save.
Franchisors don't have to be motivated simply by altruism or compassion.  This period of intense support and problem solving will be critical for growth once we're past it.
Post-pandemic, your potential franchise buyers are not going to be impressed by your use of COVID-19 as an excuse for your franchise failures.
They're going to want to know:
How did you come to your franchisees' aid in the crisis? 
Do your franchisees say they were happy to be part of your franchise when times got tough?
Deli Delicious Franchise Inc. is at a Critical Crossroad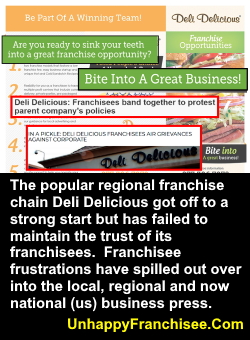 There may be no other better example of a company at the crossroads than Deli Delicious Franchise Inc., the franchisor of the popular regional sandwich chain Deli Delicious.
Based in Fresno, CA, Deli Delicious Franchise Inc. (DDFI) started off strong but seemed to stall out around the critical 50-store mark.
DDFI's relationship with its franchisees has become combative and contentious, and that conflict has spilled over into negative publicity in local and regional business publications.
The Deli Delicious Franchise Inc. defamation lawsuit against the founders' son Hadi Hobab could earn the chain the reputation as "The franchise family that sues its kids."
(Read:  Deli Delicious Franchise Founders Sue Their Own Son for Defamation)
Even before the pandemic, the Deli Delicious franchise chain was experiencing about a 20% pre-Corona franchisee turnover rate.  While not among the very worst of the franchise chains we report on, that turnover is cause for serious concern.  ANY franchise closures are cause for concern for a 50-unit chain.
Deli Delicious is at a crossroads.  It can use this opportunity to refocus and rededicate itself to its franchisees, despite their contentious relationship and sharp words of the past.
It can remember that a franchise organization is financed, built and succeeds only because of the investments and hard work of those annoying and sometimes infuriating franchisees.
Or it can struggle on in a nasty war of wills, watching the brand's reputation and franchise sales die because of stubborn infighting rather than working toward a common goal.
In my opinion, the future success of Deli Delicious comes down to one word:  Greg.
The 2017 Best Franchisee of the Year is Struggling… And Desperate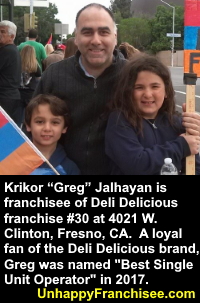 Krikor "Greg" Jalhayan is franchisee operator of Deli Delicious Store #30 at 4021 W. Clinton Ave., Fresno, CA. 93722.
I do not know Mr. Jalhayan and have never spoken to the man.  I have been apprised of this situation from a confidential source (or sources).
According to my source(s ), Greg Jalhayan's store has been struggling since he opened it in 2014.
Greg Jalhayan is no rebel or renegade.  In fact he was such a model franchisee he was named the top single unit operator in 2017 by the franchisor.
He's reportedly worked hard every day, followed the system, maintained quality standards, attended and participated in Deli Delicious Franchise Inc.  Yet still his Dali Delicious store is not profitable.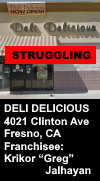 Greg Jalhayan, by all accounts, is a dedicated family man.  He cares for his disabled wife and his children.  The ongoing stress is taking a toll on his health, and he fears for his ability to continue to support his family.
His investment and savings are gone.
His net worth has crashed.
Franchisee Greg Jalhayan is at the end of his rope and has been pleading with the franchisor for help since 2019.
At the very least, he is pleading, just release me from the franchise agreement.
Deli Delicious:  Here's How You Can Identify The Problem in your Organization
Deli Delicious has gone astray, and very likely been led astray by a person or persons in the organization who care more about money and control than people.
How can Deli Delicious identify the problem people who are causing the problems?
Here are some clues:
It is the person (or persons) who have ignored Mr. Jalhayan's please for help since 2019.
It is the person (or persons) who claim Deli Delicious is a "franchise family" then say that franchisee Jalhayan is on his own and should fix his own problems
It is the person (or persons) whose first reaction to this post was to ask "Who leaked this information?" and "This is a violation of our confidentiality agreement!" rather than having human feelings for this franchisee
It is the person (or persons) who react to this post by attacking the website, attacking the publisher, conferring with their attorneys rather than showing concern for Mr. Jalhayan and his family.
It is the person (or persons) who sends out (or already sent out) a warning to employees and franchisees that cooperating with this website or the press is a violation of confidentiality
However, the gift of the Coronavirus pandemic is that even the person or persons who are the problem have the opportunity to change – if only for the survival of the chain.
We will watch and report on what happens with Deli Delicious store #30 and Mr. Greg Jalhayan.
Hopefully, we'll be posting a positive story of how Deli Delicious Franchise Inc. has refocused its dedication to franchisee support during and after the pandemic, has done whatever it can to help Greg Jalhayan and the Jalhayan family, and that it has issued a statement announcing that it has dropped the lawsuit against Hadi Habob in acknowledgement of his early contribution to the Deli Delicious stores and brand.
DELI DELICIOUS CLOSED STORES (Pre-pandemic)
Here are Deli Delicious franchise stores that closed or debranded, prior to the COVID-19 pandemic.  Please help us refine, correct or update this list, which is a work in progress.
CA Chowchilla – CLOSED

1435 E Robertson Blvd, Chowchilla, CA 93610 (Phil Cheatham & Elizabeth Cheatham) Last Yelp Review 10/9/2019
https://www.yelp.com/biz/deli-delicious-chowchilla

CA Citrus Heights – CLOSED

5550 Sunrise Blvd, Ste 200, Citrus Heights, CA 95610 (Hesam Hobab 2017, 2018 FDD) Last Yelp Review 4/7/2018
https://www.yelp.com/biz/deli-delicious-citrus-heights-2

CA Morgan Hill – CLOSED

15700 Monterey Rd, Ste 160, Morgan Hill, CA 95037 Store #52 (Narinder Thakur Singh _)(resold then closed)
https://www.yelp.com/biz/deli-delicious-morgan-hill

CA Roseville – CLOSED

9213 Sierra College Blvd Ste 160, Roseville, CA 95661 Store #21 (Hamid Karimi) Last Yelp Review 2/8/17
https://www.yelp.com/biz/deli-delicious-roseville

CA San Jose  – CLOSED

2762 Aborn Rd, San Jose, CA 95121 Evergreen (Sharayh Bhullar "Jimmy" & Amarjit Gill
& Ravandeep Jhutty "Rammy") Last Yelp Review 9/7/17
https://www.yelp.com/biz/deli-delicious-san-jose

CA San Luis Obispo – CLOSED

862 E Foothill Blvd San Luis Obispo, CA 93405  Last Yelp Review 3/10/2018
https://www.yelp.com/biz/deli-delicious-san-luis-obispo "
Nate G. of Deli Delicious:  "Yes, regretfully, the Franchisee of the Deli Delicious restaurant, in San Luis Obispo, decided to close down his business. We regret any inconvenience this incident may have caused you."

CA Tracy – CLOSED

2805 Naglee Rd, Ste 130, Tracy, CA 95304 #130 (Franchisee Miya S.)(Eric Sha)  Last Yelp review 12/19
https://www.yelp.com/biz/deli-delicious-tracy-2

CA Visalia – CLOSED

4130 S Mooney Blvd, Visalia, CA 93277-9144 559-627-3354 Last Yelp Review August 27, 2018 (Now Pickled Deli, Nicholas Huerta)
https://www.tripadvisor.com/Restaurant_Review-g33230-d5013714-Reviews-Deli_Delicious-Visalia_California.html
Deli Delicious Franchise Turnover Rate is 20% (2019 FDD)

According to the Deli Delicious 2019 Franchise Disclosure Document (FDD), 20% of Deli Delicious franchise agreements ended in ceased operations or transferred ownership from 2016 – 2018.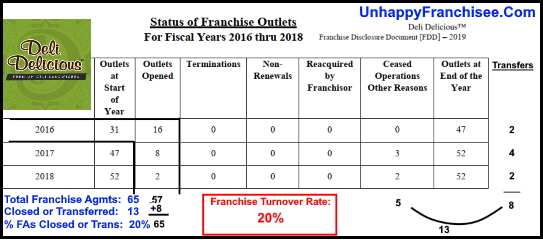 ALSO READ:
 Deli Delicious Franchise Founders Sue Their Own Son for Defamation
FRANCHISE DISCUSSIONS by Company
MARK GOLOB LAWSUIT: Overview, Updates, and Discussion
ARE YOU AN DELI DELICIOUS FRANCHISE OWNER OR FORMER FRANCHISEE?  ARE YOU FAMILIAR WITH THE DELI DELICIOUS FRANCHISE ORGANIZATION & IT'S PRACTICES? 
PLEASE SHARE A COMMENT BELOW.
TAGS: Deli Delicious, Deli Delicious Franchise Inc., Deli Delicious franchise, Hesam Hobab,  Ali Nekumanesh, Hadi Hobab, Bill Foley, Nate Gilbert, Sean Kelly, Deli Delicious Franchisee Association, DDFA, Deli Delicious failure rate, Deli Delicious closed