Deli Delicious Franchises For Sale, Franchise Turnover, Stores Not Opened
Deli Delicious franchise expansion seems to have come to a halt – for reasons that precede the Coronavirus pandemic.  One sign of trouble at the popular regional sandwich chain is a 20% (or higher) franchise turnover rate.  Another is a relatively high percentage (15%-20%) of Deli delicious franchise stores for sale.  Here are Deli Delicious stores we've found listed on the Internet for sale.
(UnhappyFranchisee.Com)  Anonymous individuals concerned about the future of the Fresno, CA- based Deli Delicious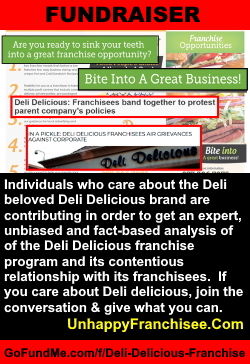 franchise chain have been contributing to a GoFundMe campaign to help support Unhappy Franchisee's investigation and analysis of the popular chain.  The Deli Delicious Franchise Assessment & Discussion crowdfunding campaign has raised $2110.00 of it's initial goal of $2500.00 for us to gather information and opinions as to the current state of the franchise program, and report it here for public discussion.
Franchisor Deli Delicious Franchise Inc. (DDFI) has been repeatedly invited to provide input and participate in dialogue, but has declined to respond so far.  The Deli Delicious Franchise Association (DDFA) and individual franchisees and former franchisees seem to be afraid to share their opinions, even anonymously.  This is understandable given the litigious and apparently dictatorial nature of the franchisor, which has at least two active defamation suits, one against the founders' own son and a countersuit against a former employee.
Today's post touches on three areas of concern:
Deli Delicious Franchisee Turnover Rate
% of Deli Delicious Locations for Sale
# of Deli Delicious Franchises Sold But Not Open (SNO)
1. Deli Delicious Has a 20% Franchisee Turnover Rate (or Higher)
The latest Franchise Disclosure Document for Deli Delicious on the California Department of Business Oversight is dated 2019.  It states that of the 65 active franchise agreements between 2016-2018, 13 (20%) either ceased operations or were transferred to different owners (a practice that is sometimes known as "churning," which may hide the true failure rate of a chain).  While this is not among the highest turnover rates we report on, it is of concern.  Happy, successful franchise owners tend to want to remain in the chain for the full term they committed to.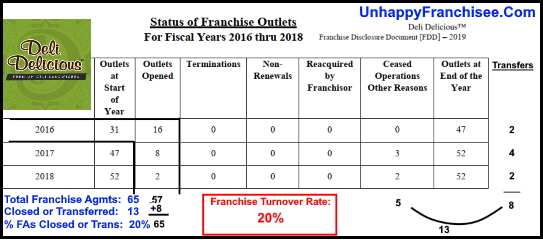 2. We found 8 (15% of the total) Deli Delicious franchises currently listed for sale
Another possible indicator of franchisee distress and/or discontent is the percentage of established franchises currently for sale.  Again, content, profitable franchisees tend to want to continue to build their successful businesses.  In increasingly rare instances, franchisees may be able to sell for a profit.  However, the asking prices of the Deli Delicious resales are at the low end or below the initial investment cost of $226,350 to $467,850, indicating that franchisees are likely willing to take a loss just to get out.
A quick Google search uncovered 8 listings for Deli Delicious stores for sale.  This would represent 15% of the 52 Deli Delicious franchise stores.  Many appeared to be listed prior to the COVID-19 pandemic.
As many times brokers may have additional listings that are not publicly listed, or franchisees may privately be trying to sell their stores, the percentage of stores for sale may actually be higher.
Location
Gross Revenue
Asking Price
Notes
Fresno, CA
$265,000

REDUCED

$199,000

6701 N Milburn Avenue, Fresno, Fresno County, CA 93722

https://www.point2homes.com/US/Commercial-For-Sale/CA/Fresno/Fig-Garden-Loop/6701-N-Milburn-Avenue/80855798.html
Fresno, CA
$295,000

$250,000

REDUCED

$199,000

6034 N Figarden Dr., Fresno, Fresno County, CA 93722   "This is a Deli Delicious restaurant for sale. Not the real estate, just the business.
You get all the equipment and the training with all the recipes. Please look at the company web site: www.deli-delicious.com"

https://www.realliving.com/commercial-for-sale/6034-N-Figarden-Dr-Fresno-CA-93722-288033677

1/7/21 Update – no change to listing

Fresno, CA
$230,000
4441 W Ashlan Avenue W, Fresno, Fresno County, CA 93722

https://www.lionrealtors.com/for-sale/4441-w-ashlan-avenue-w-fresno-ca-93722/10299-104811

Fresno County, CA
$530,000+
$309,000

REDUCED

$290,000

Rent:  $4,110 /Month SF:1,300 Lease Deli Delicious Franchise for sale in Fresno County
* Business is located in one of the busiest/top shopping centers in Fresno
* Building SF is 1,300
* Seller's loss buyer's gain for a great asking price. To open a brand new location it costs more than asking price!!
* Buyer needs to be approved with Deli Delicious
* Seller's Financing available with good amount down
* Inventory is included in the asking price
* Buyer must sign an NDA to get additional information
Please call Listing agent @559-647-4445
Inventory: Included Expiration:N/AEmployees:10
Facilities:Seating capacity is 40 Growth & Expansion: Owner operator who is willing to put in full time for more growth.
Support & Training:Franchise training at same location.  Reason for Selling: Health reasons

https://www.bizben.com/business-for-sale/fresno-county-deli-delicious-franchise-for-sale-257771.php

Porterville, CA
$288,000
12 S Main St, Porterville, CA 93257
Listing Added 02/03/2020
Listing Updated03/10/2020  End Cap Suite D.  1,488 Sq. Ft. – (In Force Lease with Options).  All Equipment Included.  Financial Records Available for Review with an NDA (Non-Disclosure Agreement). Patio Seating. Parking – Front & Rear.  

https://www.crexi.com/properties/300527/california-deli-delicious-in-porterville-ca

San Joaquin County, CA
$199,000
For Sale: Deli, Sandwich Shop Franchise – San Joaquin County
Current Status: Active     Posting #: 261690     Last Refreshed: 5/26/20


https://www.bizben.com/business-for-sale/san-joaquin-county-deli,-sandwich-shop-franchise-for-sale-261690.php

Madera County, CA
Inactive listing
Madera County, Highway 41
Busy Deli Delicious in prime location. Huge potential. Please call for details.
The listing # 236791 is currently OFF THE MARKET
due to that it is either in escrow at this time or has recently been sold. 

https://www.bizben.com/business-for-sale/madera-county-highway-41-deli-delicious-sandwich-shop-for-sale-236791.php

Total initial investment – New franchise
$226,350 to $467,850
For comparison:  "The total estimated initial investment required for a Deli Delicious™ express model ranges from $122,300 to $251,000 or from
$226,350 to $467,850 for a Deli Delicious™ standard model." Source: 2019 Deli Delicious Franchise Disclosure Document (FDD)

HELP US CORRECT OR UPDATE THIS LIST.  LEAVE A COMMENT BELOW.
3. Deli Delicious Franchise Inc. Sold Dozens of Franchises That Will Likely Never Open
Another red flag when assessing the health or business practices of a franchisor is a high number of franchise agreements listed in the FDD as "sold but not open."
The 2019 Deli Delicious FDD indicates that as of April, 2019, DDFI had been paid franchise fees for 69 franchises that had not opened.  The curious thing is that DDFI projected opening no franchise outlets that year and only 3 new franchise outlets in the following year.

This could indicate one of several things, none of them good.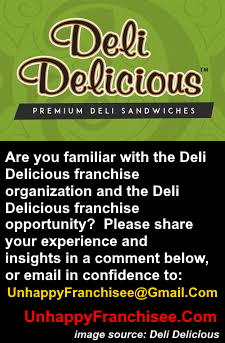 It could mean that the franchise concept is not profitable enough for franchisees to afford or desire to develop the Deli Delicious  stores they intended to have.
Or it may indicate that part of DDFI's business model is to collect and keep franchise fees they never intend to open.  This was one of the many practices that led to Quizno's downfall, and made them Defendants in several group action lawsuits.  Hopefully, that's not the case with Deli Delicious Franchise Inc.
We invite Deli Delicious Franchise Inc. to provide corrections, clarifications, updates and/or rebuttals of the facts and opinions stated her.  We invite all to share their opinions with a comment below of by sending us an email (in confidence).
Thanks to all who contribute to this important project!
ALSO READ:
Deli Delicious Franchise Assessment & Discussion (GoFundMe fundraiser)
DELI DELICIOUS Franchise at a Crossroad
Deli Delicious Franchise Founders Sue Their Own Son for Defamation
Deli Delicious Franchise: All Posts
FRANCHISE DISCUSSIONS by Company
MARK GOLOB LAWSUIT: Overview, Updates, and Discussion
ARE YOU AN DELI DELICIOUS FRANCHISE OWNER OR FORMER FRANCHISEE?  ARE YOU FAMILIAR WITH THE DELI DELICIOUS FRANCHISE ORGANIZATION & IT'S PRACTICES? 
ARE YOU FAMILIAR WITH LAW FIRMS AARON DOWLING, CORE HR TEAM OR ATTORNEY BILL LITTLEWOOD?
PLEASE SHARE A COMMENT BELOW.
TAGS: Deli Delicious, Deli Delicious Franchise Inc., Deli Delicious franchise, Hesam Hobab,  Ali Nekumanesh, Hadi Hobab, Bill Foley, Nate Gilbert, Mohammed Hobab, Sean Kelly, GoFundMe, Deli Delicious Fundraiser, Deli Delicious Franchisee Association, DDFA, Deli Delicious failure rate, Deli Delicious closed