DELI DELICIOUS, Ali Nekumanesh Defamation Lawsuits
Deli Delicious may soon be known in the franchise industry more for its defamation lawsuits than its delicious sandwiches.  The sub sandwich franchisor's heavy handed response to criticism (or even input) may be its undoing.  I know.  I've experienced it firsthand. by Sean Kelly

(UnhappyFranchisee.Com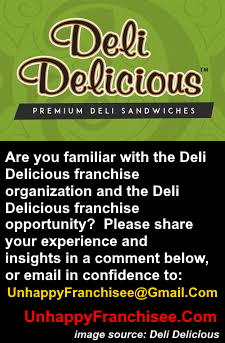 )  I witnessed one of those brilliant moments of dazzling irony last week.
I had just published a blog post about Deli Delicious Franchise Inc.'s (DDFI's) aggressive, if not brutal, defamation lawsuit against the son of the owners Mohammad Hobab and Zohreh Hobab (and brother of the Chief Development Ifficer, Hesam Hobab) of the sub sandwich franchisor, Hadi Hobab.  I had criticized the bazooka-against-a-mosquito approach not only as being deeply harmful to the image of the company and the brand, but likely to be devastating to the family for generations to come.
(Read the post here:  Deli Delicious Franchise Founders Sue Their Own Son for Defamation )
It seemed to me that the supposedly defamatory statements were not (in my layman's opinion) defamatory, but weren't even that damaging.
Hadi Hobab supposedly called the company's marketing "anemic and sophomoric" and the company leadership "a rudderless ship."  Not only do these seem to be opinions (and not, therefore, defamatory,) but they seem more like something an arrogant literature professor might say, not an Iranian restaurant guy for whom English may be a second language (I don't know that).
As a parent, I found the idea of trying destroy one's child for speaking his opinion (supposedly with words I doubt his non-English speaking parents understand) despicable, so I pulled no punches.  I sent the link to EVP Ali Nekumanesh, Hesam Habob, Bill Foley and others at DDFI inviting corrections, clarification or rebuttal.  I asked if Deli Delicious really wanted to be known as the "The Franchise Family that Sues its Kids"?
Ali Nekumanesh Launched a Defamatory Attack Against Writer for Criticizing his Defamation Lawsuits
Ali Nekumanesh did not respond to my polite invitation to respond or answers to my questions.
Instead, Ali Nekumanesh, the seemingly respectable businessman who always seems to be posing with awards from the IFA, SBA or SCORE, and who didn't correct Assemblyman Bill Patterson when he referred to him as "owner of Deli Delicious," decided to go with a different response.
Ali Nekumanesh responded by publicly posting a false and defamatory statement about me on his Twitter account.
When confronted directly by someone he couldn't intimidate, Nekumanesh quickly deleted the tweet.
I can't say for sure who is the driving force behind the aggressive and expensive DDFI litigation against those who dare express opinions about Nekumanesh and Deli Delicious, but that unwarranted, vicious and unlawful attack over a blog article gave me a pretty strong suspicion.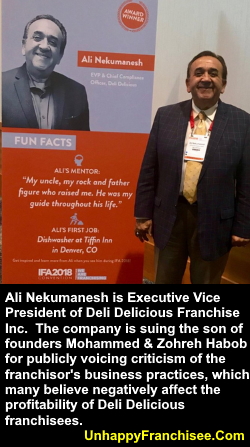 Ali Nekumanesh is not only EVP of Deli Delicious, he is a competitor with three Colorado Grill burger restaurants and a food truck operating in the Fresno market.
Ali Nekumanesh is reportedly a trusted advisor and translator to CEO Mohammad Habob, who knows very little English.
Nekumanesh speaks both Farsi (Habob's native language) and English, and reportedly pulls a lot of the strings in the Deli Delicious organization.
He seems to love the media spotlight and served as company spokesman at the bakery opening and in news features.
However, when it comes to questions about the business and lawsuits, he is non-responsive and seemingly hostile.
Deli Delicious & Ali Nekumanesh Share Two Defamation Suits & One Countersuit
On April 26, 2019, Deli Delicious Franchise Inc. filed a defamation lawsuit against Mohammad Hobab and Zohreh Hobab's son, former COO Hadi Hobab, who had helped start and grow the chain in its early years. You can read that complaint here:
Deli Delicious Franchise Inc., Plaintiff, v. Hadi Hobab, Defendant (Complaint Document PDF)
In August, 2019, attorney Mike Chappars of Clovis, CA, filed a verified complaint on behalf of former employee Tim Campbell in the Superior Court of California, County of Fresno.  The suit alleges, among other things, that Deli Delicious management spread the untrue allegation that Tim Campbell is an alcoholic and that's the reason for him dismissal.  Read the complaint here:
TIM CAMPBELL vs. MOHAMAD HOBAB, HESAM HOBAB, ALI NEKUMANESH, DELI DELICIOUS FRANCHISE, INC, AND DOES 1 — 20
The Complaint alleges:
1) DEFAMATION PER SE
2) DEFAMATION
3) INTENTIONAL INTERFERENCE WITH PROSPECTIVE ECONOMIC RELATIONS
4) INTENTIONAL INFLICTION OF EMOTIONAL DISTRESS
5) NEGLIGENT INFLICTION OF EMOTIONAL DISTRESS
On September 27, 2019, attorney William H. Littlewood of the law firm DOWLING AARON INCORPORATED, on behalf of the Defendants and cross complainants Deli Delicious and Ali Nekumanesh, filed a cross-complaint against Tim Campbell, which is posted here:
DEFENDANTS/CROSS.COMPLAINANTS DELI DELICIOUS FRANCHISE, INC.'S AND ALI NEKUMANESH'S CROSS COMPLAINT AGAINST TIM CAMPBELL
Ali Nekumanesh is Suing for "Emotional Distress, Anxiety, Loss of Sleep, Shame, and Embarrassment"
From the Cross-Complaint:
DDFI and Mr. Nekumanesh are informed and believe, and thereon allege, that Cross-Defendant defamed and disparaged DDFI, its owners, officers and directors since his termination, including, without limitation, a defamatory campaign directed at Mr. Nekumanesh…

Mr. Nekumanesh is informed and believes, and thereon alleges, that within the last three (3) years, Cross-Defendant without justification or privilege published, or republished, orally and in writing a series of false and defamatory communications to third persons including, but not limited to, DDFI's franchisees, vendors, banking institutions among others, stating among other things that Mr. Nekumanesh:

has [no?] prior experience of running a franchise;
does not have experience in the restaurant industry; and
is the cause of DDFI's problems.

Mr. Nekumanesh is further informed and believes, and thereon alleges, that Cross-Defendant has provided this knowingly false information to DDFI franchisees and has encouraged them to go to the press with it…

Mr. Nekumanesh is further informed and believes, and thereon alleges, that these franchisees have republished this false information at Cross-Defendant' s urging…

Mr. Nekumanesh has suffered damages to his business and personal reputation in an amount to be proven at trial but in excess of this Court's jurisdictional minimum. As a further proximate result of Cross-Defendant's defamatory communications, Mr. Nekumanesh has suffered emotional injuries from which compensation is sought, including without limitation, emotional distress, anxiety, loss of sleep, shame, and embarrassment.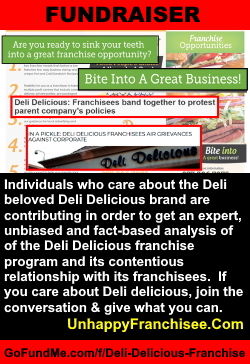 Perhaps Mr. Ali Nekumanesh should consider that distress before he publishes "false" and "defamatory communications," about others.
And perhaps he should stop trying to bludgeon the American right to freedom of speech and expression every time someone shares an opinion that doesn't involve praise or an award.
It takes thick skin and a knack for diplomacy to grow a successful franchise chain beyond the local level.
Which may be why Deli Delicious seems to have stalled out at 50 units.
But that's all just my opinion…
ALSO READ:
Deli Delicious Franchise Founders Sue Their Own Son for Defamation
DELI DELICIOUS Franchise at a Crossroad
Deli Delicious Franchises For Sale, Franchise Turnover, Stores Not Opened
FRANCHISE DISCUSSIONS by Company
MARK GOLOB LAWSUIT: Overview, Updates, and Discussion
ARE YOU AN DELI DELICIOUS FRANCHISE OWNER OR FORMER FRANCHISEE? 
ARE YOU FAMILIAR WITH THE DELI DELICIOUS FRANCHISE ORGANIZATION & IT'S PRACTICES? 
ARE YOU FAMILIAR WITH ALI NEKUMANESH, MOHAMMAD HABOB OR OTHERS DISCUSSED HERE?
PLEASE SHARE A COMMENT BELOW.
TAGS: Ali Nekumanesh, Deli Delicious, Deli Delicious Franchise Inc., Deli Delicious franchise, Hesam Hobab, Hadi Hobab, Bill Foley, Nate Gilbert, Sean Kelly, Deli Delicious lawsuits, defamation, litigation, DDFA, Deli Delicious failure rate, Deli Delicious closed