DELI DELICIOUS Prohibited from Selling Franchises in California
Deli Delicious Franchise Inc. can no longer legally offer or sell franchises in California after failing to renew its state registration (which expired in April, 2020).  EVP Ali Nekumanesh has not yet responded to our inquiries as to the status of the Deli Delicious franchise program, or whether Deli Delicious Franchise Inc. intends to resume franchise sales and, if so, when.
(UnhappyFranchisee.Com)  The State of California Department of Business Oversight (DBO) has confirmed that Deli Delicious is not currently permitted to offer or sell Deli Delicious franchises in California.
According to a DBO representative:
Deli Delicious Franchising, Inc. last filed in 2019, and their license to sell expired in April 20, 2020.

They have not submitted a 2020 application yet… Deli Delicious is not registered to be offering and selling franchises in this state. 

If you have evidence that they have been doing so anyway, we encourage you to file a formal complaint.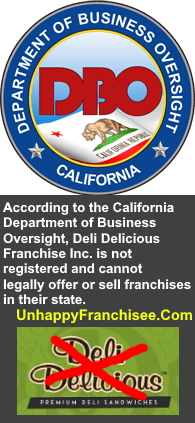 Deli Delicious Franchise, Inc. (DDFI) continues to promote its franchise opportunity in the dedicated franchise section of its web page (Deli-Delicious.com/franchise) , as well as on a dedicated franchise site at DeliDeliciousFranchise.Com.
The lack of a current California franchise registration wouldn't prohibit Deli Delicious from offering its franchise opportunity in non-registration states, as long as DDFI has a current 2020 Franchise Disclosure Document (FDD), which is required by the FTC of all franchise sellers.
EVP Ali Nekumanesh has not responded to inquiries as to whether Deli Delicious Franchise Inc. has a current, up-to-date FDD with required audited financial statements.
Ali Nekumanish & Deli Delicious Have Multiple Lawsuits Requiring Disclosure to Franchise Prospects
Why has Deli Delicious Franchise Inc. failed to renew its California registration?
Are they no longer going to sell franchises?  Or do they have a date in mind when they will renew their registration?
A lot has happened since their last registration.  They opened a commercial bakery – as an affiliate – to supply bread to franchisees.
They will have to disclose certain aspects of this relationship, such as how much DDFI received in rebates from this supplier.
There are multiple, active lawsuits (See the just-published DELI DELICIOUS, Ali Nekumanesh Defamation Lawsuits) that will likely need to be disclosed.
Rumor has it that more lawsuits are on the way.
Deli Delicious Franchise Inc. will also need to provide updated, audited financials, updated information on the number of franchises sold, opened, terminated, closed, transferred and sold but not opened.
DDFI will have to provide an updated list of current franchisees and their contact information, as well as the contact information for all those who have left the system.
If they don't want their franchise fees impounded until opening, they will need to show the State of California that they have maintained the required account with at least $50,000 in it.
Mr. Ali Nekumanesh has not responded to our questions and it looks unlikely that he'll address these concerns anytime soon.
We'll be keeping an eye on Deli Delicious Franchise Inc., as it seems to be rumbling ominously, like it's about to blow…
ALSO READ:
Deli Delicious Franchise Founders Sue Their Own Son for Defamation
DELI DELICIOUS Franchise at a Crossroad
Deli Delicious Franchises For Sale, Franchise Turnover, Stores Not Opened
FRANCHISE DISCUSSIONS by Company
MARK GOLOB LAWSUIT: Overview, Updates, and Discussion
ARE YOU AN DELI DELICIOUS FRANCHISE OWNER OR FORMER FRANCHISEE? 
ARE YOU FAMILIAR WITH THE DELI DELICIOUS FRANCHISE ORGANIZATION & IT'S PRACTICES? 
ARE YOU FAMILIAR WITH ALI NEKUMANESH, MOHAMMAD HABOB OR OTHERS DISCUSSED HERE?
PLEASE SHARE A COMMENT BELOW.
TAGS: Ali Nekumanesh, Deli Delicious, Deli Delicious Franchise Inc., Deli Delicious franchise, Hesam Hobab, Hadi Hobab, Bill Foley, Nate Gilbert, Sean Kelly, Deli Delicious lawsuits, California franchise registration, Department of Business Oversight, DDFA, Deli Delicious failure rate, Deli Delicious closed