The BREAD That Froze Deli Delicious' Growth.
The once-promising Deli Delicious chain's growth seemed to freeze the moment it told its franchisees they could no longer serve the bread freshly baked and delivered daily from Basque French Bakery.  Franchisor DDFI abruptly informed the franchisees they must pay the same for frozen (not flash-frozen) loaves from their newly opened affiliate which they must store, thaw and serve to customers.
We're asking experts and novices alike:  Was DDFI's mistake changing to frozen bread, the abrupt way they forced the change… or both?
(UnhappyFranchisee.Com)  Can bread that's baked, frozen, thawed and served to customers days or weeks later taste even better than bread that's expertly baked and served the same day?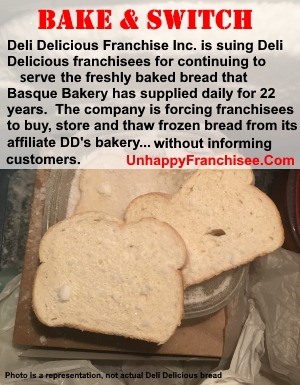 The Deli Delicious chain seems to be gambling its future that the answer is YES.
And it's a bet the franchisor appears to be losing.
A Sandwich Chain Founded on Freshness Appears Frozen in its Tracks
In 2017, Deli Delicious seemed to be on the fast track.  EVP Ali Nekumanesh wrote in the Fresno Bee that the sandwich chain had over 100 locations.
In 2018, the company claimed to have "more than 100 total restaurants open or in development" and planned to have more than 150 locations by 2021.
Yet by 2019, there were just 52 Deli Delicious locations operating, and the current website lists just 52.
In fact, Deli Delicious Franchise Inc. (DDFI) is no longer even registered to sell franchises in California.
What chilled the growth and ambition of the up-until-recently-hot Deli Delicious chain?
It seems likely that the single, ill-informed decision to secretly develop a commercial bakery then force franchisees to buy its frozen bread sent the Fresno-based franchised sandwich chain into the deep freeze – perhaps permanently.
It seems likely that the single, ill-informed decision to secretly develop a commercial bakery then force franchisees to buy its frozen bread sent the Fresno-based franchised sandwich chain into the deep freeze – perhaps permanently.
Deli Delicious Franchise Inc. (DDFI) Attempted a Bake-And-Switch to Frozen Bread
For 22 years, Deli Delicious stores received freshly baked bread daily from the iconic Basque French Bakery in Fresno.
According to its lawsuit filing against the founders' son, Hadi Hobab, DDFI began requiring franchisees to purchase and store frozen bread from its affiliate DD's Bakery in February, 2019.
In a televised interview at the DD's Bakery Grand Opening, DDFI EVP Ali Nekumanesh stated that he and founder Mohammad Hobab decided to start a commercial bakery to supply Deli Delicious stores three years earlier.  However,  neither Deli Delicious franchisees nor Basque Bakery were informed or consulted about the development of the bakery.
At the much-publicized Grand Opening, Nekumanesh made no mention that DD's bread would be delivered to franchisees frozen.
Deli Delicious Frozen Bread Announcement Chills Franchisee Relations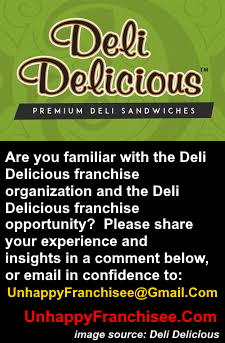 The freshness of Deli Delicious ingredients, especially its bread, was one of the hallmarks of its brand and marketing.  Freshness was one of the reasons that franchisees invested with Deli Delicious over its many sub sandwich franchise competitors, and was the key to its regional growth and popularity with customers.
Suddenly, franchisees were told they must cease serving the fresh bread that customers knew and love, and make room in their limited freezers for fully baked and frozen loaves from the unknown bakery owned by company executives and Ali Nekumanesh.  Some had to discontinue popular, profitable products, such as curly fries, to fit the bread in its limited freezers.  With no discussion, request for input or prior warning, franchisees were reportedly forced to pay the same amount for the frozen bread as they had for their beloved fresh bread.
Customers were not informed of Deli Delicious' bake-and-switch ploy.
Angry Franchisees Form the Deli Delicious Franchise Association (DDFA)
The unilateral demand to use what was perceived as an inferior product for the same price without a single discussion caused a backlash from franchisees, who quickly formed a franchisee association to voice their grievances.
Prior to that point, Deli Delicious news stories had all been positive – news about store openings and business awards that Ali Nekumanesh and the company seemed to prize.
Once the franchisee association aired its grievances, negative stories began to appear in regional business journals like The Visalia Times and The Business Journal.
The business awards for Deli Delicious seemed to stop cold.
According to the franchisee association, DDFI was uncooperative and dismissive in their attempts to demand a voice in such major decisions, and focused their efforts on bullying or intimidating those who defied their orders to serve frozen bread.
Letters and requests from the Association and struggling franchise owners such as Greg Jalhayan and Borzooyeh Dielamani were repeatedly ignored and received no response from Hesam Hobab, Bill Foley, Mohammad Hobab or Ali Nekumanesh.
Even as DDFI's focus on lawsuits and franchisee coercion has become increasingly public and their secret switch from fresh to frozen bread is becoming known to their customers, the once-promising sandwich chain shows no signs of changing course.
In fact, DDFI seems intent to further waste resources and ravage its reputation by suing those who are trying to keep Deli Delicious true to its commitment to fresh ingredients.
Deli Delicious is Tries to Chill Criticism With Retaliatory Lawsuits
Rather than try to heal its franchisee relations, DDFI retaliated with lawsuits against corporate employees they claimed provided information to the Franchisee Association, including the founder's son and former COO Hadi Hobab, and executive Tim Campbell.
Just this past week, DDFI filed a lawsuit against a multi-unit franchisee who has continued to serve customers the freshly baked bread from Basque French Bakery.
The account of events in the lawsuit, namely that DDFI switched vendors only because Basque Bakery could not keep up with the demand of the then-growing chain, seems contradicted by Ali Nekumanesh's statement that they had begun developing their bakery three years earlier.
When asked about that claim, Basque Bakery' owner Al Lewis said ""That's total b*llsh*t.  In our 57 year history, we never had an issue or complaint about keeping up with demand. We'd have no problem supplying 100 stores as we are, and could easily add capacity for up to 200 stores."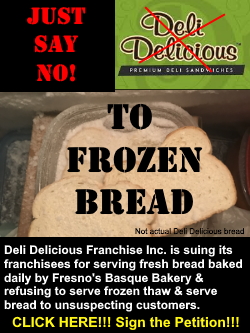 Lewis added:  "Our oven can bake 50 loaves per minute. Theirs can bake four."
Deli Delicious Important Links:
A petition to urge DDFI to allow franchisees to serve freshly baked Basque Bread is published here:  Deli Delicious Bread Petition.
The petition to End the Deli Delicious Lawsuit against Hadi Hobab:  End the Deli Delicious Lawsuit Petition.
A satirical Twitter account called Deli Malicious has popped up here:  Deli Litigious Parody
Media Inquiries: For more information, documentation and interview requests, contact Sean Kelly at UnhappyFranchisee[at]Gmail.com.
For more information on Deli Delicious analysis, visit https://www.unhappyfranchisee.com/deli-delicious-franchise-assessment/
See the complaint document here: Deli Delicious Franchise, Inc. Bread Lawsuit etc.
If you'd like to keep this investigation and discussion going, please consider a contribution to the Deli Delicious Franchise Assessment GoFundMe Campaign , or to UnhappyFranchisee.Com.
ALSO READ:
Deli Delicious Franchise Founders Sue Their Own Son for Defamation
DELI DELICIOUS Franchise at a Crossroad
Deli Delicious Franchises For Sale, Franchise Turnover, Stores Not Opened
DELI DELICIOUS, Ali Nekumanesh Defamation Lawsuits
DELI DELICIOUS Questions for Dowling Aaron
FRANCHISE DISCUSSIONS by Company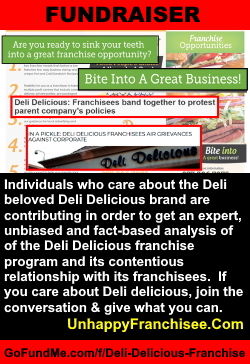 ARE YOU A DELI DELICIOUS FRANCHISE OWNER OR FORMER FRANCHISEE? 
ARE YOU A BAKING OR FRANCHISING EXPERT?  WHAT'S YOUR TAKE?
ARE YOU A DELI DELICIOUS CUSTOMER?  WOULD YOU PREFER FRESH OR FROZEN & THAWED BREAD?
PLEASE SHARE A COMMENT BELOW.
TAGS: Deli Delicious bread,  Deli Delicious lawsuit,  Deli Delicious lawsuits, Deli Delicious frozen bread, Ali Nekumanesh, Mohammad Hobab, Dowling Aaron, DD's Bakery, Basque Bakery, franchise lawsuit,Deli Delicious Franchise Inc., Hesam Hobab, Sean Kelly,  litigation, Unhappy Franchisee Franchise Assessment, Deli Delicious franchise