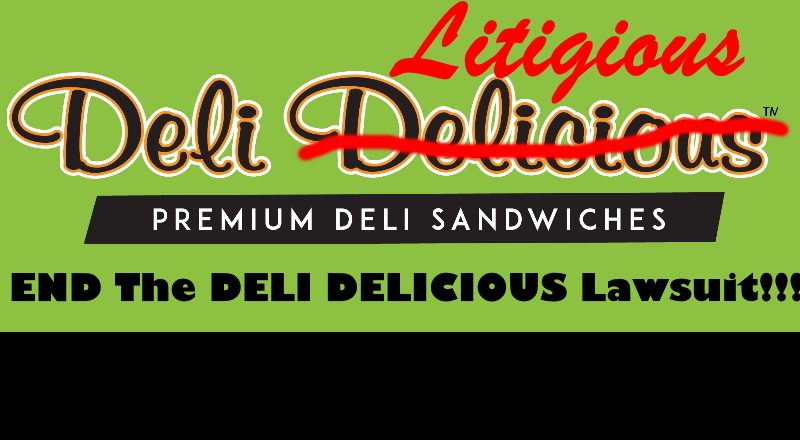 End the DELI DELICIOUS Lawsuits Petition
Parents Shouldn't Sue Their Children! Sign the Petition to END The DELI DELICIOUS Lawsuit!
Read the Petition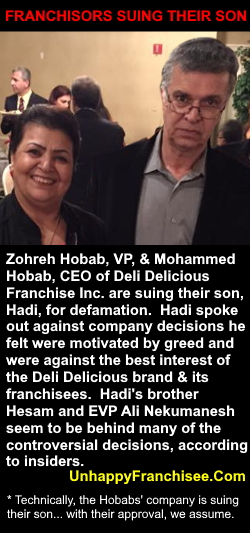 Please support Deli Delicious franchisees by signing this petition and leaving a comment below.  Thank you!
Those who sign this petition are sending the following message to franchisor Deli Delicious Franchising Inc. (DDFI) and its principals (Ali Nekumanesh, Mohammad Hobab, Zohreh Hobab, Hesam Hobab):
Stop Suing Bullying and Suing Franchisees & Employees For Sharing Their Opinions.  This is America.  Here, we value free speech & individual expression.  Stop misusing the courts to bully & silence those who criticize your bad decisions.
Stop Destroying a Beloved Brand Out of Greed.  Deli Delicious customers made you successful because of your commitment to fresh ingredients, including fresh bread baked daily.  By making Deli Delicious the nation's only chain with frozen thaw-and-serve bread, you betray your customers' trust & will destroy your reputation.
Stop Suing Bullying and Suing Franchisees For Defending Their Livelihoods. Deli Delicious franchise owners built your chain.  They put their savings, assets, even their homes on the line.  They have battled wildfires & a pandemic.  That you would bully & sue them for refusing to substitute inferior products and deceive their customers is shameful and despicable. PLEASE SIGN THE PETITION & LEAVE A COMMENT BELOW FOR DELI DELICIOUS & THE HOBAB FAMILY
If you'd like to keep this investigation and discussion going, please consider a contribution to the Deli Delicious Franchise Assessment GoFundMe Campaign , or to UnhappyFranchisee.Com.
ALSO READ:
Deli Delicious Franchise Founders Sue Their Own Son for Defamation
DELI DELICIOUS Franchise at a Crossroad
Deli Delicious Franchises For Sale, Franchise Turnover, Stores Not Opened
DELI DELICIOUS, Ali Nekumanesh Defamation Lawsuits
DELI DELICIOUS Questions for Dowling Aaron
FARSI Translation from Google Translate
پشتیبانی از گفتار رایگان: لطفاً کپی کنید ، به اشتراک بگذارید و توزیع کنید
پایان دادن به
DELI DELICIOUS
طرح دعوی در دادگاه!!
  امضا کنید
  درخواست را در
به محمد هاباب و زهره هاباب بگویید:
والدین نباید از فرزندان خود شکایت کنند ... دوره.
محمد هاباب و زهره هاباب صاحبان ثروتمند زنجیره رستوران 50 مکان Deli Delicious مستقر در
فرسنو ، کالیفرنیا هستند. آنها با استفاده از موسسه حقوقی پرقدرت Dowling Aaron و دادگاه منطقه ایالات متحده برای مجازات فرزندشان به اتهام انتقاد از تصمیمات مدیریت شرکت در گفتگوی خصوصی 3-4 سال پیش.
فرزند آنها هادی این ادعاها را رد می کند ، اما نمی تواند یک وکیل برای دفاع از خود داشته باشد.
شرکت محمد هاباب و داولینگ هارون خواستار خسارت پولی ، خسارت های مجازاتی ، هزینه دادگاه و سایر خسارت هایی هستند که می دانند فرزندشان قادر به پرداخت آن نیست.
انجمن حق رای دادن Deli Delicious (DDFA) و بسیاری از حق رای دادن از هاباب می خواهند که این دادخواست را رها کنند و به دنبال مشاوره خانواده باشند زیرا والدین نباید از فرزندان خود شکایت کنند!
لطفاً پیام را امضا کنید و با در نظر گرفتن آخرین تأمین هزینه های حق الزحمه حقوقی در UNHAPPYFRANCHISEE.COM را امتحان کنید
www.UnhappyFranchisee.Com/deli-delicious-petition
Latest Signatures
54
Mx. Sydney E.
Mar 15, 2023
53
Mr. Bitch Mysogonist Z.
Sep 05, 2021
52
Mr David Y.
Feb 23, 2021
51
Mrs Ramona Y.
Feb 23, 2021
50
Mr Current F.
Feb 14, 2021
49
Dr. MmzHrrdb M.
Nov 25, 2020
48
Mr Charlie R.
Aug 09, 2020
47
Ms Lee T.
Jul 25, 2020
46
Ms Owen S.
Jul 25, 2020
45
Mr Michael W.
Jul 24, 2020
44
Mrs Sara A.
Jul 19, 2020
43
Mr Sam N.
Jul 13, 2020
42
Mr Hardeep s.
Jul 11, 2020
41
Mr Jack a.
Jul 11, 2020
40
Mr Mike C.
Jul 11, 2020
39
Mr Amin A.
Jul 11, 2020
38
Ms mohamad k.
Jul 11, 2020
37
Ms sara a.
Jul 11, 2020
36
Mr Chris A.
Jul 10, 2020
35
Ms peter d.
Jul 10, 2020
34
Ms Azita S.
Jul 10, 2020
33
Mr BRIAN O.
Jul 10, 2020
32
Ms زهرا خ.
Jul 10, 2020
31
Ms Ayaz G.
Jul 10, 2020
30
Mr travis b.
Jul 10, 2020
29
Mr Brandon C.
Jul 10, 2020
28
Mr Ali T.
Jul 10, 2020
27
Mr Michael S.
Jul 10, 2020
26
Ms Pooya P.
Jul 10, 2020
25
Mr Mehr A.
Jul 09, 2020
24
Ms Kimberly T.
Jul 09, 2020
23
Ms Randy C.
Jul 09, 2020
22
Mr Kevin K.
Jul 09, 2020
21
Mr Robert V.
Jul 09, 2020
20
Mr Joseph Y.
Jul 09, 2020
19
Mr Daniel K.
Jul 09, 2020
18
Ms Nick L.
Jul 09, 2020
17
Mrs Caitlyn P.
Jul 09, 2020
16
Mr Justin D.
Jul 09, 2020
15
Mrs tara t.
Jul 09, 2020
14
Ms Eric S.
Jul 09, 2020
13
Ms Hemine A.
Jul 09, 2020
12
Mr Saeid T.
Jul 09, 2020
11
Ms Parham P.
Jul 09, 2020
10
Ms Ali P.
Jul 09, 2020
9
Ms Nahid T.
Jul 09, 2020
8
Ms Borzooyeh T.
Jul 09, 2020
7
Ms Heather C.
Jul 09, 2020
6
Mr Foad S.
Jul 09, 2020
5
Mrs Mohsen K.
Jul 09, 2020
<< < > >>