Are FRANSERVE Brokers Promoting the Davidovich NY Bagel Franchise Scam?
Are Franserve franchise brokers unknowingly promoting the blatant franchise scam now being marketed as Davidovich NYC Bagel & Sandwich Shop?  Franserve claims it was founded with one goal:  to help others achieve their dreams of business ownership through franchising.  How many of those dreams turn into nightmares due to Franserve- and FBA-promoted concepts like Davidovich NYC Bagel and Clubstore Outlet franchises? Unhappy Franchisee is calling for better franchise broker education and due diligence.
(UnhappyFranchisee.Com)  FranServe, Inc. claims it is the "largest franchise consulting and expansion organization in the world."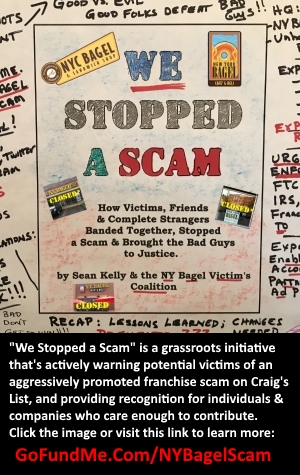 On its website, FranServe, Inc. declares "We love changing people's lives!" and that it was "founded with one goal: to help others achieve their dreams of business ownership through franchising."
We are sure most Franserve brokers have a sincere desire to see their advisees succeed.  But how diligent is Franserve in making sure those entrepreneurial dreams don't turn into agonizing nightmares, like they did for the investors of the Franserve-promoted Clubstore Outlet.
Are Franserve brokers now unwittingly promoting the long-running Davidovich NYC Bagel & Sandwich Shop scam?
Davidovich NYC Bagel & Sandwich Shop is the Latest Name for the NY Bagel Franchise Scam
For six years, UnhappyFranchisee.Com has been warning about the blatant franchise-fee collection scam that's been operated under various names including NY Bagel Cafe & Deli & NYC Bagel & Sandwich Shop.
We have posted more than 50 blog posts here (NYC Bagel Franchise Scam Overview), on NY Bagel Scam and BlueMauMau.org (NYC Bagel Scam Reveals Franchising's Dark & Dangerous Secret )
With the newest variation of Davidovich NYC Bagel & Sandwich Shop and new additions to the gang (Gene Davidovich Shvedov and disbarred lawyer and convicted felon Marc Zirogiannis), Joe Smith & Dennis Mason have been trying to expand from the shadows of Craig's list to mainstream expos and franchise broker networks.
Recently, our warnings resulted in the Davidovich NYC Bagel & Sandwich scam getting kicked out of the IFE show in New York (NYC Davidovich Bagel Ejected From International Franchise Expo (IFE))
Franchise broker organization IFPG (International Franchise Professionals Group) announced its partnership with the Davidovich NYC Bagel franchise, then quickly and definitively corrected its mistake (Davidovich NYC Bagel Ejected From International Franchise Professionals Group (IFPG))
We've been calling on members of the legitimate franchise industry to ban the NYC Bagel Scam, and spread our warning links.
We've set up a GoFundMe Campaign to help with the education and communication effort:  We Stopped a Scam fundraiser .
Are FRANSERVE Brokers Promoting the Davidovich NYC Bagel Scam?
Franserve recently featured a listing for the Davidovich NYC Bagel and Sandwich Shop in its online Franchise Directory which read:
Davidovich NYC Bagel and Sandwich Shop

Davidovich NYC Bagel & Sandwich Shop, the #1 bagel franchise in the country could be the opportunity you have been looking for!  At  Davidovich Bagel and Sandwich Shop, we take great pride in our food and our exceptional franchise opportunity.  We strive to provide our franchisees with the best tools and knowledge to run a successful local business, and we encourage owners to learn the skills that will allow them to own multiple units.    REQUEST MORE INFO.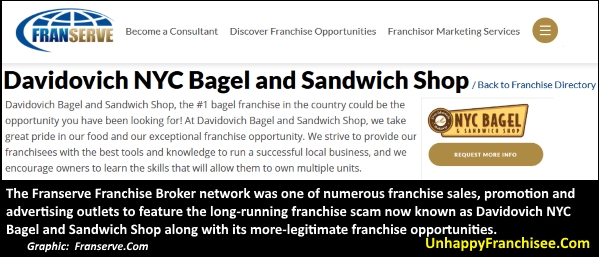 Is Franserve Serving Up Another Franchise Tragedy Like Clubstore Outlet?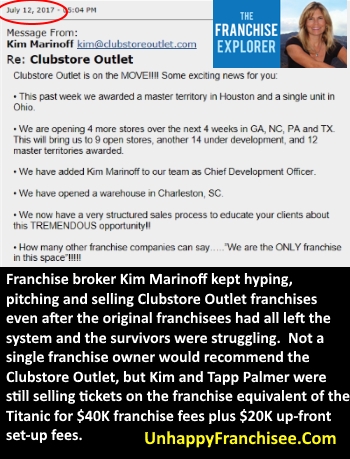 The Franserve partnership with the NY Bagel Scam, its franchise listing, and encouragement for its broker network to promote infamous franchise fraudsters who fail to include such legally required disclosures as their lengthy history of state enforcement actions, litigation, civil judgements, bankruptcies, a near 100% franchise failure rate and more suggests that Franserve and its brokers may be unaware of the danger bad franchises pose.
It begs the question:  Does Franserve do ANY research, scrutiny or screening of the franchise concepts its brokers will foist on trusting franchise investors?  Do Franserve brokers – who claim to be consultants – do any research other than for sales techniques that help them secure commissions of $20K & more per sale?
We reported on another franchise scam pushed by the franchise "consultants" (commissioned brokers) affiliated with Franserve, IFPG and Franchise Brokers Association (FBA):  the Clubstore Outlet franchise opportunity of an individual named Tapp Palmer.
Franchise Brokers including Franserve Vice President of Consultant Development Jerry Reider, (brokers Kim Marinoff, Dennis Martineau, Kathy Hylton, Pamela Currie, consultant Christopher Connor) hyped, sold and perhaps were seduced by hefty commissions from the Clubstore Outlet franchisor they should have known could not deliver the contracted and necessary services.
Individuals and families were devastated, losing life savings and homes in the process, while franchise brokers pocketed their franchise commissions and moved on to the next sale and the next Franserve, IFPG or FBA convention.
The franchisor Tapp Palmer abandoned his struggling franchise owners, leaving them without a source for inventory nor the support services they paid him for.
Out of 20 Clubstore Outlet franchises sold with the help of Franserve, IFPG & FBR "consultants," 15 have closed down with their owners losing their investments.
5 still fight on as independent stores – so far having survived buying into a sales pitch and dream that became a nightmare for so many.
Learn more at:
CLUBSTORE OUTLET Franchise Overview
TAPP PALMER Clubstore Outlet: Where'd the Money Go?
FRANCHISE BROKERS LIE: The Kim Marinoff Story
INVITATION TO FRANSERVE LEADERSHIP & MEMBERS:  It is our opinion that the FRANSERVE partnership with a known and proven scam artist does a disservice to legitimate franchisors (including IFPG franchise partners), your members, and especially to the franchise buyers who rely on FRANSERVE brokers for trustworthy guidance.   However, we are open to alternative viewpoints and interpretations.  We invite & welcome explanations, clarifications, rebuttals, and opinions both from IFPG leadership, staff, members and franchise partners. 
We are especially interested in hearing which brokers and groups are willing to commit to spreading the word about the risks associated with the Davidovich NYC Bagel & Sandwich Shop and its variations.

ARE YOU FAMILIAR WITH THE FRANSERVE FRANCHISE BROKER ORGANIZATION, WITH NY BAGEL, NYC BAGEL OR DAVID0VICH NYC BAGEL SCAM? HAVE YOU DEALT WITH DENNIS MASON, JOE SMITH OR MARC FINTZ (OR MARC ZIROGIANNIS), GENE SHVEDOV?   SHARE A COMMENT BELOW.

TAGS: Franserve, Franserve Franchise Brokers, Franserve Franchise Consultants, Clubstore Outlet franchise, franchise scams, Franchise brokers, Davidovich NYC Bagel & Sandwich Shop, Davidovich bakery, Davidovich Bagels, Davidovich franchise, NY Bagel Cafe, NYC Bagel franchise, Joe Smith, Dennis Mason, Marc Fintz, Marc Zirogiannis, Gene Davidovich, Gene Shvedov,