MINT CONDITION Franchise: Is CEO Jack Saumby Making Illegal Earnings Claims?
Mint Condition franchise marketing materials seem designed to entice would-be franchise investors by claiming its "recurring revenue" model provides an ever-increasing stream of monetary return.
The white paper "Recurring Revenue" whose authorship is attributed to Mint Condition founder & CEO Jack Saumby, implies that its commercial cleaning  master franchisees will generate nearly $500,000 in sales by year two and implies they will generate more than $1,000,000 in annual sales by year 5 just by selling $2000 per month in new cleaning contracts.
While the "Recurring Revenue" sales pitch makes for pretty charts and a slick sales pitch, UnhappyFranchisee.Com has three important questions for CEO Jack Saumby:
Isn't providing Financial Performance Representations (FPRs) not disclosed in Item 19 of your Franchise Disclosure Document (FDD), and not substantiated, legally prohibited by the Federal Trade Commission, making this an illegal earnings claim?
Why does your corporately-owned "master franchise" appear to generate half the revenue your "recurring revenue" example indicates it should?
Why does your "recurring revenue" model assume a 100% cleaning account retention rate when your franchisees will compete in an industry with notoriously high turnover?
Mint Condition Franchise: Too Good to be True?
The Mint Condition franchise website states:
Mint Condition was constructed around the "recurring revenue model"- the generation of income on a regular basis without having to continually sell products or services. Similar in concept to cell phone and cable companies, you know that each month you will be assured an amount of income from your current revenue stream.

.

The peace of mind that Mint Condition's recurring revenue model can bring is an essential component in developing a successful Master Franchise. To view an example of recurring revenue from Mint Condition Founder & CEO Jack Saumby, please click on the following link. "Recurring Revenue"
So, it seems that Saumby's premise is that owners of a  traditional "static" business like, say, a restaurant, have to start from scratch every month and growth is unlikely, if not impossible.  Because they don't have a contract with their customers requiring them to buy, according to Jack Saumby, traditional businesses are stuck in a monthly version of Groundhog's Day in a business world where there is no loyal customer base or regulars, and customers have their memories erased monthly.
Conversely, in Saumby's "recurring revenue" model, businesses like Mint Condition simply add more and more accounts each month to an ever-increasing revenue stream untouched by collection issues or attrition:
…with our recurring revenue model, you sell $2000 per month in monthly cleaning contracts. Your revenue in January is $2000, with your revenue increasing in February to $4000. This includes the sales you made in January (remembering that you bill this customer at the beginning of each month), plus the $2000 in February. Your revenue continues to grow each month by $2000… At the end of the first year, you have billed out $156,000 in annual revenue.

.

It gets even better. At the end of the first year, you are billing $24,000 in December. As illustrated in Chart B, you carry this billing over to the beginning of Year 2 with $24,000 in monthly revenue times (x) 12 months = $288,000 in annual revenue. This is before any new sales have been generated.

.

Let's assume you generate $2000 per month in new service contracts, just like you accomplished in Year 1. The base of revenue for Year 2 is $288,000 in annual revenue plus $156,000 in annual revenue from new sales (just like Year 1) equals $444,000 in annual revenue for Year 2. If you took this model out a 3rd year, using the same assumptions, your annual revenue would be $732,000.
Using Jack Saumby's "recurring revenue" formula, prospective Mint Condition master franchisees could deduce that by Year 5 of their contract they'll be doing $1.3M and by Year 10 they'll be raking in $2.7M annually just by adding $2K per month in new cleaning accounts.
Is Jack Saumby Making Illegal Earnings Representations?
Due to the slick pitches of franchise salespeople hawking get-rich-quick schemes, The Federal Trade Commission (FTC) instituted The Franchise Rule which, among other things, requires all financial performance representations, whether historic or projected, to be included in Item 19 of the franchisor's Franchise Disclosure Document (FDD) provided to prospective franchisees.
According to the Federal Trade Commission:
A franchisor electing to make a financial performance representation must, among other things, have a reasonable basis and written substantiation for the representation at the time it is made, and disclose the bases and assumptions underlying the representation in Item 19. The Item 19 disclosures also must include an admonition that a prospective franchisee's actual earnings may differ. Franchisors should keep in mind not only the affirmative disclosure requirements in Item 19, but the parallel prohibitions against making representations that are not true or are not substantiated at the time they are made.
The Mint Condition 2014 Franchise Disclosure Document (FDD) does not include any reference to the "Recurring Revenue" model or numbers cited, nor does it provide any basis or substantiation for the sales figures cited.
A question for Jack Saumby and his attorneys:  How are your undisclosed and unsubstantiated "recurring income" representations not a violation of the FTC Franchise Rule?
Does Mint Condition's Performance Match its Sales Claims?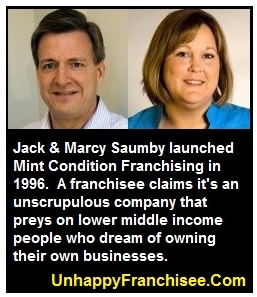 Mint Condition claims it has operated its own "Master Franchise" for the past 19 years.
The corporate master franchise comprises 113 active unit franchisees operating in the Charlotte, NC, Jacksonville, FL and Fort Lauderdale metro areas.
Using Jack Saumby's "Recurring Revenue" formula and his example of adding $2,000 in new business each month, it would seem that corporate franchise should be generating annual revenue of $5,340,000.
However, the 2014 Mint Condition FDD reveals that total cleaning revenue generated in the corporate master franchisee's territory is only $2,875,268… about half of what Saumby's  "Recurring Revenue" model would suggest.
The actual revenue that flows through to the corporate franchise in terms of royalty revenues and fees is less still:  $983,533.
A question for Jack Saumby:  Why would you provide a formula to your master franchisees that you, it seems, with all your experience and enormous territories, have not come close to achieving?
The Mint Condition Revenue Model Assumes a 100% Client Retention Rate
The janitorial industry is notoriously competitive with a high account turnover rate.  Mint Condition has acknowledged that 30-40% is not uncommon for its competitors.
Mint Condition marketing claims it has a 10% client turnover rate.
The Replacement Fees numbers in the FDD seem to indicate a much higher rate.
Yet Mr. Saumby's "Recurring Revenue" model does not take into account any lost client accounts or turnover.
Mr. Saumby provides prospective franchisees with a revenue model that depends on 0% attrition in an industry where 30%-40% is the norm.
A question for Mr. Saumby:  Is it ethical to encourage franchisees to base critical financial decisions on a flawed, if not misleading and deceptive, revenue model?
Our Requests for Comments From Mint Condition & Jack Saumby Go Unanswered
We continue to request comments, clarifications or rebuttal from Mint Condition and its CEO Jack Saumby about potentially misleading and unlawful representations being made in their franchise sales, marketing and operations.  We will continue to invite them to engage in dialogue, and will update this post if and when they do.
ALSO READ:
FRANCHISE DISCUSSIONS by Company
MINT CONDITION Franchise Complaints
MINT CONDITION Franchise Misrepresenting Turnover Rate?
Commercial Cleaning Franchise Complaints
Janitorial / Commercial Cleaning Franchise Issues
Janitorial & Cleaning Franchise Scams
Commercial Cleaning Franchises: 10 Reasons to NOT Buy One
ARE YOU FAMILIAR WITH THE MINT CONDITION FRANCHISE OPPORTUNITY?  SHARE A COMMENT BELOW.
TAGS: Mint Condition, Jack Saumby, Mint Condition Cleaning, Mint Condition franchise, Franchise earnings claims, Financial Performance Representations, Mint Condition lawsuit, Mint Condition cleaning franchise, Mint Condition franchise complaints,  Marcy Saumby, Mint Condition scam, commercial cleaning franchise, Mint Condition Commercial Cleaning franchise, janitorial franchise complaints, unhappy franchisee