MINT CONDITION Franchise Misrepresenting Turnover Rate?
Mint Condition Franchising Inc. sells commercial cleaning franchises and master franchises at an investment of $63,220 to $473,435.
This investment includes $37,500 to $400,000 that must be paid directly to Mint Condition Franchising Inc.
Are you familiar with the Mint Condition franchise or CEO Jack Saumby?  Please leave a comment below.
UnhappyFranchisee.Com is researching a number of issues it will be asking founder Jack Saumby to address, including Mint Conditions marketing and sales representations to prospective franchisees.
For instance, Mint Condition marketing materials boast that the company has an extremely low turnover rates for both franchise owners and cleaning accounts.
However, there are indications that this may not be the case, and we ask Mr. Saumby and the Mint Condition for some clarification.
Is Mint Condition Misrepresenting its Franchise Turnover Rate?
Mint Condition franchise advertising appears on a franchise lead generation website called Franchise Authority.
The page contains a 2015 copyright and provides prospective franchisees with Jack Saumby's direct contact information.
Under the heading "5 Reasons why a prospect should consider our Master Franchise model," the marketing message states:
4. Account Guarantee — If a franchisee loses a cleaning account and it's not due to poor service, we will replace it at no additional cost. This results in a low turnover of franchises (about 10%) and as a result we have no litigation against us.*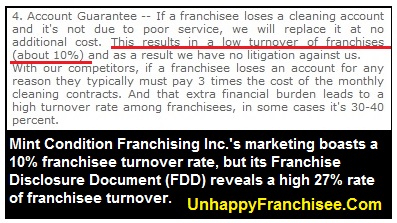 Elsewhere on the Franchise Authority page the claim is repeated:
We also offer an account guarantee… This results in a lower turnover of franchises (our turnover rate is 10% compared to 30-40% with our competition).
While its franchise marketing claims its franchise turnover is only 10%, the Mint Condition 2014 Franchise Disclosure Document (FDD) the company files with state regulatory agencies tells a different story.
According to the FDD, a total of 374 Mint Condition cleaning franchises were operating in 2010, 2011 & 2013.  Of those 374, 102 ceased operating (93) or did not renew (9).
That's a turnover rate of 27%.  Even if the non-renewals were excluded, the Mint Condition turnover rate would be 25%.
We hope that Jack Saumby will address this seeming inconsistency.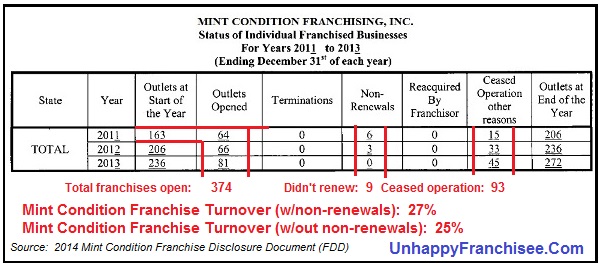 Is Mint Condition Misrepresenting its Cleaning Account Turnover Rate?
The Mint Condition website states
Husband and wife Jack and Marcy Saumby started cleaning offices together in 1987 and have since built a business around it. They are experts in the industry, which is why they train the best crews and maintain an 85% or higher retention rate with their customers…

.

The Mint Condition support staff along with our highly trained franchisees work together to create a extremely high retention rate with our customers. If you suffer any lost revenue through no fault of your own, your Area Manager/Area Supervisor will find another account to replace the business.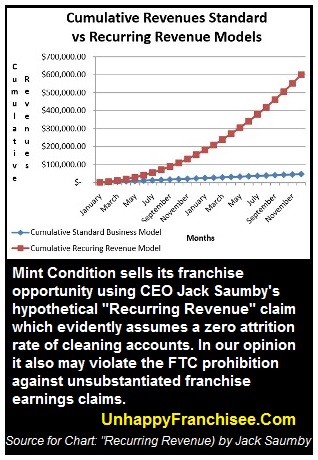 Mr. Jack Saumby's sales document "Recurring Revenue" seems to take it one step further by implying a zero turnover rate.
Saumby includes an impressive climbing revenue model for his franchisees which does not take into account any lost accounts.
We are asking Mr. Saumby for substantiation of his and Mint Condition's claim that Mint Condition franchisees have between "an extremely high" and a 100% customer retention rate.
Three things make us question Mint Condition's customer retention claims:
1)  A franchisee has reported to us that Mint Condition regularly uses bogus complaints to take away accounts and reassign them to other franchisees for new fees. We assume this claim is documented in the franchisee lawsuit. (See MINT CONDITION Franchise Complaints)
2)  The 2014 Mint Condition FDD states that Mint Condition franchisees pay an average of $2000 in account replacement fees yearly.  If the fee is 9% of gross sales, this would indicate that over $20,000 in cleaning accounts need to be replaced yearly, not counting accounts lost that weren't their fault.  As the average revenue of a franchise business was stated at $25,445, this would appear to be significant turnover.
3)  With all due respect, "Recurring Revenue" by Jack Saumby, CEO, Mint Condition which shows revenue compounding without a single lost account smacks not only of flim-flammery, it is likely in violation of the FTC Rule against making unsubstantiated Financial Performance Representations.
We look forward to Mr. Saumby's clarification of these matters…
More on Mr. Saumby's "Recurring Revenue" sales pitch in an upcoming post…
RELEVANT DOCUMENTS:
Mint Condition 2014 Franchise Disclosure Document (FDD)
"Recurring Revenue" by Jack Saumby, CEO, Mint Condition
ALSO READ:
FRANCHISE DISCUSSIONS by Company
MINT CONDITION Franchise Complaints
Commercial Cleaning Franchise Complaints
Janitorial / Commercial Cleaning Franchise Issues
Janitorial & Cleaning Franchise Scams
Commercial Cleaning Franchises: 10 Reasons to NOT Buy One
ARE YOU FAMILIAR WITH THE MINT CONDITION FRANCHISE OPPORTUNITY?  SHARE A COMMENT BELOW.
TAGS: Mint Condition, Mint Condition Cleaning, Mint Condition franchise, Mint Condition lawsuit, Mint Condition cleaning franchise, Mint Condition franchise complaints, Jack Saumby, Marcy Saumby, Mint Condition scam, commercial cleaning franchise, Mint Condition Commercial Cleaning franchise, janitorial franchise complaints, unhappy franchisee