Unhappy Franchisee Helping PIRTEK USA Protect Its Brand; Penske Racing Sponsorship in Question
Unhappy Franchisee is helping PIRTEK USA comply with its settlement agreement… 1.5 years after signing it.  by Sean Kelly
(UnhappyFranchisee.Com)  PIRTEK USA appears to be having trouble complying with its September, 2020 settlement agreement with former superstar franchisee Jim Lager, which evidently involved the two parties disassociating from each other online.
PIRTEK CEO Kim Gubera has recently stressed the urgency of disassociation, but seems unable to locate the many images and articles that her staff posted and has the ability to easily remove… including some on PIRTEK's own website.

Unhappy Franchisee Informed PIRTEK USA of Lager's Image on it's Website, Which PIRTEK Promptly Removed
On February 7, 2022, Unhappy Franchisee posted notice of this full-page image of Jim Lager that had remained publicly viewable for 1.5 years after it had agreed to disassociate with their former franchisee.
By the next day, PIRTEK had removed the website featuring their former franchisee.  We're glad we could help!
Next Up:  5 PIRTEK-Controlled Press Releases on Thomas.Net!
PIRTEK USA posts press releases and manages its profile on Thomas, the "number one advertising platform and digital marketing service provider for manufacturing businesses."
PIRTEK posted to the site as recently as last year when it announced its 2021 opening of its 100th store.
In order to expedite Kim Gubera's urgent need to disassociate the PIRTEK brand from their former franchisee, we suggest Ms. Gubera sign into PIRTEK's account and delete the 5 press releases featuring Jim Lager.
For Ms. Gubera's convenience, we have posted the headlines and URLs here so she can disassociate from this franchisee whose agreement they refused to renew 2 or 3 years ago:
Entreprenuer*, Jim Lager Acquires PIRTEK Love Field, Dallas, Texas Posted by PIRTEK USA Nov 02, 2010
*Misspelling of "Entrepreneur" is PIRTEK's.
Often referred to as a natural entrepreneur by friends and family, the Snap-On Tools multi-unit franchise owner, Jim Lager strikes again in Texas!

On October 15, Lager took over PIRTEK's corporate-owned location as franchise owner, in Love Field which only opened three months ago.

"I was searching for a business-to-business opportunity in Texas and was struck by the similarities in set-up, sales and mobile service vans between PIRTEK and Snap-On.
I was impressed by the individual franchise support it offers franchise owners and I am thrilled to purchase this PIRTEK center," explains Lager.

Self-employed since he completed his military service in the Army, Lager returned from Germany to the United States to earn his Master's in Business Administration from the University of Minnesota through the G.I. Bill.
Lager always knew he wanted to own his own business and work in a hands-on environment, so he joined the Snap-On Tools corporation.
Lager quickly realized he could rise up the ladder from sales manager to owner, so he did and is now a multiple owner of 4 franchises, all located in Plano, Texas!

"… I knew it was a solid choice knowing it will continue to serve a growing market in the Dallas area and offer customers an  accessible location with 4 mobile vans to service its surrounding manufacturing, industrial and construction industries," states Lager.
Profit with PIRTEK, Addictive Mobile Hose Service Posted by PIRTEK USA Jul 24, 2012
Subtitled:  "If I invest, will I make money?"
As a current owner of five mobile tool franchises and previous owner of a hotel franchise, Lager is no newcomer to franchised-based businesses.
The savvy, 48-year-old businessman was hunting for long-term financial security that would enable him to live comfortably in his retirement years…
"After investigating several franchises from hair salons to exercise facilities, I found PIRTEK. It's a truly exciting and profitable business-to-business opportunity!"

Lager opened a PIRTEK franchise in Dallas, Texas, in October 2010, and he has been pulling in Texas-sized profits ever since…
Although all PIRTEK franchises start out with three mobile service vans that are based out of a PIRTEK Hose Center location, Lager has already increased his fleet to nine vans in less than 18 months after business startup.
Growing a PIRTEK Center One Mobile Unit at a Time  Posted by
PIRTEK USA Oct 22, 2012
"Jim Lager's… PIRTEK Love Field has grown at a phenomenal rate…

Jim Lager plans on opening a second Center in Fort Worth, Texas before the end of the year.
He will add an additional van to have a total of 10 MSSUs on the road servicing the Dallas Fort Worth area. "
PIRTEK Opens Third Service Center in the Dallas, TX Area Posted by
PIRTEK USA Jan 10, 2013
"Lager opened his first PIRTEK franchise in Dallas, Texas, in October 2010, and he has been pulling in Texas-sized profits ever since…

Although all PIRTEK franchises start out with three mobile service vans based at their PIRTEK Hose Service & Supply Center location,
Lager saw the potential and quickly increased his mobile fleet to ten…
In addition to Jim's two locations, there is a third PIRTEK Hose Service & Supply Center located just northeast of Dallas in Plano, TX. "
Pirtek Announces Winners of its 17th Annual Franchise Owner Conference Awards Pirtek Leaders Gathered to Celebrate 2014 Success Posted by PIRTEK USA Mar 31, 2015
Includes:
"Mentor of the Year" Award – Jim Lager, PIRTEK Love Field Meacham
"Franchise of the Year"  –  Jim Lager – PIRTEK Love Field
Kim Gubera:  Penske Racing Sponsorship a Danger to PIRTEK Brand?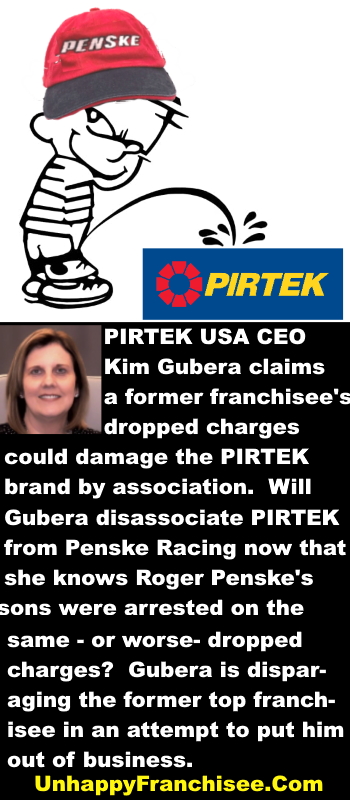 Kim Gubera has urged arbitrator David Kaufmann to take measures to protect the PIRTEK brand from being associated with a man once charged (in her words) with "domestic abuse or battery."
That the charges were apparently unfounded and quickly dropped do not ease Kim Gubera's mind;  Gubera and her attorney Michael Joblove obviously believe the only protection is to run Jim Lager out of business, put his 22  employees out of work, put him $700K+ in debt and forbid him from accepting employment in his career field.
Unhappy Franchisee has identified another tie to dropped battery charges that Kim Gubera can eradicate simply by ending its sponsorship association with Penske Racing.
According to FoxSports in Penske Sons Go to Jail:
Two of Roger Penske's sons, including an owner of an IndyCar team, spent the night in a Massachusetts jail…

Jay Penske, who owns Dragon Racing on the IndyCar circuit, and brother Mark Penske were arrested just before 2 a.m. ET Thursday by Nantucket Police…

According to the Inquirer and Mirror, the initial police report listed the case as assault and battery after two women approached police officers and told them they had been assaulted by two men in the yacht club's parking lot. The two men later were identified as Jay and Mark Penske…

One woman told police the men were urinating in the parking lot, according to the report. When she confronted a man identified as Jay Penske, he "turned and continued to urinate on her boots. He then proceeded to grab her arm and push her…"

Police said they apprehended Jay Penske as he ran from the club and that they found Mark Penske at a nearby apartment after he had fallen down a staircase and suffered several cuts on this right arm.
Jay Penske Allegedly Yelled:  "You're Not White Enough!" – An Allegation Never Directed at PIRTEK
Jay Penske Yelled at the Woman:  "You're Not White Enough!"
According to Yahoo! News,
…one of the women claims that Jay Penske shouted "You're not white enough" at her as he was being detained. (The race of the women was not revealed in the article.) They spent the night at the Nantucket detention facility.
The last allegation may not be relevant, as no one ever accused PIRTEK USA of "not being white enough."
Also read:
Franchise Arbitrator David Kaufmann's Credibility on Trial After Kangaroo Court Hearing
David Kaufmann Arbitration Leaks Appear to Expose Blatant Franchisor Bias
Arbitration on Trial: How Franchisor Attorneys Undermine the FTC Franchise Rule
Franchise Discussion, Documents, Links: NASAA Proposed S.O.P.
Franchise Attorney, Mediator David Kaufmann Ethics Accusations
Does U.S. Army Veteran Jim Lager Recommend the PIRTEK Franchise?
Is PIRTEK USA Racist? Or Just Really, Really White?
WHAT DO YOU THINK?  ARE YOU FAMILIAR WITH THE ARBITRATION PROCESS?   WHAT WAS YOUR EXPERIENCE? PLEASE SHARE YOUR OPINION BELOW OR EMAIL US AT UNHAPPYFRANCHISEE [at] GMAIL [dot] COM
We welcome comments and clarification from David Kaufmann, Michael Joblove, PIRTEK USA as well as the franchise regulators of NASAA.
NOTE:  Unhappy Franchisee provides an open invitation to all individuals and companies discussed, mentioned or involved with our posts.  We invite you to provide corrections, clarifications, rebuttals or alternative points-of-view in the comments and/or by emailing us at UnhappyFranchisee [at] Gmail [dot] Com.  We welcome all respectful opinions and value open, productive discussion.  We also respect the protected right of anonymous speech and assure the confidentiality of our sources and those who wish to contribute anonymously.  Threats and bullying will not be tolerated (especially when directed at us).
Tags:  Roger Penske, Peter Duncan, Jay Penske, Mark Penske, Penske Racing, PIRTEK Racing, David Kaufmann, Franchise attorney David Kaufmann, mediator David Kaufmann, Kaufmann Gildin & Robbins, attorney Michael Joblove, Genovese Joblove & Battista, PIRTEK, PIRTEK USA, Glenn Duncan, CEO Kim Gubera, Jim Lager, franchisee Jim Lager, Texas Hose Pro, franchise litigation, franchise mediation, unfair arbitration