David Kaufmann Arbitration Leaks Appear to Expose Blatant Franchisor Bias
Did franchisor attorney, mediator, arbitrator & king David Kaufmann rule that a franchisee may not object to franchisor use of deceptive, illegal content because readers would discover the Google-indexed deceptive, illegal content Kaufmann protected and thereby learn the identity of the franchisor promoting deceptive, illegal content? Seems that way. Let's ask David. by Sean Kelly, founder, Franchise Truth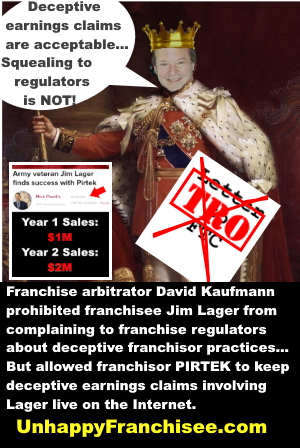 (UnhappyFranchisee.Com) As David Kaufmann will tell you, he is a highly accomplished, highly respected franchisor attorney who, in his words, is worthy of "the status of 'AV Preeminent,' indicating the 'highest possible peer review rating in legal ability and ethical standards' reflecting 'the pinnacle of professional excellence…'"
In the insulated, self-congratulatory world of franchising, David Kaufmann is a top dog among franchisor attorneys.
Attorneys like Kauffman who represent big franchisors (his client list includes Pizza Hut/KFC/Taco Bell, Marriott, Arby's, 7-Eleven) wield significant power.
Much of that power is the result of franchisor attorneys', like Kaufmann, successful efforts to skew the laws and means of dispute resolution significantly in their franchisor clients' favor.
One of the most significant weapons franchisor attorneys and their clients use to silence dissent and dominate errant franchisees is requiring alternative dispute resolution (ADR), including private mediation and arbitration, to resolve differences.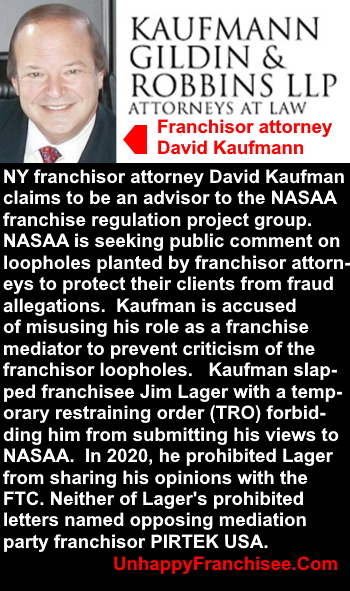 Rather than allowing franchisees to present their grievances in the court system, disputes must be resolved in private, often with strict confidentiality provisions that keep both franchisee grievances and the actions of the mediators & arbitrators out of the public eye.
The combination of contractual dominance and forced secrecy of dispute proceedings can be a powerful combination, infecting franchisor attorneys and franchisor-friendly mediators/arbitrators with a heightened sense of self-importance and arrogance.
Winning all the time can lead the AV Preeminents like Kaufmann to forget that the bubble of confidentiality they operate within is not impenetrable and that, should it crack, their actions and attitudes might not fare well in the brightly lit Court of Public Opinion.
How David Kaufmann Lost Control of PIRTEK USA Mediation/Arbitration
Despite his dedication to serving only franchisors in his law practice at Kaufmann Gildin & Robbins, Kaufmann is somehow allowed to mediate and arbitrate franchisor-franchisee disputes for the American arbitration Association (AAA). Perhaps it is unsurprising that one who has represented the best interests of franchisors for decades would also do so in arbitrating franchisor vs. franchisee disputes.
Here is my impression of how things went wrong for Kaufmann:
In 2020, Kaufmann oversaw mediation that resulted in a settlement agreement between franchisor PIRTEK USA & a top franchisee, Jim Lager.
The Franchisor & Franchisee mutually agreed to remove all Internet content referring to their prior relationship.
Franchisee Lager was required to remove content with his complaints about his treatment as a franchisee & PIRTEK's franchise practices.
PIRTEK USA was required to stop using Lager's likeness, success story & military service to promote & sell PIRTEK franchises.
Franchisee Lager complied and removed his content, as agreed, including a series of posts on a 3rd party website.
PIRTEK USA did not comply, & continued to promote Lager's success story via previously placed stories. At least one of the promotional placements included Lager's 1st & 2nd year sales as a PIRTEK franchisee which allegedly constitutes an illegal "earnings claim" in violation of the FTC Franchise rule.
Lager's attorneys repeatedly appealed to Kaufmann to have PIRTEK remove the non-compliant content from the Internet.
Kaufmann repeatedly refused, claiming the franchisor is under no obligation to comply with removing content on 3rd party sites (even though Lager was required to do so).
Lager's franchisee attorneys provide irrefutable evidence, including affadavits from 2 former PIRTEK employees, that the franchisor has the power to remove the content from the Internet.
Kaufmann refused to require (or even suggest) that PIRTEK to remove Lager's PIRTEK success story & earnings claim content from the Internet.
Kaufmann forbade franchisee Jim Lager from submitting his opinions or participating in the open comment invitations by the Federal Trade Commission (FTC) in 2020 and the National Association of (NASAA) in 2021, even though neither submission referred to PIRTEK by name.
In fact, David Kaufmann issued a Temporary Restraining Order (TRO) prohibiting Jim Lager from submitting his opinions to state administrators.
Kaufmann justified prohibiting Lager from sharing opinions (that didn't mention PIRTEK USA) by referring to the very content he refused to make PIRTEK USA remove(!)
Kaufmann stated that although Jim Lager's letters did not name PIRTEK, "anyone with Google can figure out the company he's referring to."
Franchisee Jim Lager reached his limit with Kaufmann's alleged coddling of the franchisor while simultaneously cudgeling his rights. He rejected the legitimacy of the proceedings and Kaufmann as mediator/arbitrator and is speaking out publicly.
That's right: Kaufmann defended the right of franchisor PIRTEK USA to continue to promote its relationship with Jim Lager on the Internet, but denied Jim Lager's right to participate in public proceedings because PIRTEK USA self-identifies through illegal and non-compliant content.
AV Preeminent David Kaufmann Appears to Defend the Franchisor's Right to Publish Deceptive, illegal Content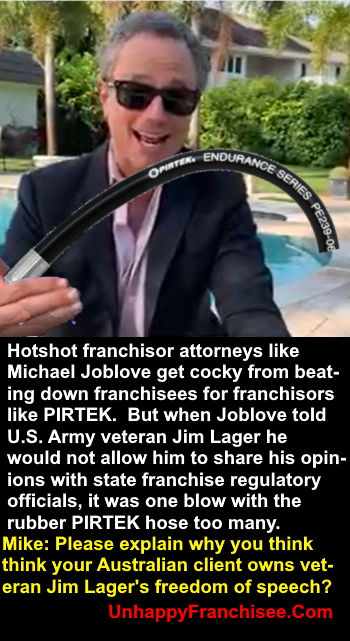 It is said that there's no direct translation of the Yiddish term Chutzpah to English, so instead its meaning is often conveyed with the example of a child who kills both his parents, then begs the judge for mercy because he's an orphan.
It appears that David Kaufmann has chutzpah in spades, and is willing to put ethics and reputation aside to preserve a franchisor's right to deceive.
David Kaufmann refuses to require removal of PIRTEK's deceptive, illegal content from the Internet.
He refuses to allow franchisee Jim Lager to speak out against franchisor's use of deceptive, illegal content.
Kaufmann's reasoning?
Because anyone with Google could find the deceptive, illegal content that HE preserved, and discover that PIRTEK USA promotes deceptive, illegal content.
King David Kaufmann appears to boldly champion the franchisors' right to sell franchises using deceptive, illegal content without regard for how biased, pompous and/or stupid it makes him look.
Evidently, that's what it takes to be named the "pinnacle of professional excellence" in franchise law.
Also read:
King David Kaufmann Franchise Arbitration Call Leaked! (Parody)
Franchise Discussion, Documents, Links: NASAA Proposed S.O.P.
Franchise Attorney, Mediator David Kaufmann Ethics Accusations
Does U.S. Army Veteran Jim Lager Recommend the PIRTEK Franchise?
Is PIRTEK USA Racist? Or Just Really, Really White?
WHAT DO YOU THINK? ARE YOU FAMILIAR WITH THE ARBITRATION PROCESS? WHAT WAS YOUR EXPERIENCE? PLEASE SHARE YOUR OPINION BELOW OR EMAIL US AT UNHAPPYFRANCHISEE [at] GMAIL [dot] COM
We welcome comments and clarification from David Kaufmann, Michael Joblove, PIRTEK USA as well as the franchise regulators of NASAA.
NOTE: Unhappy Franchisee provides an open invitation to all individuals and companies discussed, mentioned or involved with our posts. We invite you to provide corrections, clarifications, rebuttals or alternative points-of-view in the comments and/or by emailing us at UnhappyFranchisee [at] Gmail [dot] Com. We welcome all respectful opinions and value open, productive discussion. We also respect the protected right of anonymous speech and assure the confidentiality of our sources and those who wish to contribute anonymously. Threats and bullying will not be tolerated (especially when directed at us).
Tags: Arbitration, AAA, American Arbitration Association, David Kaufmann, Franchise attorney David Kaufmann, mediator David Kaufmann, attorney Michael Joblove, PIRTEK, PIRTEK USA, Glenn Duncan, CEO Kim Gubera, Jim Lager, franchisee Jim Lager, Texas Hose Pro, Franchise NDAs, Federal Trade Commission, FTC, the Franchise Rule, NASAA, Franchise Legislation,