King David Kaufmann Franchise Arbitration Call Leaked! (Parody)
The American Arbitration Association (AAA), International Franchise Association (IFA), American Bar Association (ABA) and the Save the NDA! Foundation (STNDA!F) are furiously condemning the leak of a confidential franchise arbitration teleconference.  The leaked image and transcript below give a glimpse behind the curtain of a super-secret arbitration presided over by franchisor attorney, NASAA advisor, arbitrator, author of the NY Franchise Act and legal guardian of former franchisee Jim Lager, David Kaufmann of New York's Kaufmann, Gildin & Robbins, LLP law firm.  A parody (non-actionable) by Sean Kelly
(UnhappyFranchisee.Com)  ADMIN NOTE TO ATTORNEYS (ie accounts receivable):  All time for reviewing, considering, pondering, sharing, venting, scheming, pontificating, strategizing, ignoring, scoffing, admonishing, protesting, conjuring outrage (genuine or theatrical), head-shaking, and assigning exhibit numbers for UF's juvenile "humor" and disrespect is fully billable at full partner rates.  Use Genovese, Joblove & Battista*, P.A. billing code  PIR743-$$$
Disclaimer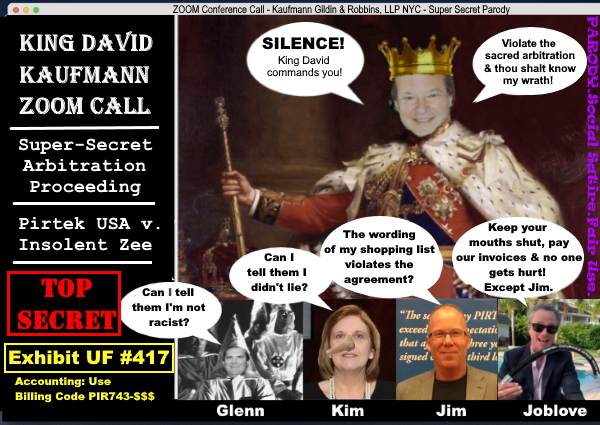 [Disclaimer:  The graphic above is a parody that represents an exaggeration of the parties allegations against each other.  The reader should not interprete it as a representation that Glenn Duncan attends white supremacist rallies, that Kim Gubera has a pinocchio nose, or that Michael Joblove literally threatens people with a high-quality PIRTEK-branded hydraulic hose.]
Exhibit UF #417 – Confidential Zoom Call Participants
Unhappy Franchisee has received this unauthorized screen shot and transcript from an anonymous source.
The leaked content gives a peek behind-the-curtain of a super-secret arbitration conference call in AAA proceeding PIRTEK USA v. Blabbermouth Franchisee Jim Lager.
Presiding is the honorable King David Kaufmann, self-appointed PIRTEK Arbitrator-for-Life.
Also in attendance:
Son-of-a-Founder (& friend of Roger Penske) Glenn Duncan;
PIRTEK CEO Kim Gubera (who enjoys crocheting and crafting medieval thumbscrews into jewelry);
Jim Lager, successful PIRTEK franchisee with sales of $2M+**, US Army Veteran; &
PIRTEK attorney Michael Joblove, named one of Hydraulic Litigation magazine's 20 Hosers to Watch 2022.
Early attendees, asked to leave the call:
Jim Lager's African American (ie prostitute) "Girlfriend"
Partial Conference Call Minutes (Confidential)
12:15:00
Call commenced.  King David Kaufmann instructed attorneys to set billing start time at 12:00 and with Billing Code PIR743-$$$.  He reminded all to be diligent about restricting billing to actual time worked (laughter)
12:20:32
King David ordered Jim Lager's African American girlfriend to leave the call. 
Kaufmann wanted it on the record that this was because she is not a sworn party and not because she is black and therefore likely a prostitute.  Noted. 
Kim Gubera again raised the contention that being able to afford prostitutes was a key indicator of underpaying royalties. Noted.
12:26:15
Glenn Duncan:  Unintelligible
Attorney Joblove:  "Glenn, we can't understand you.  Please remove the hood."
Glenn Duncan (removes hood):  "They are saying I'm a racist, mate.  Can I tell them I'm not racist?  One time, I even let Brad Kesolowski race with a black paint scheme."
King David:  "No!  Do not respond nor dispel any negative public allegations.  The longer damaging content is public, the higher the damages I can award later!"
12:35:42
Kim Gubera:  "Unhappy Franchisee publicly asked about false & defamatory comments I made.  If I don't respond, I'll look arrogant.  Or cowardly.  Or guilty.  Can I apologize?"
King David, Michael Joblove:  "No!"
Kim Gubera:  "They asked if spending the franchisees' marketing money on stupid NASCAR provides any measurable benefit whatsoever.  Can I tell them about our ride on Roger Penske's speedboat?"
King David, Michael Joblove:  "No!"
Kim Gubera:  "They are implying that I lied when I said we had no failed franchisees just because we disclosed failed franchisees in our stupid FDD!  And they're asking about the NY franchisee who disappeared!  Can I tell them alien abductions & spontaneous combustions aren't failures?"
King David:  "No!  Let me be clear.  Do NOT respond to anything publicly, whether it's true or false.  Do not dispute public contentions regarding lack of diversity, racism, misrepresentation, lying, bullying, unfairness, discrimination against franchisees with non-white prostitute girlfriends, or contentions that franchisors and arbitrators should be fair & impartial. "
Franchisee Jim Lager:  "May I…"
King David:   "Silence!  Franchisees are to pay and not heard!"
King David:  "I hate to think about the chaos that would reign if franchisees and franchisors were free to discuss their opinions out in the open, in the Court of Public Opinion!  Prospective franchisees would hear both sides and be able to make up their minds!  Without the Sacred Confidentiality of Arbitration, non-disparagement, gag orders and NDAs, franchisors would have to think before doing terrible things!  In some cases, they might be forced not do them!
"No, we have come too far, worked too hard to circumvent The Franchise Rule and the burdensome laws that hamper TRULY regulated industries…  We have built Franchising into the Golden Path to the American Dream… Where every mobile dog wash, paint-and-sip franchise or charcuterie store succeeds! Where no one fails except those who don't follow the system or whiners who open their big yaps!  We cannot let the truth leak out and ruin everything we've built!
Jim Lager:  "But…"
King David:  "Enough!  The franchisee is ordered off the call and to be gagged and shackled.  Kim, how soon can we get leg irons delivered?"
Kim Gubera, checking her phone:  "10 am tomorrow if I order in the next 30 minutes.  And that's free shipping with Amazon PRIME!"
King David:   "King David has spoken!  I shall not let franchising descend into the chaos of free speech, candid open discussion and non-billable conflict resolution!  All who defy me will face my wrath and feel the sting of my tort!"
Michael Joblove:  "…And the non-bruising sting of my PIRTEK Endurance Series PE 239 pressurized rubber hose!"
12:50:34  Call concluded.  Billable time:  4 hours, partner rates apply
* Genovese, Joblove & Battista, P.A. is not directly affiliated with the Genovese crime family, former Cuban President Fulgencio Batista, or Questlove, who is African American
** Source:  PIRTEK USA's current media placements across the Internet
Also read:
Franchise Discussion, Documents, Links: NASAA Proposed S.O.P.
Franchise Attorney, Mediator David Kaufmann Ethics Accusations
Does U.S. Army Veteran Jim Lager Recommend the PIRTEK Franchise?
Is PIRTEK USA Racist? Or Just Really, Really White?
WHAT DO YOU THINK?  ARE YOU FAMILIAR WITH THE ARBITRATION PROCESS?   WHAT WAS YOUR EXPERIENCE? PLEASE SHARE YOUR OPINION BELOW OR EMAIL US AT UNHAPPYFRANCHISEE [at] GMAIL [dot] COM
We welcome comments and clarification from David Kaufmann, Michael Joblove, PIRTEK USA as well as the franchise regulators of NASAA.
NOTE:  Unhappy Franchisee provides an open invitation to all individuals and companies discussed, mentioned or involved with our posts.  We invite you to provide corrections, clarifications, rebuttals or alternative points-of-view in the comments and/or by emailing us at UnhappyFranchisee [at] Gmail [dot] Com.  We welcome all respectful opinions and value open, productive discussion.  We also respect the protected right of anonymous speech and assure the confidentiality of our sources and those who wish to contribute anonymously.  Threats and bullying will not be tolerated (especially when directed at us).
Tags:  Arbitration, AAA, American Arbitration Association, Mediation, David Kaufmann, Franchise attorney David Kaufmann, mediator David Kaufmann, attorney Michael Joblove, PIRTEK, PIRTEK USA, Glenn Duncan, CEO Kim gubera, Jim Lager, franchisee Jim Lager, Texas Hose Pro, Franchise NDAs, Federal Trade Commission, FTC, the Franchise Rule, NASAA, Franchise Legislation,