RED MANGO Franchise Complaints
Red Mango is a franchise opportunity promoted and sold by Red Mango, FC, LLC, a Texas limited liability company.  It requires an investment of $287,000 to $423,000.  Almost from the start, Red Mango has had a disturbingly high store failure and turnover rate.  We are asking Red Mango franchisees, employees and corporate executives why so many Red Mango stores close and franchise investments are lost.
(UnhappyFranchisee.Com)  According to Red Mango franchise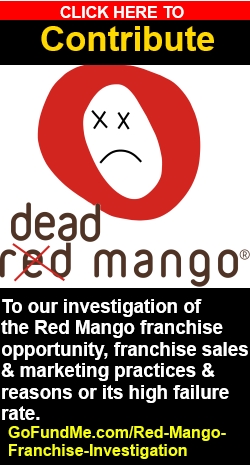 marketing, "Red Mango Yogurt Café is an established leader among frozen yogurt franchises… we truly enjoy helping our franchisees build strong, successful businesses and make a positive impact in their local communities."
Red Mango claims that its "outstanding support team" provides "training and support every step of the way for your frozen yogurt franchise, including marketing assistance."
Red Mango marketing implies that franchisees can feel confident investing $287,000 to $423,000 in its franchise, since its "parent company BRIX Holdings, a world-renowned team known for creating exceptional growth and improvement in a variety of restaurant franchises."   Brix's current holdings include Red Mango Frozen Yogurt, Smoothie Factory & RedBrick Pizza.
The Red Mango franchise website states "With more and more consumers realizing the importance of a healthy diet and lifestyle, there's never been a better time to own a frozen yogurt franchise."
Red Mango Franchise Has a History of Store Failures & Turnover
A review of past Red Mango franchise disclosure documents (FDDs) produced by the franchisor indicates a far less rosy picture than that portrayed in Red Mango's marketing.
Even in its early years, Red Mango had a high franchise turnover rate.
Between 2007 – 2011, Red Mango opened 164 U.S. franchises.  During that same period, 48 (27%) of those franchises were terminated (24), reacquired by the franchisor (6), or ceased operation for other reasons (15).
According to the 2018 Red Mango Franchise Disclosure Document (FDD), the failure rate has become even worse in recent years.
Of the 212 domestic Red Mango franchise agreements that existed between 2015 – 2017, more than half (55%) were terminated or transferred to new owners.
If the 116 franchisees who left the system each lost $300,000, that would mean nearly $35,000,000 was lost on Red Mango franchise investments in just that 3 year period.
Of course, these losses were incurred by Red Mango franchise owners.  Red Mango, FC, LLC showed a profit in each of these years.
Red Mango Franchise Failures:  Why So Many?
We have received complaints from Red Mango franchise owner.  One states:
Most red mango franchisees are in huge debt and many are working second jobs just to keep the business going. All along red mango & Brix Holdings is the only one making money

My friends lost all their savings and are in tremendous debt, the formula will never make money. They survive through franchise fees collected and keeping the company going through intimidating franchisees.
Another complaint warns that the Red Mango concept itself is not viable:
The operational cost to return on investment simply does not make any sense in a red mango venture. The cost of doing business in the united states has skyrocketed, Rents, Insurances, Wages, Taxes, Utilities, all these costs would never be recovered from selling juices, smoothies, or yogurts. You will dig yourself in a bigger debt hole while dreaming this business will alleviate your life. The numbers simply do not make sense. Your Breakeven point will never be met…
However, we would like to hear the opinions of current and former franchise owners, employees and corporate executives on the high failure rates that seem to have plagued Red Mango from the start.
Why are so many Red Mango franchise owners unable to recoup their investments?
What steps has the franchisor taken to help struggling Red Mango franchise owners?  Are they working?
With franchise turnover at 55%, should Red Mango stop selling franchises until the problem is identified and the system fixed?
Please share your opinions in the comment section below (anonymous comments are fine), or email us your thoughts (in confidence) at UnhappyFranchisee[at]Gmail.com.
If you would like to help UnhappyFranchisee.com investigate and report on the Red Mango franchise please consider contributing to the Red Mango Franchise Investigation fundraiser at GoFundMe.
RED MANGO FRANCHISE COMMENTS INVITED
Please help us stimulate a meaningful discussion on the Red Mango franchise opportunity by sharing this page link, especially with these individuals:
Red Mango Officers & Management
Craig Erlich, President and Chief Executive Officer:
Richard Jensrud, Chief Financial Officer
Melitha Lynn Brown, Chief Legal Officer
Mitzi Brown, Chief Legal Officer
Jim Notarnicola, Chief Marketing Officer, VP Franchise Sales
Red Mango Franchisees Who Recently Left the System, Including:
Linda S. Tyler Little Rock AR
Kay's Mango, Inc. (Kay Kim) Emeryville CA
Mohammed Ghaith Mulki and Zafer Jawich Naperville IL
Romana, Inc. (John Park) Naperville IL
Dal Soo Kwon Bloomington IN
Greensphere Inc. (Raji Ramachandran) Freehold NJ
Le Rimin Corp. (Jungmin Kim) Palisades Park NJ
Kwok Law & Norman Chan Oakland Gardens NY
Froyo of Oceanside, Inc. (Christopher Cianciulli) Oceanside NY
J&B Restaurant Partners Nassau College LLC (William Murphy & Greg Alagna) Uniondale NY
Apt Dotini, LLC+ McAllen TX
HH & HM Enterprises, LLC (Helen Holt Paulson & Margaret Holt) Little Rock AR
Manmeet Lamba Fairfield CT
G.E. Coghlan LLC (Gerald Coghlan) Deer Park IL
Huoy Kang Lim and Keangleng Urn Braintree MA
Aryan International LLC (Sanjiv Chokshi and Sweta Chokshi) Basking Ridge NJ
Angela S. Eftychiadis and Christos P. Eftychladis Montclair NJ
Sunny B. Shakahawala Riverdale NJ
ADPP Enterprises Inc. (Valshali Khunti) Rochelle Park NJ
Jersey Mango, LLC (Yueh-Han Kuo) Watchung NJ
Christopher C. Cianciulli Brooklyn NY
Glenn Taus and Joshua A. Cmaylo Brooklyn NY
S&S Red 2 Inc. (Erin Yeonok Oh) Flushing NY
Jennifer Ma Fresh Meadows NY
Punto Rosso, LLC (Ignatey Terzian) Garden City NY
Scott Buda and John C. Hunter Hewlett NY
Frank and Kimberly Staffers Jericho NY
LZ Frozen Yogurt LLC (Qide Liu and Tzang Ching Zhou) New York NY
Bolla Operating Oorp. (Harvinder Singh) New York NY
De Xie New York NY
EW Frozen Yogurt, Inc. (Dmytro Voropayev) Oakdale NY
Onkar Duggal Woodbury NY
Chun Yeung Jimmy Wu Yonkers NY
3TUG, LLC (Janet C. Tu) Houston TX
Buddy Beach and Rebecca Beach Lubbock TX
Namara RM, LLC Salt Lake City UT
ALSO READ:
FRANCHISE DISCUSSIONS by Company
Red Mango Franchise Investigation (GoFundMe)
ARE YOU A RED MANGO FRANCHISE OWNER OR FRANCHISEE?  ARE YOU FAMILIAR WITH THE RED MANGO FRANCHISE OPPORTUNITY?  SHARE A COMMENT BELOW.

TAGS: Red Mango, Red Mango franchise, Red Mango franchise opportunity, Red Mango franchise complaints, Brix Holdings, frozen yogurt franchise, franchise opportunity, franchise complaints, Smoothis Factory, Red Brick Pizza, Craig Erlich, Richard Jensrud, Mitzi Brown, Jim Notarnicola