EXPERIMAC a "Failing Franchise System" Franchisee Lawsuit Alleges
According to a Petition for Arbitration filed last year on behalf of an Experimac franchisee, the United Franchise Group (UFG) franchisor is promoting a "failing franchise system" and selling an "untenable" franchise opportunity. by Sean Kelly
(UnhappyFranchisee.Com)  In May, 2018 franchisee Avivah Digital Commerce LLC and its sole owner Glenn Trommer filed a Demand For Arbitration with the American Arbitration Association against Experimac Franchising LLC, part of West Palm Beach-based United Franchise Group (UFG).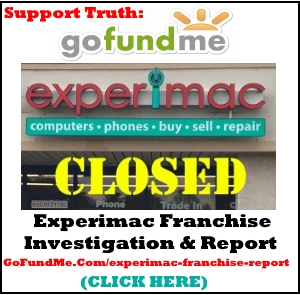 In response, Experimac Franchising LLC sued Glenn Trommer personally in the Circuit Court of Palm Beach County, alleging that he did not sign the Franchise Agreement as an individual (only as an owner of Avivah Digital) and therefore did not have the right to request arbitration (in his individual capacity, at least).
The lawsuit filed by Experimac Franchising LLC is posted to and publicly viewable on the Palm Beach County Circuit Court website.  Experimac's attorney, Brian T. McElfatrick of Tampa-based Bush Ross, P.A. ,  included the original Demand for Arbitration filed by Avivah Digital Commerce LLC as Exhibit A in the suit, thereby making it a publicly available document.
The Demand for Arbitration document, prepared and filed by John A. Karol, Esq. of The Richard L. Rosen Law Firm PLLC on behalf of Avivah Digital Commerce, provides a detailed and scathing account of alleged franchise fraud, misrepresentations, bait-and-switch tactics, broken promises, and greed by the principals of Experimac Franchising and United Franchise Group.
It portrays executives and a company that allegedly act with complete indifference to the success and well-being of Experimac franchise owners or the American taxpayers who will foot the bill for dozens, if not hundreds, of SBA-guaranteed loan defaults.
Unfortunately, the story is the same as those I've heard from many failed and struggling Experimac franchise owners who lack the funds to have their stories so compellingly told in the legal arena.
Also Read:  EXPERIMAC Franchise Report (The Index)
Experimac Franchise an "Unmitigated Disaster" That Cost Franchisee "Over a Million Dollars."
According to Avivah Digital's Demand for Arbitration:
"[Experimac Franchising] promoted and is operating a failing franchise system, and the Experimac business model (in contrast with what was misrepresented to Claimants), is untenable."

"[Avivah & Trommer] have been sold a franchise system that is now impossible to operate under.

[Experimac]'s promised revenue and profit margins have never materialized.

Claimants cannot sell online.

Claimants have no supply chain or warehouse to draw inventory from.

Key financing from customers, necessary to draw client business, is not provided…

Claimants never even received an operations manual…

The Franchise's marks have been compromised, and may be subject to cancellation.

Experimac has taken, and continues to take, Claimant's money, and benefits from Claimant's efforts, good will, and advertising, and provides little in return.

It is unreasonable to expect a franchisee to perform under these circumstances.

"Claimants have been damaged… in excess of a million dollars to date, and continue to operate at a loss."
Ray Titus Allegedly Made Blatant & Deceptive Earnings Claims
The Demand for Arbitration alleges that in June, 2015, United Franchise Group CEO Ray Titus and Experimac Franchising President Jim Muir met with then-prospect Glenn Trommer at UFG headquarters in West Palm Beach, Florida.
Titus & Muir told Trommer that "franchisees '"will receive inventory from a warehouse supplying other stores, thereby creating efficiencies.'"
The representations were explicit: "the warehouse will be completed in two months; "from a revenue perspective, you could easily do $600,000 in your first year, and break even in 12 months;" "expect $1 million in revenues thereafter;"
The Demand alleges that the deceptive earnings claims were also made in the franchisor's Item 19 disclosure in the Experimac Franchise Disclosure Document.
The Item 19 disclosed the purported financial performance of the Experimac affiliate store in West Palm Beach.
It allegedly stated that the store's gross revenues from 2012-2014 were $1.161 million, $1.834 million, and $2.603 million.
The document did not disclose that those revenue numbers allegedly included sales generated via e-commerce – a source of revenue Experimac franchisees were not allowed to pursue.
The Demand alleges that despite significant spending on advertising and exhaustive promotional efforts, franchisee Avivah Digital's store sales range from $20,000 – $25,000 per month ($240,000 – $300,000 annually*).
In the first quarter of 2018, Avivah allegedly generated sales of only $70,000, despite having spent $25,000 on advertising.  It's losses for the three month period:  $90,000.
The demand alleges that:
"[Avivah's] Experimac store was not profitable and has never been profitable, due, in large part, to the high cost of obtaining the inventory and the low fair market value at which such inventory could be sold."
* The 2019 Experimac FDD discloses that franchise stores open for at least 2 years have a median income of $281,747 – roughly the same as the unprofitable Avivah Experimac franchise
Also read:  EXPERIMAC Franchise Closed Store List
Experimac Franchising Broke Promise to Provide Supply of Inventory
One of the key complaints by Experimac franchise owners is the very public representation by United Franchise Group CEO Ray Titus and others that franchisees would have the benefit of an exclusive supply-chain of parts and inventory.
In a March 2015 interview, Ray Titus told Franchise Times:
The biggest challenge for this business is just getting enough used product for franchisees to sell that is why we are starting our own supply company that will buy in bulk, and offer all the products to the franchisees only. We have already set up an intranet site, a 30,000-square-foot warehouse, and have 12 acres to build when we need more space. Our owners will still get the bulk of their products locally from trade-ins, and even Craigslist, but we will have a large backlog of products should they need more to sell.
According to the Demand document, at a May, 2016 internal "Pioneer" meeting of the first 50 Experimac franchisees, Ray titus officially reneged on his promise:
Mr. Titus announced that there will be no product supply company or inventory warehouse because it is "too costly" and "the margins won't allow the stores to be competitive."
The news "stunned" Mr. Trommer who claimed "Experimac had now breached and reneged on one of its material representations in selling its franchises."
The Pioneer franchisees, the account alleges, were enraged:
The news caused such anger amongst, and disruption by, many of the attendees at the meeting that Mr. Titus had to yell "ENOUGH!" in order for the meeting to continue…
By leaving franchisees on their own to source parts and inventory from overpriced supplier sources, or scrounge for them on ebay or Craig's List, the Demand claims that Experimac "eliminated the financial benefit of being a franchisee."
Yet Glenn Trommer, having signed a franchise agreement, lease, and SBA loan application, had little choice than to soldier on.
A Sad Tale Shared by Dozens Who Trusted Experimac and UFG
The Avivah Demand for Arbitration – perhaps inadvertently made public by Experimac attorney Brian T. McElfatrick of Tampa-based Bush Ross, P.A. – portrays a sad story told by many who trusted United Franchise Group, Experimac, Ray Titus and Jim Muir with their dream of business ownership.
Most of those we've spoken to or corresponded with have been crushed, both financially and emotionally, by the same chain of events and alleged betrayal of the trust they put into individuals and a franchise organization that once seemed so honest, efficient and dedicated to their success.
Fortunately for Mr. Trommer, he has the wherewithal to hire a powerhouse law firm like The Richard Rosen Law Firm to represent him and hopefully hold Experimac Franchising LLC appropriately accountable for their franchise practices.
Perhaps some day the stories of the dozens of other once-trusting Experimac franchise owners will be heard by judges, arbitrators or the government officials who once made an effort to protect consumers from franchise fraud.
Read more about Experimac and United Franchise Group
ARE YOU FAMILIAR WITH EXPERIMAC OR OTHER UNITED FRANCHISE GROUP FRANCHISE OPPORTUNITIES?  SHARE YOUR OPINIONS BELOW OR EMAIL US IN CONFIDENCE.
Contact us:
TAGS: Experimac, Experimac franchise, Ray Titus, Jim Muir, Paul Bosley, Business Finance Depot, Celtic Bank, SBA Franchise loans, Experimac franchise opportunity, Experimac franchise complaints, Glenn Trommer, Avivah Digital, Experimac Cherry Hill, Experimac Lawsuit, Richard Rosen Law Firm, Franchise Arbitration, United Franchise Group, United Franchise Group franchise, United Franchise Group UFG, SBA loan defaults, unhappy franchisee