EXPERIMAC Income Plummeted 52% in 2018: Franchise Disclosure Document
The Experimac Franchise Disclosure Document (FDD) indicates that United Franchise Group's used computer repair franchise system may be heading for a crash.  Will Experimac be the next UFG franchise to have been hyped, promoted, and then quietly disappear?
(UnhappyFranchisee.Com)  This post has been made possible by contributions made to the Experimac Franchise Report campaign on GoFundMe.  Please help support our investigative research and reporting.
The 2019 Experimac Franchise Disclosure Document (FDD) has been submitted to state agencies, and the picture it paints isn't pretty.
According to our original research and disclosures from United Franchise Group (UFG) disclosure documents:
Experimac franchise stores have closed in as many as 22 states.
Franchisor income declined 52% from 2017 to 2018.
Median franchise store sales are less than $300,000
Experimac Franchising LLC has been hit with its first franchise lawsuit
The franchisor must change its trade name to Experimax as a result of a trademark dispute with Apple, Inc.
We outline key points below.  You can read the entire 2019 Experimac Franchise Disclosure Document (PDF) here.
Experimac Franchising LLC Income Declined 52% From 2017 to 2018.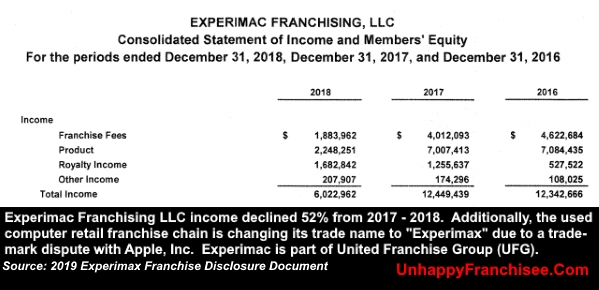 According to the Experimac Franchising LLC audited financial statement:
Franchise fee revenue declined 53% from $4,012,093 in 2017 to $1,883,962 in 2018.
The franchisor's revenue from product sales declined 68%, from $7,007,413 in 2017 to $2,248,251.
The franchisor's overall revenue declined 52% from $12,449,439 in 2017 to just $6,022,962 in 2018.
Experimac Franchise Store Median Gross Sales: $281,747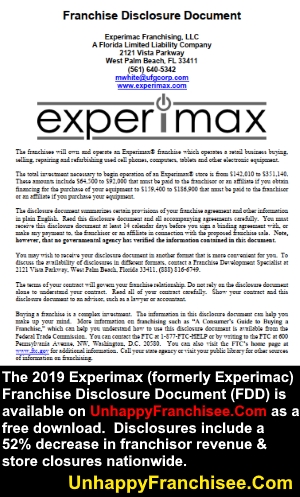 Experimac Franchising LLC discloses that the median gross sales for 34 Experimac franchise outlets that had been open for at least two years (average: 2.7 years) is reportedly $281,747.
That's a 13% decline from the median 2017 sales for franchise stores listed in the 2018 FDD ($324,773) and 85% less than the gross sales of $1,834,861 prospective franchisees were told Jim Muir's original store generated in his third year in business.
The median number is significant as the average appears to be skewed upward by a few high volume stores (the highest being $822,375).
While the average gross sales for the 34 franchise stores is $410,639, nearly 60% of the franchise stores generated less than $281,747 with the lowest generating $144,297 ($12K per month).
Excluded from the Item 19 Franchise Performance Representation are the 18 franchise stores that closed in 2018.  States the FDD:  "Of the 18 franchise outlets excluded, 3 closed in 2018 after being open for less than 12 months."
Experimac Stores Closed in 22 States Since January 2018
Experimac Franchising LLC reports that 18 franchise stores closed in 2018, leaving just 100 open at year end (We counted 85 listed as open on the company website 3/13/19).
The 2019 Experimac FDD indicates that franchise stores ceased operations in California, Colorado, Connecticut, Florida, Kentucky, Louisiana, Missouri, North Carolina, Ohio, South Carolina, & Texas.
Additionally, we suspect that since January 1, 2018, Experimac franchise locations have also ceased operation in Arizona, Georgia, Illinois, Minnesota, Nevada, New Jersey, New York, North Dakota, Tennessee, Virginia and Washington.
In the last 16 months, it appears that Experimac franchise investments have been lost in at least 22 states.
See our Experimac Franchise Closed Store List for updated franchise failure data and comments.
Experimac Franchise Lawsuit Filed
The 2019 Experimac Franchise Disclosure Document (FDD) contains the first Experimac franchise lawsuit the company has disclosed.
Experimac franchisee Glenn Trommer has filed an arbitration claim alleges Experimac Franchising LLC made fraudulent misrepresentations, breached the franchise agreement, engaged in unfair or deceptive trade practices and more.
According to the Experimac FDD:
ITEM 3 LITIGATION

A. Pending Litigation: Avivah Digital Commerce, LLC, and Glenn Trommer v. Experimac Franchising, LLC, (AAA Case No. 01-18-0001-7801, Palm Beach County, Florida) Filed on May 3, 2018.
A franchisee of the Company, Glenn Trommer, filed an arbitration claim against the Company alleging the Company breached the franchise agreement, imposed unreasonable performance standards, made fraudulent misrepresentations, engaged in unfair or deceptive trade practices and fraudulent inducement, and seeking damages, rescission, declaratory relief and attorney's fees and costs.

The matter is in the discovery phase.


B. Litigation Against Franchisees Commenced in the Past Fiscal Year: Suit for Declaratory Relief: Experimac Franchising, LLC v. Glenn Trommer, (Case No. 502018CA013392XXXXMB, Circuit Court, Palm Beach County, FL) Filed October 22, 2018.
Experimac Franchisees Who Left The System
The Experimac Franchise Disclosure Document includes contact information for current Experimac franchise owners, as well as these owners who had their franchises closed, terminated, reacquired or transferred:
Franchisee
Location
Franchisee
Location
Taylor Rash
Gilbert AZ
Tim Holder
Joplin MO
Chris Thomas
Chico CA
Daniel Boisse
Fayetteville NC
Janice Lee

James Wang

Santa Ana CA
Gustav Bone
Greenville NC
Andrew King
Temecula CA
Lisa Piatt
Huntersville NC
Ricardo Salinas

Zachary Salinas

Arvada CO, Fort Collins CO
Okechukwu Nwanna
West Hempstead NY
Patrick Wentland
Colorado Springs CO
Eliza Mallue

Jeffrey Mallue

Dayton OH
George Leonis
Highlands Ranch CO
Chris Knight
North Charleston SC
Matthew Rusconi
Manchester CT, Rocky Hill CT
Hemanth Sehgal
Dallas TX
David McCollister
Gainesville FL
Travis Weaver

Ling Weaver

Seattle WA
Travis Howe

Rebecca Howe

Cumming GA
Laetitia Rohfritsch
Strasbourg, France
Mark Simmons
Smyrna GA
Julian Nieuwoudt

William Nieuwoudt

Cape Town, South Africa
Donald Dixon Jr
Lexington KY
Reynart De Beer
Sandton, South Africa
Timothy Larkins

Stephen Hyde

Alexandria, Bossier City, Shreveport N,

Shreveport S, Longview TX, Tyler TX
ARE YOU FAMILIAR WITH EXPERIMAC OR OTHER UNITED FRANCHISE GROUP FRANCHISE OPPORTUNITIES?  SHARE YOUR OPINIONS BELOW OR EMAIL US IN CONFIDENCE.
Contact us:
TAGS: Experimac, Experimac franchise, Experimac Franchise Disclosure Document, Experimac FDD, Experimax franchise, Experimax FDD, Experimac Failure Rate, Ray Titus, Jim Muir,  Experimax franchise opportunity, Experimac franchise complaints, United Franchise Group, United Franchise Group franchise, United Franchise Group UFG, SBA loan defaults, unhappy franchisee